GET EMAIL UPDATES FROM POWERTOFLY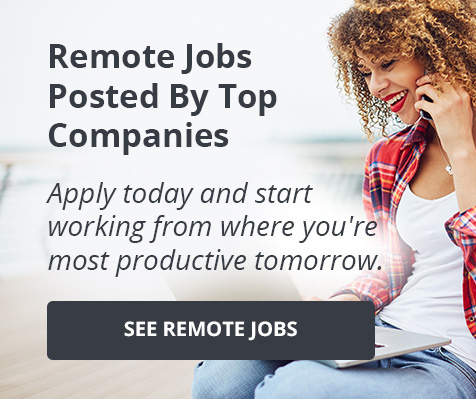 Morgan Stanley Technology
Anjali Menon, VP Technology with Morgan Stanley, sits down with Rebecca Knight at Grace Hopper Celebration of Women in Computing 2017 at the Orange County Convention Center in Orlando, Florida.

Introduction
Growing up in India, Anjali didn't need to look very far for female role models in technology. She and her two sisters all had a knack for math and science and ultimately pursued careers related to science, technology, engineering and math, or STEM, fields.
A native of Bengaluru, a hub of technology and home to many startups, Anjali remembers learning in first grade to code in Basic, an elementary programming language, and using it to maneuver a digital turtle around a screen. In primary school, she learned other programming languages, such as Pascal and C, and then—as she put it—was on her way.
Anjali earned a BE in Computer Science and Engineering from C.M.R. Institute of Technology in Bengaluru, India, and an MS in Computer Science from the Courant Institute of Mathematics, New York University.
How did your love of technology lead you to Morgan Stanley?
I always had a real aptitude for mathematics and sciences—it's definitely a family trait. I was placed in a mathematics and sciences track in high school. In India, children—girls and boys alike—are often encouraged to enter STEM-related fields, such as engineering, medicine, and computer science, as there's always a need for those types of positions.
I came to New York City for graduate school, and it was there that I heard about Morgan Stanley and its three-month Technology Analyst Program. The program, known as TAP, involved intense, classroom-based training in application development, as well as in our various proprietary technologies. I liked the on-the-job training aspect of it, as well as the rotational structure, so I applied and was accepted to the program in 2011.
I was first placed with Field and Client Technologies in the Wealth Management division and worked primarily as a client-side developer on various reporting dashboards for Branch Managers and Financial Advisors. I later moved on to the capacity-metrics team, where we analyzed server metrics and reported on the health of the sector's infrastructure.
Now, after seven years, I'm an IT systems owner in Capital Markets, and I oversee development of the equities and options order-entry applications, as well as the syndicates validation engine. They're systems that our Financial Advisors use to validate and process stock-order placements, and they are essential to Morgan Stanley's trading operations.
Over the course of your career, have you noticed a sea change for female technologists? Do you see more women entering the field and rising to leadership positions?
Over the past few years at Morgan Stanley, I've seen the gender gap in technology narrow. We're very fortunate to see more and more women applying, and being hired, to TAP.
Representation is so important to young women in school and university. It's our responsibility as women technologists to be the change we wish to see in the world, so we need to actively reach out to these women and present ourselves as role models to develop a consistent pipeline through events like the firm's Women in Technology panels, internship opportunities, and our Girls Who Code summer immersion program, to name a few.
You're an active participant in the firm's annual delegation to the Grace Hopper Celebration, an international gathering of female technologists. What do you enjoy most about the event?
Without question, I enjoy being around so many other talented female technologists and seeing what they're working on in terms of research, either as academics or professionals in private companies. When I was in graduate school, men always outnumbered women, generally 60/40. So when you're at a conference surrounded by other women with similar backgrounds, interests, struggles and achievements, it's simultaneously comforting and inspiring.
As an experienced member of the firm's delegation, I'll be doing a lot of formal and informal interviews with students who approach our booth at the conference. With 20,000 people scheduled to attend, we anticipate a lot of foot traffic. When I chat with students, I talk to them about their specific interests in technology. Seeing what candidates are interested in and what they can bring to the firm is always exciting.
What do you say to students who are interested in entering STEM fields?
It's so important to know yourself as a person, in terms of your preferences and the environment where you'll be happiest. Develop a strong background in computer science, and remember that first impressions are often based on how you present on paper, so make sure all of your key accomplishments are reflected on your resume. Also, keep an eye out for important opportunities, from information sessions to internships—anything that can lead to someone or something that can open a door.
Asking questions is also a big part of any job, so don't be afraid to speak up, especially if you're a woman. In addition, advocating for yourself is a big part of advancing and, ultimately, getting to where you want to go. It's always wonderful to have colleagues who will speak up for you, but a fundamental skill is learning to speak up for yourself, highlighting your own accomplishments and showing what you've personally brought to a team effort.
What are some of your favorite things about working in tech? What's been the most fun for you?
Technology evolves constantly—it's a vast engine that powers our business. Morgan Stanley computer scientists, in essence, build and curate that engine. Personally, I love the diversity of frameworks, languages, and platforms available to do so. As a result, there's never just one cookie-cutter method of solving a problem, and it's the process of deciding among the myriad of possible solutions that I find the most challenging and, subsequently, most fulfilling.
This article was originally written by Morgan Stanley. Visit Morgan Stanley's page on PowerToFly to see their open positions and learn more.
READ MORE AND DISCUSS
Show less
Morgan Stanley Technology
The Girls Who Code summer program at Morgan Stanley introduces high school students to the joys of engineering and computer science.

It was "dancing robots day" at the Girls Who Code summer immersion program at Morgan Stanley's headquarters in Times Square, and each team was working intensely to write computer code to put a small two-wheeled robot through its proper paces: move forward, pause, spin in a circle.
"I really didn't know anything about coding before I came here," said Karla A., a 16-year-old from the Bronx who had helped decorate her team's robot with a green paper fringe. "My mom was like, 'This is a good skill set to have.' It's definitely cooler than I thought it would be."
This is the first time that Morgan Stanley has hosted the program, which is being held over seven weeks in July and August. The firm has donated office space, equipment and—above all—its women technologists and engineers, who are serving as one-on-one mentors to the 21 high school girls in the program and giving guest lectures about their career paths.
The goal is to help educate the next generation of future scientists and engineers, as well as to close the gender gap in technology. These goals overlap with the mission of Girls Who Code, a national nonprofit organization that aims to achieve gender parity in computer science by 2027.
Next-Gen Coders
"Our technologists are incredibly passionate about giving back, which is also one of the firm's key values," said Corinne Parker, Executive Director in Enterprise Technology & Risk, who helped spearhead the initiative through the firm's Women in Technology networking group.
She added, "Shaping the next generation of women tech professionals is something that's not only rewarding, but clearly essential in this day and age. This is why both our male and female technologists have been both eager and proud to participate in this initiative."
In addition to robotics, the girls are learning Python, Java Script, HTML and website design. The class's three teachers come from Girls Who Code, but their lessons are complemented by speakers from Morgan Stanley, whose stories the girls have found inspiring.
They heard, for example, from Louella San Juan, a Managing Director in Institutional Securities Technology, who majored in English in college and began her career in publishing before earning a master's degree in computer science and pivoting to a flourishing career in technology.
Other speakers have talked about the innovative technologies they are working on, from artificial intelligence and machine learning to data analytics and cybersecurity.
"This has definitely been very eye-opening in terms of where computer science can take you in your career," said Brianna V., a 16-year-old from Westfield, N.J. "We've had a lot of inspiring speakers who are women, who have talked to us about careers in technology. I think it's definitely going to be an option for me."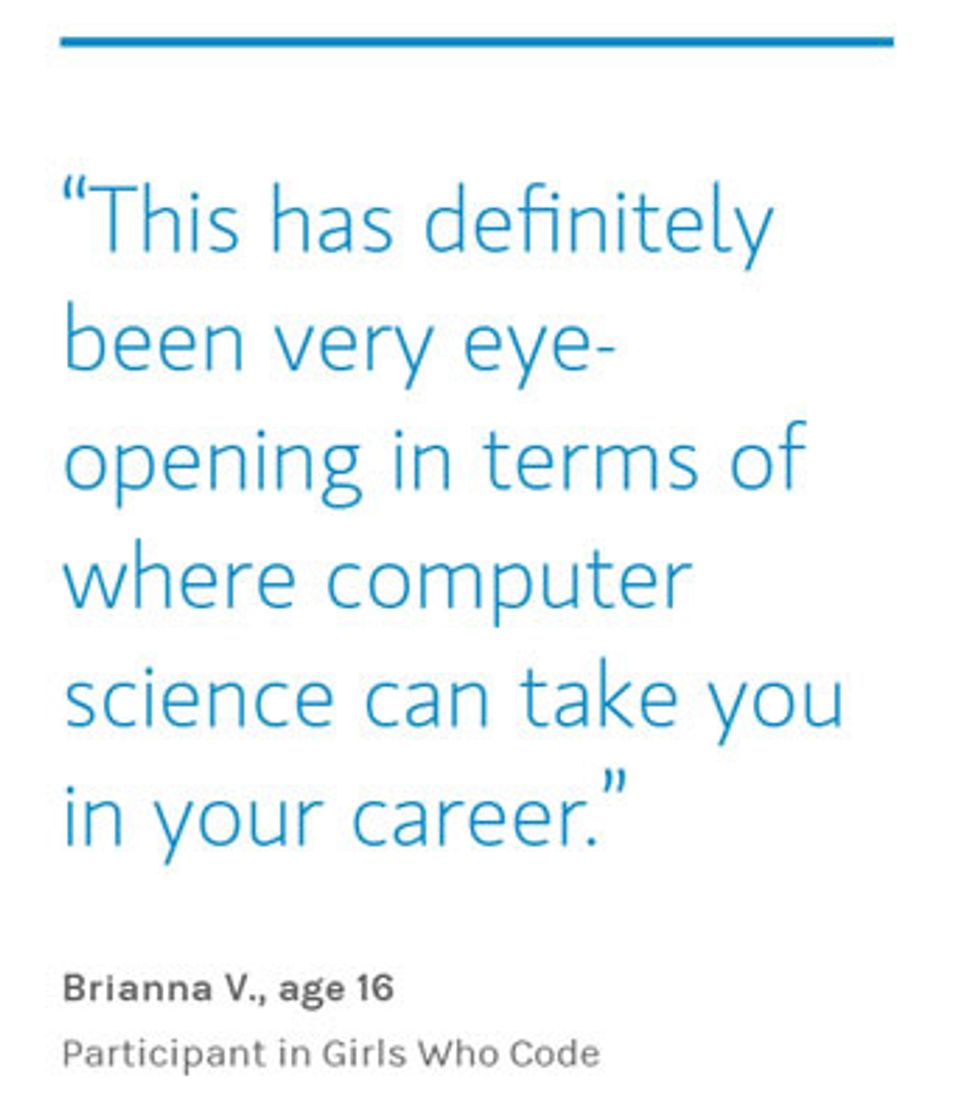 Path for Sisters
Darby P., a rising senior who lives in West Hempstead, N.Y., agreed, saying that the personal stories from Morgan Stanley executives—including her mentor, with whom she spends at least an hour a week—have been particularly resonant. "The speakers have been great," she said. "My older sister did Girls Who Code, so I kind of followed her path here, but experiencing it myself has just opened my eyes to how many opportunities there are for women in technology."
The course begins with the fundamentals of computer science and proceeds to make the girls familiar with all the disciplines they would need to work with both the front and back ends of a website, said Ilmira Estil, the head teacher. Then there is the unit on robotics, during which she led the girls through the coding and hardware essentials they would need to make their robots move and play music.
"Who can tell me what a circuit is?" Estil asked the class. A circuit, she explained, is a path around which electricity can flow. The girls followed the lesson—which leans heavily on the lingo and technical terms used by professionals—on their laptops and on an overhead screen.
"It's really cool to be here at Morgan Stanley," said Unice C., a 17-year-old from Merrick, N.Y., who was wearing light blue nail polish and working on a "Star Wars" themed robot. "It's my first time in a corporate environment."
"Workforce of the Future"
Posters in the classroom motivate the girls to collaborate, speak up ("Don't be passive!") and remind them of the building blocks of computer science: variables, loops, conditionals and Boolean operations.
Kanyce P., a 16-year-old from the Bronx, was part of a four-girl team that worked on the PrideBot, a rainbow-themed robot that played the theme song from "The Legend of Zelda" video game while it spun in circles. "I didn't really think I was going to like robotics, but I was the first one to figure out how to make our robot move," she said.
Robert Rooney, the firm's Head of Technology, visited the class just in time to see the robots dancing. "It's vital to support young women as they pursue studies and careers in computer science and engineering," he said. "They are our workforce of the future."
While checking out the machines the girls were building, he peppered them with questions: Were you coding before you got here? Are you enjoying it? What language are you coding in?
Much to his delight, Vivian F., a 16-year-old from Queens, when asked which career path she was considering, told him she wanted to go into finance.
"You're in the right place," he responded. "That's what we do."
This article was originally written by Morgan Stanley. Visit Morgan Stanley's page on PowerToFly to see their open positions and learn more."
READ MORE AND DISCUSS
Show less
New York Life Insurance Company
Below is an article originally written by PowerToFly Partner New York Life Insurance Company. Go to New York Life's page on PowerToFly to see their open positions and learn more.
AnitaB.org has named us to their 2018 Top Companies for Women Technologists list. The list, now in its seventh year, recognizes companies building workplaces where women can thrive. Companies are measured on their representation, programs, and policies. This recognition demonstrates we are not only committed to fostering a diverse and inclusive workforce, but we view technology innovation as a strategic imperative.
Read more about the award here.
READ MORE AND DISCUSS
Show less
Loading...