GET EMAIL UPDATES FROM POWERTOFLY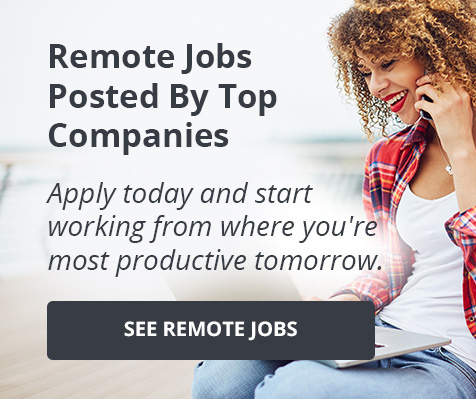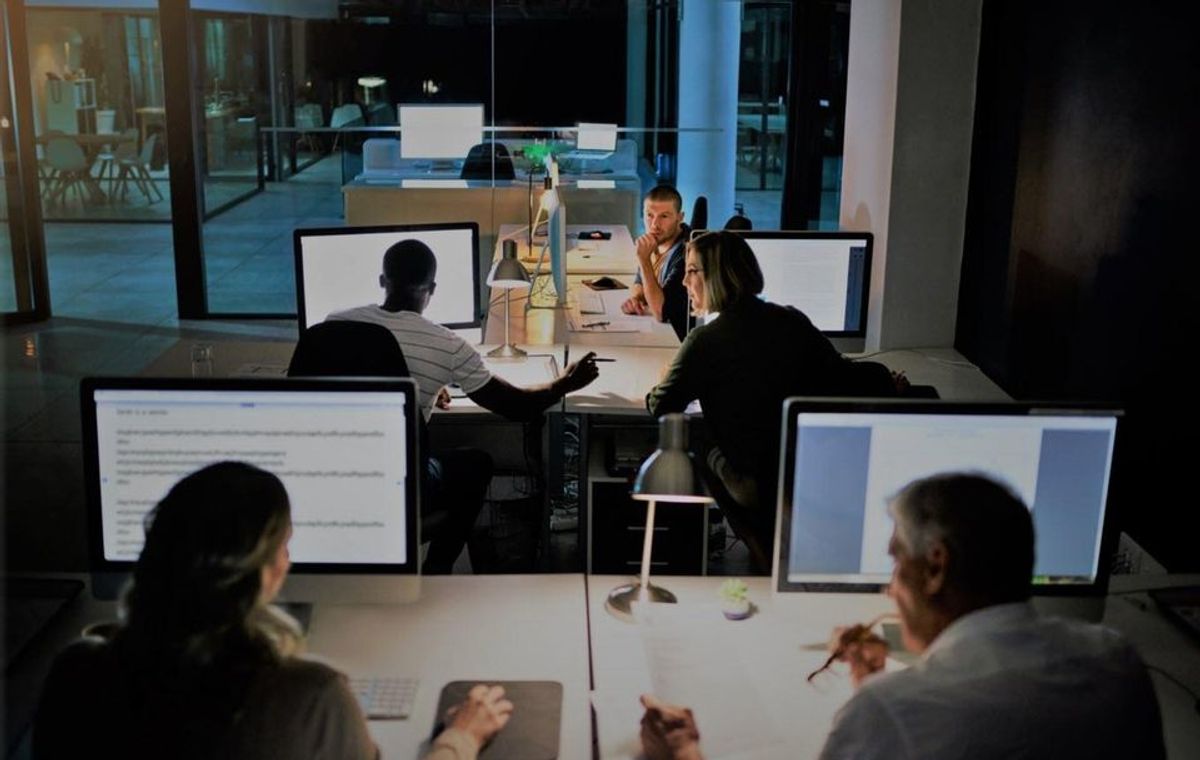 Netskope
By Louis Columbus
Below is an article originally written by Louis Columbus, Contributor at Forbes, and published on March 3, 2019. PowerToFly Partner Netskope is mentioned in this article. Go to Netskope's page on PowerToFly to see their open positions and learn more.
Cloud platform and development companies dominate the highest rated cloud businesses when indexed by the percent of employees who would recommend their company to a friend.
Taken together, the 12 CEOs leading the top-rated cloud computing companies are approved by 98% of employees as of March 3, 2019, on Glassdoor. CEOs in this group include Thomas Hogan of Kony, Paulo Rosado of OutSystems, Bill McDermott of SAP, and Sridhar Vembu of Zoho.
These and many other insights are from an analysis completed today comparing Computer Reseller News' 100 Coolest Cloud Computing Vendors of 2019 by their respective Glassdoor scores. The Computer Reseller News annual list of the 100 coolest cloud computing vendors is an impartial, 3rd party benchmark of the fastest-growing and most likely to hire cloud businesses expanding today. By far the most common request from Forbes readers is which cloud computing companies are the best to work for. The goal of this analysis is to provide readers with insights into which cloud computing companies best fit their skills and at the same time have a strong reputation based on feedback from existing employees.
Indexing the most interesting and fastest growing cloud computing companies by their Glassdoor scores and reputations is a great way to begin defining a long-term career growth strategy. One factor not quantified is how well of a fit an applicant is to company culture. Take every opportunity for in-person interviews, read Glassdoor ratings often and observe as much as possible about daily life in companies of interest to see if they are a good fit for your skills and strengths.
Using the 2019 CRN list as a baseline to compare the Glassdoor scores of the (%) of employees who would recommend this company to a friend and (%) of employees who approve of the CEO, the table below is provided. You can find the original dataset here. There are 15 companies on the CRN list that don't have that many or any entries on Glassdoor, and they are excluded from the rankings shown below. You can find their mention in the original dataset. If the image below is not visible in your browser, you can view the rankings here.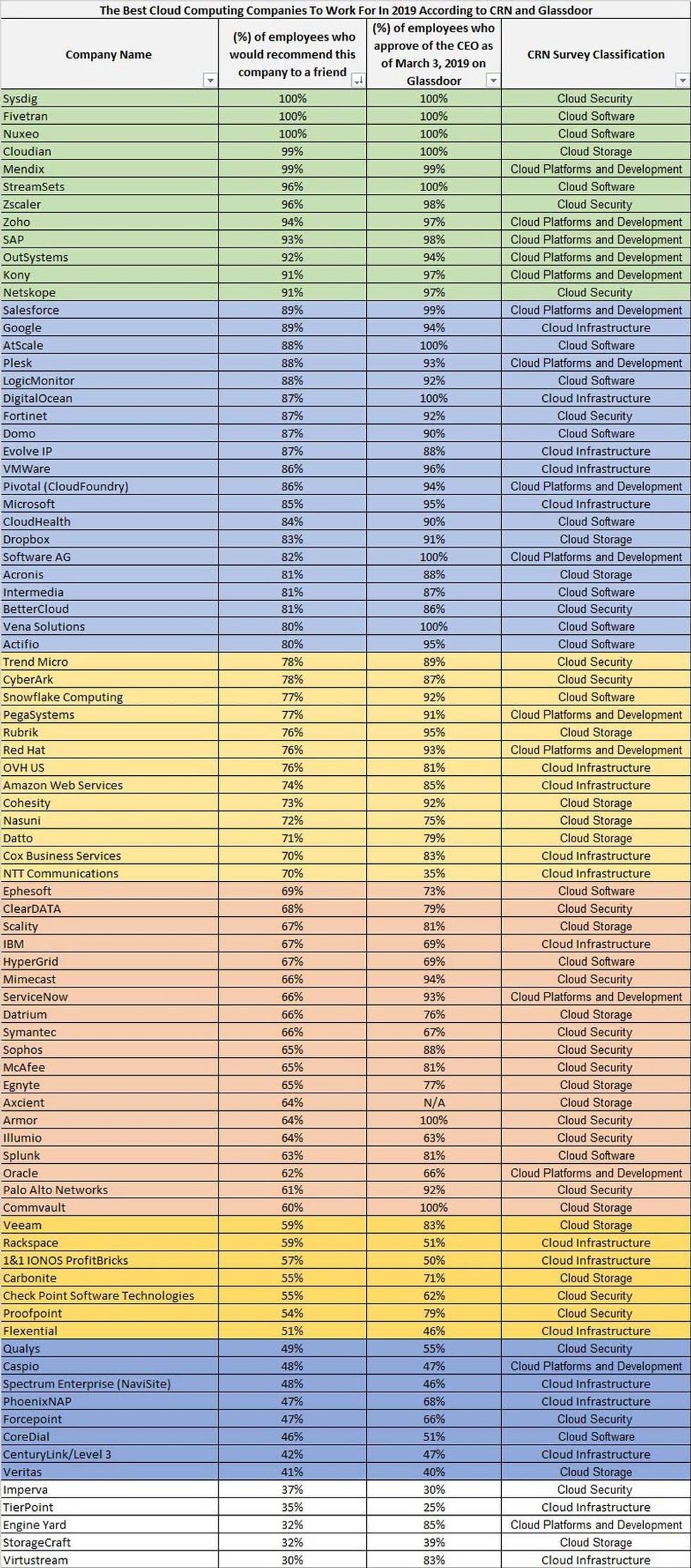 SOURCE: ANALYSIS OF CRN AND GLASSDOOR DATA 3 3 19
The highest rated CEOs on Glassdoor as of March 3, 2019, include the following. Please click on the graphic and dataset to expand for easier reading.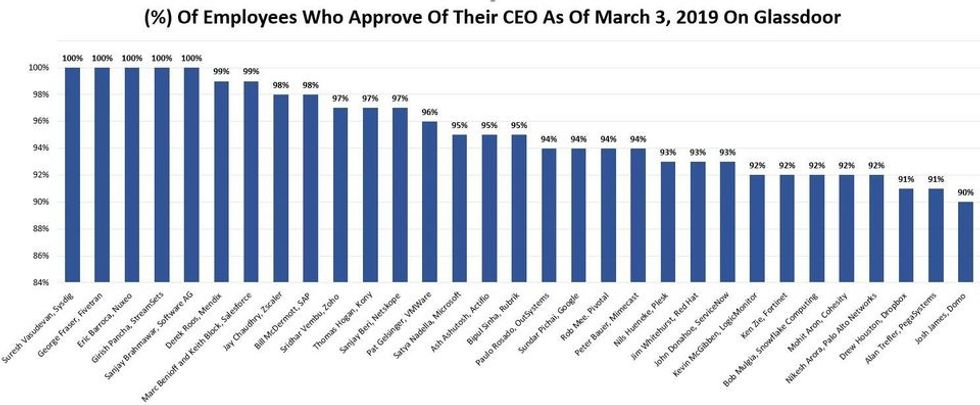 SOURCE: ANALYSIS OF CRN AND GLASSDOOR DATA, MARCH 3, 2019
The original dataset is shown below: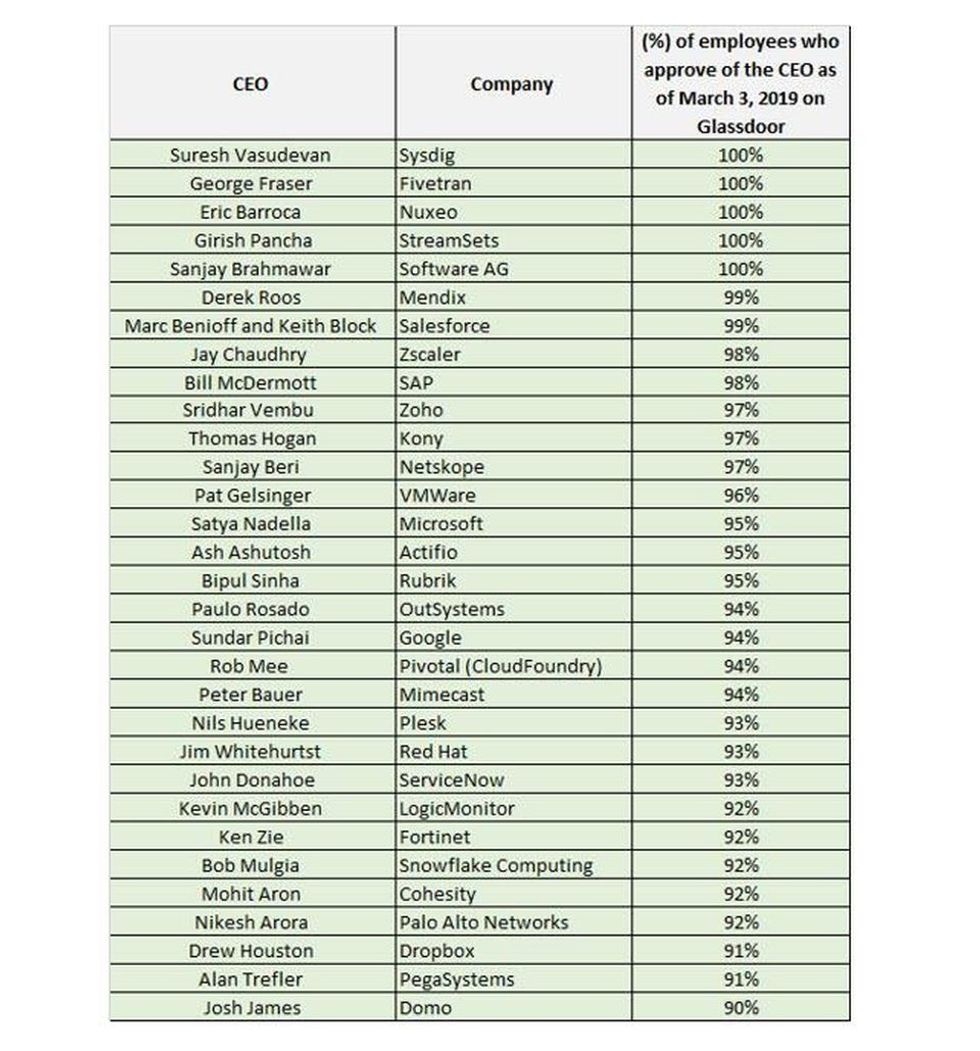 SOURCE: BASED ON ANALYSIS OF CRN AND GLASSDOOR DATA, MARCH 3, 2019
Louis Columbus is an enterprise software strategist with expertise in analytics, cloud computing, CPQ, Customer Relationship Management (CRM), e-commerce and Enterprise Resource Planning (ERP).
READ MORE AND DISCUSS
Show less
Netskope
By watching the 2 minute video above, you can hear from Netskopers about why they enjoy working at Netskope.
Are you interested in being the newest member of their team?
If yes, then click here to see all available opportunities at Netskope and don't forget to press 'Follow' to receive custom job matches, event invitations and more!
READ MORE AND DISCUSS
Show less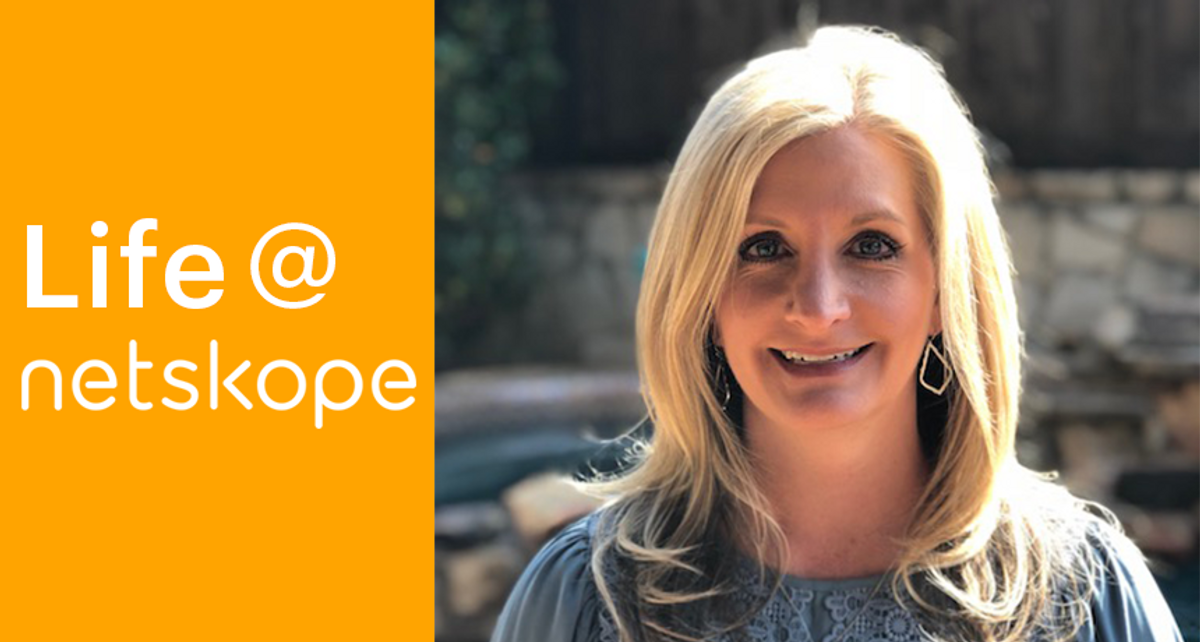 Netskope
Below is an article originally written by Zoe Revis at PowerToFly Partner Netskope, and published on September 13, 2018. Go to Netskope's page on PowerToFly to see their open positions and learn more.
In this Life @ Netskope, we talk to Andrea Schreiner our Central Channel Sales Director out of Frisco, Texas. In her two years at Netskope, Andrea has made a huge impact with the Netskope field and channel teams covering the Central US area. Outside of Netskope, Andrea spends her weekends between the softball field cheering on her oldest daughter and her youngest at the horse barn. If you have spent much time with Andrea on the phone, you have probably heard her four-legged child Sprocket in the background.
What made you choose Netskope?
I have a funny hiring story. Mike Burnett, who was a Regional Sales Manager at the time, had talked to me a few times about coming to Netskope and timing was never right. A few months later, I met Gary Ochs, VP of Channel Sales at the time, at the OH airport, we started connecting the dots on Netskope, his open position and it being the company Mike Burnett had been calling me about, the timing was perfect! Gary and I both boarded our separate planes texting Mike and two weeks later I had an offer letter. It was a right place, at the right time situation. Once I started the interview process and learning about Netskope, the product, the people, and the culture, I knew Netskope was the place for me.
What's your favorite thing about Netskope and why?
My favorite thing is the culture, the people and how everybody works well together as a team. Whenever I interview people for potential jobs at Netskope, I don't want to sound cheesy and oversell it, but I talk a lot about how amazing the culture is here. Everybody at Netskope collaborates and helps each other in order to accomplish our main goal, which is to see Netskope become the next iconic security company.
Working from home, how do you stay connected to HQ and your team in the region?
As someone who works remotely, Netskope makes it so easy to stay connected through Slack, (which I am still learning). Everyone is so receptive, you never have to worry about being stranded on an island. I really enjoy Chris Andrews, our SVP of Sales bi-weekly calls with the worldwide sales team. It's a great way to keep up with what is happening at HQ and learn about our newest products. Our Central US team also has a call every Monday where we share updates in the territory, and best practices.
What advice would you give to someone starting a remote position at Netskope?
My advice would be to learn your resources at corporate, do a good job of getting them out in the field and make lasting connections with the members of your team. I support eight different sales/sales engineering teams so I make sure that I am communicating with them almost every day. In a company where most everyone is remote, it takes work to keep a great culture and I feel like Netskope has done a great job in this area.
If you could only watch one TV show for the rest of your life what would it be and why?
Oh, that's a hard one, I'd have to go with This Is Us. It's a great storyline and it seems as if it is a real family going through heartache and happiness and working together. It's a rollercoaster of emotions but it also has some great lessons.
READ MORE AND DISCUSS
Show less
Loading...