GET EMAIL UPDATES FROM POWERTOFLY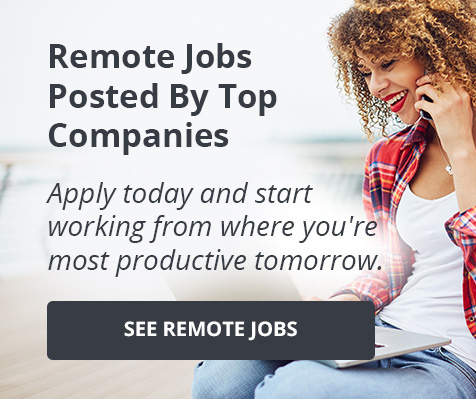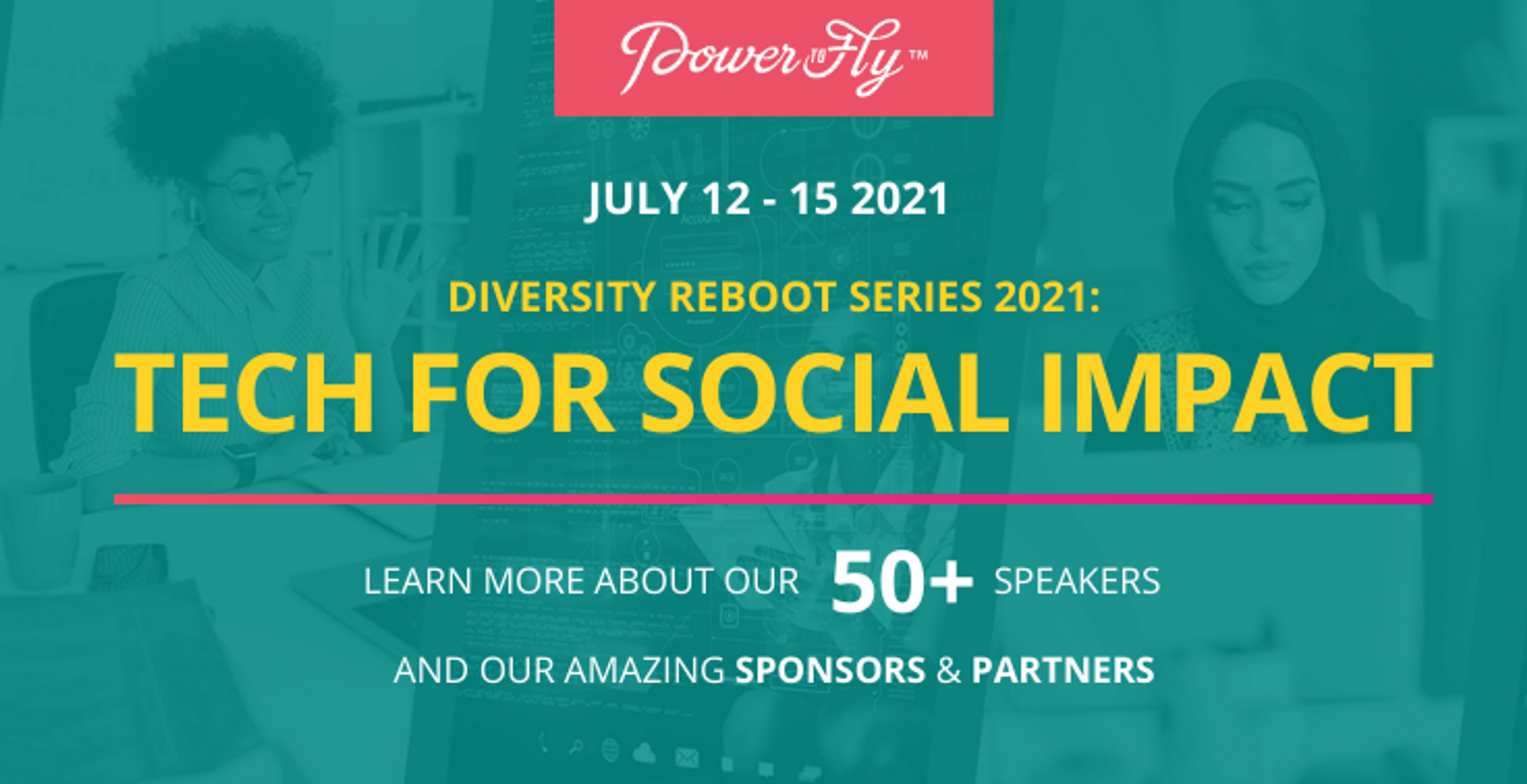 July 19, 2021
Webinars
Tech for Social Impact: Learn more about Our Partners, Sponsors & Speakers
Learn more about our amazing speakers and sponsors at our July 2021 virtual summit Diversity Reboot: Tech for Social Impact, three days of conversations and panels plus an interactive virtual career fair.
Our Tech for Social Impact summit was a massive success! PowerToFly was thrilled to welcome organizations from different parts of the world with mission-driven motives who are striving for a social impact in their society. From the Digital Divide to Digital Addictions, we covered it all! If you tuned in, thank you! And if you missed the summit or would like to re-watch any of the talks, those conversations are now available to watch for free on PowerToFly.
We want to extend a HUGE thanks to our VIP sponsor Helm and our Gold sponsors Unstoppable Domains, UnitedHealth Group, Autodesk, Service Now, and Smartsheet, Plus, don't forget to visit our Merch Store and grab yourself some PowerToFly apparel. 100% of the proceeds from our sales will be going to TransTech Social, supporting transgender people in tech.
Finally, registration for our September summit: Early Career Connections & Mid-Career Pivots is now open! Whether you're launching your career or revamping it, don't miss this free opportunity to connect with companies looking for interns, entry-level professionals, career pivoters, and those returning to work. Register for free here.
---
Our VIP Sponsor
Helm is a team of scientists, designers, engineers, and campaigners. They are building a data and technology platform for organizers and issue advocates. They design and execute experiments to better understand human civic behavior, determine which interventions drive impact, and scale them toward a more participatory democracy.
Helm works with visionary leaders who seek to create a more equitable world. Their tools give elite operators power to shape campaigns, organizations, and movements.
Their partners gain access to analysis, briefings, data, and tools optimized for long-term advocacy.
At Helm, they seek to understand human civic behavior and equip organizers with their tools and insights. Their work is urgent.
Issue advocates and organizers are their inspiration. Building with and for them is their mission.
They are assembling a team that understands, shares values with, learns alongside, and stands with the people who are doing the work to change the nation. They are seeking team members who want to see a more equitable future in their lifetime, and who have the passion and skills to help us get there.
While they work toward creating that future, they are simultaneously building a diverse team that reflects the true nature of their nation; and cultivating an inclusive environment in which everyone can thrive. They know that in order to succeed, they must be able to do both.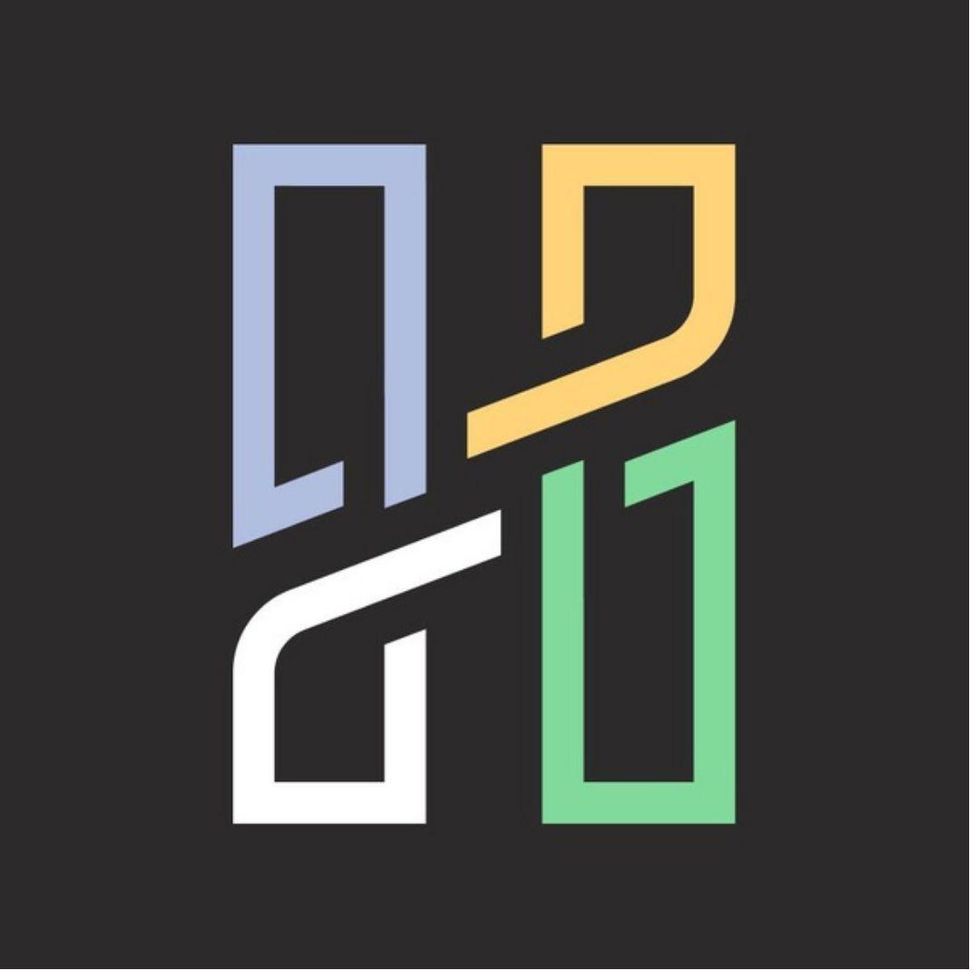 Helm Logo
Our Gold Sponsors
Unstoppable Domains is bringing user-controlled identity to 3 billion+ internet users by issuing domain names on the blockchain. These domains allow users to replace cryptocurrency addresses with human-readable names, host decentralized websites, and much more.
By selling these domains direct to consumers for a one-time fee, we are making a product that will change cryptocurrency and shape the future of the decentralized web by providing users control over their identity and data.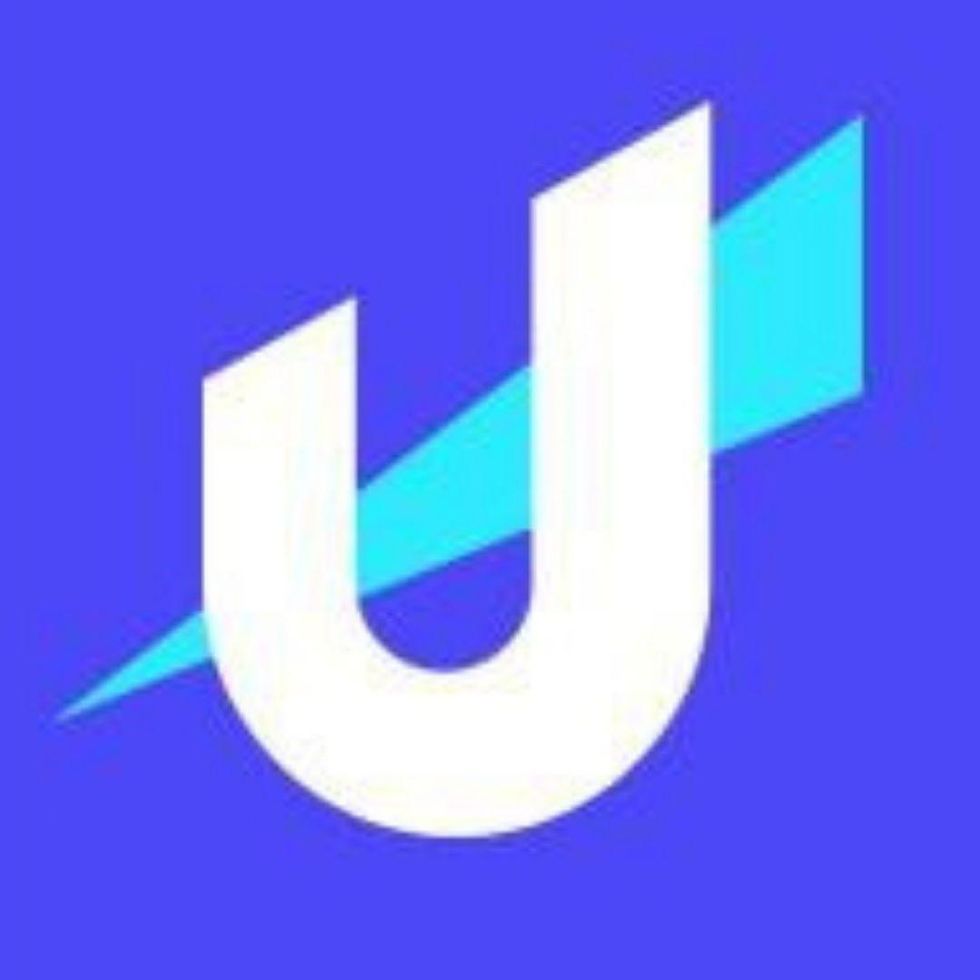 Unstoppable Domains Logo
Their mission is to help people live healthier lives and to help make the health system work better for everyone. A Fortune 6 company, they're focused on helping people live healthier lives while making the health system work better for everyone. They seek to empower people with the information, guidance and tools to make personal health choices. They work harder and they aim higher. They expect more from themselves and each other.
And, at the end of the day, they're doing a lot of good for more than 142 million people worldwide.
Their biggest point of differentiation is their people - and the collective talent, energy, intelligence and drive our force of 305,000 individuals around the world bring to our mission every single day. With their every action, interaction and intention that demonstrates the five fundamental values that guide everything they do: Integrity, Compassion, Relationships, Innovation, Performance.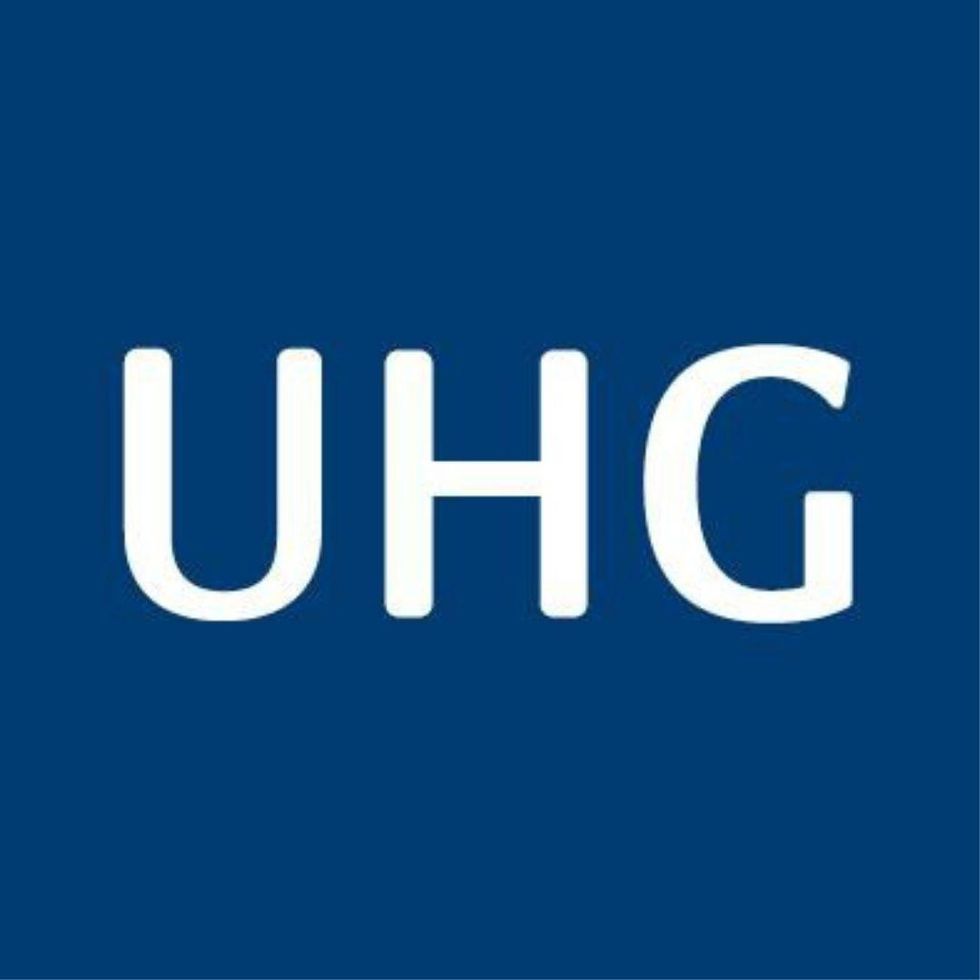 UnitedHealth Group Logo
They make software for people who make things. If you've ever driven a high-performance car, admired a towering skyscraper, used a smartphone, or watched a great film, chances are you've experienced what millions of Autodesk customers are doing with their software. Autodesk gives you the power to make anything.
They have over 100 offices in over 38 countries around the world. They are headquartered in the San Francisco Bay Area and have more than 9000 employees worldwide. They'd love for you to join us.
Why work with them? Their culture and mission are what differentiates them and makes Autodesk such a great place to work. Their employee engagement scores are best in class and we are more committed than ever to ensuring their culture drives their vision of helping people imagine, design and make a better world. Authenticity, humility, and impact are just a few aspects of their culture that makes Autodesk a great place to work.
Bring your authentic self to work and thrive. At Autodesk, they're changing the conversation about diversity. Diversity goes beyond having a group of people who are different- it's when these differences are valued and integrated into every part of the business that the magic begins. Diversity fuels new ideas, creativity, and business growth. They are constantly exploring new ways to integrate all dimensions of diversity across their employees, customers, partners, and communities. Diversity allows them to create and innovate leading edge products, develop an unmatched level of customer focus, and collaborate effectively. Through the power of diversity, their ultimate goal is to expand the opportunity of anyone to imagine, design, and make a better world.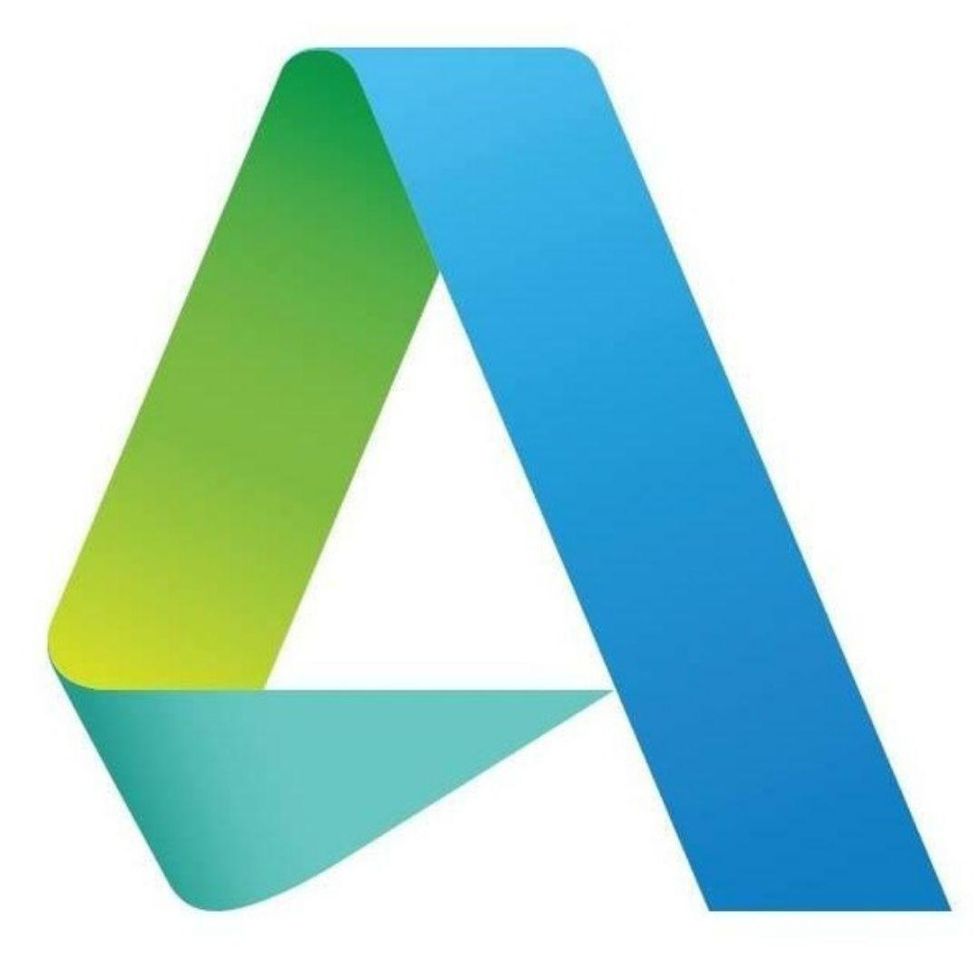 Autodesk Logo
At ServiceNow, they make the world of work, work better for people. They deliver digital workflows that create great experiences and unlock productivity.
With over ~6,900 customers, they serve approximately 80% of the Fortune 500, and they're on the 2020 list of FORTUNE World's Most Admired Companies.® This is the future of work.
Learn more on Life at Now blog and hear from their employees about their experiences working at ServiceNow.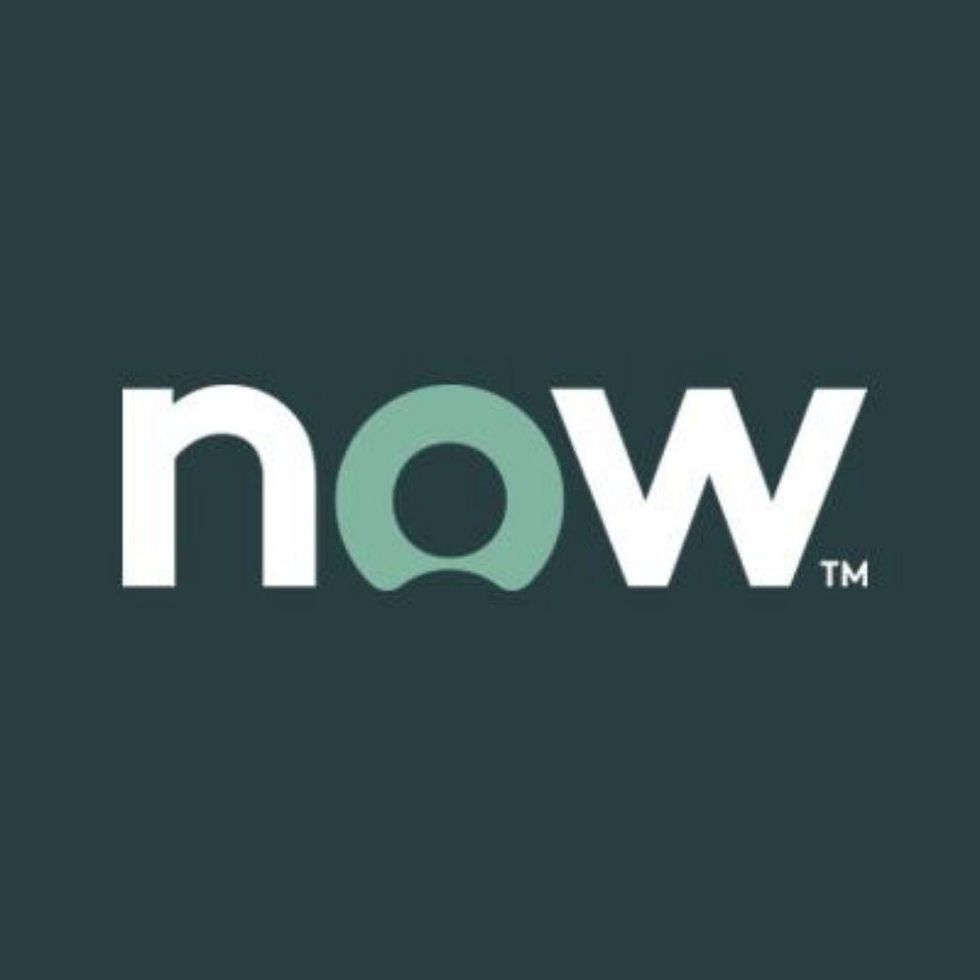 ServiceNow Logo
In 2005, Smartsheet was founded on the idea that teams and millions of people worldwide deserve a better way to deliver their very best work. Today, the company delivers a leading cloud-based platform for work execution, empowering organizations to plan, capture, track, automate, and report on work at scale, resulting in more efficient processes and better business outcomes.
Smartsheet went public on the New York Stock Exchange in April 2018 and currently enables collaboration, better decision making, and accelerated innovation for over 76,000 domain-based customers in 190 countries, including 96 of the Fortune 100.
Smartsheet is a passionate team of 1500+ employees spanning offices in Seattle, Boston, London, Edinburgh and Sydney.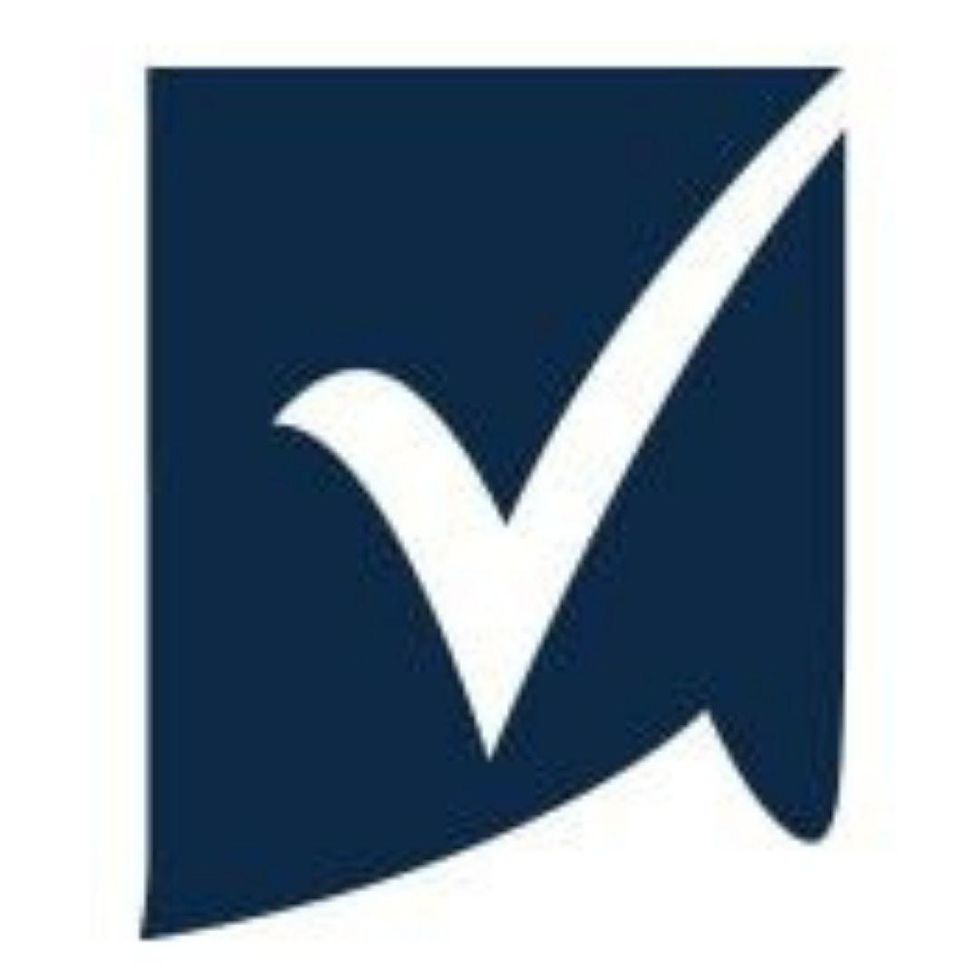 Smartsheet Logo
---
Speaker Spotlight:
For your next book club:
In 2015 Manoush Zomorodi, creator of WNYC's popular podcast and radio show Note to Self, led tens of thousands of listeners through an experiment to help them unplug from their devices, get bored, jump-start their creativity, and change their lives. Bored and Brilliant builds on that experiment to show us how to rethink our gadget use to live better and smarter in this new digital ecosystem. Manoush explains the connection between boredom and original thinking, exploring how we can harness boredom's hidden benefits to become our most productive and creative selves without totally abandoning our gadgets in the process.
Grounding the book in the neuroscience and cognitive psychology of "mind wandering" what our brains do when we're doing nothing at all―Manoush includes practical steps you can take to ease the nonstop busyness and enhance your ability to dream, wonder, and gain clarity in your work and life. The outcome is mind-blowing. Unplug and read on.
"Don't tell nobody our business," Michael Tubbs's mother often told him growing up. For Michael, that meant a lot of things: don't tell anyone about the day-to-day struggle of being Black and broke in Stockton, CA. Don't tell anyone the pain of having a father incarcerated for 25 years to life. Don't tell anyone about living two lives, the brainy bookworm and the kid with the newest Jordans. And also don't tell anyone about the particular joys of growing up with three "moms"―a Nana who never let him miss church, an Auntie who'd take him to the library any time, and a mother, "She-Daddy", who schooled him in the wisdom of hip-hop and taught him never to take no for an answer.
So for a long time Michael didn't tell anyone his story, but as he went on to a scholarship at Stanford and an internship in the Obama White House, he began to realize the power of his experience, the need for his perspective in the halls of power. By the time he returned to Stockton to become, in 2016 at age 26, its first Black mayor and the youngest-ever mayor of a major American city, he knew his story meant something.
The Deeper the Roots is a memoir astonishing in its candor, voice, and clarity of vision. Tubbs shares with us the city that raised him, his family of badass women, his life-changing encounters with Oprah Winfrey and Barack Obama, the challenges of governing in the 21st century and everything in between―en route to unveiling his compelling vision for America rooted in his experiences in his hometown.
Pediatricians say you should but it's okay if you don't. The hospital says, "Breast is best," but sends you home with formula "just in case." Your sister-in-law says, "Of course you should!" Your mother says, "I didn't, and you turned out just fine." Celebrities are photographed nursing in public, yet breastfeeding mothers are asked to cover up in malls and on airplanes. Breastfeeding is a private act, yet everyone has an opinion about it. How did feeding our babies get so complicated?
Journalist and infant health advocate Kimberly Seals Allers breaks breastfeeding out of the realm of "personal choice" and shows our broader connection to an industrialized food system that begins at birth, the fallout of feminist ideals, and the federal policies that are far from family friendly. The Big Letdown uncovers the multibillion-dollar forces battling to replace mothers' milk and the failure of the medical establishment to protect infant health. Weaving together research and personal stories with original reporting on medicine, big pharma, and hospitals, Kimberly Seals Allers shows how mothers and babies have been abandoned by all the forces that should be supporting families from the start--and what we can do to help.
In Goodbye, Status Quo, Dr. Joan Fallon equips her readers with the tools to be agents of change: as entrepreneurs, leaders, and individuals. No matter where you come from or who you are, you can be an agent of change. If you are setting out to change the world--great, she affirms--just keep in mind that change must start with you.
As a company founder, Dr. Fallon faced many obstacles. Some of the greatest ones came from how other people saw her. A woman in her fifties with a warm, approachable manner, she didn't fit the typical entrepreneur profile. Now as a respected business leader, doctor, and academic who sits on the boards of numerous non-profits and is frequently asked to mentor others, Joan is driven to share what she has learned and the perspectives that brought her success.
She is also fascinated by the subject of change. What are the impediments that keep leaders and individuals from changing the world, or even just changing themselves, and how can they be overcome? What is it about you that holds you, your job, or your company back from changing?
Joan Fallon believes that deductive reasoning in addition to the typical inductive reasoning and other science-based approaches allow us to move past the reactive responses that leave us stuck, unable to innovate and make change. Fear-based thinking rules in many sectors today--in business, politics, even relationships. And fear is the fundamental factor that holds us back from embracing change.
Goodbye, Status Quo blends lessons from Joan's own entrepreneurial experiences and scientific observations to give readers informative and actionable advice on the topics of entrepreneurship, innovation, and making change. Each chapter offers pithy advice that taps into business, medicine, philosophy, and even baseball.
No matter your background, experience, or personal struggles, you can change the world--if you are willing to first change yourself.
---
Learn about the other companies that joined us to make this Tech for Social Impact a success!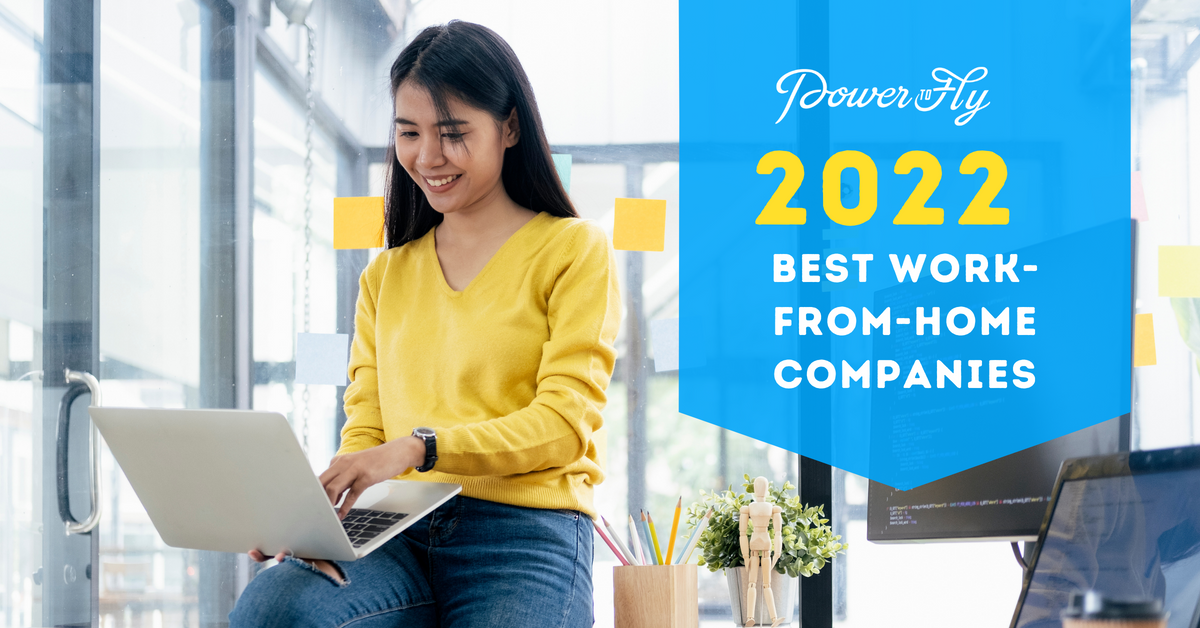 Featured Post
Every year, PowerToFly creates a list of the best work-from-home companies. Now that over half of the U.S. workforce is remote, compiling that list was a bit more challenging.
This year, we prioritized selecting companies that are remote-friendly—meaning they have both remote and in-person roles—but they have made long-term commitments to hiring and supporting employees who choose to work from home; and we think they have the perks, values, and organizational framework to allow all employees to flourish in their careers, regardless of location.
Keep reading to see our top 15 work-from-home companies for 2022, along with a description of what they do, why we like them, and who they're looking for.
PowerToFly's Best Work-From-Home Companies 2022:
Don't see what you're looking for? Check out a fill list of 5,000+ open remote roles here!
READ MORE AND DISCUSS
Show less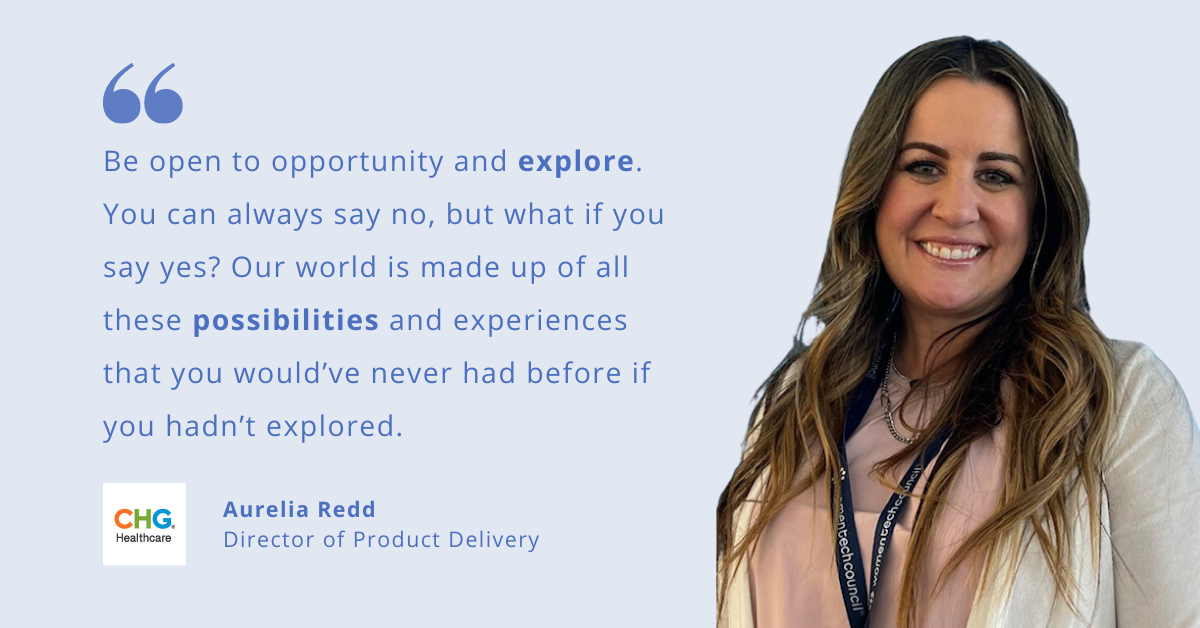 CHG Healthcare
Born and raised in the suburbs of Salt Lake City, Aurelia Redd is a wife, mom, and major fan of building meaningful connections. "I love to get to know other people — it's one of my favorite things in the whole world," Aurelia explains. "I could sit there for hours and listen to somebody who's had a different life than me. I get so excited about that and learn so much."
And as the Director of Product Delivery at CHG Healthcare, she makes it a priority to fortify connections with those on her team so she can understand how they want to grow and challenge them to step out of their comfort zone. Keep reading to hear her unique story and advice on fostering growth on her team.
Experience Will Open the Door
Nowadays, it's easy to get caught up with degrees and certificates to gain qualifications for a role. But Aurelia's career proves that experience in a field is invaluable for opening doors. "I'm a unique case. I was a young mom and I didn't have an opportunity to pursue a college education," says Aurelia. "I built my career on experience and (hopefully) good wit."
But not having a degree has not deterred her from forging her own path and steadily moving up the career ladder to multiple positions of leadership. "I'm so thankful that it hasn't stopped me from the roles that I've wanted to pursue," she elaborates. "The companies that I've worked for see me as a person and appreciate my experience."
She considers herself a life learner and has earned a number of certifications and trade classes throughout her career. "I love to learn and I never want to stop learning," she says. And she's excited to make it official. "My goal is to have my bachelor's degree by the time I'm 47 years old, she says. "It's never too late."
Jumping Into Opportunities
Healthcare and business first sparked Aurelia's interest in high school when she joined the Health Occupational Students for America and Future Business Leaders of Americas clubs. So when it was time to join the workforce, she looked for an opportunity where she could pursue both fields. That led her to a role as a customer service representative at a major health insurance company.
Over her 20 years at the company, she worked her way into many roles in various departments, including operations, claims processing, and supervisory roles. "After a while, I wanted to move up to a manager position." In a timely manner, a woman director from another department nudged Aurelia to apply for an open position as configuration supervisor.
"I knew nothing about configuration, like zero," says Aurelia. "But she told me, 'I'm not looking for somebody who knows configuration. I need a supervisor. You really should consider it.' And that changed my whole career — her stopping me and telling me I should consider something different."
This growth mindset led Aurelia to pursue multiple leadership roles and opportunities, eventually leading her to CHG Healthcare. CHG is a leader in healthcare staffing and the nation's largest provider of locum tenens services. They stand out because of their Putting People First value, which instantly attracted Aurelia. Frustrated with some things about her previous company, she wanted to find a place where her values aligned with her work place.
"I realized I was at the point in my career where culture, core values, and inclusion were so important to me." Aurelia says she interviewed with amazing people at the company, which convinced her to accept an offer soon after. "I've never looked back."
Culture Is Crucial
The mission at CHG Healthcare is to "make a difference in the lives of those we serve." They're committed to implementing benefits and strategies to "increase employee happiness and engagement." Some of these benefits include flexible schedules, onsite health clinics and gyms, tuition assistance, paid volunteer time, family-friendly benefits, rewards, and more. What really stands out about CHG, though, is its culture.
"Everyone pulls their weight. There is a willingness to help, and because we are pretty much all high achievers — every person brings their best self to work every day," elaborates Aurelia. The emphasis on servant leadership gives people the space to try new things and grow. Aurelia facilitates this growth mindset through her own leadership.
"As an individual, I play a role on so many different teams. So my days look different depending on which priority is coming up that week," she explains. Aurelia has several responsibilities, including meeting with individuals on a one-on-one basis and cultivating relationships across the organization. She also collaborates with product teams on strategic initiatives, coaches and directs the delivery leadership team, and works to build functional maturity on delivery.
As the company has grown, so has the technology they've released. And Aurelia leads a team of people who make sure those releases are well adopted on other teams. "I started on the project implementation team to help with change management and business readiness, so that we have high adoption and long-term sustainment," she explains. She built that team and led them through reorganizations, and has recently been able to transfer responsibilities to her delivery leadership team. . "They don't need me in the day to day operations anymore. They're doing a great job," says Aurelia. "I now get to be a servant leader to my leaders that are leading the individual contributors. And that allows me to work across the digital organization on other things like growth and development for our employees and leadership development opportunities. The growth and new opportunities have been so much fun!"
Apart from her daily responsibilities, Aurelia is constantly trying new things, such as creating and leading a coalition for women in tech leadership in 2020, where women got together to talk through different issues and provided each other with support. She encourages this kind of outside-of-the-box mindset by encouraging her teammates to be creative and find opportunities to serve others.
Fostering Growth
"I do believe that one person can make a difference in the world," says Aurelia. Because of this, she strives to find practical ways to challenge others to get out of their comfort zone. She gives us three tips:
1. Invest in your relationships. "Don't make assumptions about people. Ask questions, clarify their intent, and give the opportunity to answer and self-assess. This helps save so much time and unnecessary miscommunication, especially in our fast-paced virtual world," says Aurelia. "Having really good relationships with people is a great way to grow through a network, because you learn through other people's learnings and mentorship."
2. Let curiosity fuel you. "Eleanor Roosevelt said one of my favorite quotes of all time, 'Do one thing every day that scares you,'" she says. "Whether that's reaching out or asking a hard question, it's really important." To remind her to do this, Aurelia has a sign on her computer that says, 'Do one thing that makes a difference.' "If you're doing the same thing every single day, you're going to stay where you are and things are gonna keep going where they go," she elaborates. "You don't have to change up your whole world, but you can do one thing that you've never done before."
3. Always be open to opportunity. "You don't know when the next opportunity will come from, what space it has, or what shape it has," says Aurelia. "It's so fun to be open to opportunity and explore. You can always say no, but what if you say yes? Our world is made up of all these possibilities and experiences that you would've never had before if you hadn't explored."

CHG continuously gives its employees chances to grow, just like Aurelia. If you're interested, check out their current job openings here.
READ MORE AND DISCUSS
Show less
Loading...