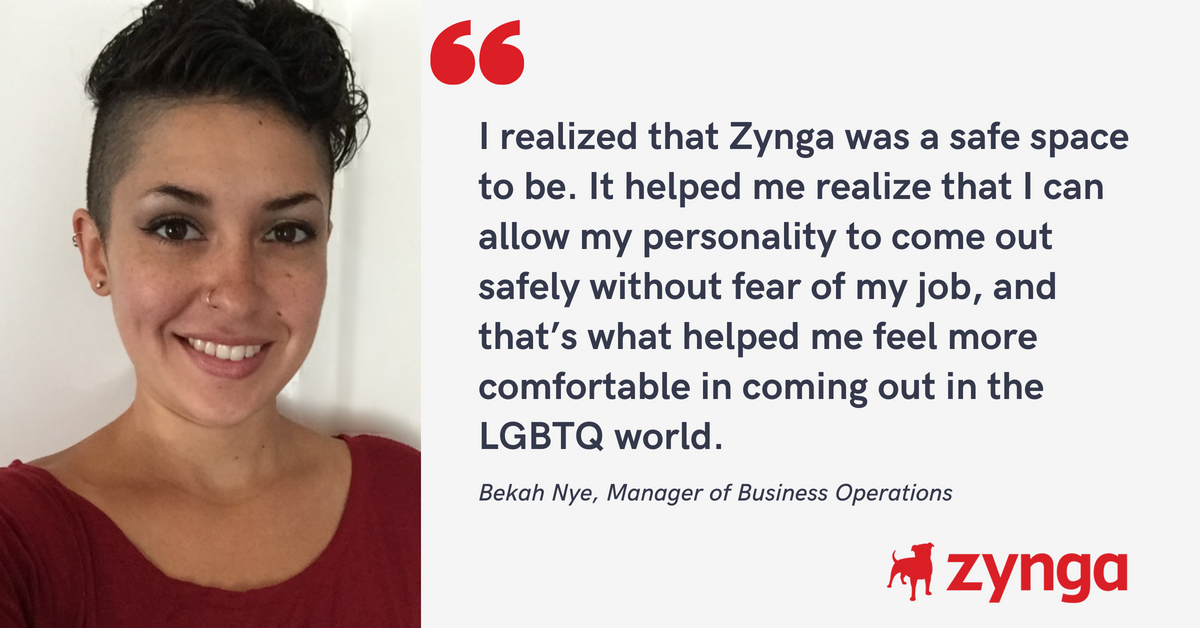 Zynga
Bekah Nye isn't particular about pronouns.
"I honestly don't care if anyone calls me sir, he, they, she. I don't care what someone calls me at this point; I don't feel like I need to label myself for anybody else," says the Manager of Business Operations at mobile game developer Zynga.
Bekah realized she was nonbinary when her younger sister saw that an actor had recently come out as nonbinary and asked Bekah what it meant. (Bekah is fine with people addressing her with "she/her" pronouns, as that's how she presents, so that's what we'll use in this piece.)
"As I was reading about it, I realized, 'This is me.' I was explaining about the actor and myself at the same time," shares Bekah. "I don't need to identify as non-binary to identify as who I am, though. I'm simply trying to be myself to the fullest, and it's come naturally along the way."
After growing up in a religious household and navigating the impact it had on her identities, Bekah came out as bi in high school, and now prefers to identify as queer—though she still has a strong aversion to labels.
"Labels are important; I understand the use of them," she says. "They're very important for us to be able to communicate with each other because otherwise we don't know how. But trying to fit that label into a box has been difficult."
Bekah has realized that she does best in environments without boxes. And that's exactly what she found at Zynga when she joined four years ago.
Finding the right environment for her
Bekah first heard about an opening at Zynga via a close friend. "I got this text, 'There's a position open that's perfect for you, send me your resume this second!'" remembers Bekah.
That's how she got in the door—but she didn't take the job just for a chance to work with her friend.
First, Bekah wanted a more flexible workplace, one that wouldn't ding her if she arrived ten minutes past her usual time. She liked Zynga's relaxed and non-micromanaging approach to work culture.
Second, she wanted a place where she felt like she could really be herself. "I had a little bit of whiplash from past managers; I hadn't really had a good long-term manager up to that point," she said.
She got a good first impression from her would-be manager at Zynga, and it turned out to be right. "He saw my potential and my personality and simply kept encouraging it," she says. "I realized that Zynga was a safe space to be. It helped me realize that I can allow my personality to come out safely without fear of my job, and in turn that's what helped me feel more comfortable in coming out in the LGBTQ world."
Feeling safe at Zynga and confident in her work skills helped Bekah feel confident in who she was, and in communicating that to her team. Now Bekah is out at work and has joined Z Pride, Zynga's LGBTQIA+ ERG.
And she's excited to share her experience with others and to let them know there's room for them at Zynga, too. Even doing this interview is an example of that.
"Somehow, I made it through the obstacles and hardships of my early life. Somehow, I made it here. I'm at Zynga with awesome benefits, a good-paying job and amazing coworkers. How can I not use this platform to speak from the rooftops of what a human-being can accomplish?" she asks.
Navigating a world of labels
Bekah recently applied for a home loan. When she filled out the paperwork, she decided to leave the gender section of the application blank. She'd heard how single women got offered worse APRs than single men. "I didn't want to be treated any differently based off the gender I was assigned at birth," she says.
She's run into the limitations of gender at work, too. Bekah is currently mentoring two young women, one of whom is a new manager; in a recent meeting, Bekah gave her advice she'd been given earlier in her own career: "Be more assertive."
"She straight out asked me, 'But what if I don't want to be?' I had never thought about that before. I'd been working so hard to fit in that I automatically did away with being softer; I was more assertive so I could actually speak at meetings, so I could properly represent myself," says Bekah. "I'm still mulling about how women can come up in an industry that is male-dominated and still keep their feminine sides while still being heard and working effectively in the workplace. I don't have a good answer for that right now."
When it comes to asking about gender identity, whether at work, at the bank, or in life, Bekah generally believes in letting people define for themselves how much they'd like to share. For example, a manager might be well-intentioned in asking everyone in a meeting to share their pronouns, but that can put some people in an uncomfortable position.
"Asking people to share their pronouns in a way is asking them to out themselves," says Bekah.
One of the issues Bekah has with labels like man/woman or straight/bi/pan is that they mean something different to different people. "Take gender fluid—I understand what gender fluid means to me, but I don't fully understand what it means to everybody else. With that being said, I don't know if I can take that label because I don't know how others define it," she explains.
4 ways to find the right space for you
Bekah has some advice for people who might be struggling with expressing their full identities at work:
Be true to yourself. "It's going to make you a hundred times more comfortable than anything else," says Bekah. "You're the only person you have to live with for the rest of your life. You have to put up with yourself, whether you like it or not. So be true to yourself first."
"You don't have to share if you don't want to." Bekah urges "patience, empathy, and understanding, not just with self, but with others too, because you can't expect everybody to be the same."
Create a safe space for yourself first. "Maybe you can't have a safe space outside of your home or in a work environment, or maybe it's even hard to find a safe space in your home, but there's always the opportunity to find a safe space within yourself," she says. She suggests trying activities like meditation, yoga, swimming, drawing, or breath work to find an outlet for emotion. Bekah's personal favorite is singing, particularly Beyoncé's "If I Were a Boy." "I usually think, 'It's too quiet, it's not going to affect me.' Two minutes later I will be singing at the top of my lungs, tears running down my cheeks. Singing really helps," she says.
Be patient. "Don't let go of either a dream or who you are. In time, things will change, and things will shift," she says. "Consistency and determination will always win in the end."
Interested in finding a safe space to be your full self at Zynga? Check out their open roles.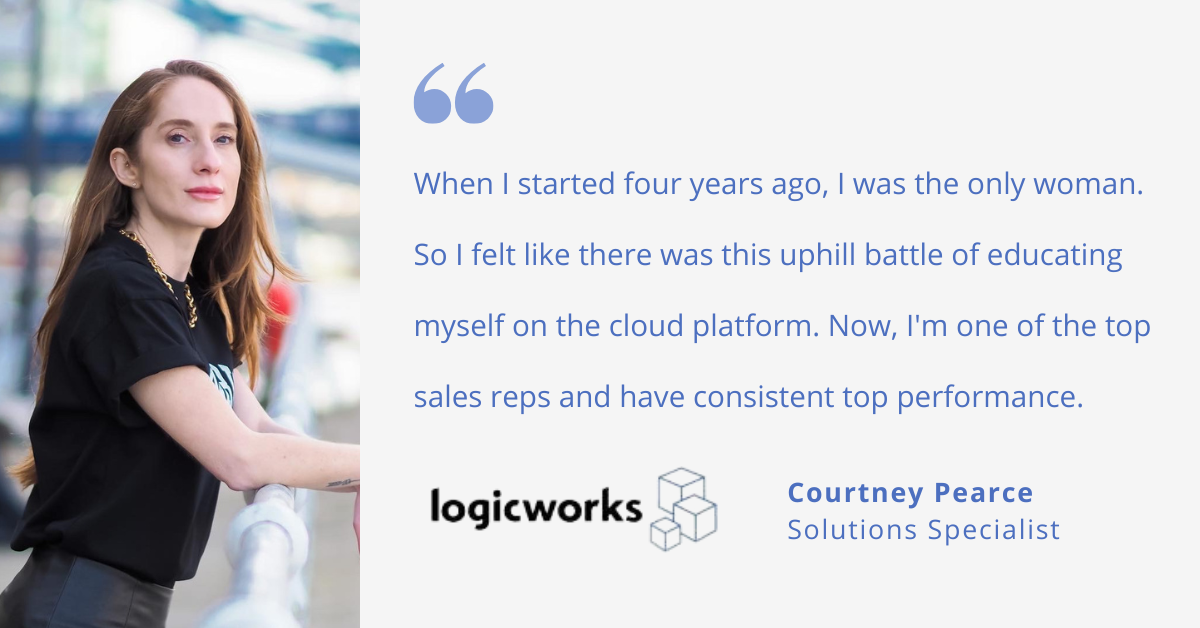 Logicworks
Courtney Pearce's background isn't one you'd expect to find in a tech sales position. But as a motivated self-starter, it makes all the sense in the world that she's been so successful in her role as Solutions Specialist at Logicworks.
If you ask her what she's most proud of about her time so far at Logicworks, she'll say her growth over the last four years.
"Even though I came from a technology company that was selling software, selling infrastructure and infrastructure managed services is very different. There was a learning curve. And when I started four years ago, I was the only woman. So I felt like there was this uphill battle of educating myself on the cloud platform. Now, I'm one of the top sales reps and have consistent top performance. So I'm most proud of my growth over the last four years."
Courtney has a lot of wisdom to impart to those interested in taking on the sales side of tech. We sat down with her to learn more about how she broke into the tech world by utilizing her retail experience.
An Unexpected Path Into Sales
Courtney started college as an Orthodontics major but eventually realized that science wasn't her calling.
"Although I'm a great student, science and math were difficult subjects for me," she admits. "I ended up taking a random textile and clothing elective and it was my favorite class."
She enjoyed the breadth of the program and decided to become a Textiles and Clothing major.
"You got the opportunity to learn the sociology behind why people wear clothes, the chemistry behind dying, how to make fabric, then creating a line from start to finish and marketing that to the class," she shares.
Although fascinated by the program, her career journey didn't lead her to the fashion industry but rather to an adjacent career in retail.
"I ended up accepting a leadership position for a big box department store," she says. "At 23 years old, I ran a 35 million dollar store. It was a great experience and I learned a lot."
After two years of working in retail for various name brands, she found her way into a tech company through a recruitment role.
Breaking Into the Tech World
While Courtney was working at a recruiting firm, she was approached by a security tech company with a position as a technical recruiter. She was interested in the role and applied, but didn't get an immediate response.
"I didn't hear back, but continued to follow up," she recounts. "One night, I got a phone call that said, 'You're not a good fit for the technical recruiter role, but we have this new group that we're building out called business development and they're working directly with sales. Based on your experience and the fact that you're willing to follow up, we think you'd be a great fit'."
At the time Courtney knew nothing about the tech space but that didn't stop her from interviewing for the position.
"I spent an entire week browsing the website, watching all their product marketing videos, and tried to wrap my head around what this security company did," she explains.
During the interview, she blew them away with her knowledge of the company.
"I gave my five-minute spiel and I think that impressed them," Courtney shares. "I had taken the time to research the company, and not having had a tech background, I tried to comprehend what they do."
Hired as a business development rep, she had the opportunity to build the team from the ground up.
Reaching New Heights at Logicworks
Courtney continued to rise in the ranks, but she eventually felt that she had hit a plateau. With a desire to try out something new, she looked to Logicworks who offered her the career advancement she was looking for.
"I had reached my potential with my previous employer. There wasn't anything new for me to learn. I wanted to figure out what was next in my career. There was an opening at Logicworks for a Solution Specialist to be based in Boston. That was enticing for me."
When Courtney moved to Logicworks she was able to explore job autonomy.
"It gave me the opportunity to move into a territory that I'd been working in for many years, but also run that territory like my own business," she explains. "There was nobody else working within that space, and I could create the process that I wanted to."
Now at Logicworks, she experiences the constant changes of a cloud system.
"I'm constantly learning," she shares. "We're constantly evolving our services, what products we're providing, and how our services are integrated as the cloud is maturing. It keeps me interested every single day."
Now as a sales lead, Courtney focuses on building relationships with current and potential clients.
Coincidentally, the relationship-building skills that Courtney uses on a daily basis come from her experience in retail.
"I think coming from retail, you have to be able to talk to anyone," she says. "You're getting a lot of different customer personalities, so it allows me to be comfortable talking to strangers, which I think is key in sales."
Along with sales experience, Courtney's internal drive has been key in propelling her forward.
"Being a self-starter and watching YouTube videos on what the cloud is, what AWS is, and taking that time on my own to learn and absorb as much as I can are, at the end of the day, the kinds of things that you can prepare you to enter the tech space," she explains.
Ultimately, it was the skills she learned in retail and her self-taught understanding of tech that have led to her success.
Advice for Entering the Tech World Through Sales
If you're looking to enter the tech world from a sales angle, Courtney offers this advice:
Find companies that resonate with your values. "Whether you like their product and think that product is solving a pain point in the marketplace, or you align with the company's values, work for a company whose mission you support," Courtney advises.
Be pleasantly persistent. "The biggest thing that helped me was when I reached out and nobody responded, and then I followed up and nobody responded, and then I followed up again and they called me. Being pleasantly persistent shows that you're interested and invested in the organization," she explains.
Do your research. "Take the time to figure out what the company does and what they are all about. Educate yourself above and beyond the basic training material to ensure that you have the right knowledge base to be successful in the role."
If you are looking to grow within the tech space, check out
these open positions at Logicworks
.
READ MORE AND DISCUSS
Show less
Loading...