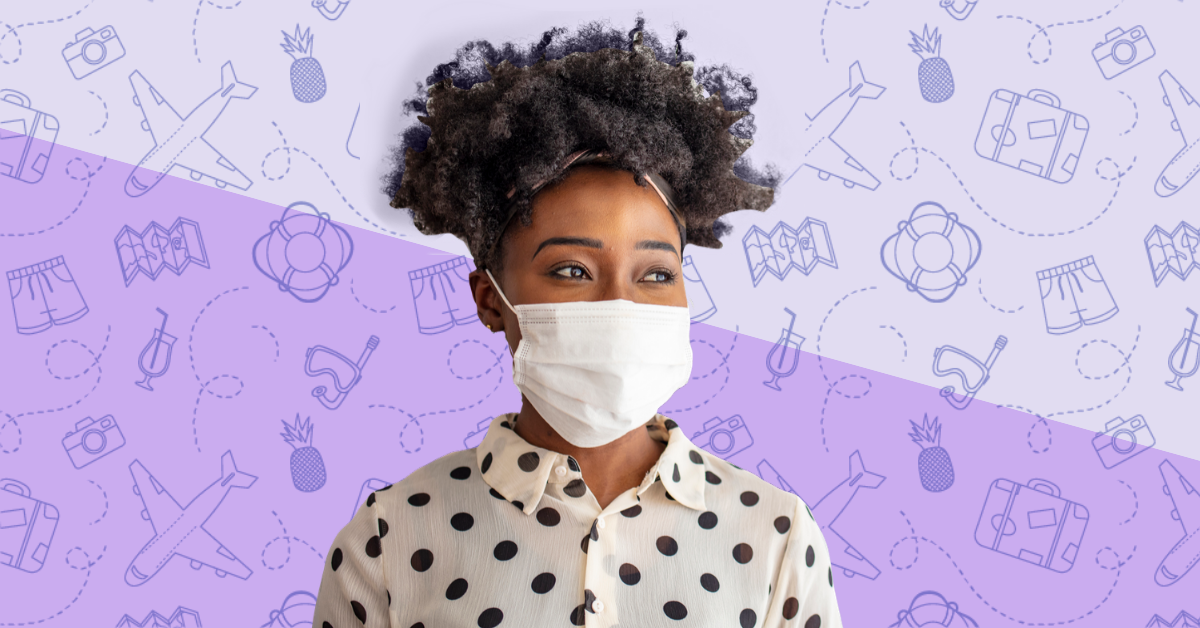 Work-Life Balance
How to Recharge Despite, Well, Everything
A friend of mine who is spending the summer working remotely from her family's lake house took last week off to relax, recharge, and get out on the water in the middle of a weekday instead of just looking at it longingly while she's on Zoom calls.
Another friend is on vacation this week. Even though she's stuck in her apartment under a strict lockdown, she's using her time to sleep, cook, write, and generally engage in self-care activities.
And a third friend is taking next week off and plans to spend a few days camping in a local state park, connecting with nature and ignoring every single one of her Slack notifications.
Vacationing this summer might not look like what you expected. There will be no trips to Europe, no big musical festivals, and certainly no all-inclusive cruises in your near-term future.
---
But that doesn't mean that you can't vacation—and the majority of you are still planning to. We polled our audience and found that 65% of people plan to take time off this summer, with half of them doing so as a "staycation" and half heading away from home for safe travel, and only 32% of people planning to reschedule vacation days for a later point.
Whether you take PTO to disconnect from work, catch up on household chores, reconnect with loved ones, or just relax, taking vacation is a good way to manage and support your mental health. And companies are in sync with that: a recent WSJ article explains that many companies actually want employees to take off time now because it'll reduce the chances of them burning out and it'll help avoid a glut of vacation days all taken near the end of the year.
If you are planning on still taking vacation and haven't figured out how to do so yet, here are some tips on how to make the most of it.
1. Communicate well.
You're working from home (or, said less optimistically, living at work). Can you still ask to take time off even if you're not going anywhere? The answer is unequivocally yes, but doing so isn't as straightforward as it was in the Before Times. Read the PTF guide for asking for time off while you're working remotely for tips like choosing your dates ahead of time, putting your request in writing, and setting up good escalation methods.
2. Set yourself up for success upon your return.
No one wants to click into their work inbox after a week off and find it full of disasters. PTF's Marketing Director shared her tried-and-tested approach to preparing to take time off, including a sample vacation email to send out the day before that you can and should copy, paste, and send to your manager. Don't say we never gave you anything.
3. Choose the vacation that's right for you.
Some people feel comfortable traveling for their vacation. Others don't want to leave the house. We're not here to judge anyone's plans, particularly since no one's personal circumstances and local regulations are exactly the same. As long as you are educating yourself about what's safe and allowed in your area and acting responsibly, we support any and all versions of vacations—and here are some of our favorites:
The staycation. Whether you live in a COVID-19 hotspot or just don't want unnecessary exposure, you might feel most comfortable spending time at home on your days off. Try one of these subsects of a staycation:
The creative outlet. Bring out the puff paint, the tie-dye kits, the notebooks, the cookbooks, the charcoal: there's a new master artist in town. Spend a few days unlocking the creative side of your brain, exploring your imagination, and getting your hands dirty, and come back refreshed and full of new ideas.
The productive sprint. Maybe you're the kind of person who loves crossing items off your to-do list, but you haven't had time to make progress on them while juggling the craziness of these last few months. Use some of your vacation days to finish those lingering house improvements, plant the garden you've been meaning to get around to, update your financial planning, or take care of whatever tasks are hanging over your head. The weight off your shoulders will be worth it.
The backyard adventure. Sure, maybe Disney World got booted off the summer agenda. But setting up an outdoor viewing of Frozen sounds pretty fun, too, right? (Bonus points if you dress up in costume and give autographs like the characters in Orlando would've done.) Whether you go for a movie double-feature, backyard tent camping, or your own version of the American Ninja Warrior course, taking a few days off to enjoy time spent with family in your own backyard is a great idea.
The My Week of Rest and Relaxation. Have you read Ottessa Moshfegh's darkly funny, strangely prescient novel My Year of Rest and Relaxation? If you haven't, here's a quick synopsis: a young women feeling a bit lost plans to escape life by using prescription drugs to sleep for a year. We are very much not recommending that you do that, but we do fully support you using your time off to just rest. You don't have to have a creative or productive or busy vacation—you can spend it sleeping in and reading books (starting with that one).
The local escape. If you can travel a bit outside of home, but still don't particularly want to get on a plane, try one of these vacation adventures:
The bike trip. It feels like everyone I know is becoming a bike person and I love it. Helmeting up and biking around is a great way to get to know your own city. Look up the closest body of water and plan a trip there, decide on an arbitrary distance (maybe a century, if you're feeling strong?) and make it happen, or just head out with no destination in mind and enjoy the sound of the wind through your spokes.
The park hop. National and state parks are, by and large, still open—and they're a great place to get in some time with nature while also social distancing. Head out for a good old-fashioned road trip with friends or family for all the hiking, mountain-worshipping, and picnicking you can handle.
The Airbnb adventure. Maybe you want to spend your vacation doing a whole lot of nothing but want to stare at a different four walls while you do it. Look for local properties with updated cleaning polices and rent a local getaway. A change of scenery may be just what you need to finally relax long enough to watch an entire season of New Girl in peace.
The faux luxe escape. Have you heard of apps like Swimply and Turo? The former lets you book local private pools by the hour, and the latter does the same but with private cars. Spend a day at a swimming spot that's close to home and all yours (at least for an afternoon) and another few days cruising around in your dream car, whether it's a classic or a convertible. Indulging in activities that feel like a luxury vacation but come without the all-inclusive price tag will keep both you and your wallet happy.
However you decide to safely take PTO this summer, we hope your time off helps you relax and recharge. And if you read any great books on vacation? Send those recs our way, friends.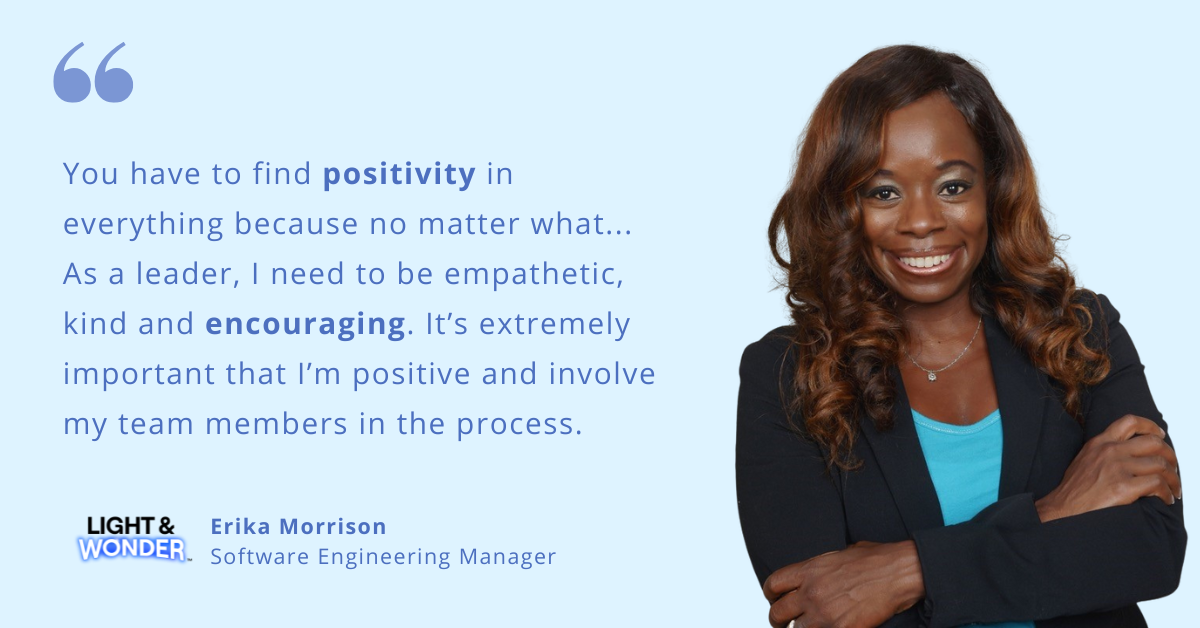 Light & Wonder
Erika Morrison is a naturally passionate and encouraging leader. From leading her family in giving back to their community, to coaching adolescents in track and cheer, to managing her team at Light & Wonder during the pandemic, her experience is rich with lessons to share with up-and-coming leaders.
"I believe in motivation, positivity, inspiring, finding the good in everything, everybody," she says. In addition to 30+ years in the tech field, Erika is a wife, a mother of two, an avid exercise lover, and has even been a small-business owner.
We sat down with Erika to hear about the experiences that have led her to her current role as a Software Engineering Manager at Light & Wonder, as well as three practical ways to lead with purpose.
Seeing Potential in Others
Erika has always been fascinated by the world of technology. Growing up, she loved cassette tapes, DVD players, phones, and whatever other gadgets she could get her hands on. When her dad brought home a PC Junior, it didn't take long before she started programming on it. She designed her own trivia game, using what she learned in her middle school programming classes. "I was typing the questions in and programming the answers. I had a blast writing it and showing it to my family. I remember I wanted to show everyone what I made. That was my first real desire to get into programming."
Erika followed that instinct into college where she majored in Business Administration and minored in Computer Science. The kickstart to her tech career came when she landed a computer operating job while still in school. She comments, "I was originally applying for a secretarial position at this company. But someone looked at my studies and experience and saw potential in me. I didn't think I was ready for that because I was still so young, I was still in school."
Erika went on to work as a programmer analyst and software engineer for multiple major Casino based companies. During this time, she even started and ran a local event-planning business, which fine-tuned her skills in successful customer service.
Then, someone saw potential in Erika again. A former coworker reached out and offered her a leadership position with the company that would become Light & Wonder. Erika took on the role of Software Engineering Manager and says "it's been opportunity after opportunity ever since."
Managing Through the Pandemic
Erika believes that the best way to lead a team is to really get to know its members. "A lot of leading is knowing the people on your team," she explains. "Know what each person needs — What may work for one person may not work for someone else. We have to take a little bit of who they are into consideration when attempting to motivate, to coach, to inspire because we're not all motivated by the same things."
Prior to the pandemic, Erika and her team worked together in the office, which gave her the opportunity to do so. Once the pandemic hit, however, she had to pivot to incorporating virtual meetings to be able to generate that intimacy. She organizes bi-monthly check-ins with her team members where she intentionally asks for their individual preferences on communication and feedback.
"I have one-on-ones with each of my staff every two weeks. We go over the issues that they've had and then any questions or concerns or anything that they want to chat about. Sometimes it's business and sometimes it's personal. But, I feel like taking that extra time out just to have those conversations is extremely important."
She also cohosts weekly remote Friday cocktail hours to cultivate her team's relationships and check in on their mental health. "During the Friday cocktail hours, we would relax, ask some questions, or play some games. And it was nice to have that interaction again and connect with the team. It also allowed me to check in on everyone's mental health and make sure that if there was anything that we could do, we were here."
Inspired to Encourage the Team
Erika is inspired by the example of her past and current mentors and their vision for her professional trajectory. She acknowledges that it was thanks to key people who saw her potential that she has been able to have these experiences. Erika's own personal drive and passion for encouraging and uplifting others have led her to love her leadership position.
As a manager, Erika seeks the highest level of respect and excellence for her customers, while creating an encouraging work environment for her team. "I want to make sure that my team has everything that they need in order to succeed and get their jobs done the way they want to. I want them to have the level of success that they want."
Erika ensures that her team members feel their significant contribution to the company and how they are serving with purpose. "We need to feel like we are part of something significant," she says. "That's my goal as a leader and for my team."
3 Ways to Lead with Purpose:
Drawing from her experiences as a tech leader, business owner, coach, and community volunteer, she gives us three practical ways to lead with purpose in whatever context.
Understand the "why". "It's extremely important to know the why of your company. Once you understand it from the company's perspective, you can communicate it clearly to the team. And once you get that down, you're able to help build a strong path for them to follow so that both "why's" are in alignment. Knowing the why of your individual team members allows you to better manage, assist, and build a relationship with them."
Build consistency. "I think it's very important that we are consistent and don't deviate from the why and the task at hand. Building consistency with others motivates and inspires people to give their best, even when we don't feel like it. When dealing with a change or a huge transition, it's extremely important to stick to the why's, the steps we're taking, and the right attitude."
Remain positive. "You have to find positivity in everything because no matter what, it could always be worse. We can always find the negative things, but there are also always positive things. As a leader, I need to be empathetic, kind, and encouraging no matter what. It's extremely important that I'm positive and involve my team members in the process."
Follow this link for more information about Light & Wonder and their current openings!
READ MORE AND DISCUSS
Show less
Loading...