GET EMAIL UPDATES FROM POWERTOFLY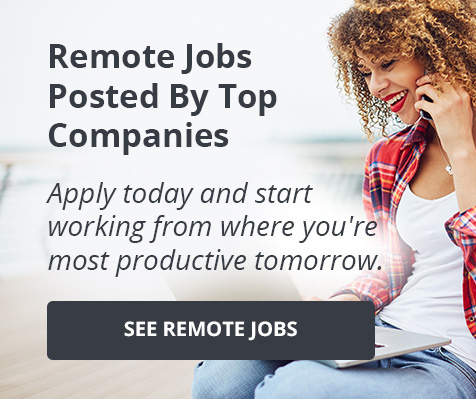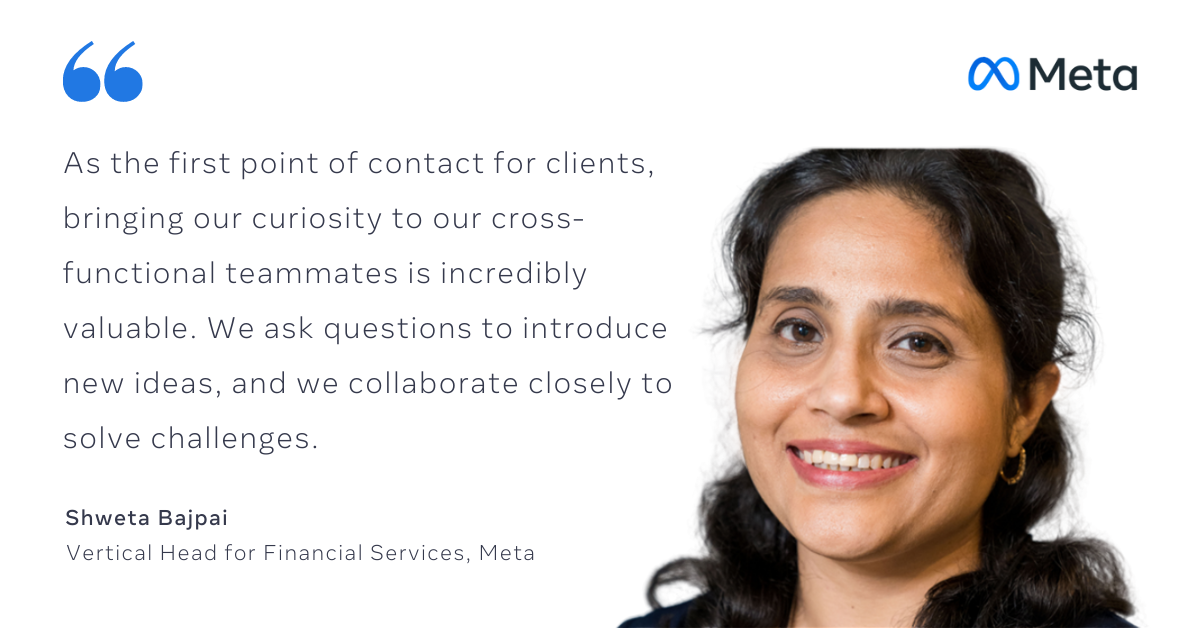 Meta
This post was originally published on the Meta blog. Go to Meta's company page on PowerToFly to see their open positions and learn more.
Editor's note: The following post is by Shweta B., Vertical Head for Financial Services, Media, Travel and Professional Services, in India. In her own words, she describes four core characteristics that empower client partners and client solution managers on the Global Business Group team to succeed.

When I'm asked about the last two years of my career journey, the first thing that comes to mind is the people I've worked with and the impactful change we've made together. After four years in business operations at another tech company, I started thinking about how I could apply my leadership skills to a new challenge. After exploring a few different opportunities, I was introduced to a position with the Global Business Group team in India that aligned with my experience and interests in developing a team of client partners and client solution managers. I was struck by something else I discovered through my interactions with my Meta colleagues as well: an incredibly inclusive culture where it was clear that the team was intentional about empowering one another to grow. Collaborating with a diverse group of people from unique backgrounds has been one of the most rewarding parts of my experience over the last two years with the company. I've also been inspired by observing how, despite the different paths people on my team have taken throughout their career journeys, we all share several key traits and skills: empathy, curiosity, authenticity, and the ability to think ahead. Looking back, I've reflected on how each of these characteristics are helping to power our collective success.
1. Empathy
Empathy not only helps me connect with my team, but it empowers us to build relationships with one another, the cross-functional partners we work with internally, and our clients - advertisers across the travel, financial, media, and professional services industries. Strong relationships enable us to establish a foundation of trust, facilitate open and honest conversations, and see things from a perspective outside of our own. This is especially important for my team. Our clients depend on us to advise on their advertising strategy, and in order to help them meet their goals, it's critical that we understand who they are, what they're doing, and what matters most to their customers. With this, we must also recognize that there isn't a "one-size-fits-all" approach. What works for one client won't necessarily work for another, and solving problems often means working together to think about a creative idea we haven't tried before. Having deep care for the end-user and being empathetic about their needs is a north star that helps us continuously strive for building the best experience possible.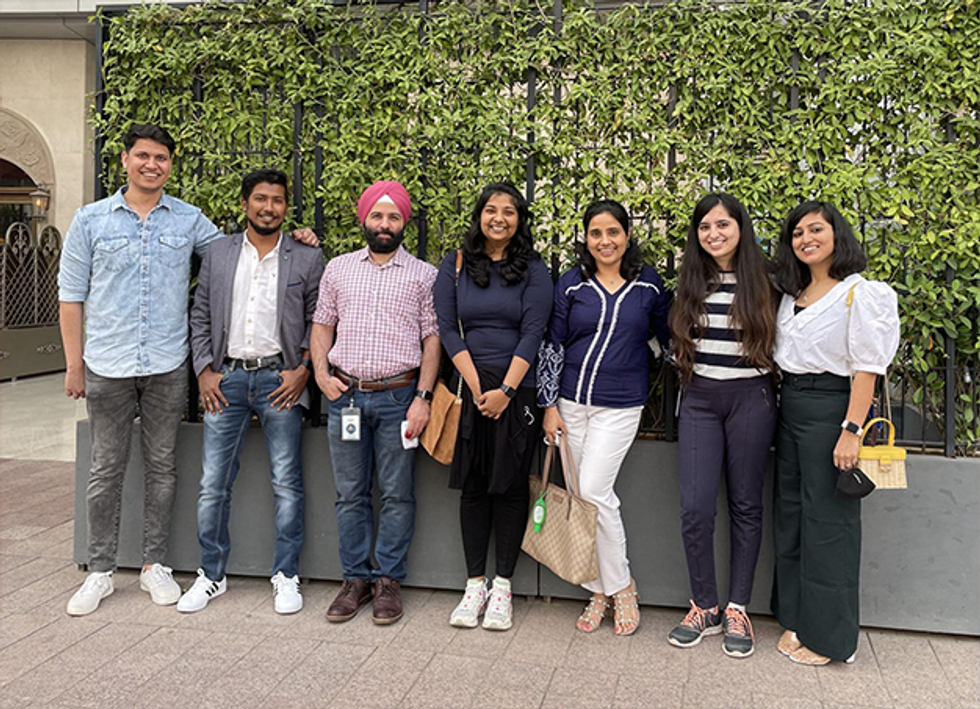 Shweta and the GBG In Market team enjoying time together at the Meta office in Gurgaon, India.
2. Curiosity
At Meta, we're on the frontier of inventing cutting-edge ways to develop new advertising solutions—and with that, we're implementing methods we haven't tried before. Innovation is a key element of our team and company culture, and introducing new ideas calls for deep curiosity. Rather than doing things as they've always been done, people who thrive on my team challenge each other to be bold, think bigger and share outside-of-the-box ideas. We ask ourselves questions like, "What can we do for the client if we think beyond product or bandwidth constraints", "What could this look like in the long-term?", and "We might not have the skills internally to answer all of our client's questions, but who can we partner with cross-functionally—or globally—to solve this problem?" As the first point of contact for clients, bringing our curiosity to our cross-functional teammates is incredibly valuable. We ask questions to introduce new ideas, and we collaborate closely to solve challenges." Curiosity also means being open to change, and it's a trait I look for when meeting with potential team members. Outside the questions focused on skills, I usually ask potential candidates for their honest view on Meta technologies, what do we do exceptionally well, and where we could do better as a company from their perspective. While we hire for specific roles, we leave space for people to help redefine their roles and take on new challenges as our work evolves. This not only empowers team members to employ their curiosity to explore different interests and possibilities, but to think more broadly about how to make the most meaningful impact.
3. Authenticity
Authenticity—bringing your full self to work—makes it possible to be open, transparent, and vulnerable. In turn, we can communicate more effectively, foster strong relationships and lead by example. Having these capabilities is like having superpowers when collaborating cross-functionally, developing a team, and working with clients. Despite the incredible benefits of being authentic, I wasn't always certain how to balance being my full self and showing up as a strong leader. I initially felt hesitant to share details about my life or talk about what mattered to me outside of work—and that prevented my team from being more open with me. At Meta, being authentic is at the heart of our culture. Leaders embrace transparency and demonstrate what it means to be open. Experiencing this has inspired me to rethink my own approach and grow. "When we're comfortable being our authentic selves, we're most empowered to put our best foot forward." Now, one of my favorite parts of the week is the first 15 minutes of our weekly team meeting. We talk about anything and everything—as long as it's not work-related! This bonding time helps us learn more about one another. I'm proud of the relationship we've formed together, and they know I truly care about each of them. This comfort and connection extends to our work with clients as well, helping us bring a transparent, people-first approach to our work. We won't suggest a product that doesn't align with their goals just to fulfill ours, and we'll be realistic when we need to think about changing course. While these authentic interactions may seem small, they make a big impact.
4. Forward-thinking
No two days are the same here, and we're constantly thinking about what's next. No matter a team member's experience or role, having the ability to look ahead enables us to keep the big picture in mind and work toward longer-term goals. It also inspires us to be creative and start conversations about how small decisions today can contribute to what happens tomorrow.Right now, we have a massive opportunity to shape the future and make an impact across India in the travel, financial, media, and professional services industries. I often think about how this is the first time that India's digital advertising industry has surpassed the TV industry, and how WhatsApp and Instagram have exploded in popularity over the last few years. The work we do with our clients is part of this shift in the way people consume advertising and media, and everyone on the team is able to drive change for the community. While we've already accomplished so much together, there's still limitless opportunity to look forward to!
Stay connected!
READ MORE AND DISCUSS
Show less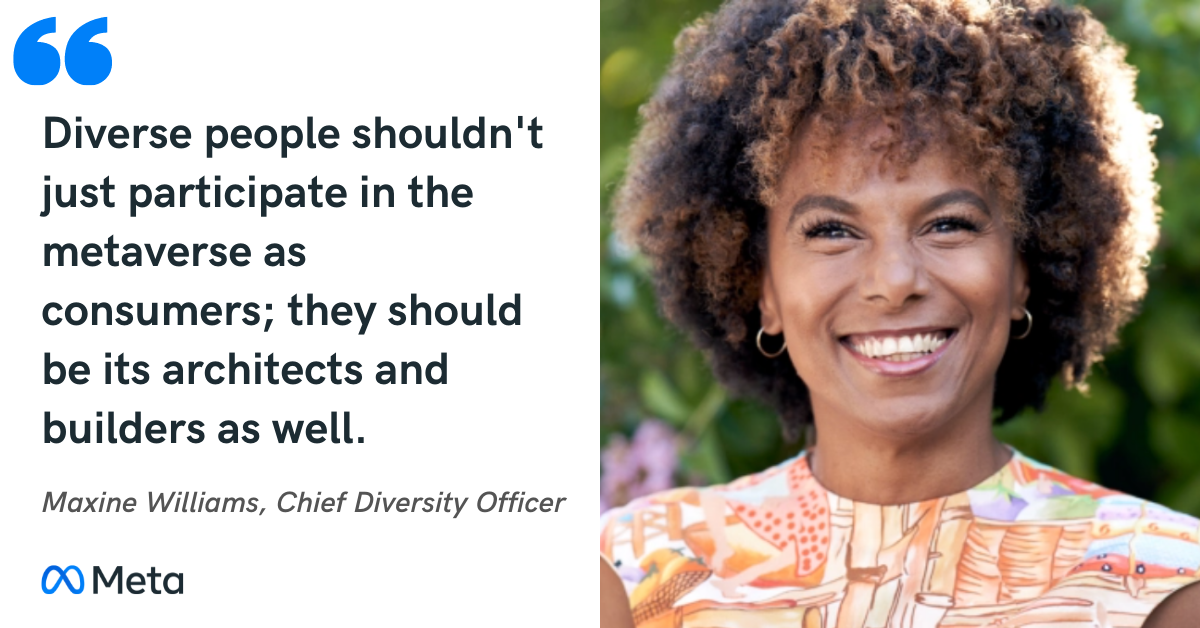 Meta
This post was originally published on the Tech at Meta blog. If you'd like to learn more from leaders at Meta, check out their thought leadership here.
A few months ago, I went through a part of my usual Saturday routine: I took my child to soccer practice and cheered from the sidelines. But this time, I wore my Ray-Ban Stories glasses. With a simple voice command, I was able to take photos and videos without having to fiddle with my phone or be separated from the moment by a screen. For the first time, I was right there the entire time — never missing a moment.
That afternoon, I got a glimpse into what's possible with presence thanks to technology. It was so powerful and magical that it felt like the gap between my memory and experience had completely collapsed.
The metaverse — the next generation of digital experiences — will transform the way we connect. With today's internet, we connect with people mostly by looking at screens. But in the metaverse, we'll be able to share the same spaces three-dimensionally.
In the next decade, more than a billion people may be in the metaverse. And because companies like Meta are starting to think about this future now, we have the opportunity to help build the metaverse with diversity, equity, and inclusion (DEI) from its inception. There's no doubt that it's an enormous responsibility. And it definitely isn't easy to resolve the complicated issues of DEI in technology, especially at a global scale. But working on these issues is one of the things that excites me most about Meta, and our role in using technology to have a positive impact on society.
It'll take years for the metaverse to be built, so we have a long road ahead. Here are a few things we're doing — and being intentional about — now.
1) Asking the right questions
To work toward an inclusive metaverse, we need to ask the right questions about what inclusivity must look like in immersive experiences. Meta is doing that through a two-year, $50 million investment in partnerships with U.S. civil rights groups, nonprofit organizations, academic institutions, and other organizations globally to explore issues related to the metaverse from different perspectives. And through a partnership with Howard University, researchers will explore historical barriers to information technology; they'll share recommendations on what we can do to remove those barriers and offer insights to better inform our work from the ground up.
2) Building networks of diverse talent
Diverse people shouldn't just participate in the metaverse as consumers; they should be its architects and builders as well. To make that happen, we need to increase the diversity of people working in the tech industry, particularly in areas like artificial intelligence (AI), gaming, virtual reality (VR), and augmented reality (AR).
We're partnering with institutions across the United States — historically Black colleges and universities, Hispanic-serving institutions, and Asian American and Native American Pacific Islander–serving institutions — to attract more students to deep learning courses and increase diversity and equity in the field of AI. Through the AI Learning Alliance, more people from underrepresented groups will be able to take free online courses in AI to prepare themselves for the jobs of the future. Courses will be available through our online learning platform, Meta Blueprint, and open to everyone, whether they are a student, professional, or hobbyist.
3) Breaking down language barriers
For people who speak or read languages like English and German, the internet offers endless possibilities. But many people who speak only an unwritten or nondominant language are cut off.
Today's translation tools typically use English as an intermediary when translating between two different languages, which can be less accurate than direct translation. They also aren't capable of translating speech in one language to speech or writing in another. That's why using new technology to break down language barriers is so important. People will feel more connected to others if they can communicate, work, or produce art in their chosen languages. They'll also have the potential to immediately reach billions of others across the world regardless of their preferred language. Can you imagine how that would change our lives?
Possibilities like these drive our long-term efforts to build new translation tools that will give creators and consumers the ability to participate equally in the metaverse in more languages and reach people in the farthest corners of the globe.
4) Broadening access to the metaverse for users and creators
Participation in the metaverse will not depend on having access to a headset. There will be many entry points through which people can participate using any device, including mobile phones. For those who do want the experience that a VR headset allows, we are working to make them as affordable as possible. It's also important to remember that, as an industry, we're still at the very early stages of building devices with VR and AR capabilities.
Enabling access for creators from diverse backgrounds is equally important, and I'm pleased with the progress we are making with our Spark AR platform. It's already being used by hundreds of thousands of creators in 190 countries to build immersive experiences across Meta's apps and devices. Spark AR and similar platforms are making it possible for people from diverse backgrounds to build effects and other things in AR that will enrich our VR and AR worlds of the future.
5) Creating myriad options for self-expression
Representations in the metaverse should reflect the diversity of the real world. Recently, we announced improvements to our Meta avatars, including new facial shapes and assistive devices such as cochlear implants, over-the-ear hearing aids, and wheelchairs for people with disabilities. When you create your avatar, you can choose the facial features, body type, clothing styles, and more that are right for you. We offered more than one quintillion different combinations when we launched our updated avatars last year, and we're continuing to add more options to give people even more ways to express themselves. And now you can choose to bring that avatar across VR, Facebook, Instagram, and Messenger.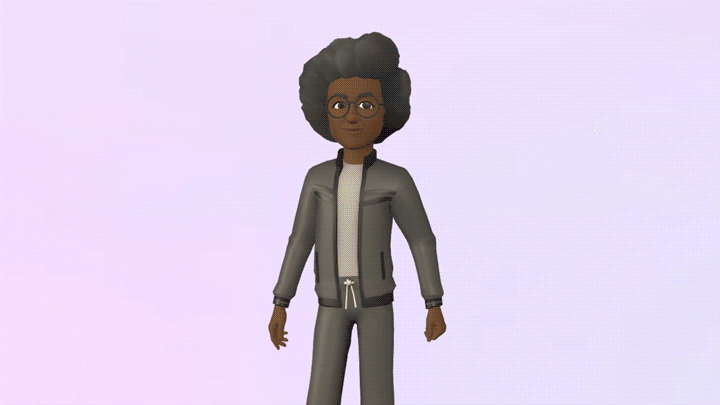 Appearance is important, but representation in the metaverse will also be about voice, sound, and other ways we express ourselves. Avatars are just the first step toward enabling everyone to show up however they choose.
Here's the "ting"
I love my native country of Trinidad and Tobago. In fact, I love the entire region of the Caribbean. However, by virtue of size and scale alone, educational and work opportunities were more limited than if one had the offerings of the entire globe from which to choose. If I had the ability to "be" in other places while physically staying in the country I loved, it would have changed my entire life trajectory. I grew up at a time when long-distance phone calls were exorbitantly expensive, so writing and mailing letters was how I kept in touch with family and friends far away. When I moved abroad to further my education, whether in the United States or in England, I would ration my letters home because stamps were so expensive and the letters took forever to move back and forth! Now, with Ray-Ban Stories and Portal, I can easily share everyday moments with family back home, in real time, no matter where I am. In the metaverse, even more education and work possibilities will open up so that people can pursue their dreams while staying close to the people and places they love.
It's important to remember that an inclusive metaverse benefits everyone, including people from traditionally underrepresented groups. What inclusivity in the metaverse will look like is a difficult question with no easy answers. As with any transformative technology, it will take a while for everything to come together, and even when the metaverse is realized, it will continue to evolve with time. I am encouraged by the active investments Meta is making to approach inclusion holistically and to engage with partners and experts in ongoing conversations about what it will truly mean to help build the metaverse responsibly.
READ MORE AND DISCUSS
Show less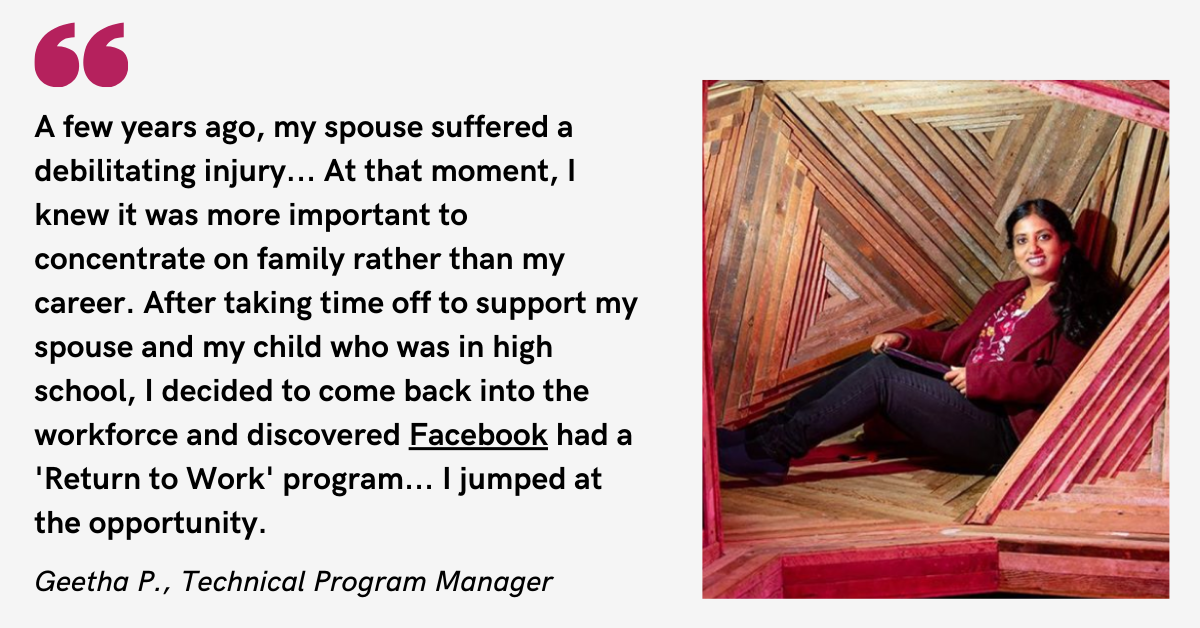 Meta
We're excited to announce applications are now open for Facebook's Return to Work program. We have positions open for 10 roles:
Roles are based in the Bay Area and Seattle area offices, as well as our Boston office. Please check each job requisition for the corresponding locations.
What is the Return to Work Program?
A 16-week immersive program designed for those who have left the workforce for 2 years or longer and are looking to re-enter the workforce full-time. At the end of the term, those who have demonstrated their abilities to succeed and have an impact at Facebook will be considered for a full-time position.
Hear stories from Return to Work Program graduates:
When?
The Fall Program starts at the end of August and runs through December.
How?
To view opportunities and apply, visit our website. Please apply early, as we're expecting a high volume of applicants and have limited positions.
READ MORE AND DISCUSS
Show less
Loading...