GET EMAIL UPDATES FROM POWERTOFLY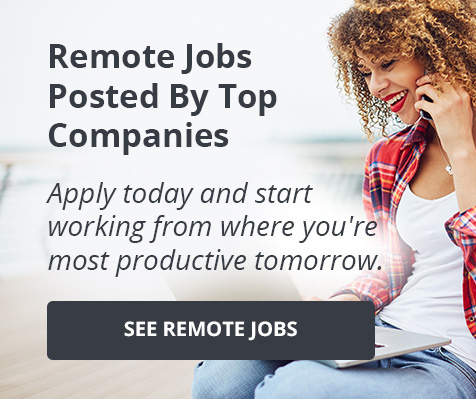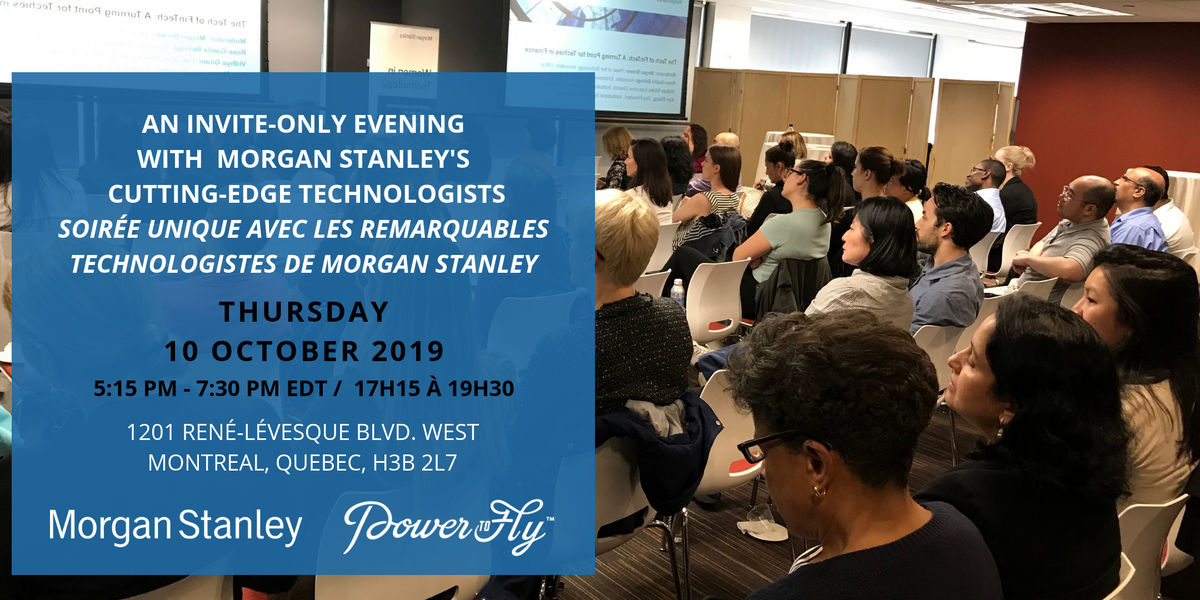 September 10, 2019
Unique Evening with Morgan Stanley's Cutting-Edge Technologists / Soirée Unique avec les Remarquables Technologistes de Morgan Stanley
Join Morgan Stanley and PowerToFly for a night of networking, tech talks, and panel discussions on Thursday, October 10th, featuring Morgan Stanley's cutting-edge technologists. The evening's speakers will share insights into their latest projects, their career journeys, and take questions from the audience.
Find out why it's an exciting time for technologists to work in financial services.
This event is a great fit for women working as Backend or Fullstack Developers (Java, C++, C#, Python), Data Scientists, DevOps Specialists, Cyber Security Specialists, Database Administrators, QA Automation Specialists, Linux/Unix, and Cloud Computing Specialists.
Agenda (subject to change):
17:15 - Check-in and networking
17:50 - PowerToFly kickoff by Katharine Zaleski, Co-Founder & President, PowerToFly
17:55 - Keynote address by Alan Vesprini, Managing Director, Head of Morgan Stanley's Technology Centre in Montreal
18:05 - Tech Talk, Why We Like Open Source, Elspeth Minty, Executive Director, Morgan Stanley
18:15 - Panel, The Tech of FinTech: A Turning Point for Techies in Finance

Speakers: Aditi Noata, Executive Director, Morgan Stanley; Maggie W. Shao, Vice President, Morgan Stanley; Mark Lechner, Vice President, Morgan Stanley
Moderator: Katherine Zaleski, Co-Founder & President, PowerToFly

18:30 - Audience Q&A
18:45 - Networking continues over food & refreshments
19:30 - Event concludes
Join us on Thursday, October 10th from 17:15 - 19:30 (5:15pm to 7:30pm) at 1201 René-Lévesque Blvd. West, Montreal, Quebec, H3B 2L7. Please check in at the Morgan Stanley registration desk. Please note, you will need a photo ID to enter the event.
About technology at Morgan Stanley: Morgan Stanley has a rich history and culture of technology innovation, allowing the firm to stay on the cutting-edge and solve highly complex business and technology problems in finance, capital markets and wealth and asset management. Our teams of world-class technologists continuously explore opportunities emerging from new technologies, build innovative solutions and establish partnerships with emerging technology players to deliver new and innovative solutions. Our technology team's priority areas include cloud computing, productivity and social platforms, big data and analytics, machine learning, automation, artificial intelligence and cybersecurity. We also focus on emerging technologies, such as augmented and virtual reality, gamification and quantum computing.
About PowerToFly's events: All RSVP'd attendees are welcome, regardless of race, color, religion, national origin, gender identity, pregnancy, physical or mental disability, or age. If you require assistance to fully participate in this event, please email hi@powertofly.com, and we will contact you to discuss your specific needs.
Unfortunately, PowerToFly cannot admit outside recruiters to this particular event. Please email hi@powertofly.com if you have any questions about this policy.
************
Joignez dès aujourd'hui Morgan Stanley et PowerToFly pour une soirée de réseautage, conférences technologiques et débats de spécialistes le jeudi 10 octobre, avec les remarquables technologues de Morgan Stanley. Les spécialistes donneront un aperçu de leurs derniers projets, leurs chemins professionnels et répondront aux questions du public.
Découvrez pourquoi le moment est excellent pour l'intégration des technologues aux services financiers.
Cet évènement est idéal pour les femmes travaillant en tant que Back-end ou Full-stack Developers (JAVA, C++, C#, Phython), Data Scientists, Spécialistes DevOps, Spécialistes en Sécurité Informatique, Administrateurs de bases de données, Spécialistes en QA Automation, Linux/Unix et Spécialistes en Cloud Computing.
Ordre du jour (susceptible d'être modifié) :
17:15 – Enregistrement et réseautage
17:50 – Lancement de PowerToFly par Katharine Zaleski, Cofondatrice et Présidente, PowerToFly.
17:55 – Allocution de Alan Vesprini, Directeur général, responsable du centre de technologie Morgan Stanley à Montréal
18:05 – Tech talk, Pourquoi nous aimons l'Open Source, Elspeth Minty, Directeur exécutif, Morgan Stanley
18 :15 – Débat

Intervenants: Aditi Noata, directrice générale, Morgan Stanley; Maggie W. Shao, vice-présidente de Morgan Stanley; Mark Lechner, vice-président, Morgan Stanley
Modératrice: Katharine Zaleski, cofondatrice et présidente de PowerToFly

18:30 - Questions-réponses avec le public.
18:45 – Continuité du réseautage avec canapés et rafraîchissements.
19:30 – Clôture de l'évènement.
Joignez-vous à nous le jeudi 10 octobre de 17h15 à 19h30 (5:15pm à 7:30pm) au 1201 Boulevard West René-Lévesque, Québec, H3B 2L7. Veuillez-vous enregistrer au comptoir Morgan Stanley. Pièce d'identité nécessaire pour avoir accès à l'événement.
À propos de la division Technologie de Morgan Stanley : Morgan Stanley possède une histoire et une culture d'innovation technologique très riches, ce qui lui permet de rester à la pointe et de résoudre des problèmes commerciaux et technologiques extrêmement complexes, dans le domaine des finances, de marchés de capitaux et de gestion de patrimoine et de biens. Nos équipes de technologues mondialement reconnus, explorent en permanence les opportunités issues des nouvelles technologies, élaborent des solutions innovantes et établissent des partenariats avec des acteurs technologiques émergents afin de fournir des solutions innovantes. Les domaines prioritaires pour notre équipe de technologues comprennent le cloud computing, les réseaux sociaux et les plateformes de productivité, big data et analytics, machine learning, automation, intelligence artificielle et sécurité informatique. Nous nous concentrons également sur les technologies émergentes comme la réalité virtuelle et augmentée, la gamification et l'informatique quantique.
À propos des événements PowerToFly : Toutes les personnes invitées sont les bienvenues, sans distinction de race, de couleur, de religion, de nationalité, d'identité de genre, de grossesse, de handicap physique ou mental ou d'âge. Si vous avez besoin d'assistance pour participer à cet événement, veuillez envoyer un courriel à hi@powertofly.com et nous vous contacterons pour discuter de vos besoins particuliers.
Malheureusement, PowerToFly ne peut pas admettre de recruteurs extérieurs à cet événement particulier. Veuillez envoyer un courriel à hi@powertofly.com pour plus de renseignements sur cette politique.
From Your Site Articles
Related Articles Around the Web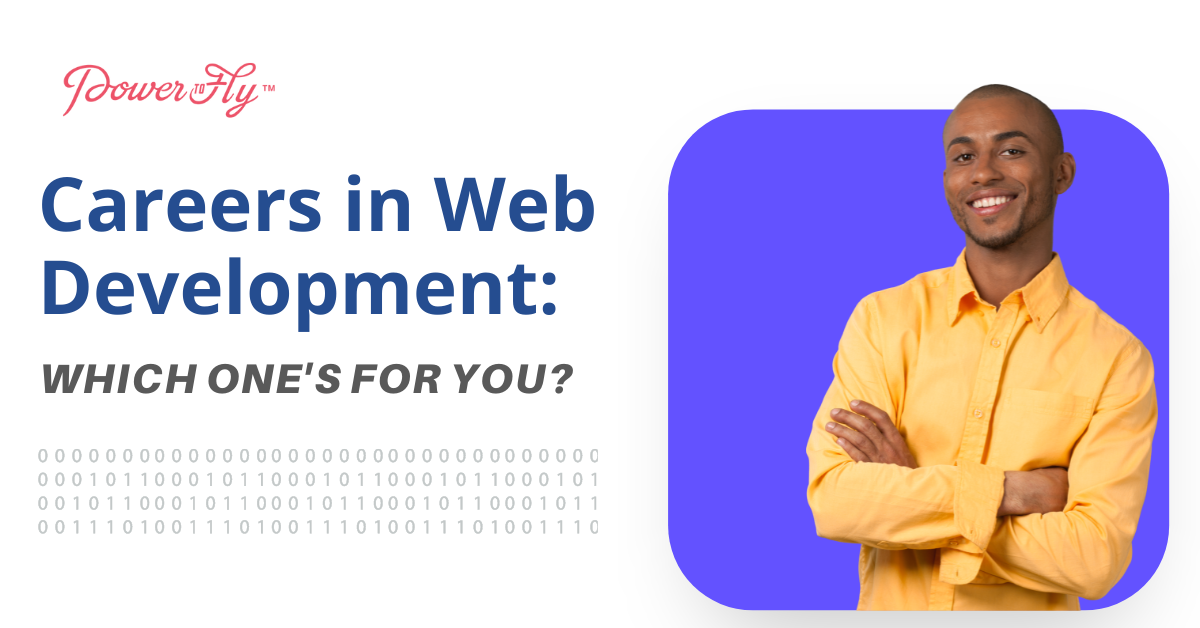 Upskilling and Development
We all have our favorite websites– the ones we frequent, bookmark, and recommend to others. You might even enjoy some website features so much that you've found yourself wondering why they aren't more popular. Or maybe you've experienced times where you were frustrated with a website and wished you could add features or even design your own!
If you've ever found yourself intrigued at the prospect of designing and developing your own websites, then a career as a web developer might be just for you!
As a web developer you would be responsible for coding, designing, optimizing, and maintaining websites. Today, there are over 1.7 billion websites in the world and, in turn, the demand for web developers is on the rise. In order to figure out what kind of web development work best suits you let's start with an introduction to the three main roles in web development that you can choose from.
The Three Types of Web Development Jobs
Front-End Web Development: The Creative Side
Think of front-end development as the décor of a house. The color scheme, furniture, manicured lawns, and overall aesthetic. In terms of a website, front-end development is laser-focused on the appearance of a website and its presentation on different devices. If you're considering a role in front-end development, it's important to learn programming languages such as HTML, CSS, and JavaScript. These three languages go hand-in-hand. HTML allows you to create user interface elements, CSS helps you with stylistic elements, and JavaScript allows you to incorporate online tools and connect your website to back-end functions.
In addition to programming skills, front-end developers need to be detail oriented, creative, willing to keep up with the latest trends in web development, cyber security conscious, and geared toward user-friendly designs. The median salary for a front-end developer can reach well into the $90,000 to $100,000 range.
Back-End Web Development: The Logical Counterpart
While a house can be beautifully decorated, it's incomplete without a solid foundation and efficient infrastructure. Similarly, a well-designed website depends on logical and functional code to power the features of that website. Back-end web development is code-heavy and focused on the specifics of how a website works. If you enjoy the analytical challenge of creating the behind-the-scenes code that powers a website, then back-end development is for you.
Since this role is more code-heavy, it's important that you learn numerous programming languages and understand algorithms and data structures. Some languages that are essential to back-end development are Ruby, Python, SQL, and JavaScript. Back-end developers also ensure that users can successfully retrieve and access data. This requires creating and using APIs (Application Programming Interfaces) which act as messengers that relay data related requests. Additionally, developing the code for the inner workings of a website also requires back-end developers to be conscious of the user interface features designed by front-end developers and to internally mitigate potential security risks. Due to the increased technical aspect of this position, back-end developers normally earn higher salaries than front-end developers. The average median salary for this role is around $118,000 per year.
Full-Stack Web Development: A Little Bit of Everything
A full-stack developer is essentially the Jack (or Jill)-of-all-trades in web development. Full-stack developers need to be knowledgeable about both front-end and back-end roles. This does not necessarily imply that you would need to be an expert in both roles, but you should fully understand the different applications and synergies they each imply. In order to work in this position, you will need to know the programming languages used by front-end and back-end developers. In addition to these languages, full-stack developers also specialize in databases, storage, HTTP, REST, and web architecture.
Full-stack developers are often required to act as liaisons between front-end and back-end developers. Full-stack developers need to be both problem solvers and great communicators. The end goal for a full-stack developer is to ensure that the user's experience is seamless, both on the front-end and on the back-end. In return, you can expect to earn a median salary of $100,000 – $115,000 a year for this role.
Taking the Next Step
Web development is both in-demand and lucrative! All three roles described above contribute to specific aspects of web development and the scope of each one can be customized to the industries and positions you feel best suit you. Regardless of which role you choose, all of them need a foundation in programming.
To gain the programming skills needed in each role, you can enroll in courses or learn independently. Coding bootcamps are a great way to boost your skillset quickly and efficiently.
Click here for some of our highly rated programming bootcamp options! Make sure to check out the discounts available to PowerToFly members.
READ MORE AND DISCUSS
Show less
Loading...