Unstoppable Domains
Below is an article published on Apr 13, 2022. Go to Unstoppable Domains company page on PowerToFly to see their open positions and learn more.
The events of Thursday, February 24th, 2022 left an indelible mark on the lives of more than 44 million civilians.
Including several of our Unstoppable team members.
On this date, Ukraine was invaded causing the need for civilians to enlist in the army.
Others were forced from their city, region, or even country, leaving loved ones, livelihoods, and belongings behind.
Every day since, we've been doing everything in our power to protect and support our ever-growing Ukrainian team, currently comprising more than twenty people.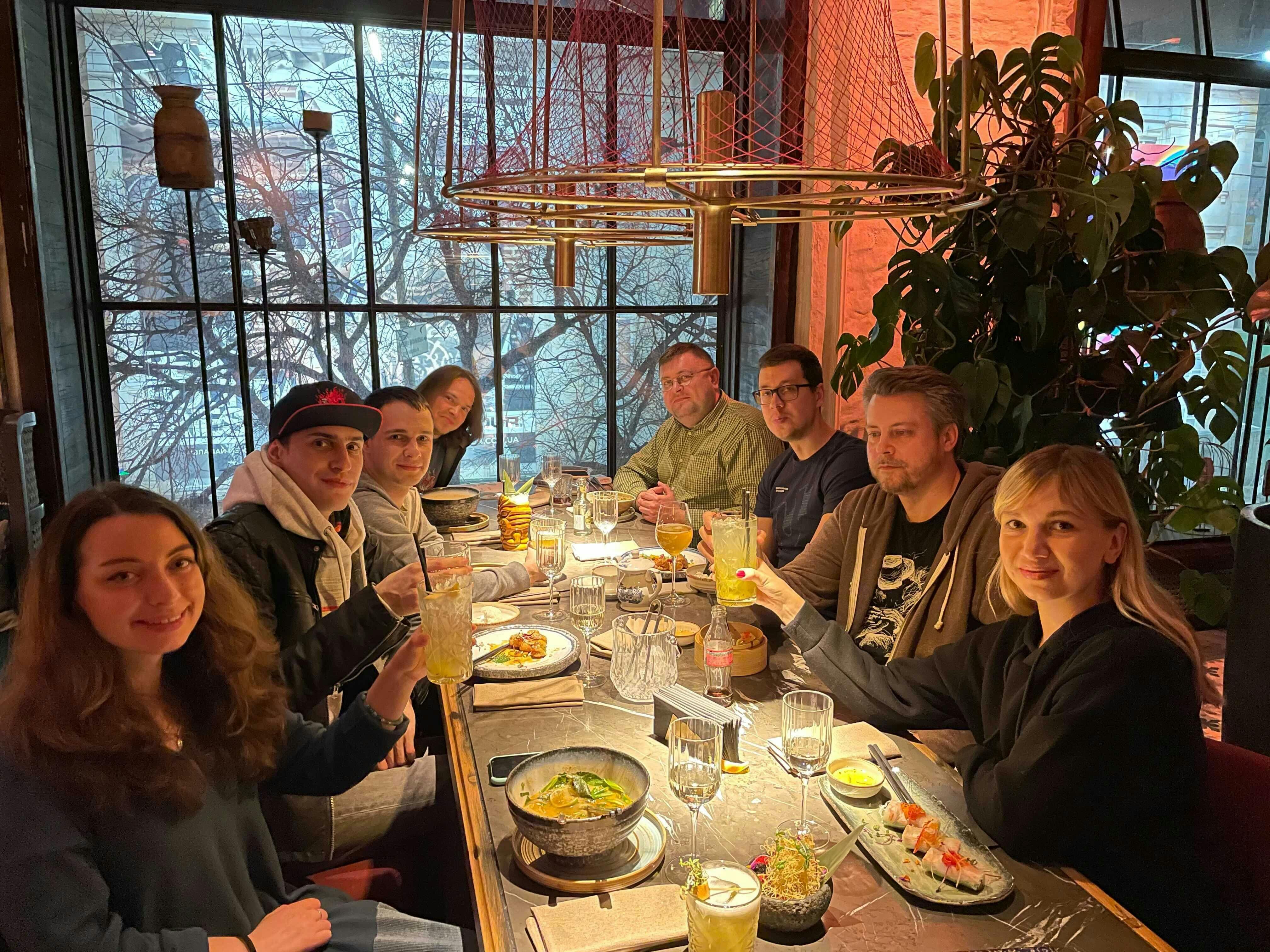 Here are some of our Ukrainian colleagues at a team building meeting last year 🇺🇦
Our support strategy is informed by direct, continuous communication with our Ukrainian teammates to help ensure their safety, psychological relief, and financial stability during the most unstable of times.
There's a famous quote that feels more applicable to us now than ever:
"Darkness cannot drive out darkness; only light can do that. Hate cannot drive out hate; only love can do that." - Martin Luther King, Jr.

So, in the spirit of "shining a light" on the realities in Ukraine, we wanted to provide visibility into the life-changing challenges that our team has overcome to this point and ten ways in which Unstoppable Domains was able to provide assistance.
The war in Ukraine is ongoing.
And to our friends and colleagues there, we can't overstate how inspired we are - and always will be - by your bravery. We're here for you, and always will be.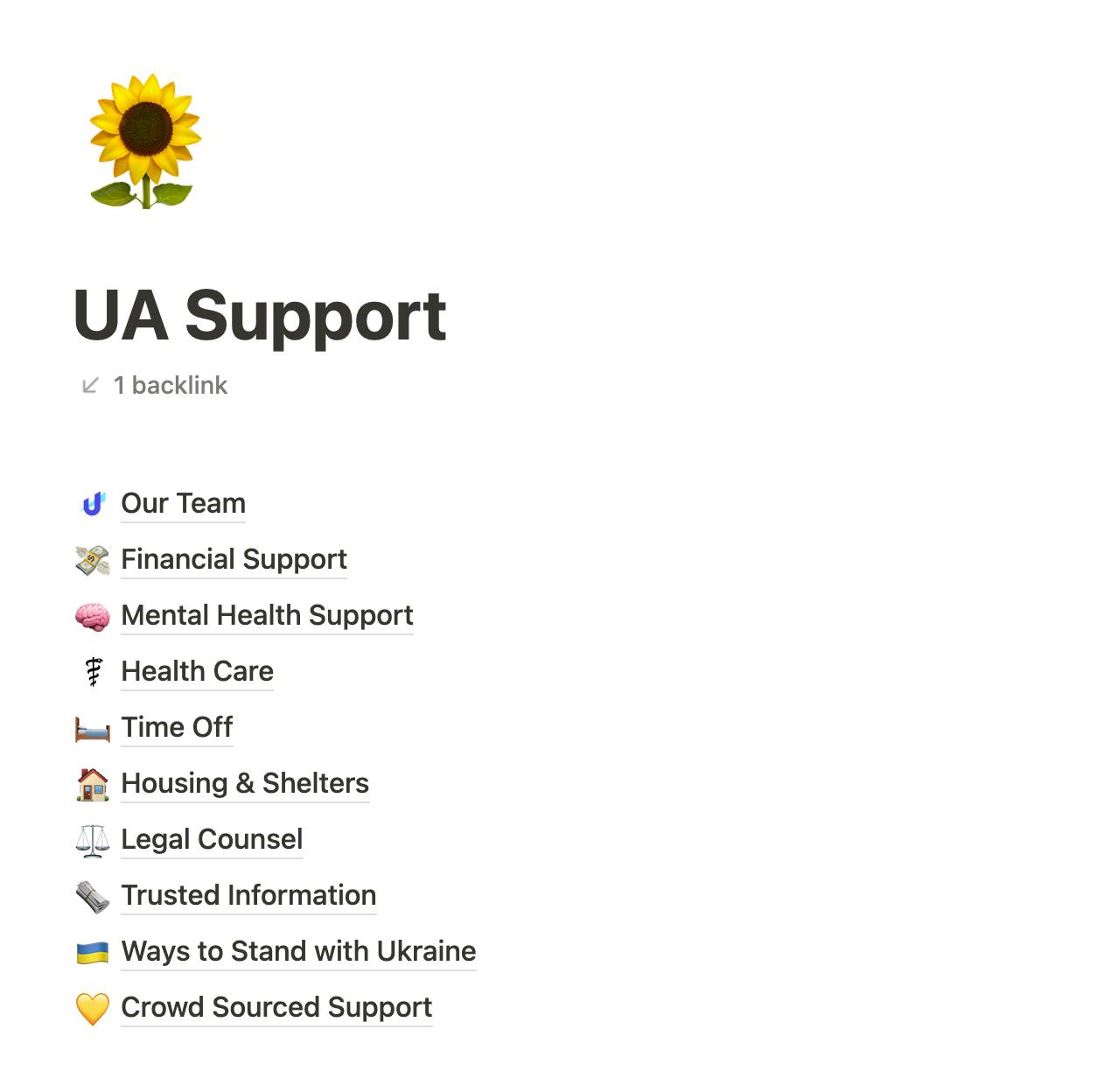 This is the structure of our internal Ukraine Support file
1. Financial Support
The current events are putting an unbearable financial strain on the Ukrainian population.

That's why we're, firstly, offering our employees relocation stipends. At this time, almost all our Ukrainian colleagues have been able to reach safer locations.

Furthermore, in accordance with our policy, our employees can request a virtual credit card in order to subsidize a co-working space. We offer a stipend to purchase home-office equipment.

We've also been paying our Ukrainian employees using cryptocurrencies whenever requested.
2. Mental Health Relief
Understandably, mental health is a top priority in Ukraine.
We encourage our employees to take mental health days, as needed, without having to submit PTO.
Also, we've internally shared a list of more than ten resources that Ukrainian employees can refer to for free psychological support.
3. Health Care
We've been adding stipends to cover health insurance to the paychecks of our Ukrainian employees who haven't left the country.
For those who have relocated internationally, we will continue to support health benefits for them and their dependents.
4. Time Off
We've been encouraging everyone to take time off to relocate and to protect their mental health, and we're facilitating our employees who want to volunteer to support the war efforts or the humanitarian crisis by suspending the need for formal PTO requests.
The same goes for those employees whose work is impacted by war-related external circumstances, such as power outages, or the need to relocate to a bomb shelter.
5. Housing and Shelters
We have collected a list of housing support organizations for emergency housing, a bomb shelter map, and more.
6. Legal Counsel
We support our Ukrainian employees' short-term and long-term relocation goals by connecting our team with immigration counsel, and we're sponsoring visas as needed.
"I facilitate the interactions between our Ukrainian team and our People team. Not everything that works in the USA or in the European Union can be applied to Ukraine. Our actions must follow the local rules." - Viktoriia Litvinchuk, People Operations Specialist at Unstoppable Domains

7. Trusted Information
In times of war, trusty sources of information can be difficult to access.
That's why we've shared a list of over 20 reliable sources that can keep our employees informed. Among others, these include the President of Ukraine's, the Ministry of Foreign Affairs', and the Parliament of Ukraine's official social media accounts.
8. Ways to Stand with Ukraine
We've also gathered a list of resources to make it easier for our employees to stand with Ukraine. The list includes websites to donate, protest, and volunteer.
9. Crowd Sourced Support
We've shared links for everyone to contribute resources to ensure that the lists of resources we share are as complete as they can be.
10. General Help
Other than the internal document we've created, in which we're continuously collecting different types of relevant information, we've created a dedicated internal Slack channel, as well as a Google group and an internal email address. Additionally, one of our colleagues has been interacting directly with the Ukrainian team on a regular basis to ensure that all concerns are addressed.
"Currently, our Ukrainian employees are more or less in safe places, but when it all started, it was pure chaos. That's why the People team and I tried to be in touch with our Ukrainian teammates as much as possible.
Chatting with our Ukrainian colleagues is effective. The way they phrase their answer to a simple "how are you?" helps you understand their frame of mind and reminds them that we care about how they feel in the midst of all this.
We all lived through unimaginable things. Someone's home was ruined by a rocket. Someone's family has gone missing in a city that was bombed. Someone had to enlist in the military to defend our country. Someone volunteers and teaches people how to make Molotov cocktails.
Each of us have our stories, and without direct communication you couldn't see what lies underneath. You couldn't help as much. I believe that the mental health support that we are trying to provide our Ukrainian team with is vital, right now." - Viktoriia Litvinchuk, People Operations Specialist at Unstoppable Domains

TL;DR and Conclusions
Since the start of the war in Ukraine, we've worked hard on providing the best support we can to our Ukrainian team.
These include providing financial support, mental health relief, health care, time off, housing and shelters, legal counsel, sharing trusted information, a list of resources to stand with Ukraine, and crowd-sourced sources to support Ukraine, and more.
Hopefully, this article has helped you gain a clearer picture of what unstoppable support means to us — it's more than a belief, it's actionable, impactful, and thoughtful efforts.
Our Ukrainian team is ever-growing, and we'd like to invite you to look at our vacancies - you might be or know someone who's the right fit and we'd love to welcome you aboard.
You can't find the perfect role? You can still submit your application, and if you're the right fit we'll reach out to you to discuss possibilities.
Explore the current vacancies on our career page 👈
Apply to general roles per department:
👉 Join the Business Development team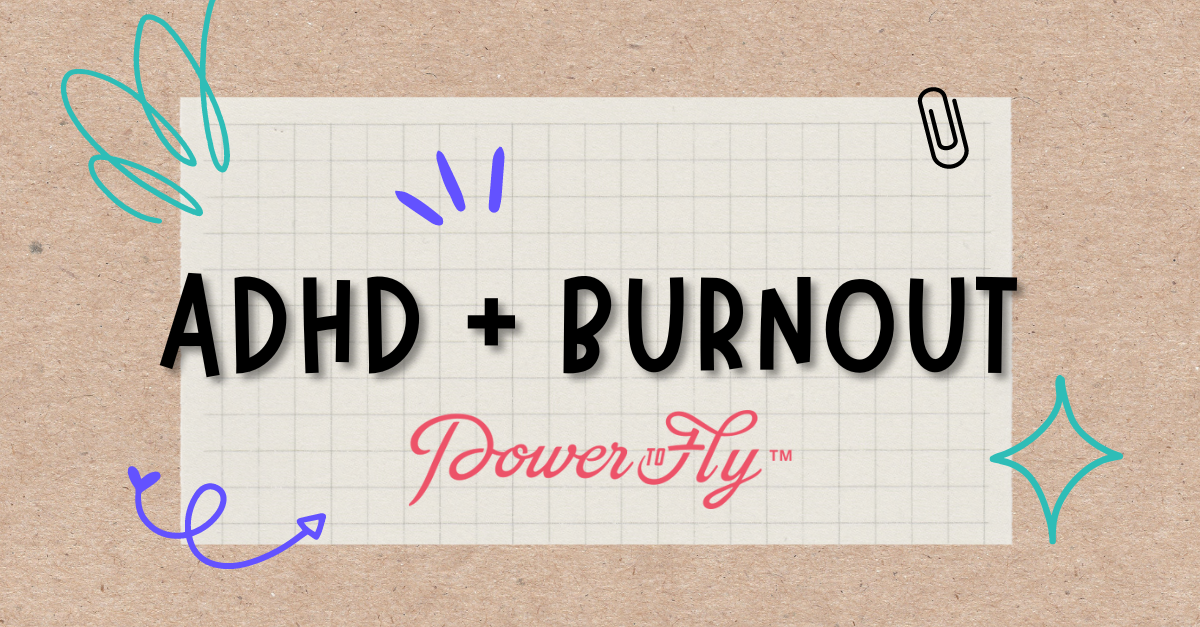 Diversity, Equity, and Inclusion
Have you ever been so exhausted that you quit your job?
You may have been experiencing burnout.
Burnout is characterized by overwhelming exhaustion, detachment from your work, and a sense of ineffectiveness.
And while anyone can experience burnout, if you have ADHD, you may be more susceptible to it.
Before you get to the point where quitting feels like your only option, there are steps you can take to set healthy boundaries and start feeling more like yourself again. Read on to learn how you can recognize burnout in yourself, and what to do if you're experiencing it!
How Does ADHD Burnout Feel?
There are some clear signs that you're burning out, but ADHD can make the descent to burnout harder to detect. These warning signs include:
Lack of motivation - not wanting to do the things you need to do or the things you love.
Exhaustion - feeling overly tired both mentally and physically.
Irritability and mental fatigue - feeling short-tempered, mean, or like you snap easily.
Physical discomfort - body aches, low energy levels, and general pain.
Negative outlook - the tendency to find something wrong with nearly everything.
Emotional dysregulation - feeling weepy, sad, or unable to smile or connect with others.
Generally, burnout starts with taking on too much. Exhaustion creeps in, and you feel like every day is working against you because you are constantly overwhelmed. You may start to feel like the entire world is spinning out of control, or like no matter what you do you can't keep up (or catch up).

If this resonates with you, you might be on the road to ADHD burnout.
Why People with ADHD Can Be More Susceptible to Burnout
So why does ADHD make some folks more susceptible to burnout? There are a few common ADHD traits that often result in behaviors correlated with burnout (taking on too much, working too long, etc.):
Hyperfocus - ADHD is not exclusively about attention deficits. In fact, hyperfocus is the opposite – a deep, intense concentration to the point of being oblivious to your surroundings. Per WebMD, hyperfocus is a state of highly-focused attention that lasts for an extended period of time. You concentrate on something so hard that you lose track of everything else going on around you. When hyperfocus sets in at work, it can be hard to unplug or be aware of the people and environment around you.
Time Tracking - Losing track of time is one thing, but if you find yourself losing track of hours without realizing it, that could be related to burnout. People with ADHD perceive time not as a sequence of events the way others usually do, but as a diffuse collection of events viscerally connected to the people, activities, and emotions that fill them.
Difficulty Prioritizing - Do you take on too much and then struggle to prioritize it? When someone asks for help, does everything often go to the wayside so you can jump in? Or maybe the daunting anticipation of the tasks ahead prevents you from starting. Per ADDitude, ADHD impacts your temporal processing abilities, which can affect executive functioning.
Combating ADHD Burnout
If you think you may be suffering from ADHD burnout, there are a few ways to take back control. Here are three tips for combating ADHD burnout:
Reserve Your Yeses - Pump the brakes when you recognize the early signs of ADHD burnout. Start reserving your yeses right away. Say no, and practice not apologizing. It is okay to say, "I have a lot on my plate right now and cannot take that on. Thanks for thinking of me." Saying no is nothing to apologize for, and it should be celebrated! You are working to protect your energy above all else.
Practice Over-Estimating - If you think you could knock something out in a day, give yourself a week. Overestimate on time and allow yourself the grace to have a little more time than usual to complete projects. Slowing down when starting a new job or role will help you produce high-quality work and prevent ADHD burnout.
Drop the Mask - Be honest with your employer and friends. Let them know that although you seem to keep up internally, you struggle. Identifying ADHD burnout from the outside can be extremely difficult. Your honesty and transparency will position you to determine if your environment is supportive and inclusive.
How to Support Colleagues Dealing with ADHD Burnout
The experiences above may not resonate with you personally, but perhaps you've noticed other people you work with describe or experience them.
If you're a manager, there are several ways you can support colleagues with ADHD (as well as neurodivergent employees more generally) to help prevent burnout. Ask for clarity on when they have felt the most supported at work. Discovery questions like, "how did you feel at that time?" or "how was the pace of that project?" can help you to understand their actual capacity.
Download this free guide
if you're looking for more ways to support your neurodivergent coworkers. Work with your DEIB and HR team to develop new neurodivergent inclusivity standards to help you stay ahead of the ADHD burnout cycle.
READ MORE AND DISCUSS
Show less
Loading...