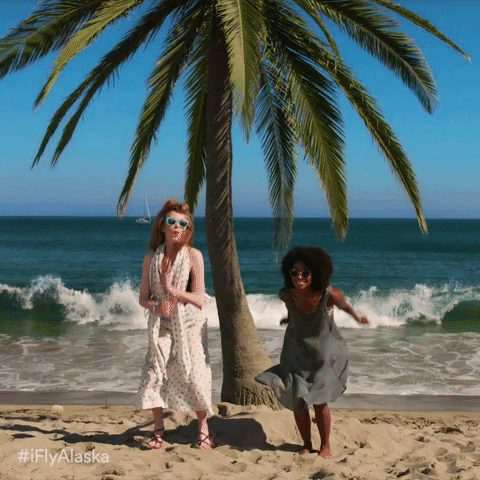 Career and Interview Tips
I used to go on vacations and be miserable. I'd often want to be back in the office so that I wouldn't have to wonder about all of the things I might be missing.
I'd check my emails throughout the day, despite putting up a vacation reminder
I'd jump into problems I didn't understand fully (because I was away)
I'd worry that certain things were being dropped in my absence (they weren't)
Obviously I'd come back to work feeling more stressed than when I'd left. This summer I knew I had to change that - not only for my sanity, but for my family, and those who worked with me.
So I did two things.
I filled in a Google Spreadsheet that tracked all of the tasks that needed to be taken on while I was gone. You can find a copy here and use it for yourself.
I wrote a note to the entire PowerToFly team that made it very clear how and when to reach me. The note was key for my piece of mind - and for everyone else who would need to get in touch. I knew that people would call if there was a truly urgent matter. If not, I'd check in when I said I would. (And my cofounder was around, so any major escalations could go to her.) What I learned is that when I only checked in once a day, most of the issues that would stress me out on previous vacations had already been solved! So what I really took away from sending the note below is that going on holiday is often the best way to learn how to trust your team (that's for another blog post).
Hi Everyone -
Below is an escalation and expectations rundown for my time in the UK. I'll be visiting family through 9/4. Please read this. It's important that we're all on the same page so you don't feel like you're bothering me.
I'll aim to check email at 8pm GMT which is 3pm EST and 12pm PST where I can give feedback on any items that aren't immediate, but that require my attention. All daily functions are in the PTO handover grid here.
I really want to stay away from constantly looking at email - it's stressful to worry that you're missing important things. So if you need me before or after those times then please call me or text. Keep in mind that I want to be in bed by 9. So earlier calls are appreciated. My cell is xxxx. You shouldn't hesitate to get in touch with me if you have something that needs my attention asap. If in doubt, just call. I'll be more annoyed if I feel you're trying to protect my time (and therefore waste other people's time) than if you just get in touch.
In general, escalations include:
A client request or question no one else can handle
Mass messaging that needs to be approved that is related to a crisis or major product update. All other messaging should go through Arbell and Andrea.
I will still be taking a few meetings:
Kick off calls with X and any other major client
Senior Management Call on 8/28
Meetings I will not attend (please record)
Org call (I'll be in the air on Monday)
Mega meeting - Arbell runs my part
Product backlog - Ana runs as always
Site traffic meeting - Andrea and Vanina run
Daily standups (don't record)
Thanks all.
K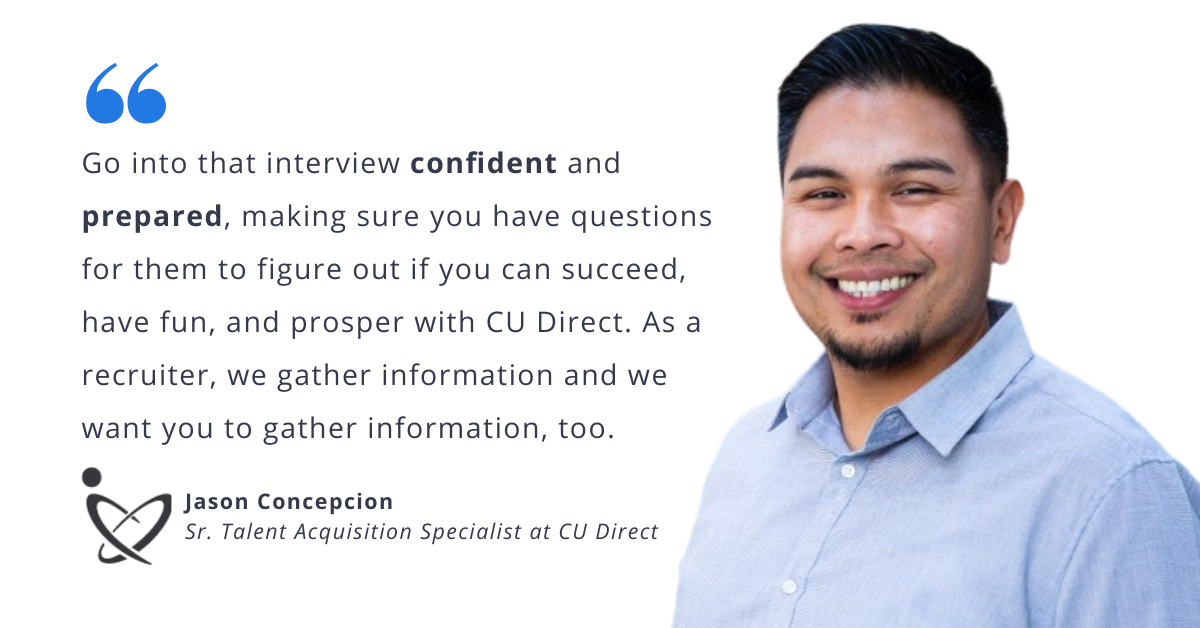 CU Direct
Jason Concepcion is a Sr. Talent Acquisition Specialist at CU Direct, a technology leader that delivers lending solutions to financial institutions, auto dealers, retailers, and medical providers nationwide. As a progressive company that looks for the best diverse talent, CU Direct prides themselves on seeking and taking care of their employees.
We sat down with Jason to learn about CU Direct's hiring process. Keep reading for his top 6 tips to put into practice when interviewing with CU Direct.
Tip # 1 Do Your Research
While it may seem obvious, learning about the company you're interviewing for is crucial. "Before the interview, do some research on CU Direct, our products and services, and even our subsidiary companies," says Jason. Doing the research will show the interviewer that you are highly interested and that "you did your due diligence in getting to know the company." Check out their About page to get to know CU Direct and its various projects.
Tip #2 Ask Questions
It's important to be transparent from the first point of contact with the company, which means asking questions to clarify and gain more information. Jason suggests, "when talking to the recruiter, ask questions. Go into that interview confident and prepared, making sure you have questions for them to figure out if you can succeed, have fun, and prosper with CU Direct. As a recruiter, we gather information and we want you to gather information, too."
Tip #3 Take Your Time
Pace yourself in the interview. Jason explains that "it's okay to pause, regroup, and answer questions. When asked about your experiences, taking your time will allow you to think of the situation, how you solved it, and what was the outcome."
Tip #4 Ask Yourself, 'What Do I Want to Do?'
Take inventory of what you have accomplished or learned in your professional trajectory so far. "We're not just looking for what you've done, but we are also looking for what you can do and what you want to do," says Jason. He believes that "those things are just as important as what you've done in the past. Your drive and determination will show us where you want to go and ideally, that will organically align with the positions we have here at our company."
Tip #5 Understand the Job Description
With your resume in hand, consider what experiences best align with the job description. "Valuable work experience can be found almost anywhere. It can come from your first job or it can come from your most recent job," Jason explains. Whatever small or short experience you have that matches the job description is worth mentioning and explaining, depending on the job you are applying for. Jason explains, "a good understanding of the job description you're going for, and related positions within the company will give you a greater insight as to what we're looking for and what you want to highlight or present in regards to this role."
Tip #6 Don't Be Afraid to Get Personal
One way to stand out in the interview process is to show that you'll be a good values fit, so intentionality throughout, and after, the interview can go a long way. Jason suggests sending a thank you email after the interview. "This will make sure that you stand out in front of thousands of applicants," he says. "Don't make it generic, tailor the message including details mentioned in the interview, this will show the person that you were completely engaged throughout the interview."
CU Direct's personal and careful recruitment process is a reflection of their fun and innovative atmosphere, their value of team members, and commitment to growth. They offer several benefits to their employees, such as a flexible working environment, paid time off, 401k match, college tuition reimbursement, and an exciting company culture. Because of this, they want to make sure people are treated with the same kindness and positivity from the start. As Jason reiterates: "We want to make sure you are prepared and ready for each step of this process, from interviewing, to asking questions, and to possibly onboard in the future," says Jason.
Are you interested to find out more about working at CU Direct? Check out their
openings
here!
READ MORE AND DISCUSS
Show less
Loading...