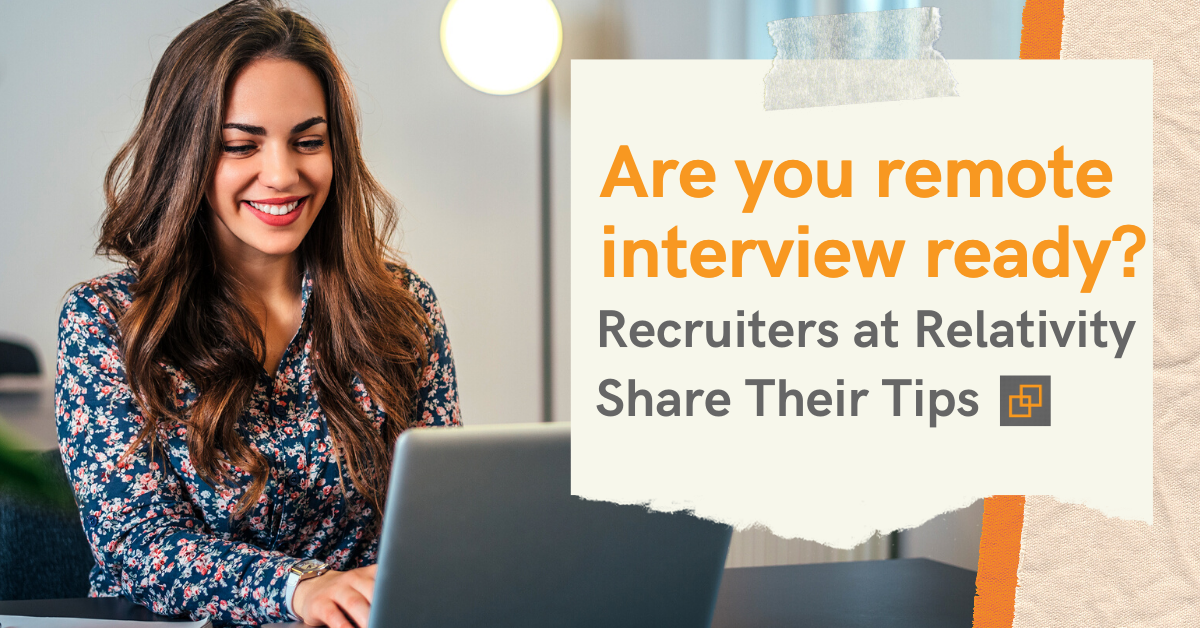 Relativity
Living in the midst of a pandemic has brought about a whole host of changes and challenges for workplaces and employees. One of the most notable? Virtual interviewing. With most on-site interviews on hold for the foreseeable future, it's important that you be prepared to make a great first impression—virtually.
---
Our friends at global tech software company Relativity were kind enough to share their top tips for nailing your virtual interview.
To help applicants understand how they can stand out, Fernando Sierra Jr., Video and Photo Specialist at Relativity, asked three of his colleagues to share their advice:
Savrut Pandya, Senior Sourcer
Judene Hylton, Senior Recruiter
Brendan McLaughlin, Senior Recruiter
Read on below for their tips or watch the full video here.
1.) Set-up and Appearance Are Key
Savrut Pandya, Senior Sourcer, says setting the scene can make all the difference in making a stellar first impression. So how do you go about that? He recommends that you:
Be interview ready at least 30 minutes ahead of time. Turn on your device and make sure that it's working, and that you have a strong Internet connection. There's nothing worse than turning on your computer minutes before an interview to discover that your system needs to install mandatory updates before you can log in -- UGH!
Familiarize yourself with the meeting software. Many companies are using Zoom to conduct virtual interviews. If you've never used the software before, download the free version and make sure that you know how to navigate the platform. You'll feel much calmer the day of the interview if you know the ins and outs of the program.
Open all necessary applications, documents or browser tabs. It's always a good idea to have any documents that you may want to reference for the interview pulled up and ready to view. Pro tip: also make sure that you minimize or close any tabs that are not relevant to your interview. They may be distracting.
Appearance, appearance, appearance. The appropriate attire and atmosphere may vary from company to company. Make sure to check in with your potential employer to confirm what the ideal dress code may be, just as you would if you were going into the office for the interview.
2.) Communicate Effectively and Clearly
Senior Recruiter Judene Hylton notes that communication is even more important in a virtual setting. She suggests that you:
Have a notebook and pen handy. Get back to basics and jot down notes during the interview to show your interviewer that you are listening and retaining important information. Don't resort to note taking on the computer in front of you. Keyboards make a lot of noise!
Avoid using "yes" and "no" answers. Interviews should flow like a conversation, not just Q&A. Elaborate on your responses with examples of previous experiences, and tell stories when appropriate. Let your interviewer find out more about who you are as a prospective employee.
Listen to the entire question or statement before you reply. Don't jump the gun and respond too quickly. Listen thoughtfully to your interviewers, and make sure that they are finished speaking before you rush to answer.
3.) Don't Forget To Prep
Brendan McLaughlin, Senior Technology Recruiter, says that preparation is key. He recommends three key steps:
Do your research. Don't just read the job description. Top candidates take the time to research the company, the industry, and the company's competitors so that they can better prepare themselves and ask well-thought-out questions.
Figure out who is interviewing you. Do some digging on LinkedIn to learn more about your interviewer's background. You never know if you may have something in common with the person that you're speaking with. There's no better way to break the ice than by establishing some common ground before you dive into the interview.
Review the job description. Make sure that you review the job description, and write down any questions you may have about the role. Make sure you have a copy of the job description on hand so that you can reference it during the interview. (This is one benefit of getting to do the interview virtually!)
4.) Go for a strong finish
Don't just leave the meeting when the interviewer stops asking questions. Brendan has a few tips on how to finish on a high note:
Make sure to ask questions. Prepare a few questions before the interview, but also ask for clarification on anything that came up during the interview that you may be curious about.
Thank the interviewer for their time. A simple acknowledgement can go a long way!
Express your desire for the role, and explain why you are the best candidate for the job. A lot can happen during an interview. It's important to highlight how you can bring value to an organization at the end of an interview. It's the last thing that your interviewer will remember about the conversation. Make it a strong statement.
Make yourself available for any follow-up or additional conversations. Provide availability for future interviews before you sign off. This will show that you're thinking about next steps, and that you're eager to learn more about the role.
Interviewing is a skill. Whether in-person or online, it's important to prepare yourself before you step into the hot seat.
Want to put your virtual interview skills to the test by applying to one of the open roles at Relativity? You can view them here.
From Your Site Articles
Related Articles Around the Web
Pax8
💎 How to build trust in your team? Watch the video to the end to find out!
📼 How should you work to build trust in your team? Play this video to get three top tips that will help you. You'll hear from Veronica Setzke, Senior Director of People Ops at Pax8, who shares tips and tricks she learned through years of coaching.
📼 How to build trust with peers in your team? Tip #1: Relationships. There's no better way to start forming relationships than having regular one-on-ones. It doesn't have to just be with your supervisor. It can be with your coworkers. It can be with those people that you collaborate regularly with. And it's really important in these one-on-ones that we're spending time listening. Take the time to be present and listen. Also, spend time together not working. Have lunch together. Go for coffee. Take a five-minute walk around the building and just have a conversation. Relations are a key element to trust!
📼 How to build trust? Open yourself in your team Tip #2: Vulnerability. Allow yourself to be vulnerable. Ask for feedback, whether it's feedback about a project, a process, or even maybe a leadership behavior that you're trying to master. This allows those on your team and those around you to see you as willing to be vulnerable. Trust and vulnerability go hand in hand. It doesn't mean that you're weak, but rather that you're open. It allows your team to understand that it's a safe place for them to also be vulnerable.
How To Share To Build Trust In Your Team - Tip #3: Clear Is Kind
Keep the team informed and say as much as you can about what you know. There are times that we hold information that could be shared. We could share that information that impacts others' work and have them have the opportunity to use that to do better. If you've learned something that could help your colleague make a better decision, share that! Try to ensure that your communication with others is clear. When you make the effort to be clear about your intentions, your work, and your roadblocks, it opens others up to do the same.
📨 Are you interested in joining Pax8? They have open positions! To learn more, click here.
Get to Know Veronica Setzke
She works as a People professional because she sincerely believes that people want to be excellent, and it is her role to help move the obstacles to their achieving success. She believes the employees deserve a culture that values their work and will respond to such a culture by creating amazing results. If you are interested in a career at Pax8, you can connect with Veronica on LinkedIn. Don't forget to mention this video!
More About Pax8
The company simplifies the way organizations buy, sell, and manage cloud solutions, empowering its partners to achieve more with cloud technology. At Pax8, they know that they are only as great as their people. They realize that every individual has unique personal and professional aspirations, which is why they strive to offer a complete and competitive Total Rewards offering for their members and family.
READ MORE AND DISCUSS
Show less
Loading...