Career and Interview Tips
We've all spent way too many hours trying to perfect a resume, even adjusting the margins to fit as much as possible. For a long time, this document has been one of the only ways to sell yourself to potential employers. But what if there was another way? Esther Crawford, a San Francisco based Product Marketer, who transitioned to the tech startup world in 2011, believes "that resumes are incredibly static." Understanding the need for innovation in a hiring field that is "still painful for both hiring managers and job seekers," she created EstherBot. She wrote an article on Medium, detailing her experience creating the bot, so others can make their own.
---
Here's how it works. Anyone can text or Facebook message EstherBot to find out more about Esther's work experiences, educational background, and even some fun facts. As soon as you start a communication, the bot will tell you how to interact with it. Here's an example of what viewers would see: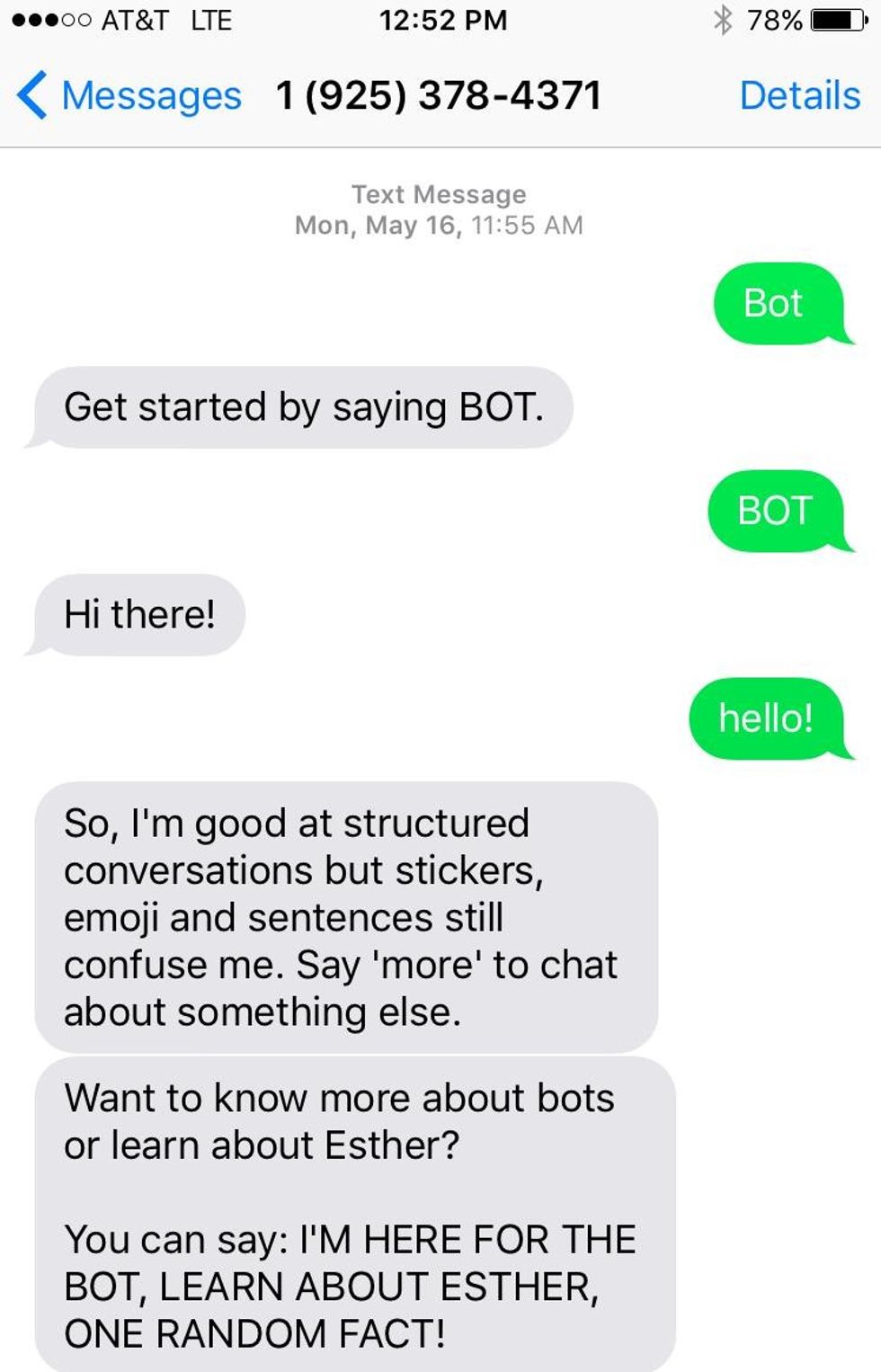 Courtesy of EstherBot
Although it is limited to certain phrases like "childhood," "education," and "career," the bot can let employers see another side of an applicant that resumes can't. Esther believes that during the hiring process "there should be an additional layer that adds context and interaction, which is something bots can do well."
She recently attended a bot conference in San Francisco and realized that she was the only female speaker in a group of fifteen. After this experience, she created FemBots, a Facebook group devoted to creating a broader community of women interested in bots. Esther believes that "bots will be better and more humane if there's a wider set of voices working on these problems — we need to bring women, people of color and people from a variety of socioeconomic backgrounds to the table," she says.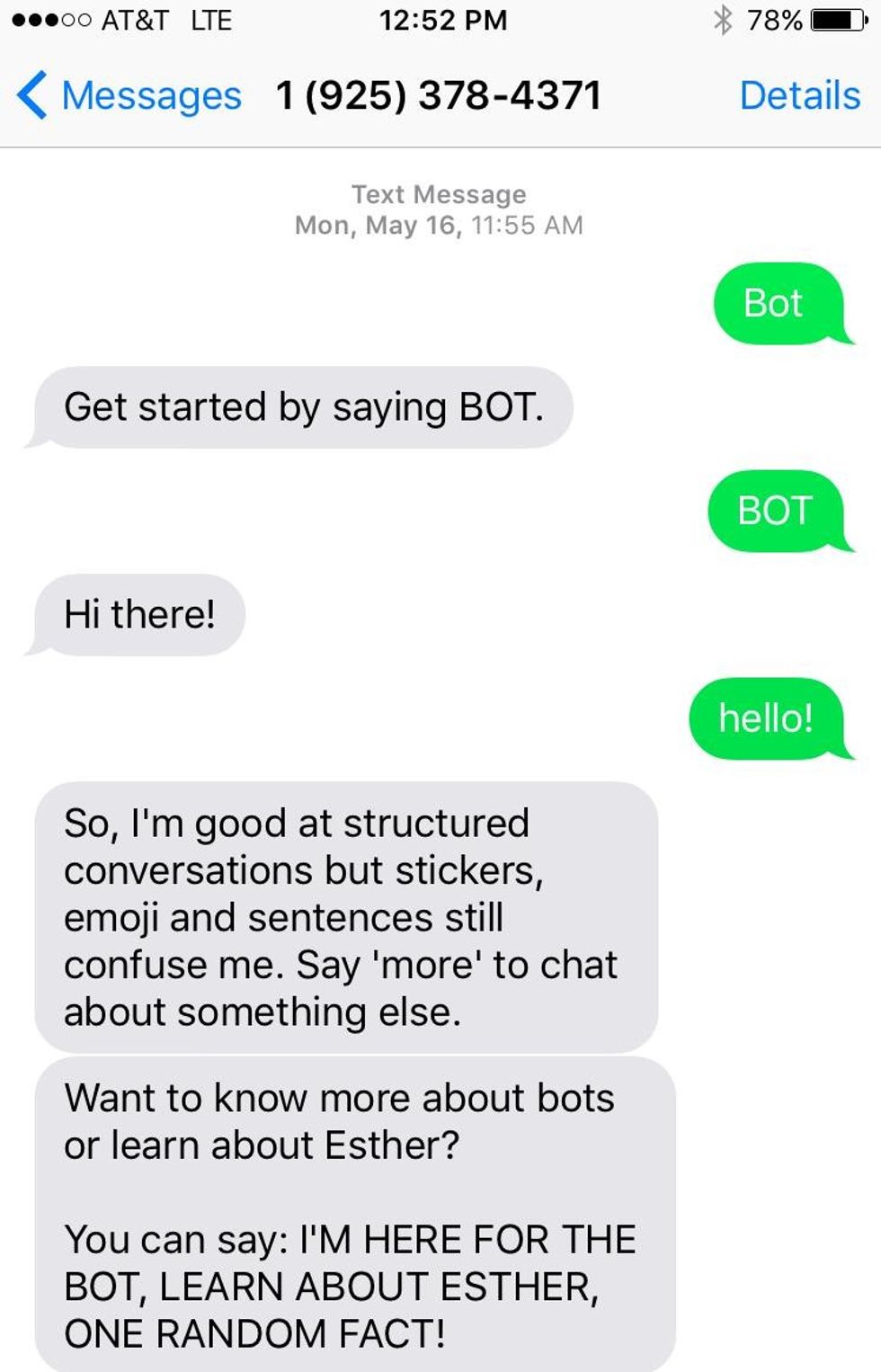 Courtesy of EstherBot
After releasing her bot, Esther received four interviews and, on three, the hiring managers mentioned information they received from EstherBot. In addition to creating a resume bot, Esther, has more tips for women in tech who are looking to stand out in the job search.
"Standing out requires a mix of creativity and risk-taking. Since there's an influx of interest in joining startups, it's important to do, rather than tell what you can do. In my case, I wanted to demonstrate how I can execute, be scrappy and tell a compelling story, so I created EstherBot as a side project to show my skills," she explains.
While we may not be able to delete our resumes from our hard drives just yet, Esther's resume bot demonstrates how women in tech can use exciting innovations to capture the attention of potential employers.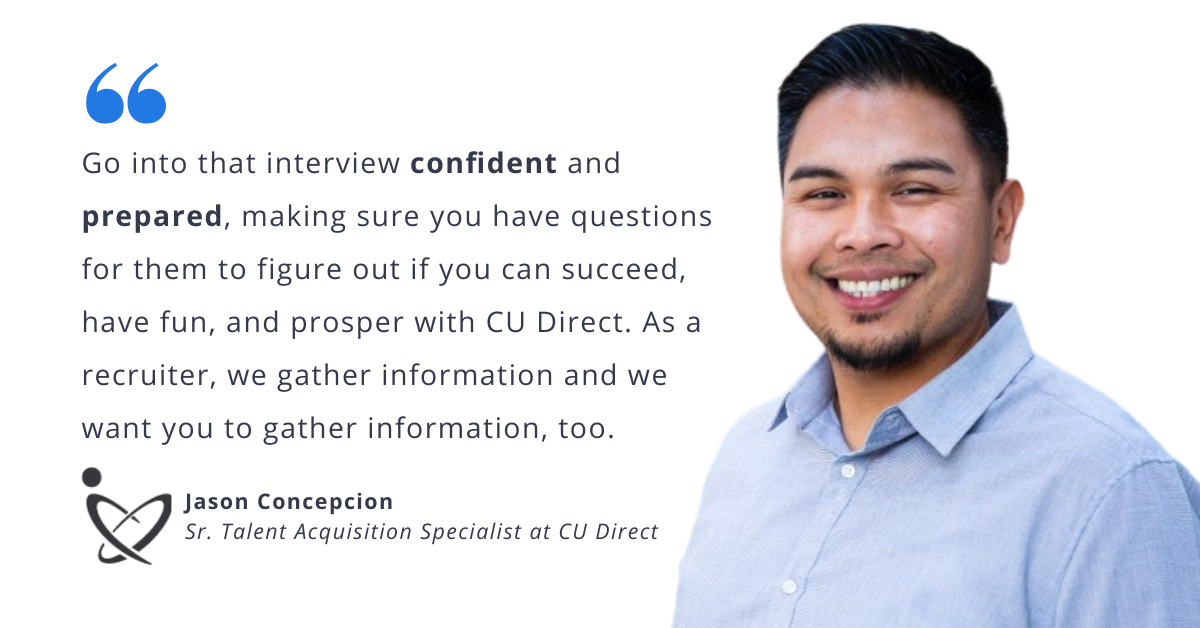 CU Direct
Jason Concepcion is a Sr. Talent Acquisition Specialist at CU Direct, a technology leader that delivers lending solutions to financial institutions, auto dealers, retailers, and medical providers nationwide. As a progressive company that looks for the best diverse talent, CU Direct prides themselves on seeking and taking care of their employees.
We sat down with Jason to learn about CU Direct's hiring process. Keep reading for his top 6 tips to put into practice when interviewing with CU Direct.
Tip # 1 Do Your Research
While it may seem obvious, learning about the company you're interviewing for is crucial. "Before the interview, do some research on CU Direct, our products and services, and even our subsidiary companies," says Jason. Doing the research will show the interviewer that you are highly interested and that "you did your due diligence in getting to know the company." Check out their About page to get to know CU Direct and its various projects.
Tip #2 Ask Questions
It's important to be transparent from the first point of contact with the company, which means asking questions to clarify and gain more information. Jason suggests, "when talking to the recruiter, ask questions. Go into that interview confident and prepared, making sure you have questions for them to figure out if you can succeed, have fun, and prosper with CU Direct. As a recruiter, we gather information and we want you to gather information, too."
Tip #3 Take Your Time
Pace yourself in the interview. Jason explains that "it's okay to pause, regroup, and answer questions. When asked about your experiences, taking your time will allow you to think of the situation, how you solved it, and what was the outcome."
Tip #4 Ask Yourself, 'What Do I Want to Do?'
Take inventory of what you have accomplished or learned in your professional trajectory so far. "We're not just looking for what you've done, but we are also looking for what you can do and what you want to do," says Jason. He believes that "those things are just as important as what you've done in the past. Your drive and determination will show us where you want to go and ideally, that will organically align with the positions we have here at our company."
Tip #5 Understand the Job Description
With your resume in hand, consider what experiences best align with the job description. "Valuable work experience can be found almost anywhere. It can come from your first job or it can come from your most recent job," Jason explains. Whatever small or short experience you have that matches the job description is worth mentioning and explaining, depending on the job you are applying for. Jason explains, "a good understanding of the job description you're going for, and related positions within the company will give you a greater insight as to what we're looking for and what you want to highlight or present in regards to this role."
Tip #6 Don't Be Afraid to Get Personal
One way to stand out in the interview process is to show that you'll be a good values fit, so intentionality throughout, and after, the interview can go a long way. Jason suggests sending a thank you email after the interview. "This will make sure that you stand out in front of thousands of applicants," he says. "Don't make it generic, tailor the message including details mentioned in the interview, this will show the person that you were completely engaged throughout the interview."
CU Direct's personal and careful recruitment process is a reflection of their fun and innovative atmosphere, their value of team members, and commitment to growth. They offer several benefits to their employees, such as a flexible working environment, paid time off, 401k match, college tuition reimbursement, and an exciting company culture. Because of this, they want to make sure people are treated with the same kindness and positivity from the start. As Jason reiterates: "We want to make sure you are prepared and ready for each step of this process, from interviewing, to asking questions, and to possibly onboard in the future," says Jason.
Are you interested to find out more about working at CU Direct? Check out their
openings
here!
READ MORE AND DISCUSS
Show less
Loading...