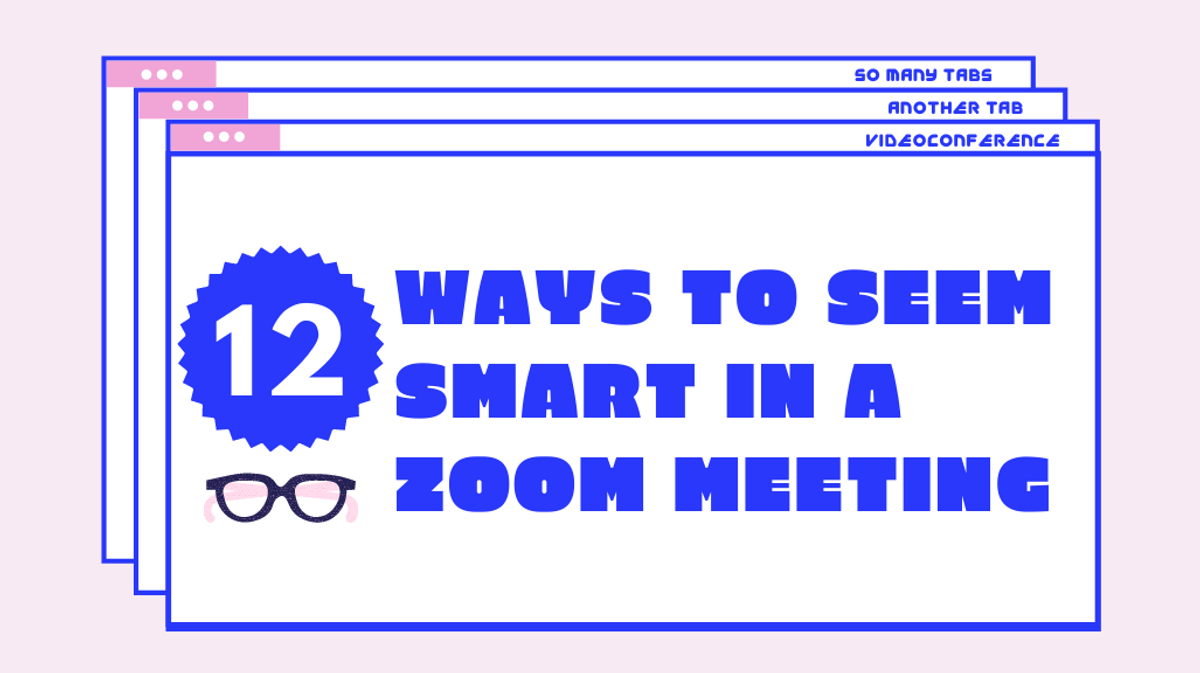 Remote and Flexible Work
It's been six years since Sarah Cooper graced us with her 10 Tricks to Appear Smart in Meetings. But how on earth can we appear smart in our new virtual world, in which for many of us, going to work is just sitting in one long series of probably-not-necessary Zoom meetings?
---
Well, we've got you covered with 12 (that's two better than 10!) tips for seeming smart in a Zoom meeting:

1

.

 Dial in.
Dialing in rather than joining via the link instantly boosts your credibility. Who calls into Zoom meetings? People who are still busy and important enough to be leaving their houses! But you needn't actually be one of those people, or even more than a foot away from your computer to pull off this maneuver. (Remember, this article is called *seeming* smart, not being smart.)
Bonus: If it's a large meeting at which attendance will be taken, the person running the meeting will inevitably ask, "Who's calling in from 443-322-2121?" That's when you raise your metaphorical hand, jump off mute, and say "[Your name] here. Really looking forward to hearing your perspective on [meeting topic]." And voila! You've stolen the meeting spotlight.
2

.

 Don't come on camera—ever.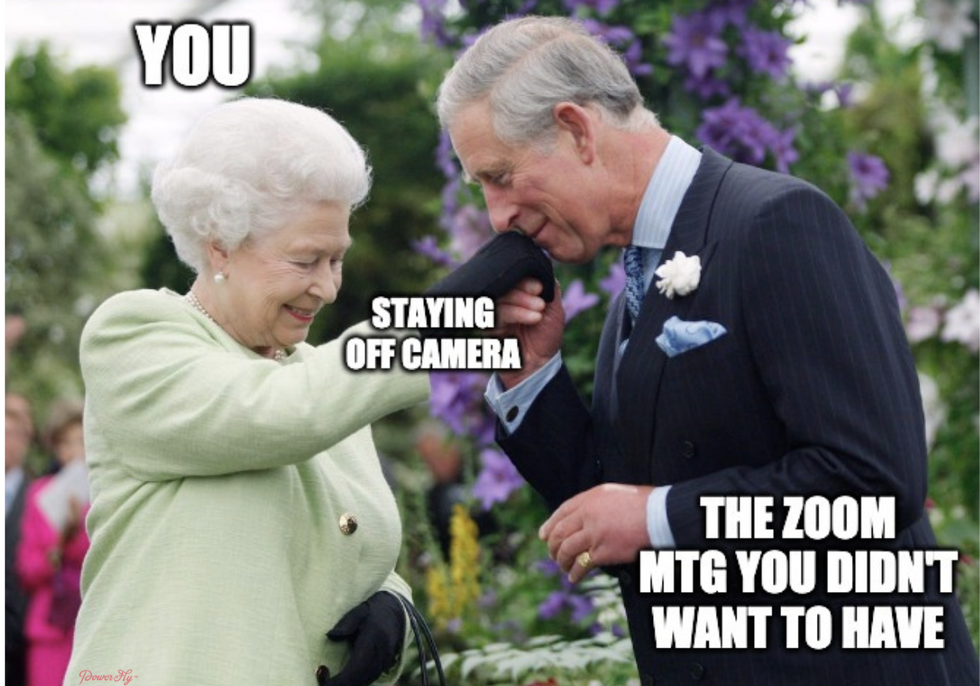 Much like the "dial in," this technique works because it makes you appear aloof. If The Crown has taught me anything, it's that the key to maintaining a sense of mystique and prestige is to keep people at arm's length—and if you absolutely must touch them, wear a glove.
3

.

 Only communicate via chat. 
Once you've mastered the art of staying off camera, you can level up by communicating exclusively via the chat box. Don't come off mute at all, even if the speaker asks your opinion. You are the elusive chatter and you will not be forced into actually participating in said meeting.
4

.

 Ask to share your screen.
Being aloof is great, but it's all about balance. Sprinkling in some active participation will really shock and impress your colleagues if you catch them off guard, so save this technique for when you've strategically not participated in a string of meetings.
Spend a few minutes prior to the meeting prepping a few inspirational slides with words like "synergy," "optimization," and "redefining 'culture'", or spend a few minutes poking around in Google Analytics.
Then wait for the opportune moment to say, "Can I just share my screen for a moment? I have some really interesting data I'd like to share...." and BAM — brilliance established.
5

.

 Show off your Zoom-saviness. 
Try saying, "You know you can mute people, right?" to the host when they beg whoever's got the lawn mower and crying baby in the background to put themselves on mute for the nth time.

6

.

 Create an alter ego.
This tactic requires commitment, but the pay off is certainly worth it. Join the Zoom meeting from your normal account + name, and then join it again on a second device from an alias. Have your alter-ego ask some probing or stat-based questions in the chat and have the answers ready ahead of time. It should work something like this:
Your alter ego Charlene: "Does anyone know what percentage conversion rates increased by in Q2?"
Real you: *doesn't miss a beat* "It looks like Charlene has a question in the chat. That would be 36%."
Never mind that no one on your team knows who Charlene is or why she's at this meeting, they'll be too blown away by your brilliance to notice. (Bonus points if you use this strategy in conjunction with techniques 1, 2, 3 or 4!)
7

.

 Place an obscure object in your background that exudes intelligence.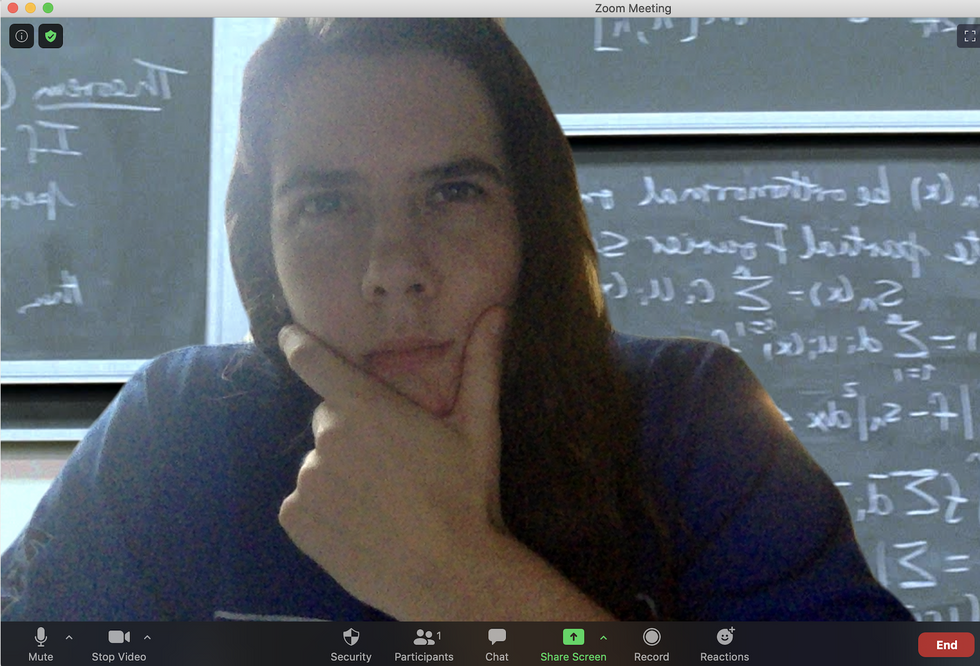 We're talking a telescope, or perhaps a hardcover copy of War & Peace (no one need know that its only purpose in your life is as a makeshift yoga block).
If you don't have any suitable props at your disposal, do not despair: download some screenshots of Sheldon's apartment from Big Bang Theory or the chalkboard in Good Will Hunting and use those as a virtual background.
8

.

 Ask "Is this really the best course of action given the current climate?" 
Economic collapse, COVID, racism… No need to specify whether you're referring to one or all of the above; just sit back and watch your boss squirm amidst the ambiguity.
This strategy pairs very well with techniques 2 and 3. You can prep additional vague-but-probing questions ahead of time and pepper them into the chat box throughout the meeting:
How will this scale?
Do we really have the bandwidth for this right now?
What's the value-add here?
9

.

 Remind everyone that you have a paid Zoom account.
"Oh, it looks like we're getting the 40-minute warning. I have a paid account, do you want to switch to my room?" It's helpful, with just a touch of condescension. Everyone knows condescending people are smart. And everyone knows that people with paid Zoom accounts are super important.
10

.

 Tell everyone you have a hard stop. 
When pressed for details, share your philosophy on "work-from-home" balance and how committed you are to getting up once an hour to walk to your refrigerator.
11

.

 Ask the screensharer/host to "pull something up" for everyone.
Ask the presenter to navigate to a screen that only you know how to navigate well. Laugh maniacally while they suffer from crippling performance anxiety. Let them struggle for as long as is tolerable before saying, "Oh you know what? I can just share my screen if you want. That would probably be easier." BAM you're the hero. Don't worry, no one will even pause to consider that you could have proposed this course of action from the start.
12

.

 Say Zoom fatigue as many times as possible.
If you're too tired to employ any of the other strategies, just say "I know everyone is experiencing a lot of Zoom fatigue, so we can keep this meeting short." Then hang up as quickly as possible. Meeting averted!
After all, there's no better way to demonstrate your intelligence in a virtual meeting than to demonstrate why it wasn't really necessary in the first place.
Related Articles Around the Web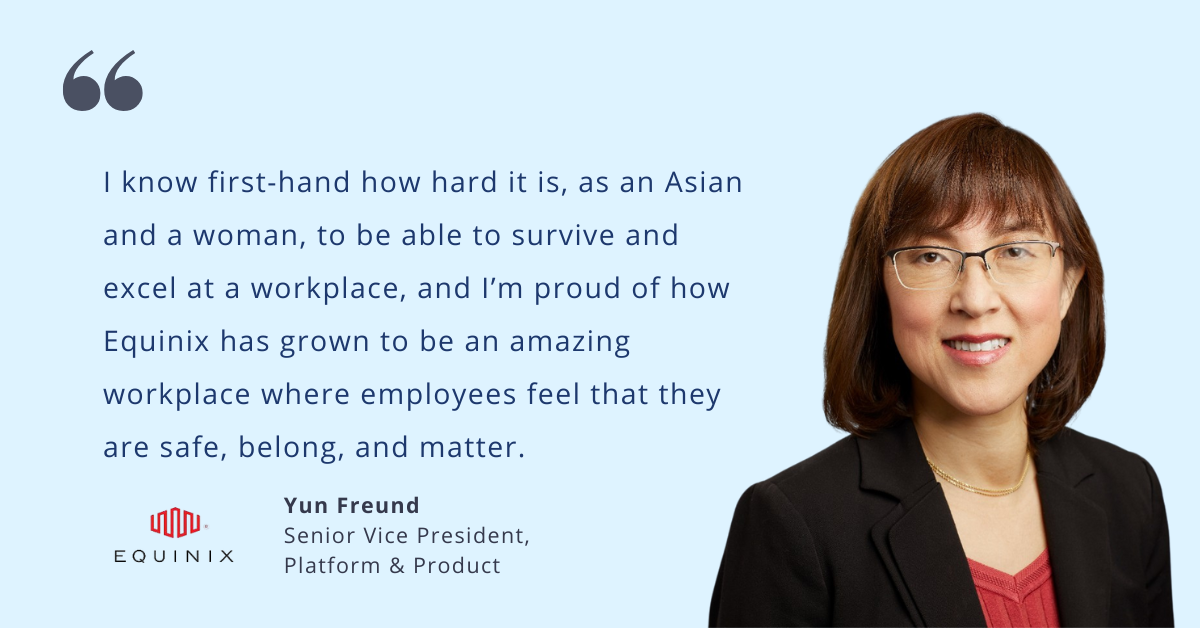 Equinix
Yun Freund considers her background to form the "typical immigrant story" — but sitting down with the SVP of Platform and Product at Equinix, it's clear she's made it her own.
"I came to the United States about 30 years ago with $80 in my pocket. I earned a CS degree from a Beijing university when computer science was new. I was good at math, so that's what I studied," explains Yun.
Fast forward a few decades, and Yun is now running one of the largest organizations at Equinix, a Fortune 500 digital infrastructure company focused on providing an interconnected platform to its global 10k customers. While focusing on external growth — the business has grown nearly 40% since her arrival — Yun has also invested in internal progress, especially when it comes to Equinix's Diversity, Inclusion, and Belonging (DIB) goals.
"I know first-hand how hard it is, as an Asian and a woman, to be able to survive and excel at a workplace, and I'm proud of how Equinix has grown to be an amazing workplace where employees feel that they are safe, belong, and matter," says Yun.
That's not just her opinion. Glassdoor confirms this, having given the company a "best place to work" distinction in 2021, and a special award for best places to work for LGBTQ+ equality list by the Human Rights Campaign Foundation.
We were excited to learn more about Yun's strategies for empowering her team — including her belief that making room for failure is just as important as celebrating success.
The Intersection of Technological Innovation and People Management
Yun first heard about Equinix through a recruiter. Decades into her career in tech leadership, she was looking for a role where she could drive innovation in both technology and people management.
"After many rounds of discussion with our executives, I realized Equinix is a company that's full of potential. It was doing a lot of innovation on interconnected SaaS products and networking products, and I thought I could really help drive, from a culture and process perspective, the company's digital transformation journey," reflects Yun.
Her first order of business? Building a strategy for scaling product development. Yun had long worked at the intersection of engineering and people management, and she embraced the challenge to scale a talent strategy as well as changing the culture.
That resulted in clear growth — not just for Yun's career, as in promotions and new responsibilities, but also in what the company was able to do.
"Helping to cultivate a DevOps culture, move products to the Cloud for high reliability and availability, and build operational excellence for our customers is contributing to us fulfilling our purpose, which is to be the platform where the world comes together, enabling the innovations that enrich our work, life and planet," says Yun.
Diverse Ways of Measuring Impact
Yun doesn't manage her team by the balance sheet alone.
"Improving the bottom line, or operating more efficiently, is just as important as improving the top line, or driving more revenue and more customer adoption," she says. "Sometimes it's not about how we get new products and services out the door, but how we run things more efficiently."
For Equinix, says Yun, that includes committing to becoming carbon-neutral by 2030.
"We're a company that really touches life every day, from online shopping, to sending emails and streaming movies, to smart cars," says Yun. "We want to be doing that sustainably. For example, by using AI and machine learning to lower our power consumption and using green sources of energy."
Yun knows that to drive the most impact, Equinix needs a diverse team. She has partnered with other senior leaders and employee connection groups and started driving a more coherent DIB strategy across the company. She is excited to see the progress and wants to continue the effort in building a diverse and safe workplace for everyone — including by leading through her own example.
3 Key Ways to Empower Your Team
When Yun says that it's important to empower your team, she doesn't mean that you simply transfer the responsibility to your team and call it done. Here's what she does mean:
Embrace failure. "It's easy to say, 'Ah, empowerment. Here's the purpose, go drive impact.' But sometimes it's not all rosy," she says. "The road to empowerment can sometimes be a failure. How do you support your employees along the way? When they fail, you should not blame them. You should be there, on their side, to help them do a retrospective and learn from it."
Show trust via delegation. "Giving your team the opportunity to make their own decisions helps give them a purpose. It shows them they can make a difference. Accountability and ownership will help drive your team to have deeper engagement and commitments, and ultimately deliver results."
Tie individual responsibilities to company OKRs (Objectives, Key Results). "I always communicate to my team that every engineer and individual contributor's work will have an impact on the business, no matter how small that is," says Yun. For example, if an engineer is working on a new digital experience component for the customers, their work will contribute to some kind of business outcome such as, hours saved from many customer support calls or customer satisfaction score improvement, and that in turn drives operational efficiency and customer experience improvement for the whole business. "When employees realize their impact on the business, it elevates their motivation as well as their state of mind."
Looking to join an empowerment-first culture? Check out Equinix's open roles!
READ MORE AND DISCUSS
Show less
Loading...