GET EMAIL UPDATES FROM POWERTOFLY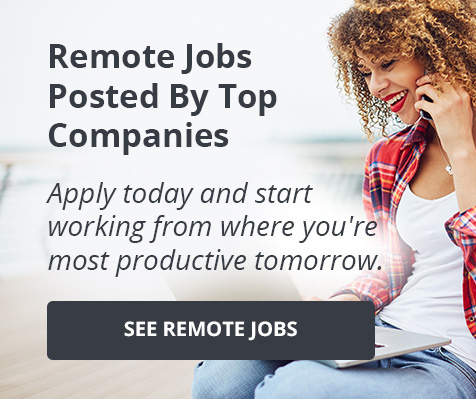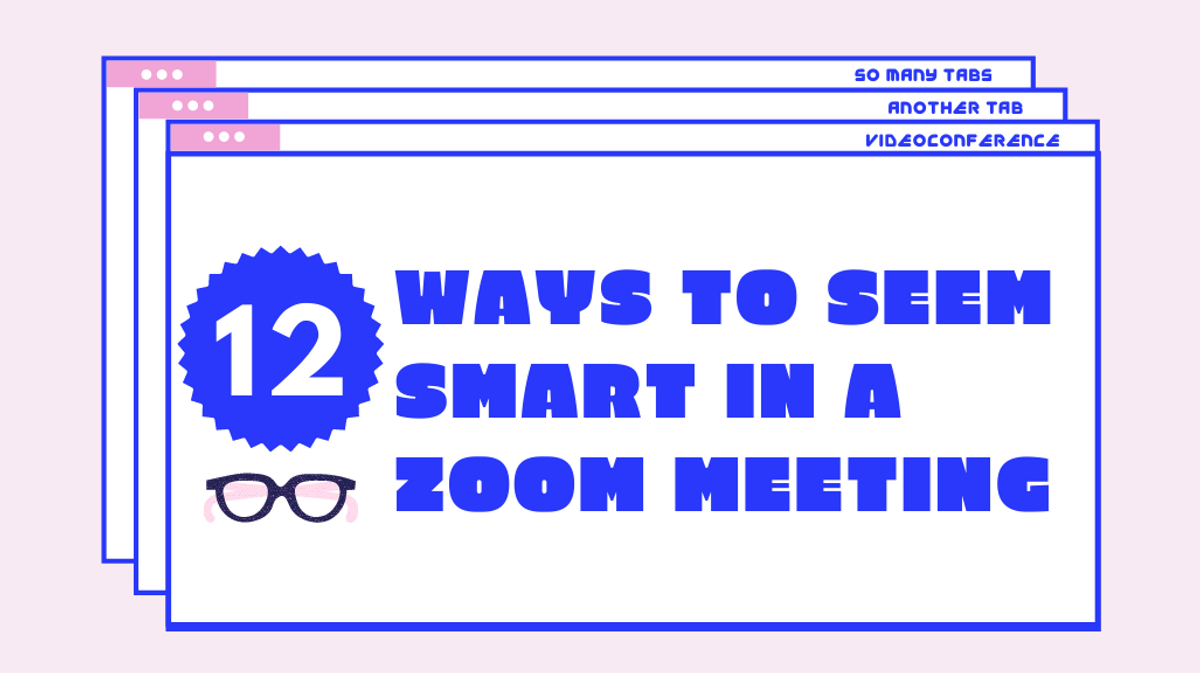 July 10, 2020
Remote and Flexible Work
12 Ways to Seem Smart in a Zoom Meeting
It's been six years since Sarah Cooper graced us with her 10 Tricks to Appear Smart in Meetings. But how on earth can we appear smart in our new virtual world, in which for many of us, going to work is just sitting in one long series of probably-not-necessary Zoom meetings?
---
Well, we've got you covered with 12 (that's two better than 10!) tips for seeming smart in a Zoom meeting:

1

.

 Dial in.
Dialing in rather than joining via the link instantly boosts your credibility. Who calls into Zoom meetings? People who are still busy and important enough to be leaving their houses! But you needn't actually be one of those people, or even more than a foot away from your computer to pull off this maneuver. (Remember, this article is called *seeming* smart, not being smart.)
Bonus: If it's a large meeting at which attendance will be taken, the person running the meeting will inevitably ask, "Who's calling in from 443-322-2121?" That's when you raise your metaphorical hand, jump off mute, and say "[Your name] here. Really looking forward to hearing your perspective on [meeting topic]." And voila! You've stolen the meeting spotlight.
2

.

 Don't come on camera—ever.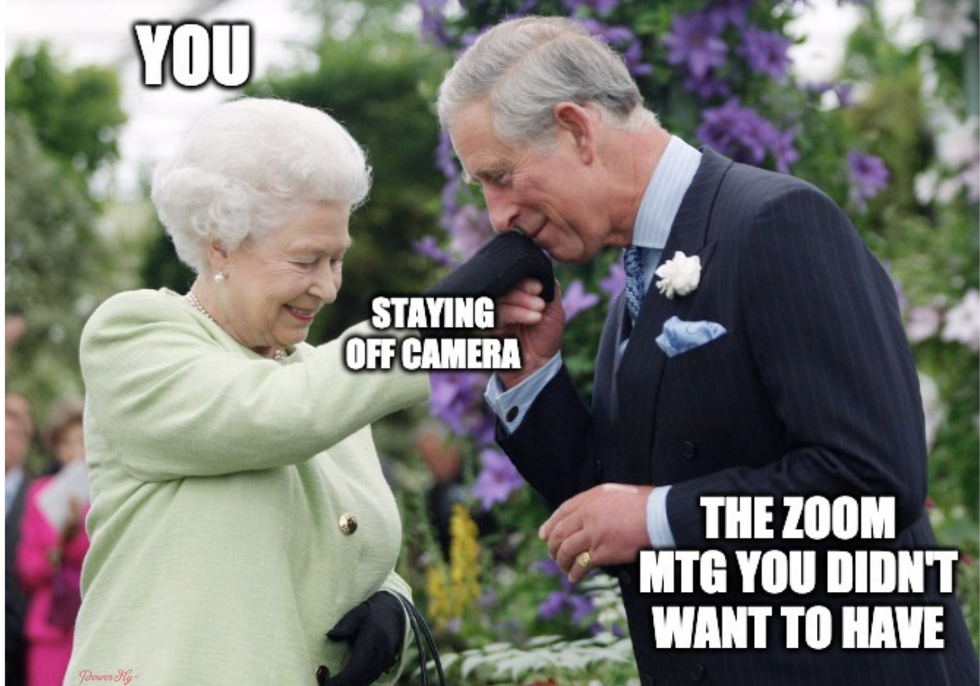 Much like the "dial in," this technique works because it makes you appear aloof. If The Crown has taught me anything, it's that the key to maintaining a sense of mystique and prestige is to keep people at arm's length—and if you absolutely must touch them, wear a glove.
3

.

 Only communicate via chat. 
Once you've mastered the art of staying off camera, you can level up by communicating exclusively via the chat box. Don't come off mute at all, even if the speaker asks your opinion. You are the elusive chatter and you will not be forced into actually participating in said meeting.
4

.

 Ask to share your screen.
Being aloof is great, but it's all about balance. Sprinkling in some active participation will really shock and impress your colleagues if you catch them off guard, so save this technique for when you've strategically not participated in a string of meetings.
Spend a few minutes prior to the meeting prepping a few inspirational slides with words like "synergy," "optimization," and "redefining 'culture'", or spend a few minutes poking around in Google Analytics.
Then wait for the opportune moment to say, "Can I just share my screen for a moment? I have some really interesting data I'd like to share...." and BAM — brilliance established.
5

.

 Show off your Zoom-saviness. 
Try saying, "You know you can mute people, right?" to the host when they beg whoever's got the lawn mower and crying baby in the background to put themselves on mute for the nth time.

6

.

 Create an alter ego.
This tactic requires commitment, but the pay off is certainly worth it. Join the Zoom meeting from your normal account + name, and then join it again on a second device from an alias. Have your alter-ego ask some probing or stat-based questions in the chat and have the answers ready ahead of time. It should work something like this:
Your alter ego Charlene: "Does anyone know what percentage conversion rates increased by in Q2?"
Real you: *doesn't miss a beat* "It looks like Charlene has a question in the chat. That would be 36%."
Never mind that no one on your team knows who Charlene is or why she's at this meeting, they'll be too blown away by your brilliance to notice. (Bonus points if you use this strategy in conjunction with techniques 1, 2, 3 or 4!)
7

.

 Place an obscure object in your background that exudes intelligence.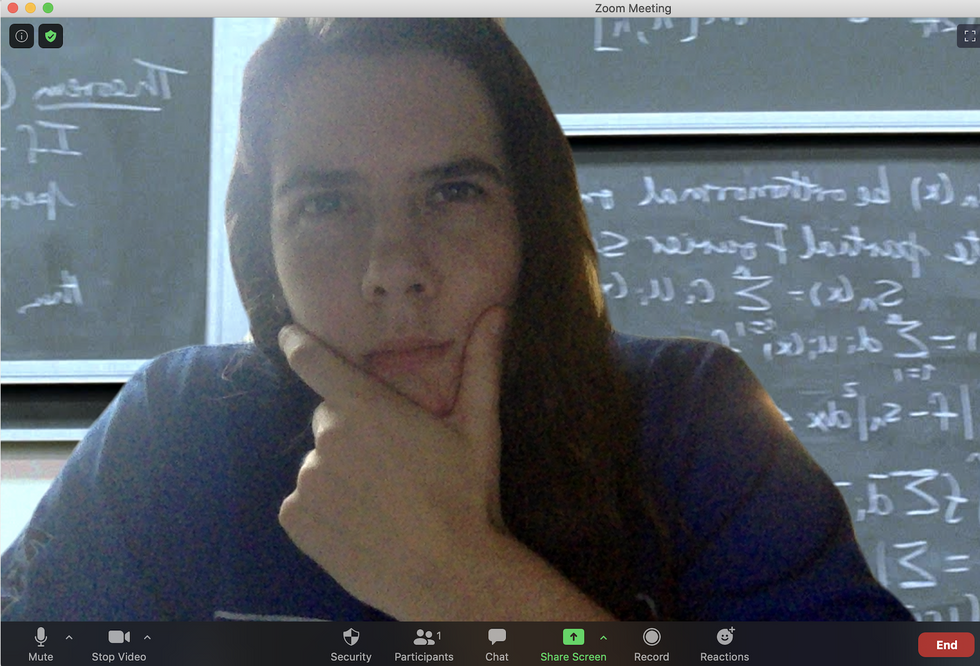 We're talking a telescope, or perhaps a hardcover copy of War & Peace (no one need know that its only purpose in your life is as a makeshift yoga block).
If you don't have any suitable props at your disposal, do not despair: download some screenshots of Sheldon's apartment from Big Bang Theory or the chalkboard in Good Will Hunting and use those as a virtual background.
8

.

 Ask "Is this really the best course of action given the current climate?" 
Economic collapse, COVID, racism… No need to specify whether you're referring to one or all of the above; just sit back and watch your boss squirm amidst the ambiguity.
This strategy pairs very well with techniques 2 and 3. You can prep additional vague-but-probing questions ahead of time and pepper them into the chat box throughout the meeting:
How will this scale?
Do we really have the bandwidth for this right now?
What's the value-add here?
9

.

 Remind everyone that you have a paid Zoom account.
"Oh, it looks like we're getting the 40-minute warning. I have a paid account, do you want to switch to my room?" It's helpful, with just a touch of condescension. Everyone knows condescending people are smart. And everyone knows that people with paid Zoom accounts are super important.
10

.

 Tell everyone you have a hard stop. 
When pressed for details, share your philosophy on "work-from-home" balance and how committed you are to getting up once an hour to walk to your refrigerator.
11

.

 Ask the screensharer/host to "pull something up" for everyone.
Ask the presenter to navigate to a screen that only you know how to navigate well. Laugh maniacally while they suffer from crippling performance anxiety. Let them struggle for as long as is tolerable before saying, "Oh you know what? I can just share my screen if you want. That would probably be easier." BAM you're the hero. Don't worry, no one will even pause to consider that you could have proposed this course of action from the start.
12

.

 Say Zoom fatigue as many times as possible.
If you're too tired to employ any of the other strategies, just say "I know everyone is experiencing a lot of Zoom fatigue, so we can keep this meeting short." Then hang up as quickly as possible. Meeting averted!
After all, there's no better way to demonstrate your intelligence in a virtual meeting than to demonstrate why it wasn't really necessary in the first place.
Related Articles Around the Web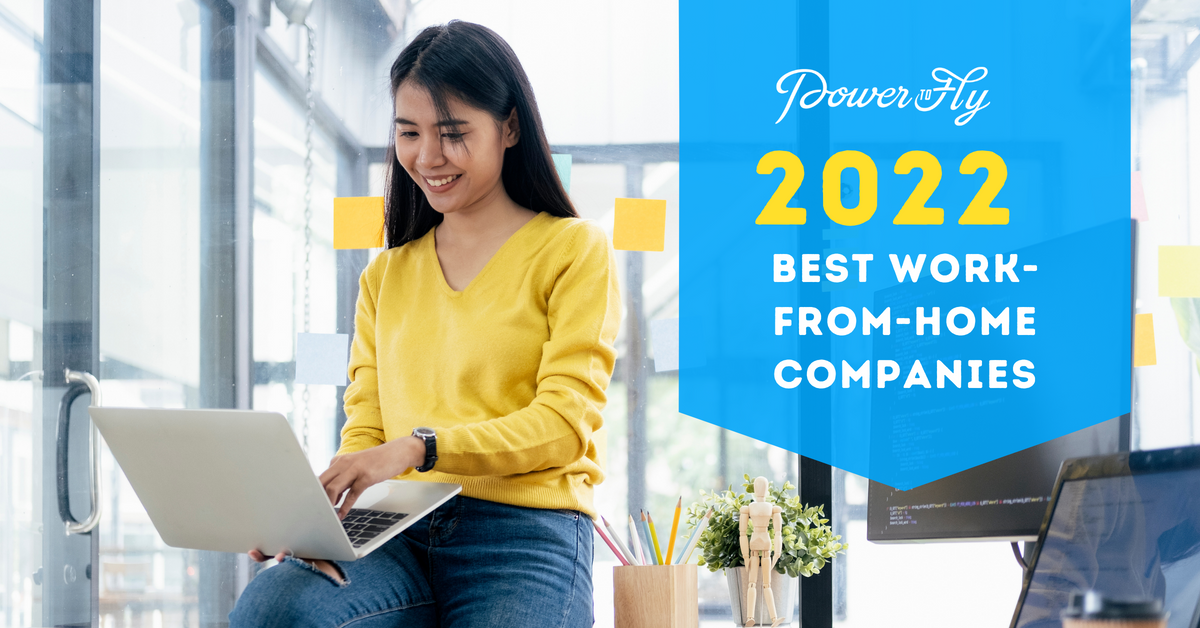 Featured Post
Every year, PowerToFly creates a list of the best work-from-home companies. Now that over half of the U.S. workforce is remote, compiling that list was a bit more challenging.
This year, we prioritized selecting companies that are remote-friendly—meaning they have both remote and in-person roles—but they have made long-term commitments to hiring and supporting employees who choose to work from home; and we think they have the perks, values, and organizational framework to allow all employees to flourish in their careers, regardless of location.
Keep reading to see our top 15 work-from-home companies for 2022, along with a description of what they do, why we like them, and who they're looking for.
PowerToFly's Best Work-From-Home Companies 2022:
Don't see what you're looking for? Check out a fill list of 5,000+ open remote roles here!
READ MORE AND DISCUSS
Show less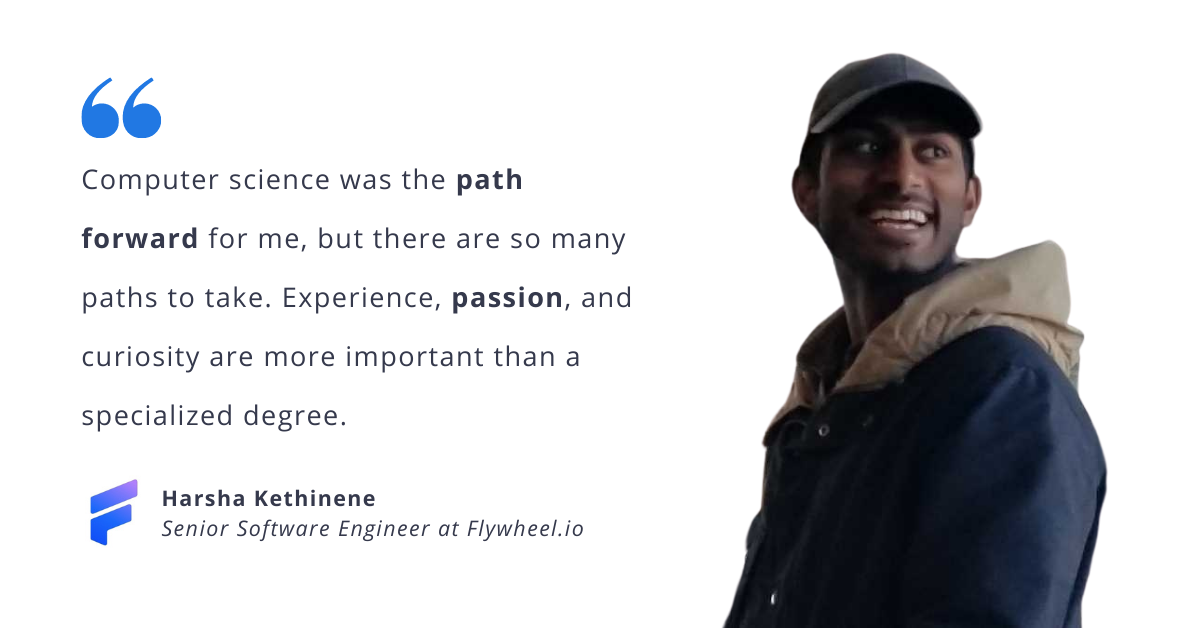 Flywheelml
Software development is in Harsha Kethinene's blood. "Both of my parents are in the computer science field," he says. "So when I was younger, they introduced me to programming." By the time he was in middle school, he was creating his own text-based video games. "I liked learning different languages and different ways of how to program, and by the time I was in high school, I knew I wanted to go into a STEM field."
And that's exactly what he did. Today, Harsha is a senior software engineer at Flywheel, a biomedical research data platform. We sat down with him to learn about his journey from college student, to intern, to engineer. Keep reading to hear his advice to smooth the transition from school to industry.
Figuring Out Next Steps
Harsha knew that he wanted to focus on science and technology in his career, so he originally opted for a double major in physics and computer science. "I had always been interested in astrophysics and space, and I wanted to learn more about that," he reminisces. "But then I took my first physics class and thought, 'alright, nevermind, we're going to stick to computer science.'"
With a new found focus, Harsha began tackling his classes and learning about different aspects of computer science, but he wasn't sure which area he wanted to focus on. "It got to a point where I thought, 'Is computer science really what I want to be doing?,' he explains. "Because what I was learning was interesting, but it didn't seem to fit with what I wanted to do."
That's when he decided to get some experience outside of the classroom to help him secure his career path. "It was my sophomore year, and I thought, 'I want to get an internship because it seemed like what smart people did,'" he laughs. After hearing about Flywheel from one of his colleagues at an on-campus student group, Harsha decided to apply for an internship.
After a series of interviews, they welcomed him on the team. He got the opportunity to dive into the industry and get insight on the different fields he could potentially work in. "Everything kind of clicked together and I thought, 'okay, this is what I want to be doing, software development.'"
Diving Into the Real World
This internship revealed some major differences between his development classes and the projects he was working on at Flywheel. "At Flywheel, what I was working on could change very fast," he elaborates. "At school you have a syllabus, you know what you are going to be working on."
While at university there were structured problems that had a neat solution, he realized that in the real world, he had to identify the problem first, and then try to solve the problem. "Sometimes you almost feel like a detective trying to figure out what's going on and why it's not working," he says. "So that's always fun. It keeps you on your toes."
"I'd say the hardest thing to learn, and what probably took me the longest to learn, is in school, when you write code, you just need to write it once, to get it to work, and then you can kind of ignore it for the rest of your life," he laughs. "You can't really do that in an industry. You need to write it and then make sure that six months from now you can still understand what you wrote."
Flywheel's dynamic, collaborative environment ultimately led Harsha to accept a full time offer as a software developer. Four years later, he's continued to climb the career ladder and is thriving in his current role as a senior software developer.
Tips for Transitioning Into the Industry
Harsha knows, first hand, that going from student to professional can be challenging. Keep reading for his advice to help smooth the transition.
Tip 1: Actively search for experiences and internships. Gaining real world experience is key to making the transition from student to professional smooth. One way to do that is through internships. "It feels very daunting when it comes to searching for an internship," Harsha confesses. "You see all of these postings online and you think, 'am I qualified for it?' Other times you get automated rejections."
When Harsha was looking for an opportunity to gain hand-on experience in the field, he relied on a network of support. "The reason I got my internship was by meeting somebody who mentioned this company that I'd never heard of." In addition to networking, Harsha recommends using other tools. "Try multiple avenues of looking for jobs and internships." Some of the avenues he suggests are industry meetups, school networking events, and conferences. "You need to break out of your shell a little bit to meet your people, to find these opportunities," Harsha advises.
Tip 2: Let your passions shine in the interview. After applying to a job or an internship, the second step is to prepare for the interview. Harsha's interview experience taught him that employers look for passionate people. "One of the people that interviewed me mentioned that they looked to see if candidates were doing any programming outside of school," he says. "That shows that you have a passion for it."
These days Harsha finds himself on the opposite side of the table as an interviewer. "When I'm sitting in on an interview, I tend to look for that [passion] as well, if they would enjoy working here in the software development industry."
Tip 3: Don't let your degree limit you. While Harsha pursued a degree in computer science, he's seen that there's no one correct path to a successful career in tech. "A computer science degree isn't really necessary at all," he elaborates. One of Harsha's former colleagues was a self-taught programmer. "He picked up small contract work online writing code and developing websites. Now, he's a software engineer at another startup."
Everyone's journey looks different, so there's no one-size-fits-all way to a successful career in tech. "Computer science was the path forward for me, but there are so many paths to take. Experience, passion, and curiosity are more important than a specialized degree."
Are you ready to put Harsha's tips into practice? Check out Flywheels' open roles here!
READ MORE AND DISCUSS
Show less
Loading...