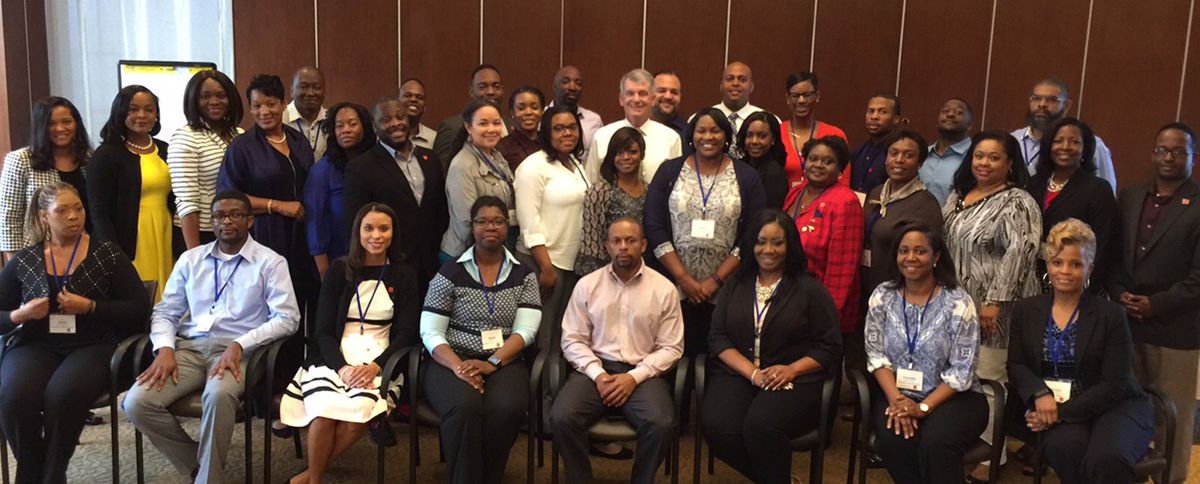 Wells Fargo team members and participants of the Black/African American Leaders Program in San Francisco.
Wells Fargo Company
Below is an article originally written by Michael McCoy at PowerToFly Partner Wells Fargo, and published on June 28, 2017. Go to Wells Fargo's page on PowerToFly to see their open positions and learn more.
When you are given the opportunity to be yourself, your success increases tremendously.

George Wagner wasn't sure what to expect when he enrolled in Wells Fargo's Diverse Leaders Program. But when he left the program three days later, he felt like his life had completely changed — for the better.
"Although I have been openly out as a member of the LGBT community for many years, participating in the program allowed me to learn how to truly be comfortable being my authentic self," said Wagner, a Regional Banking branch manager in Vacaville, California, who completed the program in 2015. "When you are given the opportunity to be yourself, your success increases tremendously."
The Diverse Leaders Program offers several different tracks, including Asian and Pacific Islander, Black/African American, Latino, and Lesbian/Gay/Bisexual/Transgender Leaders programs, and will expand later this year to include Veterans Leaders and People with Diverse Abilities Leaders programs.
Each learning experience provides a unique opportunity to focus on leadership and professional development from a culturally relevant and sensitive perspective. Participants explore similarities and differences between American mainstream business cultures, and bridge the gap while retaining their own culture and values. Each DLP is a transformational three-day "deep dive" leadership experience designed specifically to develop high-potential talent throughout the company's footprint. These unique, industry-leading initiatives were developed to enrich Wells Fargo's long-term commitment to its team members and the greater community by empowering the next generation of diverse business leaders.
"I learned that I needed to change my approach to managing the different personalities that exist in my personal and professional life," said Pamela Cross, a senior philanthropic specialist in Atlanta, who completed one of the programs in 2016. "As I mastered this new skill, doors opened and new opportunities presented themselves."
The Diverse Leaders Programs began in 2004 with a nomination-based process, but transitioned this year to an open enrollment process — making the program available to any eligible company team member interested in attending. Over 3,900 Wells Fargo team members have participated in the programs so far.
"Continuing to invest in diverse team members is incredibly important and is a tremendous opportunity for us to better serve our diverse customers and communities," said Joy Nguyen, program manager for the Diverse Leaders Program. "As the program manager and alumna of the DLP, I know how empowering it is to feel valued, appreciated and important. That's the experience I want every participant to have when they participate in the programs."
For Wagner, the impact he felt from participating in the DLP continued even after the program ended.
"My favorite part of the program was being able to network with leaders from around the country in multiple lines of business," he said. "I am still in contact with a lot of people from the program, many of whom have helped me make career decisions, mentored me through tough situations, and broadened and challenged my way of thinking."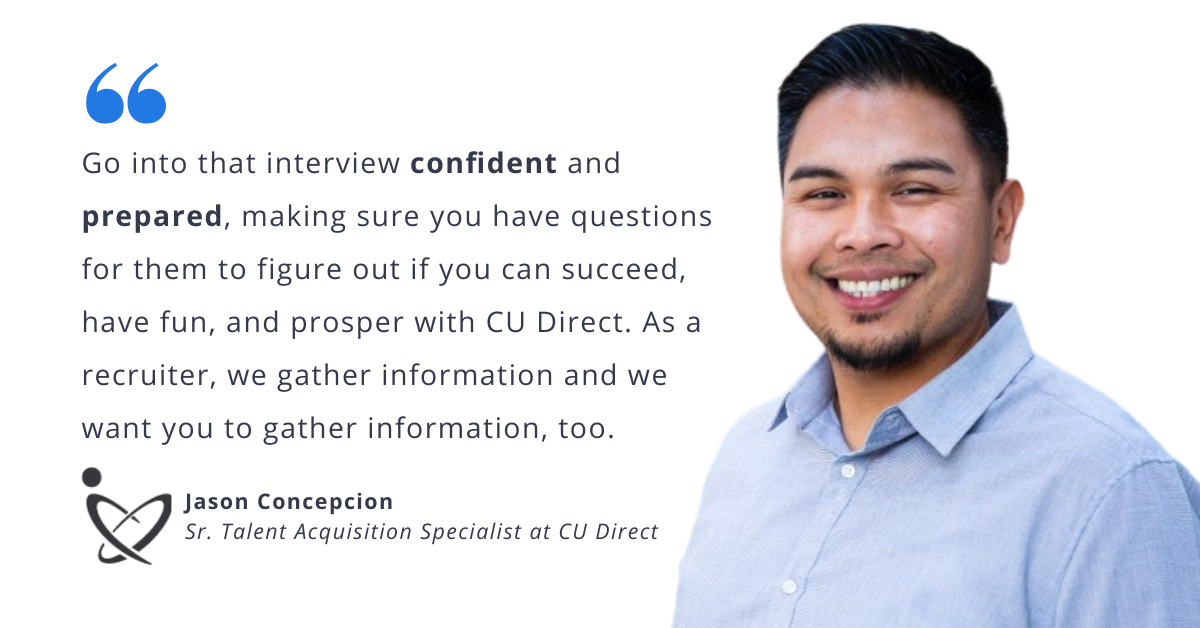 CU Direct
Jason Concepcion is a Sr. Talent Acquisition Specialist at CU Direct, a technology leader that delivers lending solutions to financial institutions, auto dealers, retailers, and medical providers nationwide. As a progressive company that looks for the best diverse talent, CU Direct prides themselves on seeking and taking care of their employees.
We sat down with Jason to learn about CU Direct's hiring process. Keep reading for his top 6 tips to put into practice when interviewing with CU Direct.
Tip # 1 Do Your Research
While it may seem obvious, learning about the company you're interviewing for is crucial. "Before the interview, do some research on CU Direct, our products and services, and even our subsidiary companies," says Jason. Doing the research will show the interviewer that you are highly interested and that "you did your due diligence in getting to know the company." Check out their About page to get to know CU Direct and its various projects.
Tip #2 Ask Questions
It's important to be transparent from the first point of contact with the company, which means asking questions to clarify and gain more information. Jason suggests, "when talking to the recruiter, ask questions. Go into that interview confident and prepared, making sure you have questions for them to figure out if you can succeed, have fun, and prosper with CU Direct. As a recruiter, we gather information and we want you to gather information, too."
Tip #3 Take Your Time
Pace yourself in the interview. Jason explains that "it's okay to pause, regroup, and answer questions. When asked about your experiences, taking your time will allow you to think of the situation, how you solved it, and what was the outcome."
Tip #4 Ask Yourself, 'What Do I Want to Do?'
Take inventory of what you have accomplished or learned in your professional trajectory so far. "We're not just looking for what you've done, but we are also looking for what you can do and what you want to do," says Jason. He believes that "those things are just as important as what you've done in the past. Your drive and determination will show us where you want to go and ideally, that will organically align with the positions we have here at our company."
Tip #5 Understand the Job Description
With your resume in hand, consider what experiences best align with the job description. "Valuable work experience can be found almost anywhere. It can come from your first job or it can come from your most recent job," Jason explains. Whatever small or short experience you have that matches the job description is worth mentioning and explaining, depending on the job you are applying for. Jason explains, "a good understanding of the job description you're going for, and related positions within the company will give you a greater insight as to what we're looking for and what you want to highlight or present in regards to this role."
Tip #6 Don't Be Afraid to Get Personal
One way to stand out in the interview process is to show that you'll be a good values fit, so intentionality throughout, and after, the interview can go a long way. Jason suggests sending a thank you email after the interview. "This will make sure that you stand out in front of thousands of applicants," he says. "Don't make it generic, tailor the message including details mentioned in the interview, this will show the person that you were completely engaged throughout the interview."
CU Direct's personal and careful recruitment process is a reflection of their fun and innovative atmosphere, their value of team members, and commitment to growth. They offer several benefits to their employees, such as a flexible working environment, paid time off, 401k match, college tuition reimbursement, and an exciting company culture. Because of this, they want to make sure people are treated with the same kindness and positivity from the start. As Jason reiterates: "We want to make sure you are prepared and ready for each step of this process, from interviewing, to asking questions, and to possibly onboard in the future," says Jason.
Are you interested to find out more about working at CU Direct? Check out their
openings
here!
READ MORE AND DISCUSS
Show less
Loading...