GET EMAIL UPDATES FROM POWERTOFLY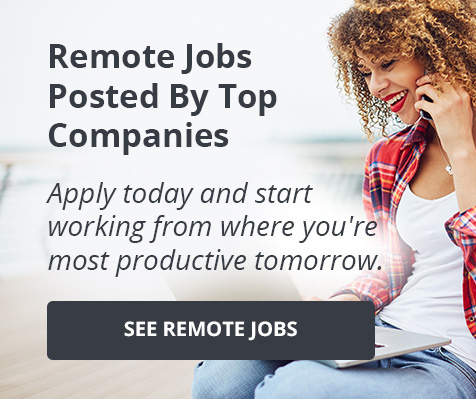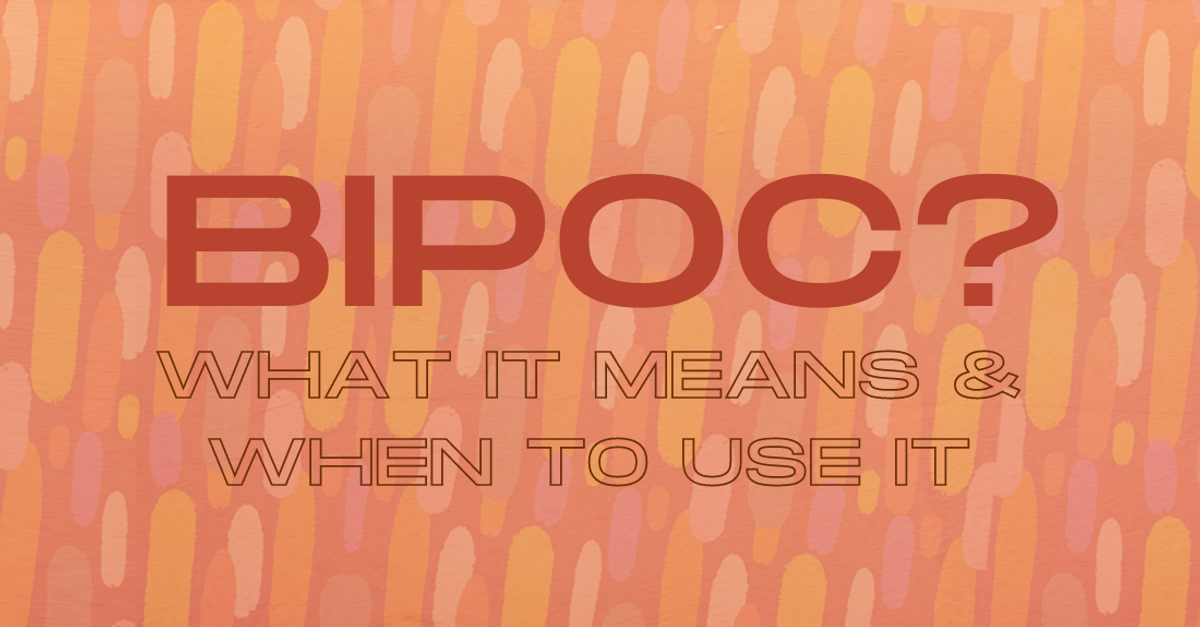 October 09, 2020
For Employers
What does BIPOC mean?
What does BIPOC mean?
For our first entry in our now-monthly glossary of diversity, equity, and inclusion (DEI) terms, we're going to cover BIPOC, a (relatively) new term in the space. We'll answer questions like "What does BIPOC stand for?", "Are Asians and Latinos BIPOC?", and "BIPOC vs POC — which should I use?"
---
As always, our goal in this series is to empower you to lead and participate in efforts to make your own workplace inclusive and supportive of all talent. DEI is always evolving, and we're here to learn and grow right along with you. If you have other terms you'd like to see us cover after BIPOC, leave a note in the comments or reach out at hi@powertofly.com!
BIPOC meaning and definition
BIPOC is an acronym. It stands for Black, Indigenous, and people of color.
Within that, Black usually refers to people with darker complexions, who may have African or Caribbean ancestry, and may or may not be descended from people who were enslaved. Indigenous usually refers to people whose descents were native to the Americas or here before European colonizers arrived. People of color is a broad term for non-white people; it includes Black and Indigenous people but also may also those of Asian, Middle Eastern, Pacific Islander, or Latin descent.
BIPOC vs POC
BIPOC builds on (and in some contexts, replaces) another popular DEI acronym, POC, or people of color, but highlights the unique discrimination faced by Black and Indigenous groups. Instead of lumping all non-white people into one category, which has been seen by some as erasing the significance of anti-Black sentiment, it adds more nuance to a term used to reference all non-white people.
Cynthia Frisby, a professor of strategic communication at the Missouri School of Journalism, explained the expansion of POC to the New York Times: "The black and Indigenous was added to kind of make sure that it was inclusive. I think the major purpose of that was for including voices that hadn't originally been heard that they wanted to include in the narrative, darker skin, blacks and Indigenous groups, so that they could make sure that all the skin shades are being represented."
The term was first used in 2013, but took off in May 2020 after protests against anti-Black police brutality exploded after the death of George Floyd. There was some initial confusion over what the term actually means, with some people reading it as "bisexual people of color" or "Black and Indigenous people of color"—that is, a combination of Black and Indigenous people versus a broader category that includes other non-white people.
It's now well understood to mean Black, Indigenous, and people of color, and while the intention behind the term is to be extra inclusive, which is why you'll see it used in DEI spaces, not everyone sees it that way.
From a September 2020 episode of NPR's Code Switch podcast: "I feel that the term POC is nonsense, and I think it's a way for non-Black people to sit comfortably in their anti-Blackness because they're so afraid to say Black," says Christine Harris. "So they come up with these terms that make them feel comfortable with their whiteness or their adjacency to whiteness. And I get irritated — not irritated, vexed — when people refer to me as POC or BIPOC. Like, no, absolutely not. I'm Black, don't play me."
Are Asians BIPOC? Are Latinos BIPOC?
For people of Asian descent, yes. Since POC includes all non-white people, and Asian Americans are non-white, BIPOC includes them.
For Latinx people, sometimes. Remember that the term Latinx refers to geography, noting people residing in Latin America or descended from people who resided there. (The related term Hispanic describes anyone descended from Spanish-speaking populations.) Neither refers to race, which in and of itself is a social construct and not a biological classification. Therefore, a Black or Indigenous Latino might identify as a person of color whereas a white Latino might not.
The relationship between Latinx people and race is a complicated one, particularly in the U.S., where people who look non-white (including Latinx people with darker skin tones) or have Hispanic-sounding names may face discriminatory treatment more similar to the ways that Black and Indigenous groups have historically been treated than the ways white people have been treated. So in that way, Latinx people are often considered to be included under the banner of POC.
When to use BIPOC vs POC or other terms
Like a lot of what we talk about when we talk about inclusive terminology, it really comes down to the preferences of the people you're referring to. For instance, some people may prefer to be called Black and others might like African American better. One person may identify as Native American and another as Indigenous and still another as a member of a specific tribe, finding umbrella terms like Native American to strip away the history of her tribe. If you don't know, listen to how your coworkers or employees refer to themselves or ask them outright what they'd prefer.
Do keep in mind whether you're using umbrella terms like POC or BIPOC to avoid addressing the specific experiences of one underrepresented group. For instance, while using the term BIPOC might be a good way to talk about the broad non-white experience, BIPOC isn't a substitute for Black people. Don't erase a specific group's history, issues, and perspective if you mean to highlight them. And overall, ask the group you're trying to include what kind of terminology or behavior would make them feel included. You don't have to have all the answers—you just have to make space for the people who do.
From Your Site Articles
Related Articles Around the Web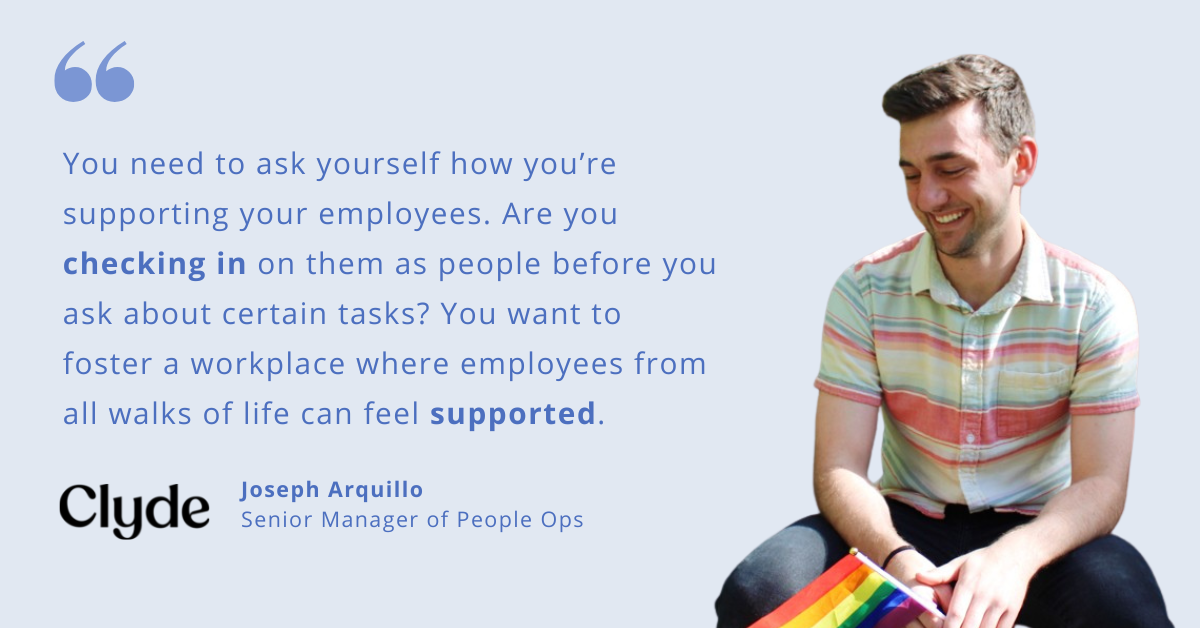 Clyde
Joseph Arquillo doesn't work in Human Resources — he works in People Operations. And the distinction matters.
"It was named 'human resources' because it saw humans as resources, utilized for certain tasks or behaviors. But that's not really what it's about," says Joseph, who is a Senior Manager of People Ops at Clyde.
"Calling it 'people ops' adds back what you lose with 'HR.' My philosophy is that I am there to support you. I am there to work with you, empower you, and enable you so you can be your best self."
For Joseph, a key element of helping employees become their best selves is making sure that the workplace, whether in-person or virtual, is an inclusive space for all. That doesn't happen by accident — it requires a dedicated DEIB strategy and leaders who are committed to asking hard questions of themselves and others.
We sat down with Joseph to hear more about his professional journey, and the practices of leaders who create environments where everyone feels included.
More Than Just a Number
As a college freshman, Joseph planned on sticking with liberal arts when it came to choosing a major. But then he took a class in Boston College's School of Education, and loved its holistic approach to applied psychology.
This inspired him to switch his major to psychology and human development, and select minors in political science, and management and leadership, where he enjoyed learning about organizational psychology.
After graduation, he explored the consulting space to put theory into practice, but found out during an internship at a multinational consulting firm that finance or accounting weren't the places he wanted to build his career.
"Since Big Four companies have 250,000 employees, you become just a number," he says of the experience. "It wasn't my cup of tea. Too corporatized."
That kicked off Joseph's interest in startups.
"It's always fun to get in the weeds! One thing that's very interesting to me is a challenge," he says. "When you're helping a company like Clyde grow and scale, joining when they're at a Series B and helping them get to the next level, you really get to focus on the interaction between people, process, and product," explains Joseph. "You need to hire the right people to work towards increasing efficiencies in all areas, but also make sure that we're enabling them to create a strong product."
6 Keys To Building Inclusive Spaces as a Leader
Across the different industries and companies that Joseph has worked in, he's identified the behaviors that create truly inclusive environments — as well as those that discourage them.
Here's what he's seen:
First, recognize your own privilege. "If you're a man, you have privilege, even if you're a gay male. If you are a white woman, you have racial privilege. It's really important that you're cognizant while you interact with somebody how they might interpret the interaction based on your identity."
Leaders should always speak last. This is important always, but especially in in-person spaces, where it might seem even more nerve-wracking to speak up in a crowd, says Joseph. "You want to make sure you're creating that space for employees who aren't as senior to feel comfortable voicing their thoughts."
And, leaders should use check-ins liberally. "You need to ask yourself how you're supporting your employees. Are you checking in on them as people before you ask about certain tasks? You want to foster a workplace where employees from all walks of life can feel supported," he says.
DEIB isn't just about adding new initiatives — sometimes it's about removing barriers. "You need to remove unnecessary bias," explains Joseph. "That can mean making sure you have appropriate policies and practices that don't hinder people depending on who they are or where they live."
Maximizing participation requires planning with a diversity lens. Joseph has helped the Clyde team gather together and bond as a group. Along the way, he's been careful to consider physical and psychological safety for everyone involved. "For instance, if you're doing an event, do you have someone who's not drinking? Have you set up the environment for people who might have a physical disability, or carefully planned the flow of activities for people who might be neurodivergent?"
Saying you want to be better isn't enough — articulate actions you will take. "Pride is a great example," explains Joseph. "Yes, June is a time to celebrate. But it's also a time to march. And beyond that, how do you show up and celebrate with the LGBTQIA+ community throughout the year?"
Embracing the Unknown
If you visit Joseph's LinkedIn profile, you'll see his personal motto: "Without challenge, change, and a bunch of unknowns, it's no fun."
That belief has led him to study what he's passionate about, to take on new and exciting roles at growing startups, and now, at Clyde, to help formalize what world-class people operations looks like at a fast-growing company.
"I view myself as a connector that really empowers people, challenges teams, and helps drive us towards what I consider to be an improved future," he says. "I feel like it's my responsibility to be the chief advocate for each of our employees, and remove any barriers in the way of their growth."
Want to learn more about what opportunities Clyde offers? Check out their open roles!
READ MORE AND DISCUSS
Show less
Loading...