GET EMAIL UPDATES FROM POWERTOFLY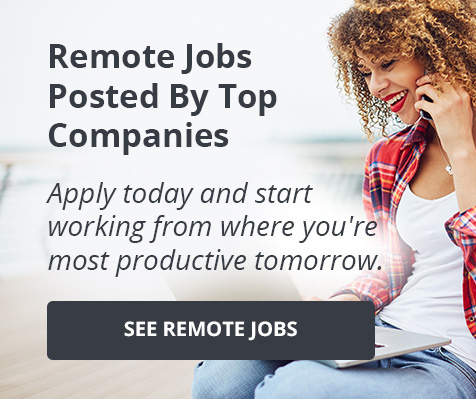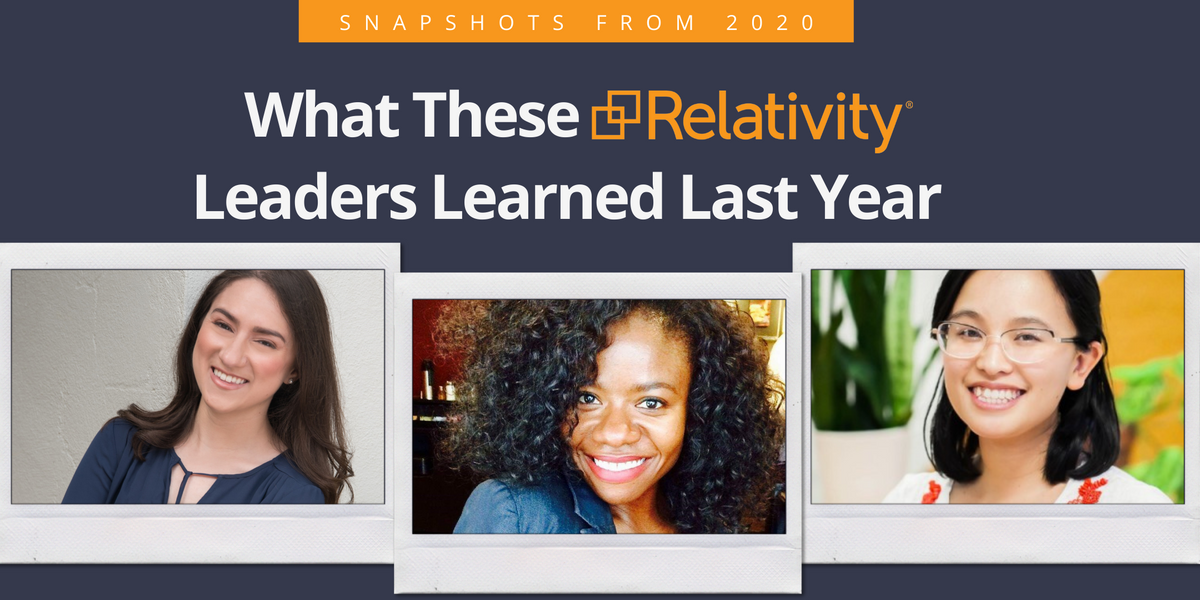 January 19, 2021
Relativity
3 Women, 7 Lessons: What These Relativity Leaders Learned in 2020
Working at Relativity—the global tech company that equips legal and compliance professionals with a powerful data-organizing and discovery platform—looked different in 2020. The highly collaborative environment of their Chicago headquarters transitioned to a virtual setting, and just like companies around the country, Relativity adapted their goals and major projects to a completely remote environment.
---
For three women with very different roles across the company, that meant leaning into their strengths, staying adaptable, and finding ways to embody one of Relativity's core values—"enjoy and be great at your job"—in completely new ways.

We talked to Rebecca BurWei, Jaclyn Sattler, and Joy Ndackson about how their work at Relativity changed in 2020 and what that means for what's to come in 2021, both for their personal teams and projects, as well as for women at other tech companies looking to continue to make an impact.
3 Leaders, 3 High-Impact Projects
Rebecca BurWei is a Senior Data Scientist at Relativity, where she works to build new analytics and AI features for Relativity's products. She builds on her academic expertise—she has a PhD from Northwestern—to build solutions at scale, and she joined the company for the opportunity to do just that. "Prior to Relativity, I built custom models by hand to solve problems for one client at a time," explains Rebecca. "However, Relativity Analytics builds hundreds of models every day automatically for clients with its AI capabilities. I was attracted to the challenge of solving problems that could help clients at scale, across the board."
Jaclyn Sattler is the Chief of Staff to Relativity's COO, a role that has her focusing on cross-company projects and collaboration. She joined Relativity with a management consulting background because she wanted to be able to see the impact of the work she was doing. "I was searching for a place where I could dig in more deeply, work on interesting problems, and be the person to see them through to fruition," says Jaclyn. "Above all else, I wanted to work at a company where I was in awe of my peers."
Joy Ndackson is a Security Project Manager at Relativity, and her suite of responsibilities is all about managing high-impact enterprise-level projects for the company, from scoping to rollout. She accepted an offer at Relativity after over a decade of experience in the project manager space because she was impressed by the company's positioning in the e-discovery industry and wanted the chance to work on many cross-functional projects. "I have enjoyed working with different teams throughout the company and can honestly say that I have never been bored!" says Joy.
Each of them overcame the challenges presented by 2020 to complete high-impact projects last year:
Helping medical researchers more quickly review data to help with the fight against COVID-19. Rebecca worked with her team to use Relativity AI and text-mining tools in order to review journal articles and medical literature to help in the search to understand, treat, and prevent COVID-19. "It was exciting to work on an important, time sensitive project with global implications," says Rebecca. "I also enjoyed collaborating with a diverse group of data scientists and public health researchers from around the world. It was satisfying to produce results that could be used right away."
Supporting the fight for racial justice with data. Jaclyn helped launch Relativity's Justice for Change program and the company's pledge of 100TB of its e-discovery SaaS product, RelativityOne, to reduce barriers in technological access for organizations committed to racial justice. "Many groups fighting for racial justice manage large volumes of data and must quickly identify key issues for litigation or investigations," explains Jaclyn. "Our technology can help. We created a program that leverages the expertise from our community and the use of our e-discovery SaaS product to help organizations organize data, discover the truth, and act on it."
Developing and launching a new security training program. One of Joy's internal projects in 2020 was creating the Security Guardian program. "It entails training courses for Relativians to learn about our security posture. It teaches them how to incorporate that knowledge into their teams' processes and provides tools needed to communicate security best practices to our customers," she explains. "In essence, we are equipping everyone in our organization to be extended members of our Security team." In successfully seeing the project through, Joy got a behind-the-scenes look at how Relativity's learning and development team creates a course—from storyboarding to execution—and saw how the work she does adds value across the business.
7 lessons learned across the board
Though Rebecca, Jaclyn, and Joy have very different sets of daily responsibilities and current projects, they all had similarly important takeaways from 2020 about the importance of community, connection, and balance. Here are the seven lessons they learned last year:
Balanced schedules don't happen naturally—they need to be built. Jaclyn realized that if she wasn't intentional about her schedule, she'd be in back-to-back video calls all day without a second to think. "By including time to work or think, time to connect or have discussions with my team, time to take breaks or take a walk, and time to sign off and enjoy my personal environment, I can control how I spend my time, in and outside of work, to make the most of it," she says.
Always ask for feedback. With Joy's projects moving online, she had fewer chances to do real-time check-ins with her key stakeholders. That meant she needed to make sure she was asking them directly if they had concerns or feedback. "All projects are not equal so seeking feedback and being inquisitive has helped to confirm that I am leading the project effectively and adding value to it," she says. Her set of to-go questions include: "Is there anything I can improve on as the Project Manager? Do you have any concerns about the project? Are there any potential risks that I need to be aware of?"
Changing pace is okay. Rebecca learned in 2020 that staying adaptable to changing personal and professional priorities means adjusting the pace at which you address them. "Sometimes life moves fast, and other times it moves slowly," she says. "I'm learning to adjust my own pace to match or complement the pace of life and work around me. Next year, I intend to disperse my time off in more regular intervals across the year instead of packing it all in at the end."
Communicate more than you think you need to. "There's no such thing as over-communication," says Jaclyn. "In fact, consider how much you talk to your project team, or share updates with the project sponsor, and then level up a notch. I've found that high-impact projects are fast moving and have a lot of energy surrounding them. This makes change happen quickly and strong communication crucial. Crushing communication on your projects will make you the go-to person to lead higher impact activities."
"Focus is a muscle," says Rebecca, who notes that you can build it over time. "Start small with little reps. Learning to say no in order to prioritize is also a muscle."
Inclusive meetings take work. Joy says she's learned a completely new set of guidelines for moderating virtual meetings that she'll apply in 2021. Her top tips? "Ending meetings five minutes early to allow for a break between meetings, seeking feedback from project teams on the preferred method to get updates on action items (e.g., IM or email or meetings), taking longer pauses during meetings to ensure others have the chance to share their perspectives, and sharing screens during interactive calls."
Informal space can be made virtually. As a Chief of Staff, Jaclyn needs to have a pretty rich understanding of what lots of different people are working on in order to set them up for success. In the beginning of the pandemic, she had a difficult time doing that. Then she got creative. "I started a few virtual coffee chats and phone calls while on a walk just to catch up with other Relativians. Yes, we would talk shop about work, but these separate-but-together activities created space to connect as people, too," she says. Jaclyn was meant to visit the company's Australia office in 2020, and while that couldn't happen, her virtual connections helped her get to know the team there and quickly bring the Justice for Change initiative to the Australian region after its U.S. launch.
And one final bonus tip we love from Joy: take advantage of any opportunity to dance! "I love to dance, so oftentimes during a break, I put on some music and have a mini dance session. That always puts me in a good mood. I would not have been able to pull that off if we were still physically in the office!" she says.
Learn more about Relativity's 100+ open roles and company culture.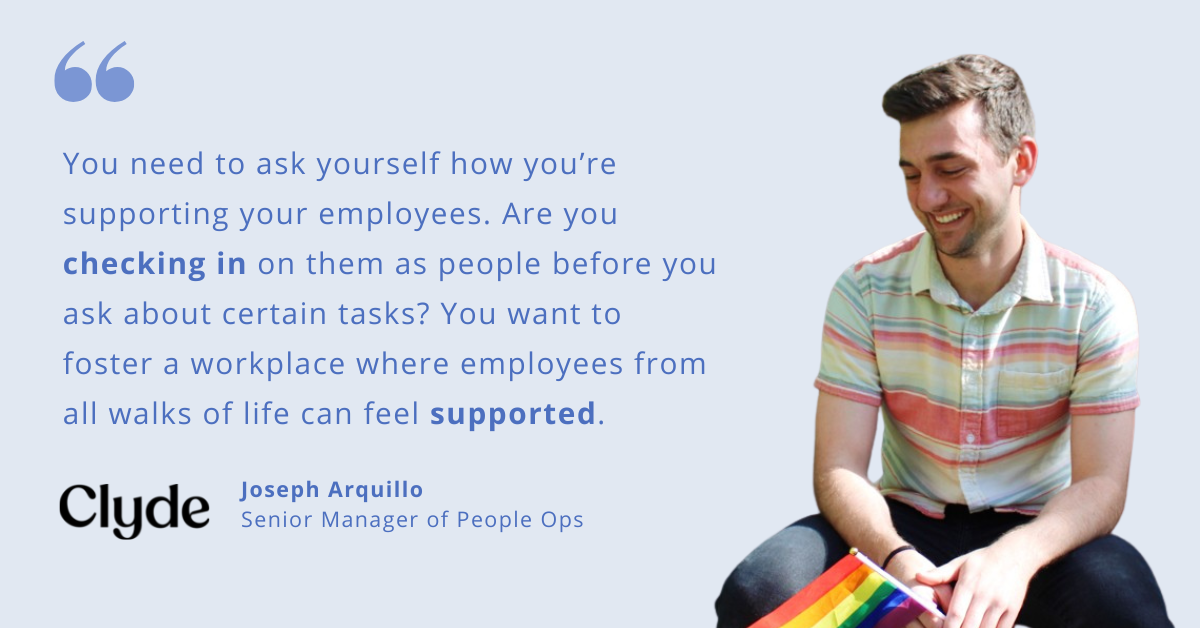 Clyde
Joseph Arquillo doesn't work in Human Resources — he works in People Operations. And the distinction matters.
"It was named 'human resources' because it saw humans as resources, utilized for certain tasks or behaviors. But that's not really what it's about," says Joseph, who is a Senior Manager of People Ops at Clyde.
"Calling it 'people ops' adds back what you lose with 'HR.' My philosophy is that I am there to support you. I am there to work with you, empower you, and enable you so you can be your best self."
For Joseph, a key element of helping employees become their best selves is making sure that the workplace, whether in-person or virtual, is an inclusive space for all. That doesn't happen by accident — it requires a dedicated DEIB strategy and leaders who are committed to asking hard questions of themselves and others.
We sat down with Joseph to hear more about his professional journey, and the practices of leaders who create environments where everyone feels included.
More Than Just a Number
As a college freshman, Joseph planned on sticking with liberal arts when it came to choosing a major. But then he took a class in Boston College's School of Education, and loved its holistic approach to applied psychology.
This inspired him to switch his major to psychology and human development, and select minors in political science, and management and leadership, where he enjoyed learning about organizational psychology.
After graduation, he explored the consulting space to put theory into practice, but found out during an internship at a multinational consulting firm that finance or accounting weren't the places he wanted to build his career.
"Since Big Four companies have 250,000 employees, you become just a number," he says of the experience. "It wasn't my cup of tea. Too corporatized."
That kicked off Joseph's interest in startups.
"It's always fun to get in the weeds! One thing that's very interesting to me is a challenge," he says. "When you're helping a company like Clyde grow and scale, joining when they're at a Series B and helping them get to the next level, you really get to focus on the interaction between people, process, and product," explains Joseph. "You need to hire the right people to work towards increasing efficiencies in all areas, but also make sure that we're enabling them to create a strong product."
6 Keys To Building Inclusive Spaces as a Leader
Across the different industries and companies that Joseph has worked in, he's identified the behaviors that create truly inclusive environments — as well as those that discourage them.
Here's what he's seen:
First, recognize your own privilege. "If you're a man, you have privilege, even if you're a gay male. If you are a white woman, you have racial privilege. It's really important that you're cognizant while you interact with somebody how they might interpret the interaction based on your identity."
Leaders should always speak last. This is important always, but especially in in-person spaces, where it might seem even more nerve-wracking to speak up in a crowd, says Joseph. "You want to make sure you're creating that space for employees who aren't as senior to feel comfortable voicing their thoughts."
And, leaders should use check-ins liberally. "You need to ask yourself how you're supporting your employees. Are you checking in on them as people before you ask about certain tasks? You want to foster a workplace where employees from all walks of life can feel supported," he says.
DEIB isn't just about adding new initiatives — sometimes it's about removing barriers. "You need to remove unnecessary bias," explains Joseph. "That can mean making sure you have appropriate policies and practices that don't hinder people depending on who they are or where they live."
Maximizing participation requires planning with a diversity lens. Joseph has helped the Clyde team gather together and bond as a group. Along the way, he's been careful to consider physical and psychological safety for everyone involved. "For instance, if you're doing an event, do you have someone who's not drinking? Have you set up the environment for people who might have a physical disability, or carefully planned the flow of activities for people who might be neurodivergent?"
Saying you want to be better isn't enough — articulate actions you will take. "Pride is a great example," explains Joseph. "Yes, June is a time to celebrate. But it's also a time to march. And beyond that, how do you show up and celebrate with the LGBTQIA+ community throughout the year?"
Embracing the Unknown
If you visit Joseph's LinkedIn profile, you'll see his personal motto: "Without challenge, change, and a bunch of unknowns, it's no fun."
That belief has led him to study what he's passionate about, to take on new and exciting roles at growing startups, and now, at Clyde, to help formalize what world-class people operations looks like at a fast-growing company.
"I view myself as a connector that really empowers people, challenges teams, and helps drive us towards what I consider to be an improved future," he says. "I feel like it's my responsibility to be the chief advocate for each of our employees, and remove any barriers in the way of their growth."
Want to learn more about what opportunities Clyde offers? Check out their open roles!
READ MORE AND DISCUSS
Show less
Loading...