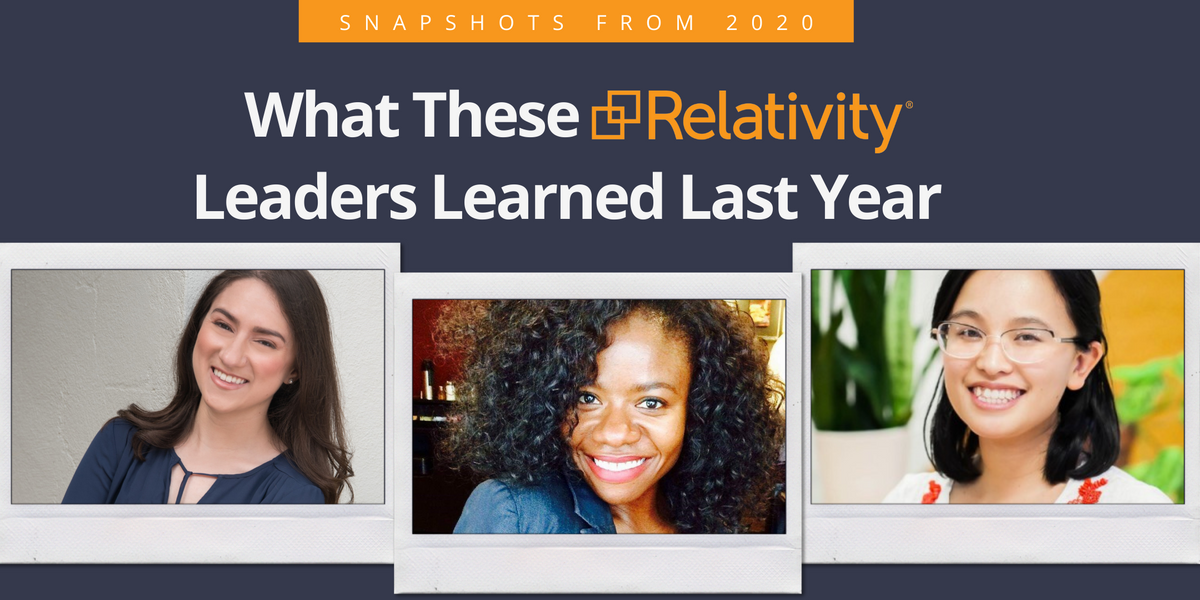 Relativity
Working at Relativity—the global tech company that equips legal and compliance professionals with a powerful data-organizing and discovery platform—looked different in 2020. The highly collaborative environment of their Chicago headquarters transitioned to a virtual setting, and just like companies around the country, Relativity adapted their goals and major projects to a completely remote environment.
---
For three women with very different roles across the company, that meant leaning into their strengths, staying adaptable, and finding ways to embody one of Relativity's core values—"enjoy and be great at your job"—in completely new ways.

We talked to Rebecca BurWei, Jaclyn Sattler, and Joy Ndackson about how their work at Relativity changed in 2020 and what that means for what's to come in 2021, both for their personal teams and projects, as well as for women at other tech companies looking to continue to make an impact.
3 Leaders, 3 High-Impact Projects
Rebecca BurWei is a Senior Data Scientist at Relativity, where she works to build new analytics and AI features for Relativity's products. She builds on her academic expertise—she has a PhD from Northwestern—to build solutions at scale, and she joined the company for the opportunity to do just that. "Prior to Relativity, I built custom models by hand to solve problems for one client at a time," explains Rebecca. "However, Relativity Analytics builds hundreds of models every day automatically for clients with its AI capabilities. I was attracted to the challenge of solving problems that could help clients at scale, across the board."
Jaclyn Sattler is the Chief of Staff to Relativity's COO, a role that has her focusing on cross-company projects and collaboration. She joined Relativity with a management consulting background because she wanted to be able to see the impact of the work she was doing. "I was searching for a place where I could dig in more deeply, work on interesting problems, and be the person to see them through to fruition," says Jaclyn. "Above all else, I wanted to work at a company where I was in awe of my peers."
Joy Ndackson is a Security Project Manager at Relativity, and her suite of responsibilities is all about managing high-impact enterprise-level projects for the company, from scoping to rollout. She accepted an offer at Relativity after over a decade of experience in the project manager space because she was impressed by the company's positioning in the e-discovery industry and wanted the chance to work on many cross-functional projects. "I have enjoyed working with different teams throughout the company and can honestly say that I have never been bored!" says Joy.
Each of them overcame the challenges presented by 2020 to complete high-impact projects last year:
Helping medical researchers more quickly review data to help with the fight against COVID-19. Rebecca worked with her team to use Relativity AI and text-mining tools in order to review journal articles and medical literature to help in the search to understand, treat, and prevent COVID-19. "It was exciting to work on an important, time sensitive project with global implications," says Rebecca. "I also enjoyed collaborating with a diverse group of data scientists and public health researchers from around the world. It was satisfying to produce results that could be used right away."
Supporting the fight for racial justice with data. Jaclyn helped launch Relativity's Justice for Change program and the company's pledge of 100TB of its e-discovery SaaS product, RelativityOne, to reduce barriers in technological access for organizations committed to racial justice. "Many groups fighting for racial justice manage large volumes of data and must quickly identify key issues for litigation or investigations," explains Jaclyn. "Our technology can help. We created a program that leverages the expertise from our community and the use of our e-discovery SaaS product to help organizations organize data, discover the truth, and act on it."
Developing and launching a new security training program. One of Joy's internal projects in 2020 was creating the Security Guardian program. "It entails training courses for Relativians to learn about our security posture. It teaches them how to incorporate that knowledge into their teams' processes and provides tools needed to communicate security best practices to our customers," she explains. "In essence, we are equipping everyone in our organization to be extended members of our Security team." In successfully seeing the project through, Joy got a behind-the-scenes look at how Relativity's learning and development team creates a course—from storyboarding to execution—and saw how the work she does adds value across the business.
7 lessons learned across the board
Though Rebecca, Jaclyn, and Joy have very different sets of daily responsibilities and current projects, they all had similarly important takeaways from 2020 about the importance of community, connection, and balance. Here are the seven lessons they learned last year:
Balanced schedules don't happen naturally—they need to be built. Jaclyn realized that if she wasn't intentional about her schedule, she'd be in back-to-back video calls all day without a second to think. "By including time to work or think, time to connect or have discussions with my team, time to take breaks or take a walk, and time to sign off and enjoy my personal environment, I can control how I spend my time, in and outside of work, to make the most of it," she says.
Always ask for feedback. With Joy's projects moving online, she had fewer chances to do real-time check-ins with her key stakeholders. That meant she needed to make sure she was asking them directly if they had concerns or feedback. "All projects are not equal so seeking feedback and being inquisitive has helped to confirm that I am leading the project effectively and adding value to it," she says. Her set of to-go questions include: "Is there anything I can improve on as the Project Manager? Do you have any concerns about the project? Are there any potential risks that I need to be aware of?"
Changing pace is okay. Rebecca learned in 2020 that staying adaptable to changing personal and professional priorities means adjusting the pace at which you address them. "Sometimes life moves fast, and other times it moves slowly," she says. "I'm learning to adjust my own pace to match or complement the pace of life and work around me. Next year, I intend to disperse my time off in more regular intervals across the year instead of packing it all in at the end."
Communicate more than you think you need to. "There's no such thing as over-communication," says Jaclyn. "In fact, consider how much you talk to your project team, or share updates with the project sponsor, and then level up a notch. I've found that high-impact projects are fast moving and have a lot of energy surrounding them. This makes change happen quickly and strong communication crucial. Crushing communication on your projects will make you the go-to person to lead higher impact activities."
"Focus is a muscle," says Rebecca, who notes that you can build it over time. "Start small with little reps. Learning to say no in order to prioritize is also a muscle."
Inclusive meetings take work. Joy says she's learned a completely new set of guidelines for moderating virtual meetings that she'll apply in 2021. Her top tips? "Ending meetings five minutes early to allow for a break between meetings, seeking feedback from project teams on the preferred method to get updates on action items (e.g., IM or email or meetings), taking longer pauses during meetings to ensure others have the chance to share their perspectives, and sharing screens during interactive calls."
Informal space can be made virtually. As a Chief of Staff, Jaclyn needs to have a pretty rich understanding of what lots of different people are working on in order to set them up for success. In the beginning of the pandemic, she had a difficult time doing that. Then she got creative. "I started a few virtual coffee chats and phone calls while on a walk just to catch up with other Relativians. Yes, we would talk shop about work, but these separate-but-together activities created space to connect as people, too," she says. Jaclyn was meant to visit the company's Australia office in 2020, and while that couldn't happen, her virtual connections helped her get to know the team there and quickly bring the Justice for Change initiative to the Australian region after its U.S. launch.
And one final bonus tip we love from Joy: take advantage of any opportunity to dance! "I love to dance, so oftentimes during a break, I put on some music and have a mini dance session. That always puts me in a good mood. I would not have been able to pull that off if we were still physically in the office!" she says.
Learn more about Relativity's 100+ open roles and company culture.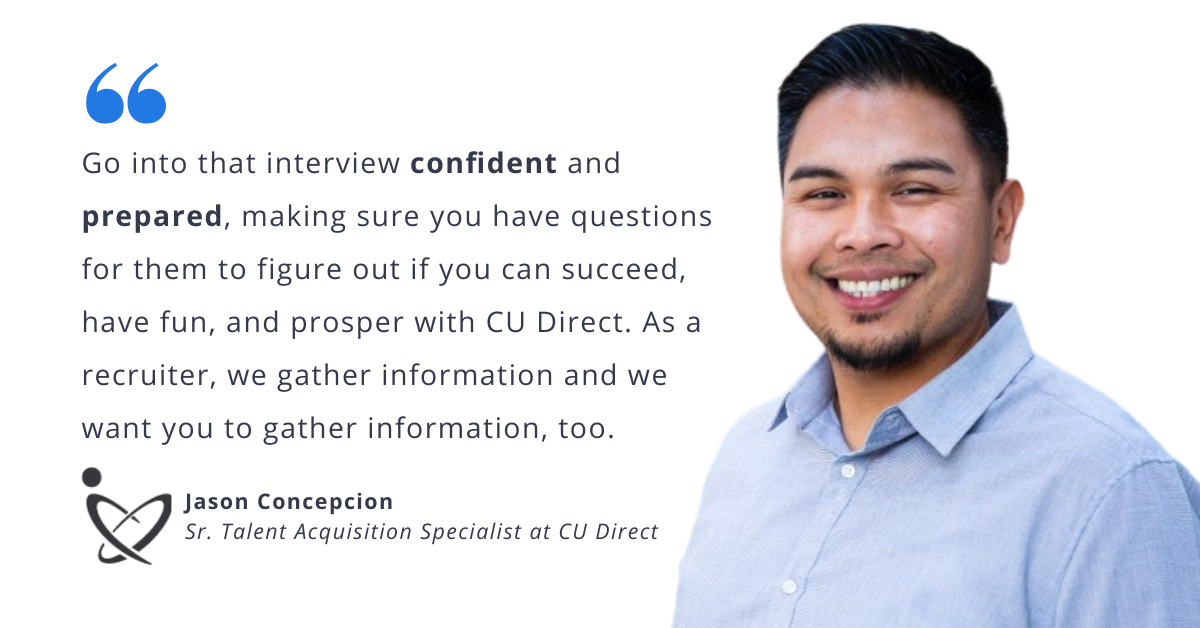 Hispanic/Latino/Latina/Latinx/Latine/Latin
Jason Concepcion is a Sr. Talent Acquisition Specialist at CU Direct, a technology leader that delivers lending solutions to financial institutions, auto dealers, retailers, and medical providers nationwide. As a progressive company that looks for the best diverse talent, CU Direct prides themselves on seeking and taking care of their employees.
We sat down with Jason to learn about CU Direct's hiring process. Keep reading for his top 6 tips to put into practice when interviewing with CU Direct.
Tip # 1 Do Your Research
While it may seem obvious, learning about the company you're interviewing for is crucial. "Before the interview, do some research on CU Direct, our products and services, and even our subsidiary companies," says Jason. Doing the research will show the interviewer that you are highly interested and that "you did your due diligence in getting to know the company." Check out their About page to get to know CU Direct and its various projects.
Tip #2 Ask Questions
It's important to be transparent from the first point of contact with the company, which means asking questions to clarify and gain more information. Jason suggests, "when talking to the recruiter, ask questions. Go into that interview confident and prepared, making sure you have questions for them to figure out if you can succeed, have fun, and prosper with CU Direct. As a recruiter, we gather information and we want you to gather information, too."
Tip #3 Take Your Time
Pace yourself in the interview. Jason explains that "it's okay to pause, regroup, and answer questions. When asked about your experiences, taking your time will allow you to think of the situation, how you solved it, and what was the outcome."
Tip #4 Ask Yourself, 'What Do I Want to Do?'
Take inventory of what you have accomplished or learned in your professional trajectory so far. "We're not just looking for what you've done, but we are also looking for what you can do and what you want to do," says Jason. He believes that "those things are just as important as what you've done in the past. Your drive and determination will show us where you want to go and ideally, that will organically align with the positions we have here at our company."
Tip #5 Understand the Job Description
With your resume in hand, consider what experiences best align with the job description. "Valuable work experience can be found almost anywhere. It can come from your first job or it can come from your most recent job," Jason explains. Whatever small or short experience you have that matches the job description is worth mentioning and explaining, depending on the job you are applying for. Jason explains, "a good understanding of the job description you're going for, and related positions within the company will give you a greater insight as to what we're looking for and what you want to highlight or present in regards to this role."
Tip #6 Don't Be Afraid to Get Personal
One way to stand out in the interview process is to show that you'll be a good values fit, so intentionality throughout, and after, the interview can go a long way. Jason suggests sending a thank you email after the interview. "This will make sure that you stand out in front of thousands of applicants," he says. "Don't make it generic, tailor the message including details mentioned in the interview, this will show the person that you were completely engaged throughout the interview."
CU Direct's personal and careful recruitment process is a reflection of their fun and innovative atmosphere, their value of team members, and commitment to growth. They offer several benefits to their employees, such as a flexible working environment, paid time off, 401k match, college tuition reimbursement, and an exciting company culture. Because of this, they want to make sure people are treated with the same kindness and positivity from the start. As Jason reiterates: "We want to make sure you are prepared and ready for each step of this process, from interviewing, to asking questions, and to possibly onboard in the future," says Jason.
Are you interested to find out more about working at CU Direct? Check out their
openings
here!
READ MORE AND DISCUSS
Show less
Loading...