GET EMAIL UPDATES FROM POWERTOFLY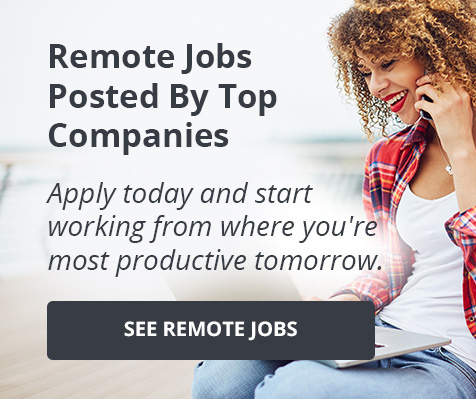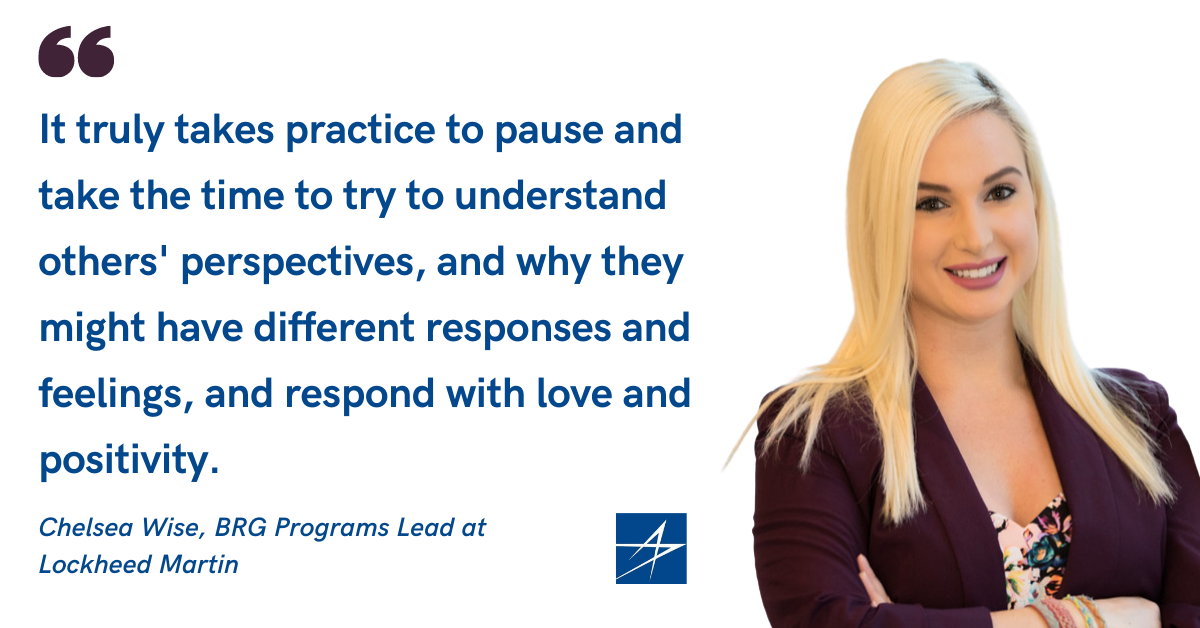 December 21, 2020
Lockheed Martin
What You Can Do as an IC to Welcome More Diversity in the Workplace
Tips from Lockheed Martin's Chelsea Wise
When Chelsea Wise landed a role at her dream company, she was excited to take on life after college, but wasn't sure how starting her professional career would affect her personal and social life.
---
Chelsea first joined Lockheed Martin as a campus recruiter after graduation where she moved away from her hometown of Pittsburgh, PA for the first time to Rockville, MD. Less than two years later when she transferred internally to the security and aerospace company's Dallas, TX office, she found that, being so far from friends and family, she missed a sense of connection and community-building. She reached out to her HR team to see if she could start a Dallas-area Lockheed Martin social club, who then told her all about their business resource groups (BRGs), an internal community for employees to network, volunteer, and learn about cultures and common interests. She immediately jumped on board.
"I had no idea there were opportunities to get involved in impactful programs like I did in college. I was excited when one of the HR members asked me to start up our Allies for Inclusion group at our Dallas location," Chelsea said.
Within a year and a half, the Missiles and Fire Control division senior diversity and inclusion (D&I) manager tapped her for another internal transfer —this time to the diversity team that supports BRGs across the division. "She recognized my passion for people management and my excitement for bringing new ideas and project ideas to the group," Chelsea said.
In Chelsea's current role as BRG Programs Lead for Missiles and Fire Control, she's responsible for managing the logistics of employee groups, from budgets to metrics to division-wide programming. As an individual contributor who works closely with Lockheed Martin's affinity groups, she's had the opportunity to see firsthand just how powerful individual employees can be when they step up and work to create more inclusive cultures. We sat down with Chelsea and asked her for tips that others could follow to do the same.
Action brings results
Lockheed Martin's BRGs and the employees who lead them are creating real change for themselves and for future employees. Chelsea shares two such examples: first, how the military veterans group partnered with HR to "revamp the military leave process, which automatically impacted more than 1,600 serving employees," and second, how the LQBTQ+ group partnered with corporate leadership to "successfully implement changes to same sex and opposite sex domestic partner benefits, medical coverage for LGBTQ medications, and LBGTQ recruitment inclusivity."
Chelsea highlighted how those changes wouldn't have happened if it weren't for individuals stepping up and having their voices heard. "We provide a space that's open for all employees to have honest, courageous conversations and give feedback, and it's an avenue to provide real change management suggestions to executive leadership," she said.
4 tips to try
If you're looking to make a bigger impact at your company, Chelsea has some pointers:
Step up and get involved. A major part of creating change is just raising your hand and saying you want to do it, says Chelsea. "A great example is, an employee from another division came and said, 'We started a community for Middle Eastern culture and awareness, and it was a success. Here is how you can start a group at MFC.' Another person asked recently, 'Are there any efforts we can do for Native American cultural awareness?' Yes! There are so many platforms to be able to do that, and it really just takes that one person coming and collaborating with somebody within HR or your culture initiatives department to see what's possible." She also suggests volunteering for university recruiting within your company to "spread the wealth" and help get people from diverse backgrounds involved by showing them that there's a place for all cultures and backgrounds at your company.
Allyship is key. Chelsea highlights how important it is for employees to educate themselves on other cultures and issues that affect people of different racial or ethnic backgrounds. "And give yourself grace along the way," she said. "It's OK to ask awkward questions, it's OK to maybe say the wrong thing sometimes, just make sure you are coming from a place of wanting to learn and understand so you can be a better ally and advocate for others."
Practice accepting other points of view. This is a hard one, but it's a vital piece of the puzzle, says Chelsea, who finds it difficult to do even as an HR professional. "I challenge myself to have an unbiased view, but there are so many situations where it's so hard not to have my own opinion." she said. "It truly takes practice to pause and take the time to try to understand others' perspectives, and why they might have different responses and feelings, and respond with love and positivity."
Lean into the power of circling back. Chelsea is working on an internal program that's called Circle Back and is based around the idea that some situations are nebulous, hard and emotionally charged, and that's OK — they can be addressed over time, even in the workplace. "Sometimes we need to circle back on situations that make us stop, think and question what's going on," she said. If you need to put a pause in a conversation with your boss, coworker, or HR liaison on a sensitive subject, go ahead and do that and revisit it when you are both ready to move forward in a positive direction.
The future of D&I
Chelsea thinks that the future of work will depend even more on employees from all walks of life finding ways to respectfully come together and build strong working relationships and friendships. "It's not really about going to work, being a robot and just leaving anymore. It's about flexibility, passion, innovation and change. For our company to be successful and our work meaningful and rewarding, we need people from all mindsets and backgrounds to collaborate freely and openly," she said. "Even with the majority of our workforce telecommuting, we need to continue to find ways to connect with each other and strengthen a culture where everybody feels a sense of belonging and can really bring their whole selves to work."
For her team, that means continuing to invest in novel ways to make everyone feel welcome at work. A recent project includes setting up a BRG focused on intergenerational connections, but with a twist. This new community will focus on life stages, rather than generations, to show how employees can share diverse perspectives in their professional and personal life. For example, you can be in the same career stage as someone who is 10 years older than you, but a completely different life stage from someone your age. Chelsea and her team will look at how these dynamics can strengthen employee relationships and productivity.
"There is such a legacy at Lockheed Martin that we want to pass down to others. We, as a society, focus so much on the new hires, on the younger generations, and we now recognize that we want to connect more with our more experienced and tenured employees who have so much mental wealth to share, both professionally and personally. By binding our generations together, we can grow so much from exploring these life stages," she said.
Chelsea and her team hope to gain effective insight into their new community, Stages, in 2021, in hopes to positively influence working team relationships at Lockheed Martin. There will surely be more inclusion efforts to follow as the Lockheed Martin Global Diversity and Inclusion Team, and BRG community members, continue to step up and work to shape the future of their company, their culture, and their industry.
To learn more about working at Lockheed Martin, take a look at their open roles and company profile.
Related Articles Around the Web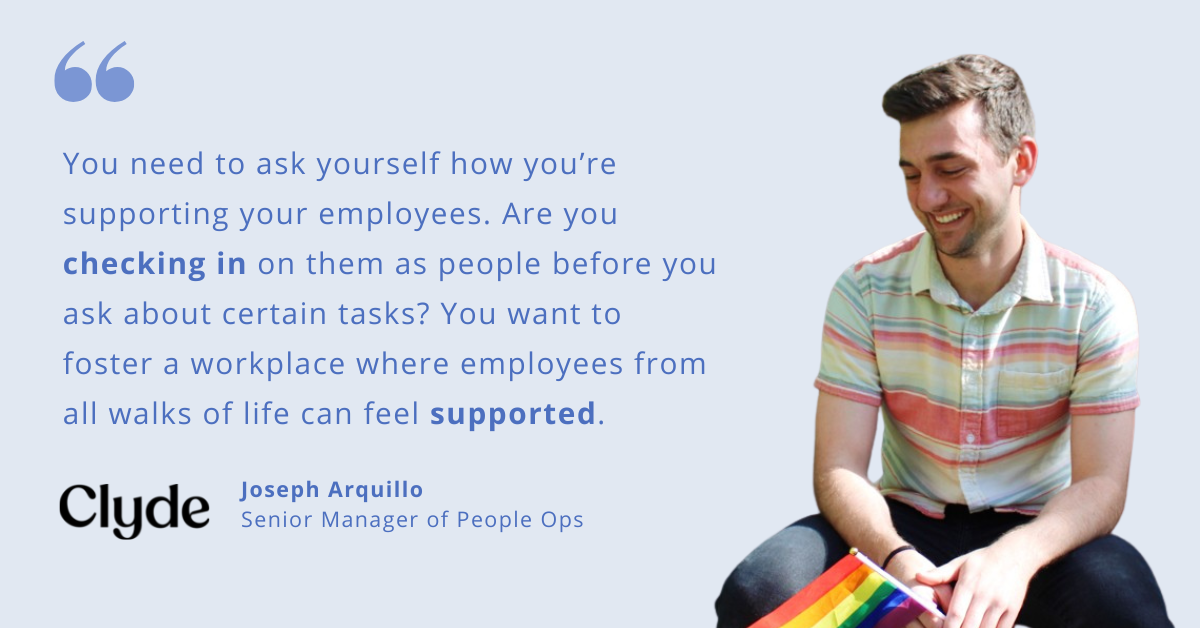 Clyde
Joseph Arquillo doesn't work in Human Resources — he works in People Operations. And the distinction matters.
"It was named 'human resources' because it saw humans as resources, utilized for certain tasks or behaviors. But that's not really what it's about," says Joseph, who is a Senior Manager of People Ops at Clyde.
"Calling it 'people ops' adds back what you lose with 'HR.' My philosophy is that I am there to support you. I am there to work with you, empower you, and enable you so you can be your best self."
For Joseph, a key element of helping employees become their best selves is making sure that the workplace, whether in-person or virtual, is an inclusive space for all. That doesn't happen by accident — it requires a dedicated DEIB strategy and leaders who are committed to asking hard questions of themselves and others.
We sat down with Joseph to hear more about his professional journey, and the practices of leaders who create environments where everyone feels included.
More Than Just a Number
As a college freshman, Joseph planned on sticking with liberal arts when it came to choosing a major. But then he took a class in Boston College's School of Education, and loved its holistic approach to applied psychology.
This inspired him to switch his major to psychology and human development, and select minors in political science, and management and leadership, where he enjoyed learning about organizational psychology.
After graduation, he explored the consulting space to put theory into practice, but found out during an internship at a multinational consulting firm that finance or accounting weren't the places he wanted to build his career.
"Since Big Four companies have 250,000 employees, you become just a number," he says of the experience. "It wasn't my cup of tea. Too corporatized."
That kicked off Joseph's interest in startups.
"It's always fun to get in the weeds! One thing that's very interesting to me is a challenge," he says. "When you're helping a company like Clyde grow and scale, joining when they're at a Series B and helping them get to the next level, you really get to focus on the interaction between people, process, and product," explains Joseph. "You need to hire the right people to work towards increasing efficiencies in all areas, but also make sure that we're enabling them to create a strong product."
6 Keys To Building Inclusive Spaces as a Leader
Across the different industries and companies that Joseph has worked in, he's identified the behaviors that create truly inclusive environments — as well as those that discourage them.
Here's what he's seen:
First, recognize your own privilege. "If you're a man, you have privilege, even if you're a gay male. If you are a white woman, you have racial privilege. It's really important that you're cognizant while you interact with somebody how they might interpret the interaction based on your identity."
Leaders should always speak last. This is important always, but especially in in-person spaces, where it might seem even more nerve-wracking to speak up in a crowd, says Joseph. "You want to make sure you're creating that space for employees who aren't as senior to feel comfortable voicing their thoughts."
And, leaders should use check-ins liberally. "You need to ask yourself how you're supporting your employees. Are you checking in on them as people before you ask about certain tasks? You want to foster a workplace where employees from all walks of life can feel supported," he says.
DEIB isn't just about adding new initiatives — sometimes it's about removing barriers. "You need to remove unnecessary bias," explains Joseph. "That can mean making sure you have appropriate policies and practices that don't hinder people depending on who they are or where they live."
Maximizing participation requires planning with a diversity lens. Joseph has helped the Clyde team gather together and bond as a group. Along the way, he's been careful to consider physical and psychological safety for everyone involved. "For instance, if you're doing an event, do you have someone who's not drinking? Have you set up the environment for people who might have a physical disability, or carefully planned the flow of activities for people who might be neurodivergent?"
Saying you want to be better isn't enough — articulate actions you will take. "Pride is a great example," explains Joseph. "Yes, June is a time to celebrate. But it's also a time to march. And beyond that, how do you show up and celebrate with the LGBTQIA+ community throughout the year?"
Embracing the Unknown
If you visit Joseph's LinkedIn profile, you'll see his personal motto: "Without challenge, change, and a bunch of unknowns, it's no fun."
That belief has led him to study what he's passionate about, to take on new and exciting roles at growing startups, and now, at Clyde, to help formalize what world-class people operations looks like at a fast-growing company.
"I view myself as a connector that really empowers people, challenges teams, and helps drive us towards what I consider to be an improved future," he says. "I feel like it's my responsibility to be the chief advocate for each of our employees, and remove any barriers in the way of their growth."
Want to learn more about what opportunities Clyde offers? Check out their open roles!
READ MORE AND DISCUSS
Show less
Loading...