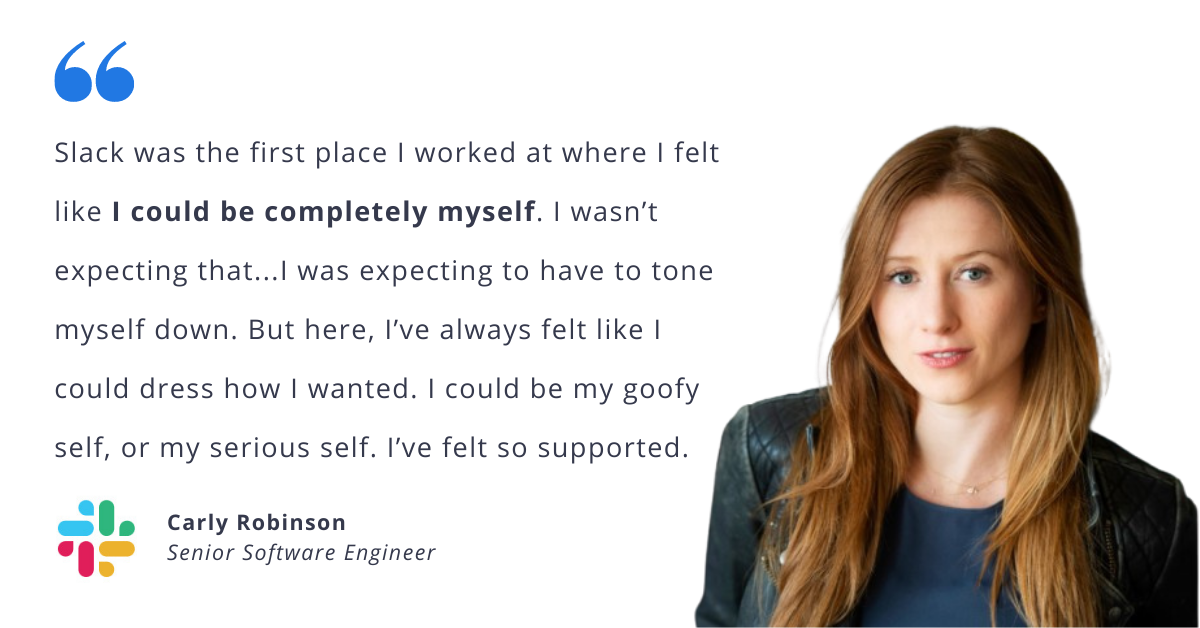 Slack Technologies, LLC, a Salesforce company
Carly Robinson first considered Slack Technologies, LLC, a Salesforce company as a potential employer when a friend sent her an article in 2015 about a Slack employee who had joined the company after studying acting.
It struck a chord with Carly. At the time she was finishing Hackbright Academy, a coding bootcamp, after having pivoted to tech from a career in musical theater.
"I paid my bills tap dancing and singing, and it was so much fun," reflects Carly on her first career. "But I'd been dabbling in coding between rehearsals, and I found that I liked spending more time learning about computers than I did preparing for auditions."
Seeing that Slack valued people from non-traditional backgrounds got Carly excited to talk to the Slack recruiter who came to a Hackbright career day. During her interview process, she was surprised by how quickly she felt connected to the people she met.
"It just felt like home," says Carly. "There was a guy who was early working on Slack who left a couple months ago. In his going-away message, he said that he described Slack to friends as 'a company full of lovable weirdos.' He said, 'If you're looking for a large collection of intelligent, empathetic, unique, and funny people, you'd be hard-pressed to find a better one than Slack."
It's those "lovable weirdos" that make up one part of why Carly loves being a senior software engineer working on Slack. The other key part? How much on-the-job learning she's been able to do over the six years and counting that she's been there. We sat down with Carly ahead of the engineering career panel she participated in on June 1 to hear more about both.
Finding Her Place
Carly first got into coding as a hobby.
"I figured I'd do it as a side gig, like making websites for other actors," she says. "Long story short, it took on a life of its own."
One of the things that inspired Carly to pursue a full-time career in software engineering was the familiar way it made her feel.
"It's the feeling of being in flow. There's an element of dance, especially when you're learning choreography quickly for an audition, where you're building this mental map that's like pattern matching on the fly. And that's what happens when you learn a code base. You're building this abstract map in your head of how the system fits together, and working within that," she says.
Another key part of the transition from musical theater to tech was realizing that the same kind of people could be found in both places.
"The type of people who are drawn to software engineering and who are drawn to theater are similar," she says. "They're quirky, with eclectic interests. You get a lot of unique characters."
And Carly learned to see her creative background as its own strength too. "Writing code is like writing poetry: you want to make it descriptive and expressive, but concise too."
Once she knew software engineering was right for her, she just had to find the right place to start her new career. And it wasn't just that Carly found "lovable weirdos" at Slack. It was also that she was allowed to be her own version of that there.
"Slack was the first place I worked at where I felt like I could be completely myself," she says. "I wasn't expecting that. I was expecting to have to tone myself down. But here, I've always felt like I could dress how I wanted. I could be my goofy self, or my serious self. I've felt so supported."
She's also had role models while working on Slack who have shown her that all backgrounds and perspectives are valuable. "There are a lot of women here compared to the rest of the industry. Eighty percent of my managers over the years have been women. And there's always been senior women to look up to, which has been awesome," says Carly.
But her all-time favorite part of the company culture? Slack's focus on continual learning and growth.
"They've been paying me to learn for the last six years, basically!" says Carly with a grin.
Trying New Things
Carly has sampled several different roles since starting at the company.
She first joined Slack as a backend engineer and spent two years on the team's enterprise pillar working on billing. Then she spent another two years on the platform pillar, which builds out the Slack API developers use to build Slack apps. That role gave her exposure to Slack's security team, and she later switched to that team for a year and a half.
"My managers have been super supportive, letting me do these 'apprenticeships' in other areas," says Carly of the various roles she's had throughout her time at the company — from an entry-level to a senior engineer, and pivoting from backend to frontend engineering.
Currently, she's working with what is called the Scouts team. The team reports directly to Slack's VP of product engineering and works to prototype new features and hand successful ones off to existing teams.
"This is more iterative—it's more of a startup experience," says Carly. She adds, as a teaser: "I've been working on a special prototype that I can't really talk about, but hopefully it will be out soon and will make everyone's lives better!"
4 Tips for Making the Most of Learning Opportunities at Work
Carly credits Slack's engineering culture for her ongoing job satisfaction. "They want everyone to be happy with what they're working on, and to be working on something that feels meaningful and interesting," she says.
To make the most of similar opportunities when they come up for you, Carly suggests that you:
Remember that growth isn't linear. Right now, working as a frontend engineer and doing prototyping for the first time, Carly has found herself playing catch-up. But that's OK, she reminds herself: "Sometimes you have weeks where you're improving at an exponential pace, and then it'll snag. It's not linear," she says.
Ask lots of questions. "Try to figure it out yourself, but timebox yourself and don't be afraid to ask if you don't get it," she says. "Even if you're in a senior position. It can be hard. You'll think, 'Oh, I should know how to do this.' But just ask."
Have compassion for yourself. This one Carly has ported over from the world of musical theater. "Being able to not trip over your mistakes, and not letting them be the end of the world, has really helped me," she says. "Don't be afraid to make mistakes or look goofy."
Keep in mind that grit can often get you through. When it comes to success, "it's more about your capacity for grit than your resume," says Carly. "If you have grit and determination, there's a good chance you have what it takes to get through the hard part of being a software engineer."
Want to learn more about what Slack engineering is like? Check out what Carly and her peers had to say about working at Slack during this live event hosted on June 1
.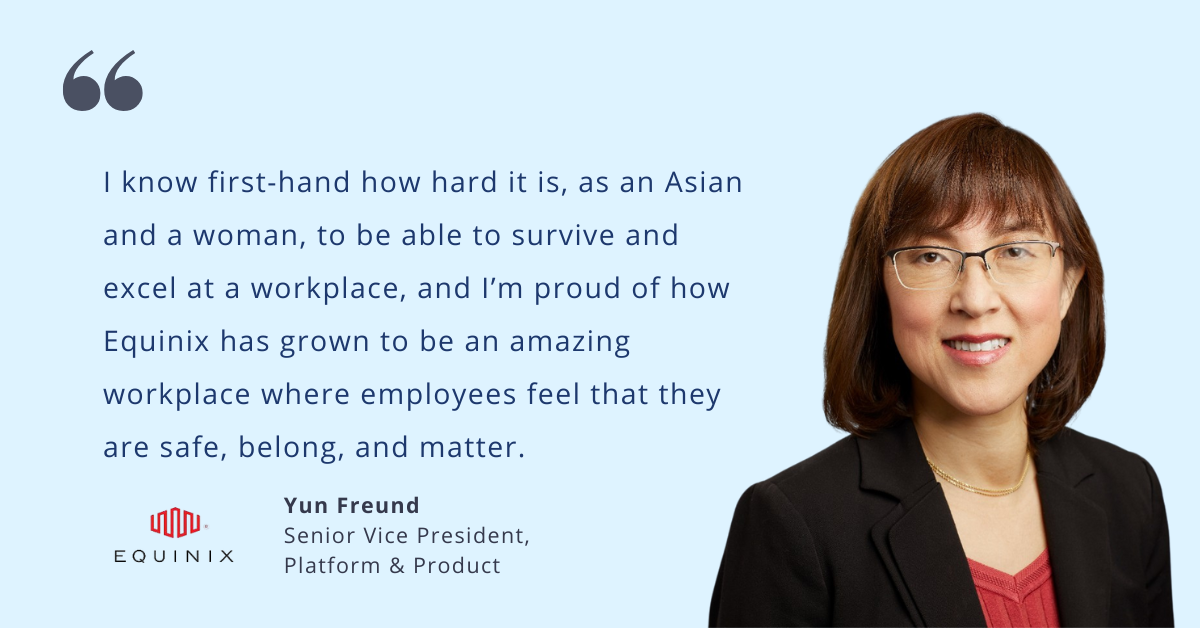 Equinix
Yun Freund considers her background to form the "typical immigrant story" — but sitting down with the SVP of Platform and Product at Equinix, it's clear she's made it her own.
"I came to the United States about 30 years ago with $80 in my pocket. I earned a CS degree from a Beijing university when computer science was new. I was good at math, so that's what I studied," explains Yun.
Fast forward a few decades, and Yun is now running one of the largest organizations at Equinix, a Fortune 500 digital infrastructure company focused on providing an interconnected platform to its global 10k customers. While focusing on external growth — the business has grown nearly 40% since her arrival — Yun has also invested in internal progress, especially when it comes to Equinix's Diversity, Inclusion, and Belonging (DIB) goals.
"I know first-hand how hard it is, as an Asian and a woman, to be able to survive and excel at a workplace, and I'm proud of how Equinix has grown to be an amazing workplace where employees feel that they are safe, belong, and matter," says Yun.
That's not just her opinion. Glassdoor confirms this, having given the company a "best place to work" distinction in 2021, and a special award for best places to work for LGBTQ+ equality list by the Human Rights Campaign Foundation.
We were excited to learn more about Yun's strategies for empowering her team — including her belief that making room for failure is just as important as celebrating success.
The Intersection of Technological Innovation and People Management
Yun first heard about Equinix through a recruiter. Decades into her career in tech leadership, she was looking for a role where she could drive innovation in both technology and people management.
"After many rounds of discussion with our executives, I realized Equinix is a company that's full of potential. It was doing a lot of innovation on interconnected SaaS products and networking products, and I thought I could really help drive, from a culture and process perspective, the company's digital transformation journey," reflects Yun.
Her first order of business? Building a strategy for scaling product development. Yun had long worked at the intersection of engineering and people management, and she embraced the challenge to scale a talent strategy as well as changing the culture.
That resulted in clear growth — not just for Yun's career, as in promotions and new responsibilities, but also in what the company was able to do.
"Helping to cultivate a DevOps culture, move products to the Cloud for high reliability and availability, and build operational excellence for our customers is contributing to us fulfilling our purpose, which is to be the platform where the world comes together, enabling the innovations that enrich our work, life and planet," says Yun.
Diverse Ways of Measuring Impact
Yun doesn't manage her team by the balance sheet alone.
"Improving the bottom line, or operating more efficiently, is just as important as improving the top line, or driving more revenue and more customer adoption," she says. "Sometimes it's not about how we get new products and services out the door, but how we run things more efficiently."
For Equinix, says Yun, that includes committing to becoming carbon-neutral by 2030.
"We're a company that really touches life every day, from online shopping, to sending emails and streaming movies, to smart cars," says Yun. "We want to be doing that sustainably. For example, by using AI and machine learning to lower our power consumption and using green sources of energy."
Yun knows that to drive the most impact, Equinix needs a diverse team. She has partnered with other senior leaders and employee connection groups and started driving a more coherent DIB strategy across the company. She is excited to see the progress and wants to continue the effort in building a diverse and safe workplace for everyone — including by leading through her own example.
3 Key Ways to Empower Your Team
When Yun says that it's important to empower your team, she doesn't mean that you simply transfer the responsibility to your team and call it done. Here's what she does mean:
Embrace failure. "It's easy to say, 'Ah, empowerment. Here's the purpose, go drive impact.' But sometimes it's not all rosy," she says. "The road to empowerment can sometimes be a failure. How do you support your employees along the way? When they fail, you should not blame them. You should be there, on their side, to help them do a retrospective and learn from it."
Show trust via delegation. "Giving your team the opportunity to make their own decisions helps give them a purpose. It shows them they can make a difference. Accountability and ownership will help drive your team to have deeper engagement and commitments, and ultimately deliver results."
Tie individual responsibilities to company OKRs (Objectives, Key Results). "I always communicate to my team that every engineer and individual contributor's work will have an impact on the business, no matter how small that is," says Yun. For example, if an engineer is working on a new digital experience component for the customers, their work will contribute to some kind of business outcome such as, hours saved from many customer support calls or customer satisfaction score improvement, and that in turn drives operational efficiency and customer experience improvement for the whole business. "When employees realize their impact on the business, it elevates their motivation as well as their state of mind."
Looking to join an empowerment-first culture? Check out Equinix's open roles!
READ MORE AND DISCUSS
Show less
Loading...