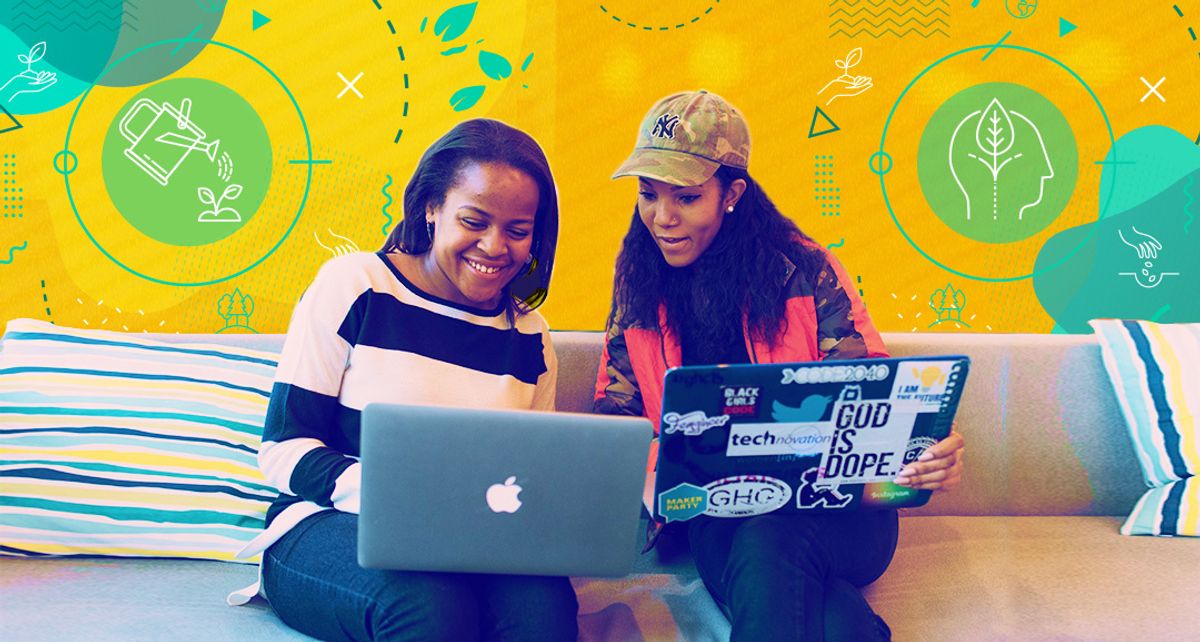 Helix
In an age when some men are actually avoiding women at work, mentoring women has never been more important. Mentorship has benefits for everyone, but given that we're still struggling to reach gender parity in STEM fields and only 6% percent of CEOs are women, mentorship is of particular importance for women and gender inclusion in the workplace.
---
Why mentorship for women matters:
That's why we chatted with 6 companies that understand the role mentorship (and sponsorship) plays in elevating women's careers, and ultimately,
building better businesses
. Read on to learn more about the ways—formal and informal—these companies foster mentorship and growth for female employees:
Please Note: This is a list, not a ranking.
1) PAX Labs
PAX Labs is an award-winning, consumer technology brand that supports responsible, adult use of cannabis.
Mentorship at PAX Labs
PAX is proactive about mentoring, promoting, and following in the footsteps of all of their great women leaders. PAX has established a Women@PAX group that supports women all-around, and some of their current programs/opportunities include:
All women at PAX have access to high-touch 1:1 executive and leadership development coaching with Head of L&D, Rachel Bassignani.
PAX has a peer group for the women of PAX. They use the Women@PAX group to share information, articles, experiences, and opportunities with one another. For example, of group of women will be taking Krav Maga training together.
Rachel Bassignani, with the support of Molly Orloff, will be hosting internal Peer Coaching Circles for Women@PAX. Peer coaching circles are highly confidential, multi-disciplinary learning environments. Women have the opportunity to learn & practice coaching skills, receive exceptional coaching, and leverage group-think around current challenges and career goals. Furthermore, it is a huge opportunity to network, build deeper connections, and bond with other Women of PAX.
2) Helix
Helix is dedicated to making DNA learning accessible and actionable for everyone.

Mentorship at Helix
Helix has a formal mentorship program, which provides mentors and mentees an opportunity to have conversations about growth, development and professional advice
We have a social awareness group which is a more informal way we provide support to underrepresented groups within the company
As a whole, Helix has a pretty good split of women (45% of the company), so there's opportunity to connect with other women in different departments or backgrounds
Helix also provides funding to go to conferences if you want to grow your professional network and find mentors outside of Helix
3) Avanade
Avanade is the leading provider of innovative digital and cloud services, business solutions and design-led experiences delivered through the power of people and the Microsoft ecosystem.
Mentorship at Avanade
Mentorship is an important career development vehicle at Avanade as the next generation of leaders need accessible role models from which to learn and be inspired. Avanade has multiple formal and informal mentoring schemes across the company, which enable women to further develop their talent at critical stages of their careers:
The Women's Employee Resource Group (ERG) connects female talent globally facilitating opportunities for networking, development and informal mentoring
The Pathways to Success speaker series, sponsored by the Women's ERG and formally known as Mentoring Circles, has been recently relaunched and it involves a series of talks on a number of topics including mentoring, coaching, career progression, soft skills, motivational talks and senior women sharing their career journey and lessons learned
Local meet ups are organized across our regions, which provide informal mentoring opportunities
As part of Avanade's yearly International Women's Day celebrations, they host 65+ local events globally to provide female talent with networking and informal mentoring opportunities
In late 2018, they launched an Executive sponsorship initiative with leadership from their Executive Committee. They continue to provide mentorship and coaching for top-rated executives, many of which are female.
Avanade builds STEM careers earlier. They proactively cultivate interest in STEM and create new opportunities for young women and girls via their strategic partnerships and STEM Scholars program. This is a long-term commitment by Avanade to help close the gender, technology, and income gaps for women to better enable them to realize their full potential. Each year Avanade selects universities to work with to identify women who are eligible to receive an Avanade scholarship.
4) Ubiquity6
Ubiquity6 is working on some of the most compelling challenges in computer vision and augmented reality.
Mentorship at Ubiquity6
They're also working on building an inclusive workplace that supports diverse cultures, backgrounds, perspectives, skills, and experiences. To help support the women at their organization, they:
Encourage mentorship for all employees
Host monthly happy hours and get-togethers
Foster engagement via their women Slack channel
Host a DE&I focus-group meeting bi-weekly, which releases programming on how to promote an inclusive culture towards women and URMs!
5) Solstice
Solstice is a modern software engineering firm that helps Fortune 500 companies seize new opportunities through world-changing digital solutions.
Mentorship at Solstice
"At Solstice, we believe everyone benefits from mentorship!" There are a few key ways that they've created an internal structure that facilitates mentorship accessible to all "Solsties."
Each Solstie is paired with a mentor to help guide and champion their career development and foster meaningful connections along the way. Mentor pairs are decided upon based on the strengths, opportunities, and career objectives of the mentee. A mentor will, then, support the mentee throughout the year as they work towards their goals, while also driving the delivery of feedback and advocacy.
A mentor is different from an individual's manager at Solstice. Separating these two positions allows a mentor to support an individual's career growth from more of a coaching perspective - providing constructive feedback, supporting the individual's goals, and bringing a new perspective to the Solstie's day-to-day when they encounter obstacles. Mentors are paired intentionally to ensure underrepresented groups are not only supported personally, but continue to be advocated for.
Solstice also has an internal Women in Technology group that is a part of our Diversity Committee. This group of Solsties plans events from Lunch & Learns to celebrations to educate the firm on diversity within their community and within the tech space. In addition to events, the group has created Slack channels that are specifically geared towards the support of women. One channel is focused towards Solsties who identify as women, while another one is for women across all of our global sister companies. Through these groups, Solsties can find mentorship and learn from not only the 500-person firm, but from their global Connective of 1,500. The Diversity Committee and Women in Tech are committed to ensuring that Solstice remains a welcoming & inclusive space for all.
6) T. Rowe Price
T. Rowe Price is a global investment management firm with over 6,900 associates, nearly $1 trillion in assets under management and offices in 16 countries.
Mentorship at T. Rowe Price
WAVE @ T. Rowe Price supports the firm by increasing its ability to attract, develop, advance, and retain talented and principled women.
WAVE instituted a mentorship group that engages associates across the firm and encourages them to connect with fellow associates to learn, exchange ideas and to create support system that enhances a woman's career at the firm.
WAVE is focused on attracting, developing, and retaining talented women across the firm. Through this program women are enabled to engage with other women and WAVE advocates, who are male associates, to remove barriers and proactively advocate for women.
Related Articles Around the Web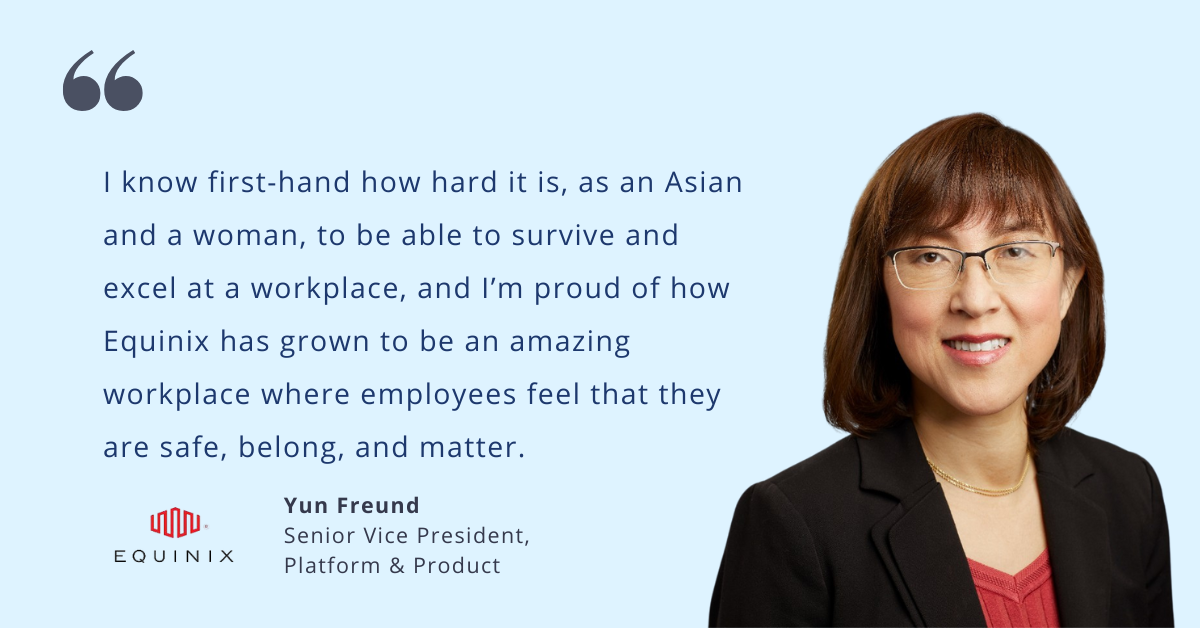 Equinix
Yun Freund considers her background to form the "typical immigrant story" — but sitting down with the SVP of Platform and Product at Equinix, it's clear she's made it her own.
"I came to the United States about 30 years ago with $80 in my pocket. I earned a CS degree from a Beijing university when computer science was new. I was good at math, so that's what I studied," explains Yun.
Fast forward a few decades, and Yun is now running one of the largest organizations at Equinix, a Fortune 500 digital infrastructure company focused on providing an interconnected platform to its global 10k customers. While focusing on external growth — the business has grown nearly 40% since her arrival — Yun has also invested in internal progress, especially when it comes to Equinix's Diversity, Inclusion, and Belonging (DIB) goals.
"I know first-hand how hard it is, as an Asian and a woman, to be able to survive and excel at a workplace, and I'm proud of how Equinix has grown to be an amazing workplace where employees feel that they are safe, belong, and matter," says Yun.
That's not just her opinion. Glassdoor confirms this, having given the company a "best place to work" distinction in 2021, and a special award for best places to work for LGBTQ+ equality list by the Human Rights Campaign Foundation.
We were excited to learn more about Yun's strategies for empowering her team — including her belief that making room for failure is just as important as celebrating success.
The Intersection of Technological Innovation and People Management
Yun first heard about Equinix through a recruiter. Decades into her career in tech leadership, she was looking for a role where she could drive innovation in both technology and people management.
"After many rounds of discussion with our executives, I realized Equinix is a company that's full of potential. It was doing a lot of innovation on interconnected SaaS products and networking products, and I thought I could really help drive, from a culture and process perspective, the company's digital transformation journey," reflects Yun.
Her first order of business? Building a strategy for scaling product development. Yun had long worked at the intersection of engineering and people management, and she embraced the challenge to scale a talent strategy as well as changing the culture.
That resulted in clear growth — not just for Yun's career, as in promotions and new responsibilities, but also in what the company was able to do.
"Helping to cultivate a DevOps culture, move products to the Cloud for high reliability and availability, and build operational excellence for our customers is contributing to us fulfilling our purpose, which is to be the platform where the world comes together, enabling the innovations that enrich our work, life and planet," says Yun.
Diverse Ways of Measuring Impact
Yun doesn't manage her team by the balance sheet alone.
"Improving the bottom line, or operating more efficiently, is just as important as improving the top line, or driving more revenue and more customer adoption," she says. "Sometimes it's not about how we get new products and services out the door, but how we run things more efficiently."
For Equinix, says Yun, that includes committing to becoming carbon-neutral by 2030.
"We're a company that really touches life every day, from online shopping, to sending emails and streaming movies, to smart cars," says Yun. "We want to be doing that sustainably. For example, by using AI and machine learning to lower our power consumption and using green sources of energy."
Yun knows that to drive the most impact, Equinix needs a diverse team. She has partnered with other senior leaders and employee connection groups and started driving a more coherent DIB strategy across the company. She is excited to see the progress and wants to continue the effort in building a diverse and safe workplace for everyone — including by leading through her own example.
3 Key Ways to Empower Your Team
When Yun says that it's important to empower your team, she doesn't mean that you simply transfer the responsibility to your team and call it done. Here's what she does mean:
Embrace failure. "It's easy to say, 'Ah, empowerment. Here's the purpose, go drive impact.' But sometimes it's not all rosy," she says. "The road to empowerment can sometimes be a failure. How do you support your employees along the way? When they fail, you should not blame them. You should be there, on their side, to help them do a retrospective and learn from it."
Show trust via delegation. "Giving your team the opportunity to make their own decisions helps give them a purpose. It shows them they can make a difference. Accountability and ownership will help drive your team to have deeper engagement and commitments, and ultimately deliver results."
Tie individual responsibilities to company OKRs (Objectives, Key Results). "I always communicate to my team that every engineer and individual contributor's work will have an impact on the business, no matter how small that is," says Yun. For example, if an engineer is working on a new digital experience component for the customers, their work will contribute to some kind of business outcome such as, hours saved from many customer support calls or customer satisfaction score improvement, and that in turn drives operational efficiency and customer experience improvement for the whole business. "When employees realize their impact on the business, it elevates their motivation as well as their state of mind."
Looking to join an empowerment-first culture? Check out Equinix's open roles!
READ MORE AND DISCUSS
Show less
Loading...