GET EMAIL UPDATES FROM POWERTOFLY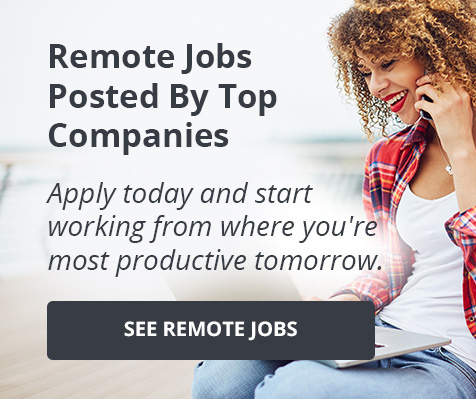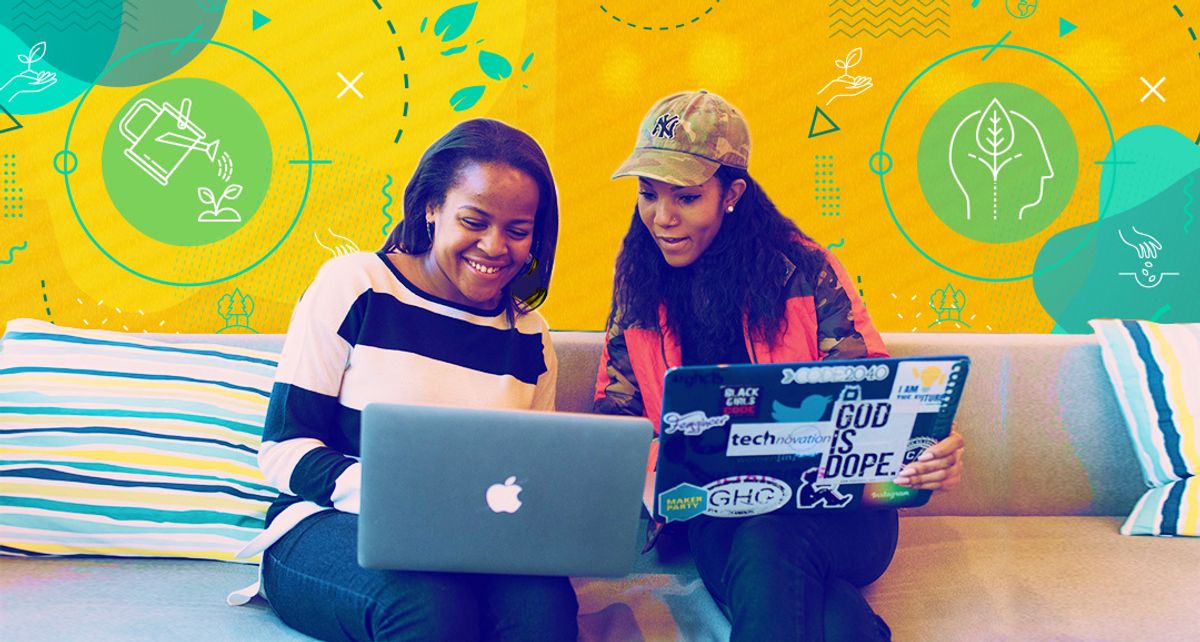 October 08, 2019
Helix
Work for a Company that Knows Mentorship Matters
In an age when some men are actually avoiding women at work, mentoring women has never been more important. Mentorship has benefits for everyone, but given that we're still struggling to reach gender parity in STEM fields and only 6% percent of CEOs are women, mentorship is of particular importance for women and gender inclusion in the workplace.
---
Why mentorship for women matters:
That's why we chatted with 6 companies that understand the role mentorship (and sponsorship) plays in elevating women's careers, and ultimately,
building better businesses
. Read on to learn more about the ways—formal and informal—these companies foster mentorship and growth for female employees:
Please Note: This is a list, not a ranking.
1) PAX Labs
PAX Labs is an award-winning, consumer technology brand that supports responsible, adult use of cannabis.
Mentorship at PAX Labs
PAX is proactive about mentoring, promoting, and following in the footsteps of all of their great women leaders. PAX has established a Women@PAX group that supports women all-around, and some of their current programs/opportunities include:
All women at PAX have access to high-touch 1:1 executive and leadership development coaching with Head of L&D, Rachel Bassignani.
PAX has a peer group for the women of PAX. They use the Women@PAX group to share information, articles, experiences, and opportunities with one another. For example, of group of women will be taking Krav Maga training together.
Rachel Bassignani, with the support of Molly Orloff, will be hosting internal Peer Coaching Circles for Women@PAX. Peer coaching circles are highly confidential, multi-disciplinary learning environments. Women have the opportunity to learn & practice coaching skills, receive exceptional coaching, and leverage group-think around current challenges and career goals. Furthermore, it is a huge opportunity to network, build deeper connections, and bond with other Women of PAX.
2) Helix
Helix is dedicated to making DNA learning accessible and actionable for everyone.

Mentorship at Helix
Helix has a formal mentorship program, which provides mentors and mentees an opportunity to have conversations about growth, development and professional advice
We have a social awareness group which is a more informal way we provide support to underrepresented groups within the company
As a whole, Helix has a pretty good split of women (45% of the company), so there's opportunity to connect with other women in different departments or backgrounds
Helix also provides funding to go to conferences if you want to grow your professional network and find mentors outside of Helix
3) Avanade
Avanade is the leading provider of innovative digital and cloud services, business solutions and design-led experiences delivered through the power of people and the Microsoft ecosystem.
Mentorship at Avanade
Mentorship is an important career development vehicle at Avanade as the next generation of leaders need accessible role models from which to learn and be inspired. Avanade has multiple formal and informal mentoring schemes across the company, which enable women to further develop their talent at critical stages of their careers:
The Women's Employee Resource Group (ERG) connects female talent globally facilitating opportunities for networking, development and informal mentoring
The Pathways to Success speaker series, sponsored by the Women's ERG and formally known as Mentoring Circles, has been recently relaunched and it involves a series of talks on a number of topics including mentoring, coaching, career progression, soft skills, motivational talks and senior women sharing their career journey and lessons learned
Local meet ups are organized across our regions, which provide informal mentoring opportunities
As part of Avanade's yearly International Women's Day celebrations, they host 65+ local events globally to provide female talent with networking and informal mentoring opportunities
In late 2018, they launched an Executive sponsorship initiative with leadership from their Executive Committee. They continue to provide mentorship and coaching for top-rated executives, many of which are female.
Avanade builds STEM careers earlier. They proactively cultivate interest in STEM and create new opportunities for young women and girls via their strategic partnerships and STEM Scholars program. This is a long-term commitment by Avanade to help close the gender, technology, and income gaps for women to better enable them to realize their full potential. Each year Avanade selects universities to work with to identify women who are eligible to receive an Avanade scholarship.
4) Ubiquity6
Ubiquity6 is working on some of the most compelling challenges in computer vision and augmented reality.
Mentorship at Ubiquity6
They're also working on building an inclusive workplace that supports diverse cultures, backgrounds, perspectives, skills, and experiences. To help support the women at their organization, they:
Encourage mentorship for all employees
Host monthly happy hours and get-togethers
Foster engagement via their women Slack channel
Host a DE&I focus-group meeting bi-weekly, which releases programming on how to promote an inclusive culture towards women and URMs!
5) Solstice
Solstice is a modern software engineering firm that helps Fortune 500 companies seize new opportunities through world-changing digital solutions.
Mentorship at Solstice
"At Solstice, we believe everyone benefits from mentorship!" There are a few key ways that they've created an internal structure that facilitates mentorship accessible to all "Solsties."
Each Solstie is paired with a mentor to help guide and champion their career development and foster meaningful connections along the way. Mentor pairs are decided upon based on the strengths, opportunities, and career objectives of the mentee. A mentor will, then, support the mentee throughout the year as they work towards their goals, while also driving the delivery of feedback and advocacy.
A mentor is different from an individual's manager at Solstice. Separating these two positions allows a mentor to support an individual's career growth from more of a coaching perspective - providing constructive feedback, supporting the individual's goals, and bringing a new perspective to the Solstie's day-to-day when they encounter obstacles. Mentors are paired intentionally to ensure underrepresented groups are not only supported personally, but continue to be advocated for.
Solstice also has an internal Women in Technology group that is a part of our Diversity Committee. This group of Solsties plans events from Lunch & Learns to celebrations to educate the firm on diversity within their community and within the tech space. In addition to events, the group has created Slack channels that are specifically geared towards the support of women. One channel is focused towards Solsties who identify as women, while another one is for women across all of our global sister companies. Through these groups, Solsties can find mentorship and learn from not only the 500-person firm, but from their global Connective of 1,500. The Diversity Committee and Women in Tech are committed to ensuring that Solstice remains a welcoming & inclusive space for all.
6) T. Rowe Price
T. Rowe Price is a global investment management firm with over 6,900 associates, nearly $1 trillion in assets under management and offices in 16 countries.
Mentorship at T. Rowe Price
WAVE @ T. Rowe Price supports the firm by increasing its ability to attract, develop, advance, and retain talented and principled women.
WAVE instituted a mentorship group that engages associates across the firm and encourages them to connect with fellow associates to learn, exchange ideas and to create support system that enhances a woman's career at the firm.
WAVE is focused on attracting, developing, and retaining talented women across the firm. Through this program women are enabled to engage with other women and WAVE advocates, who are male associates, to remove barriers and proactively advocate for women.
Related Articles Around the Web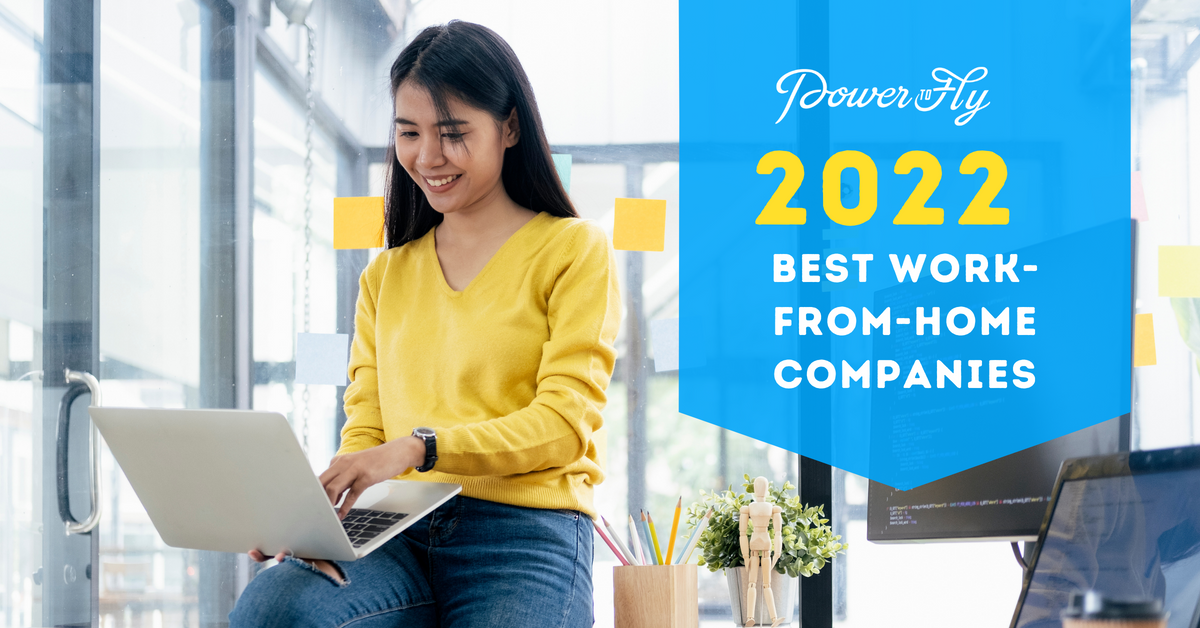 Featured Post
Every year, PowerToFly creates a list of the best work-from-home companies. Now that over half of the U.S. workforce is remote, compiling that list was a bit more challenging.
This year, we prioritized selecting companies that are remote-friendly—meaning they have both remote and in-person roles—but they have made long-term commitments to hiring and supporting employees who choose to work from home; and we think they have the perks, values, and organizational framework to allow all employees to flourish in their careers, regardless of location.
Keep reading to see our top 15 work-from-home companies for 2022, along with a description of what they do, why we like them, and who they're looking for.
PowerToFly's Best Work-From-Home Companies 2022:
Don't see what you're looking for? Check out a fill list of 5,000+ open remote roles here!
READ MORE AND DISCUSS
Show less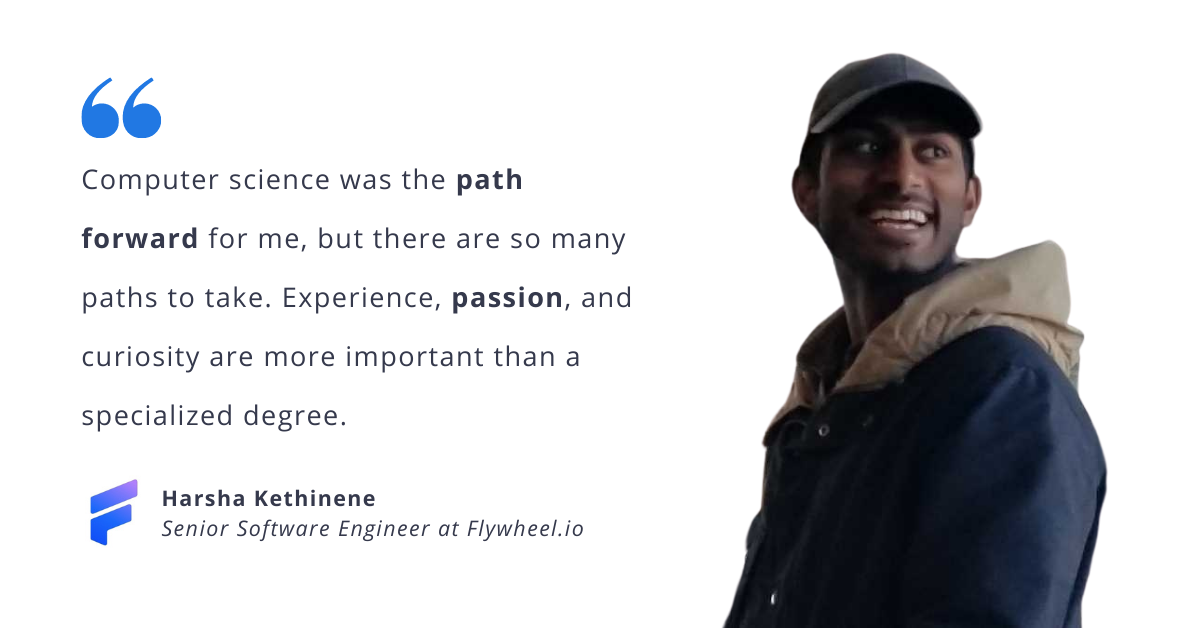 Flywheelml
Software development is in Harsha Kethinene's blood. "Both of my parents are in the computer science field," he says. "So when I was younger, they introduced me to programming." By the time he was in middle school, he was creating his own text-based video games. "I liked learning different languages and different ways of how to program, and by the time I was in high school, I knew I wanted to go into a STEM field."
And that's exactly what he did. Today, Harsha is a senior software engineer at Flywheel, a biomedical research data platform. We sat down with him to learn about his journey from college student, to intern, to engineer. Keep reading to hear his advice to smooth the transition from school to industry.
Figuring Out Next Steps
Harsha knew that he wanted to focus on science and technology in his career, so he originally opted for a double major in physics and computer science. "I had always been interested in astrophysics and space, and I wanted to learn more about that," he reminisces. "But then I took my first physics class and thought, 'alright, nevermind, we're going to stick to computer science.'"
With a new found focus, Harsha began tackling his classes and learning about different aspects of computer science, but he wasn't sure which area he wanted to focus on. "It got to a point where I thought, 'Is computer science really what I want to be doing?,' he explains. "Because what I was learning was interesting, but it didn't seem to fit with what I wanted to do."
That's when he decided to get some experience outside of the classroom to help him secure his career path. "It was my sophomore year, and I thought, 'I want to get an internship because it seemed like what smart people did,'" he laughs. After hearing about Flywheel from one of his colleagues at an on-campus student group, Harsha decided to apply for an internship.
After a series of interviews, they welcomed him on the team. He got the opportunity to dive into the industry and get insight on the different fields he could potentially work in. "Everything kind of clicked together and I thought, 'okay, this is what I want to be doing, software development.'"
Diving Into the Real World
This internship revealed some major differences between his development classes and the projects he was working on at Flywheel. "At Flywheel, what I was working on could change very fast," he elaborates. "At school you have a syllabus, you know what you are going to be working on."
While at university there were structured problems that had a neat solution, he realized that in the real world, he had to identify the problem first, and then try to solve the problem. "Sometimes you almost feel like a detective trying to figure out what's going on and why it's not working," he says. "So that's always fun. It keeps you on your toes."
"I'd say the hardest thing to learn, and what probably took me the longest to learn, is in school, when you write code, you just need to write it once, to get it to work, and then you can kind of ignore it for the rest of your life," he laughs. "You can't really do that in an industry. You need to write it and then make sure that six months from now you can still understand what you wrote."
Flywheel's dynamic, collaborative environment ultimately led Harsha to accept a full time offer as a software developer. Four years later, he's continued to climb the career ladder and is thriving in his current role as a senior software developer.
Tips for Transitioning Into the Industry
Harsha knows, first hand, that going from student to professional can be challenging. Keep reading for his advice to help smooth the transition.
Tip 1: Actively search for experiences and internships. Gaining real world experience is key to making the transition from student to professional smooth. One way to do that is through internships. "It feels very daunting when it comes to searching for an internship," Harsha confesses. "You see all of these postings online and you think, 'am I qualified for it?' Other times you get automated rejections."
When Harsha was looking for an opportunity to gain hand-on experience in the field, he relied on a network of support. "The reason I got my internship was by meeting somebody who mentioned this company that I'd never heard of." In addition to networking, Harsha recommends using other tools. "Try multiple avenues of looking for jobs and internships." Some of the avenues he suggests are industry meetups, school networking events, and conferences. "You need to break out of your shell a little bit to meet your people, to find these opportunities," Harsha advises.
Tip 2: Let your passions shine in the interview. After applying to a job or an internship, the second step is to prepare for the interview. Harsha's interview experience taught him that employers look for passionate people. "One of the people that interviewed me mentioned that they looked to see if candidates were doing any programming outside of school," he says. "That shows that you have a passion for it."
These days Harsha finds himself on the opposite side of the table as an interviewer. "When I'm sitting in on an interview, I tend to look for that [passion] as well, if they would enjoy working here in the software development industry."
Tip 3: Don't let your degree limit you. While Harsha pursued a degree in computer science, he's seen that there's no one correct path to a successful career in tech. "A computer science degree isn't really necessary at all," he elaborates. One of Harsha's former colleagues was a self-taught programmer. "He picked up small contract work online writing code and developing websites. Now, he's a software engineer at another startup."
Everyone's journey looks different, so there's no one-size-fits-all way to a successful career in tech. "Computer science was the path forward for me, but there are so many paths to take. Experience, passion, and curiosity are more important than a specialized degree."
Are you ready to put Harsha's tips into practice? Check out Flywheels' open roles here!
READ MORE AND DISCUSS
Show less
Loading...