GET EMAIL UPDATES FROM POWERTOFLY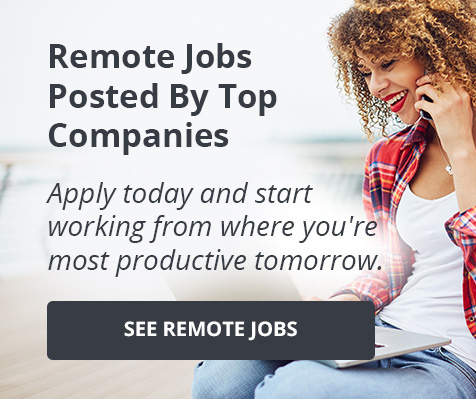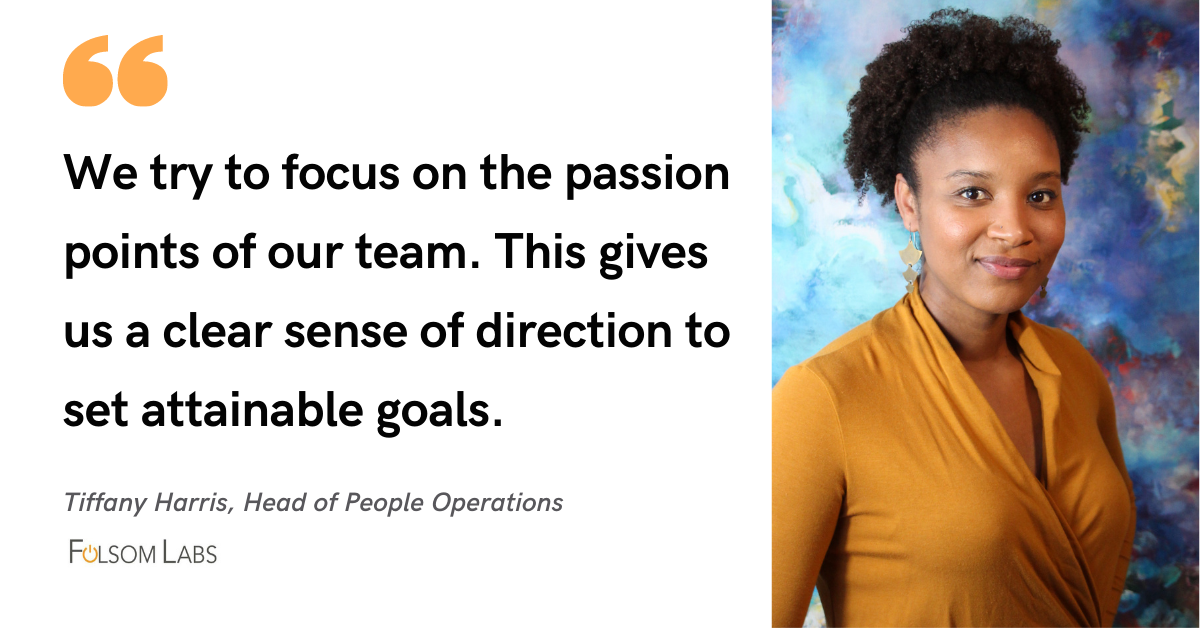 January 27, 2021
Folsom Labs
Why This Startup Closes Every Third Friday: A Conversation with Folsom Labs' Tiffany Harris
Talking to a fellow working parent is what really sold Tiffany Harris on software company Folsom Labs.
Tiffany is the Head of People Operations at the company, whose tools to more efficiently design and sell solar arrays are helping to build a future of clean energy. She joined two years ago, moving her family to the Bay Area from Santa Cruz for the role.
---
She was nervous about the move. Moving away from the community, extended family, and school system her family knew and loved was a risk. (Not to mention Tiffany's roller derby league—more on that later.) But then Tiffany talked to Folsom Labs' Director of Sales and Marketing, Evan Sarkisian.
"One of the main points that he hit on was how family-oriented Folsom Labs was, and how supported he felt as a parent," says Tiffany. "They've definitely lived up to what Evan sold to me in my interview."
We sat down with Tiffany to talk more about her journey to Folsom Labs, including how the start-up has made wellness more than just a talking point, and what advice she has for others looking to prioritize their mental health and work-life balance.
Taking a chance on startup life
A few years ago, when her sons had gotten a bit older and they needed her less, Tiffany realized something big: she wasn't sure who she was when she wasn't being their mom. Or even what possibilities were out there for her.
"In a late night Google, I came upon the Santa Cruz Derby Girls. I decided right then that I was going to become a Santa Cruz Derby Girl," says Tiffany.
She joined, she adopted a derby name—Sin D. Savage, for the curious among you—and she got inspired. "It was an eye-opening experience. I saw so many women doing amazing things with their lives, many of them mothers," remembers Tiffany. She branched out from being a mom and a derby player and started working on the league's board; this led her to a role in HR and office management at a medical office, and from there, she found her way to Folsom Labs.
"It really seemed like a place I wanted to be, a place where I could not only benefit from being around great people, but where I could learn, contribute to that team, and use my skills to really drive what they were already doing," she says.
Fostering balance and inclusion at Folsom—for herself and others
Tiffany's role as Head of People Operations includes HR, diversity and inclusion initiatives, company morale, and, in the times of COVID-19, company engagement during a pandemic.
"A couple months into the pandemic, we began seeing signs of fatigue in employees," says Tiffany. "We had such a strong company culture in the office and really wanted that to transition to our remote team, but it was clear that everyone really needed time to recharge."
One of the limited available responses to stressed-out employees during a world-disrupting global pandemic is, of course, taking time off. But Tiffany noticed that Folsom Labs' employees weren't doing that. Neither was she.
"You're at home, so you have this false sense of being on vacation, but people weren't taking breaks. I found myself having my laptop in front of me most of the day," says Tiffany. She and the company's leadership team started telling everybody to take a day off during the month, whatever day worked for them.
They didn't, though.
It's a problem other companies, including those with "unlimited vacation," know well: despite the fact that vacation is allowed and even encouraged, employees don't feel comfortable taking it. Maybe they're worried about falling behind, or looking like they're not committed to the mission. But being a tech company familiar with the power of experimentation, the Folsom Labs team didn't stop with "maybes."
"We needed to rethink our approach and adjust," explains Tiffany, "so we decided to make the third Friday of every month a company-observed wellness holiday."
And it worked. "The first one people weren't so sure about, but now they're definitely expected," says Tiffany, who personally enjoys having the third Friday of every month off because it gives her some dedicated time to focus on her kids, her family, and her own wellbeing. "It's helped a lot of employees to take time for themselves, to breathe—they can schedule a hike on that day, or do whatever they might need to reset and recharge."
Folsom Labs' focus on taking care of their employees has included, in addition to extra days off, flexible schedules, low-stakes group discussions to talk about stressful topics in the news or in people's personal lives, and what Tiffany describes as "a culture of understanding, wellbeing, and empathy."
That empathy is reflected in the company's approach to DEI, too. Tiffany and her coworkers plan themes for each month that address different aspects of identity and social justice, from intersectionality to unconscious bias. Folsom Labs' employees read a relevant book, meet in small groups to discuss, and do team building exercises. In between themed months, they do a month focused on wellness "to give people a break and a time to reset and digest what they've learned."
Tiffany recently led an activity about intersectionality where team members talked about how they feel they're perceived and how they want to be perceived. "Getting to know people on that deeper level, you can gain a different level of respect for them—you can respect who they truly are," reflects Tiffany.
4 ways to find balance in your life
Tiffany considers herself to be energized by her work supporting others, but sometimes she has to remember to apply that same focus to herself. "Being a caregiver, you have to take that step back and realize that you need to focus on your personal mental health and wellbeing too," she says. She does that by:
Staying positive. "It's easy to start focusing on negatives. The things you didn't get done, especially being at home. The things that you had planned pre-covid or things that you're missing out on. I try not to let those thighs take over my thoughts," she says. "My goal is to take things day by day, do things with intention, and pick a couple of things that I'm really thankful for."
Give yourself five. "Taking a five minute break to sit in a quiet room to meditate or stretch. Making a commitment to be present in that moment—to not think about work, or the stuff going on outside the room has been a huge help for me," she says.
Share your goals with someone else. "I find it helps when I vocalize my goals—no matter how small. Sharing goals with friends and co-workers gives me the extra push to hold myself accountable. It's also nice to have people around you to celebrate when you achieve those goals!"
Celebrate your wins. "Even if they're tiny!" says Tiffany, who likes sharing updates in the Folsom Labs Slack channel for wellness. "Here, we definitely have people encouraging you on little wins, which is so nice."
One last one to keep in mind: pinpoint what's going wrong. That's something Tiffany has learned from running Folsom Labs' quarterly wellness survey. Instead of blindly diagnosing imagined issues, operating with a real data set helps Tiffany and her team really understand what's wrong and work to solve it. "We try to focus on the passion points of our team. This gives us a clear sense of direction to set attainable goals," she says. That seems like good advice for all of us to follow for ourselves, doesn't it?
Learn more about Folsom Labs and the roles they're hiring for here.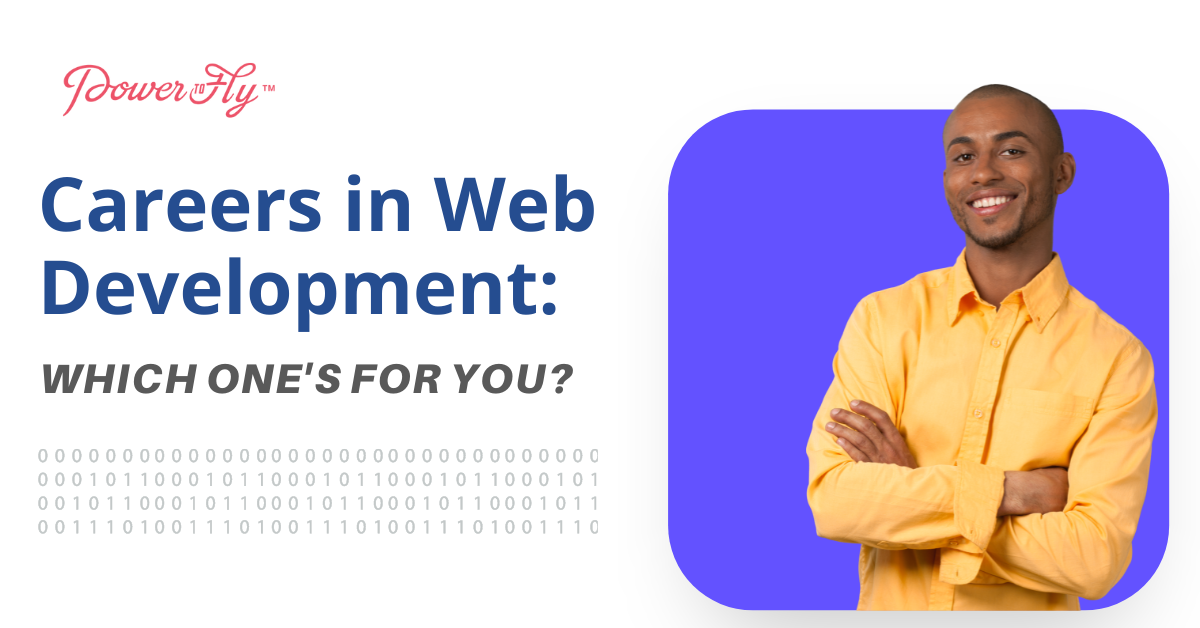 Upskilling and Development
We all have our favorite websites– the ones we frequent, bookmark, and recommend to others. You might even enjoy some website features so much that you've found yourself wondering why they aren't more popular. Or maybe you've experienced times where you were frustrated with a website and wished you could add features or even design your own!
If you've ever found yourself intrigued at the prospect of designing and developing your own websites, then a career as a web developer might be just for you!
As a web developer you would be responsible for coding, designing, optimizing, and maintaining websites. Today, there are over 1.7 billion websites in the world and, in turn, the demand for web developers is on the rise. In order to figure out what kind of web development work best suits you let's start with an introduction to the three main roles in web development that you can choose from.
The Three Types of Web Development Jobs
Front-End Web Development: The Creative Side
Think of front-end development as the décor of a house. The color scheme, furniture, manicured lawns, and overall aesthetic. In terms of a website, front-end development is laser-focused on the appearance of a website and its presentation on different devices. If you're considering a role in front-end development, it's important to learn programming languages such as HTML, CSS, and JavaScript. These three languages go hand-in-hand. HTML allows you to create user interface elements, CSS helps you with stylistic elements, and JavaScript allows you to incorporate online tools and connect your website to back-end functions.
In addition to programming skills, front-end developers need to be detail oriented, creative, willing to keep up with the latest trends in web development, cyber security conscious, and geared toward user-friendly designs. The median salary for a front-end developer can reach well into the $90,000 to $100,000 range.
Back-End Web Development: The Logical Counterpart
While a house can be beautifully decorated, it's incomplete without a solid foundation and efficient infrastructure. Similarly, a well-designed website depends on logical and functional code to power the features of that website. Back-end web development is code-heavy and focused on the specifics of how a website works. If you enjoy the analytical challenge of creating the behind-the-scenes code that powers a website, then back-end development is for you.
Since this role is more code-heavy, it's important that you learn numerous programming languages and understand algorithms and data structures. Some languages that are essential to back-end development are Ruby, Python, SQL, and JavaScript. Back-end developers also ensure that users can successfully retrieve and access data. This requires creating and using APIs (Application Programming Interfaces) which act as messengers that relay data related requests. Additionally, developing the code for the inner workings of a website also requires back-end developers to be conscious of the user interface features designed by front-end developers and to internally mitigate potential security risks. Due to the increased technical aspect of this position, back-end developers normally earn higher salaries than front-end developers. The average median salary for this role is around $118,000 per year.
Full-Stack Web Development: A Little Bit of Everything
A full-stack developer is essentially the Jack (or Jill)-of-all-trades in web development. Full-stack developers need to be knowledgeable about both front-end and back-end roles. This does not necessarily imply that you would need to be an expert in both roles, but you should fully understand the different applications and synergies they each imply. In order to work in this position, you will need to know the programming languages used by front-end and back-end developers. In addition to these languages, full-stack developers also specialize in databases, storage, HTTP, REST, and web architecture.
Full-stack developers are often required to act as liaisons between front-end and back-end developers. Full-stack developers need to be both problem solvers and great communicators. The end goal for a full-stack developer is to ensure that the user's experience is seamless, both on the front-end and on the back-end. In return, you can expect to earn a median salary of $100,000 – $115,000 a year for this role.
Taking the Next Step
Web development is both in-demand and lucrative! All three roles described above contribute to specific aspects of web development and the scope of each one can be customized to the industries and positions you feel best suit you. Regardless of which role you choose, all of them need a foundation in programming.
To gain the programming skills needed in each role, you can enroll in courses or learn independently. Coding bootcamps are a great way to boost your skillset quickly and efficiently.
Click here for some of our highly rated programming bootcamp options! Make sure to check out the discounts available to PowerToFly members.
READ MORE AND DISCUSS
Show less
Loading...