December 27, 2017
Career and Interview Tips
Will your job be in demand in 2018?
If you work in any of the fields listed below, your fortunes for the coming year may just be looking up.
If you're on the hunt for a new gig, or even dipping a toe in the proverbial waters, LinkedIn's 2017 U.S. Emerging Jobs Report gives interesting insight into popular opportunities in 2018's job market.
According to LinkedIn:
"New types of jobs means new potential for workers at all levels, especially for those looking to change careers. Overall, job growth in the next decade is expected to outstrip growth during the previous decade, creating 11.5 million jobs by 2026, according to the U.S. Bureau of Labor Statistics. Even further, it's estimated that 65% of children entering primary school today will ultimately hold jobs that don't yet exist.
To help find those up-and-coming roles and to better understand what skills are needed to succeed, we analyzed LinkedIn data from the last five years, as well as some survey data, to identify which jobs and skills are on the rise, what they're replacing, and what these trends indicate about the jobs market in the years to come."

The top 20 emerging jobs are as follows: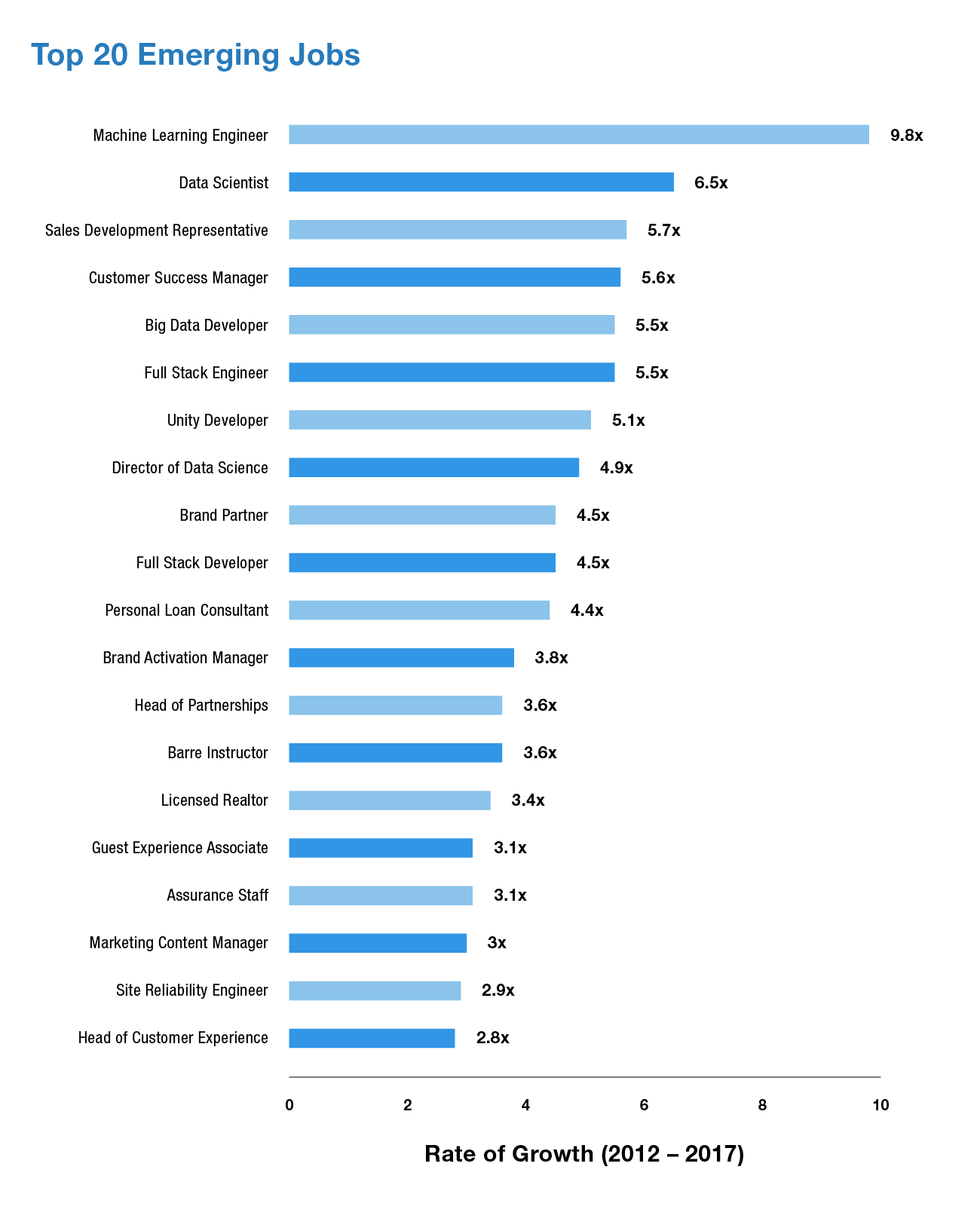 Don't despair if your chosen profession is nowhere to be found. PowerToFly's Chief Talent Officer, Rachel Valdez advises, "Women who are adaptable to learning new skills both soft and hard will be more resilient to intersect or pivot to the latest emerging jobs report if they don't find their profession on the list."
And if you are one of the lucky bunch called out for potential windfalls in 2018 and beyond, peruse some of our open opportunities with companies that care in those respective fields listed below. For even more open opportunities, head to our jobs page.
Addepar - Data Scientist (Mountain View, CA)
Addepar - Lead, Client Advocacy (Salt Lake City, UT)
Buzzfeed - Data Scientist (New York, NY)
DuckDuckGo - Senior Backend Engineer (Remote)
GitLab - Technical Account Manager (Remote)
HomeAway - Big Data Platform Developer (Austin, TX)
HomeAway - Data Scientist II: Marketing (Austin, TX)
HomeAway - Full-Stack Software Engineer, Java or Python (Denver, CO)
LiveIntent - Data Engineer (New York, NY)
Mixtiles - Performance Marketer (Remote)
Zapier, Inc. - Support Manager, Western Hemisphere (Remote)
Zendesk - Vice President, Professional Services (San Francisco, CA)
Automattic
January is National Mentorship Month— the perfect time to focus on growing and building important relationships with mentors that will positively affect your professional career.
Research shows that mentorship greatly improves career outcomes by providing professional guidance, skill development, and support through major work and life transitions.
We asked some of our partner companies to tell us about the mentorship opportunities they offer. If you're ready to unleash your full potential by joining an impactful mentoring program, keep reading to hear what they said. (Plus, they're all hiring—check out their open jobs under each entry!)
READ MORE AND DISCUSS
Show less
Loading...