GET EMAIL UPDATES FROM POWERTOFLY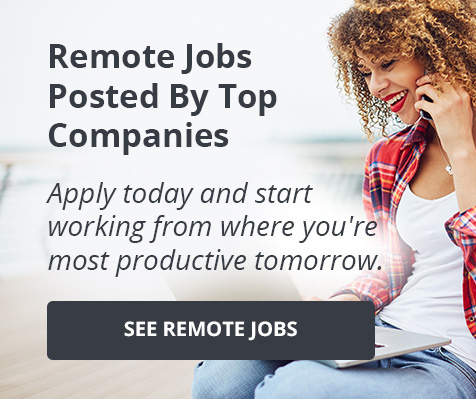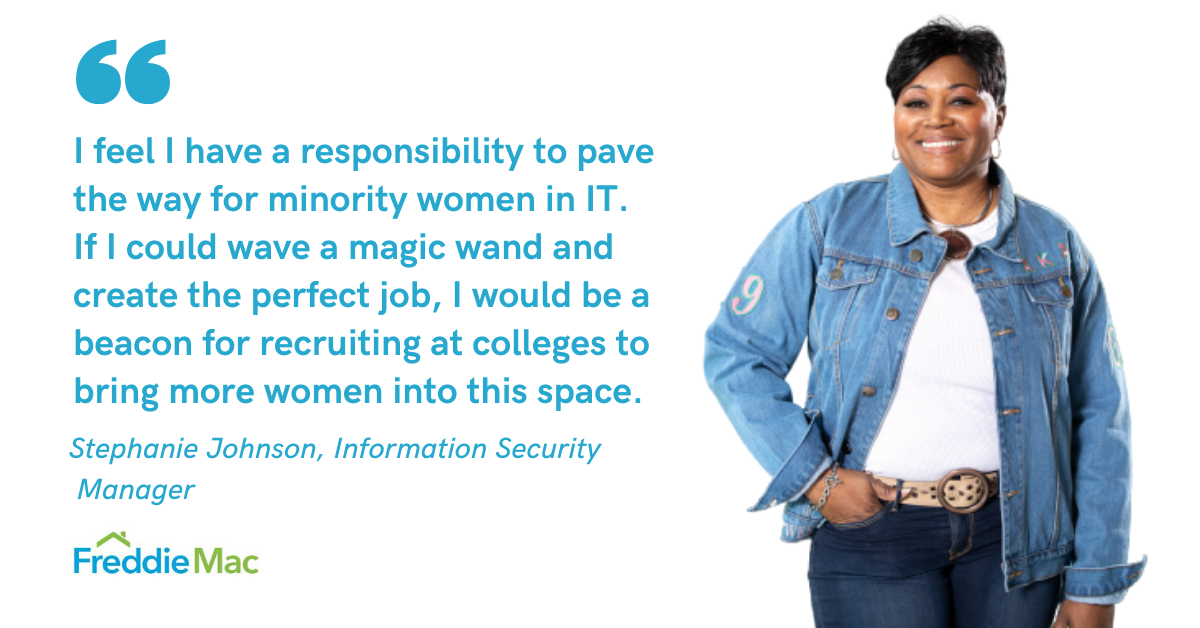 March 25, 2020
Freddie Mac
She's Paving the Way for Women in Cybersecurity: How She Went from First-Generation College Student to IT Leader
A Conversation with Freddie Mac's Stephanie Johnson
When Stephanie Johnson, currently an Information Security Manager at Freddie Mac, was just starting her career as an IT professional, she found herself sitting in her car one night after work asking herself, "Why am I not being heard? Should I adjust my tone? Posture? What I'm saying?"
---
She wanted to make an impact and knew she could do better.
So she challenged herself to rethink her meeting approach. No longer would she sit back and wait for someone else to speak first. She decided she'd enter her next meeting as a confident subject matter expert.
And it worked.
"I put on a black suit and heels, and I came into the meeting and sat at the front of the table so I could see everyone. I sat up straight, I kept the meeting on track, and I was respectful of others but I took control. From that moment forward, I was always heard," says Stephanie.
Designing her path
Stephanie had to create her own approach and career path for her entire life. Growing up in a small midwestern town with a single mother who didn't have a large income, college didn't seem like a realistic goal for many in Stephanie's family. But she believed that education was the key to changing her life, so she found a way to make college work.
"I knew there was a better way to live. And I knew I was going to be the first
person to change the picture for my family. I wanted others to follow in my footsteps," says Stephanie.
Stephanie started off at a two-year college, where she graduated with an associate's degree in computer science. (She picked that major after doing research into the most lucrative and fastest-growing fields of study—talk about prescience.) That helped her land a job as a data analyst with the City of Pine Bluff finance department; the money she earned there allowed her to go back to college at the University of Arkansas at Pine Bluff and complete her bachelor's.
"There were times I wanted to give up because it was hard. I carried pictures of my family,
and every time I looked at those photos, I knew I had to stay the course. I told myself, 'If you
don't do this, nobody will.' My mom was the oldest of 12 and none of her siblings went to
college. My older siblings didn't go. Now, about 70% of people in my family have…graduate[d] college," says Stephanie proudly.
While still in college, Stephanie started an internship at the Pentagon as a UNIX system administrator. "That was the role that got my hands under the hood," she remembers. Her strong work ethic and ability to provide top-notch customer service through technical issue resolution led to her receiving a full-time job offer at the Pentagon. She stayed for several years and completed her degree before leaving government work because she felt her career path was becoming stagnant, she says. She wanted to grow and learn new things.
Before landing at Freddie Mac, Stephanie held IT positions in several different sectors, including government, telecommunications, consulting, and finance. After 9/11, she was inspired to transition from pure IT into information security and cybersecurity, and data privacy.
All of her career choices were motivated by one thing: challenging herself to keep learning and growing, and by so doing, creating a path for other women (and especially women of color) to do the same.
Paving the way for women
"When I first started in my career, there was a common belief that women should be submissive," remembers Stephanie. Luckily, that stereotype has changed, but women still aren't anywhere near parity in representation or pay in the cybersecurity industry or the tech industry at large.
"I feel I have a responsibility to pave the way for minority women in IT. If I could wave a
magic wand and create the perfect job, I would be a beacon for recruiting at colleges to bring
more women into this space. There's work to be done. I am an advocate and an avenue for that work. I want to change the trajectory," says Stephanie.
Her contributions to solving that problem include mentoring women. Through lunches, phone calls, and long advice sessions, Stephanie passes on her tried-and-true pieces of advice: "I tell them they need to learn to own their craft and their brand. If they don't do that, they won't be heard. They can be assertive without being aggressive."
By mentoring younger women on her team and those from her past positions, Stephanie has been able to pay homage to two mentors of hers who made differences in her IT career: Ed and Brian, two of her past bosses who offered Stephanie a helping hand from the get-go.
Though she's had success in cybersecurity and proven that women can take on important technical and leadership roles in the field, she'll never say it was easy. "Just by being a woman, you don't always get opportunities to move up. People can see strong women as intimidating. You become a threat. There's still a lot of room for change in this space – and I'm at the front of it," says Stephanie.
Finding her fit
After years of impressive experience across IT and cybersecurity roles, Stephanie accepted a job in cyber risk management at Freddie Mac because it fulfilled her desire to keep learning and growing professionally while providing her a meaningful mission, a strong organizational commitment to diversity and inclusion, and truly open channels between upper management and employees.
"At Freddie Mac, I get to go to work and know everything I'm doing is helping make home possible for someone in the U.S. Our work matters. That is what excites me," explains Stephanie.
Our What Women Want report found that the majority of women (72%) are dissatisfied with the level of diversity and sense of inclusion and belonging in their company. That's not the case for Stephanie, who accepted the role at Freddie Mac because of their strong corporate commitment to diversity and inclusion: "I was really impressed with the company's Inclusion & Diversity (I&D) program. Once I got here, I realized the program is always getting better and better. They're always working on making this place more inclusive and I'm so proud to be part of an organization so focused on inclusion."
Freddie Mac's I&D initiatives include investing in women leaders. Stephanie is a member of the Rising Leaders employee resource group and has been nominated by her company for several leadership training programs, which have contributed to her upward mobility at work and increased confidence in her management and leadership skills.
Those leadership skills have resulted in Stephanie leading a change in Freddie Mac's cyber risk assessment program. She developed a risk-based, customized approach incorporating customer input that resulted in increased efficiency while also decreasing the backlog of tasks. "I expected there to be more resistance to change, but leadership has been really on board for changes. That's one of my favorite parts of working here," explains Stephanie.
That openness is extended on an individual basis, too—one of Stephanie's favorite moments at Freddie Mac was when she connected with Jacqui Welch, Chief Human Resources Officer and Chief Diversity Officer, outside of work, and was encouraged by Jacqui to follow up and have a one-on-one meeting. Jacqui's team made the meeting happen and Stephanie was surprised by how Jacqui truly wanted to understand Stephanie's perspective and ideas for the company.
Overall, Stephanie has found the role and company that's right for her—one that values her ideas, supports her identities, and believes in investing in women in tech.
---
If a role like that sounds right for you, too, check out Freddie Mac's open positions or leave a question for Stephanie in the comments!
Related Articles Around the Web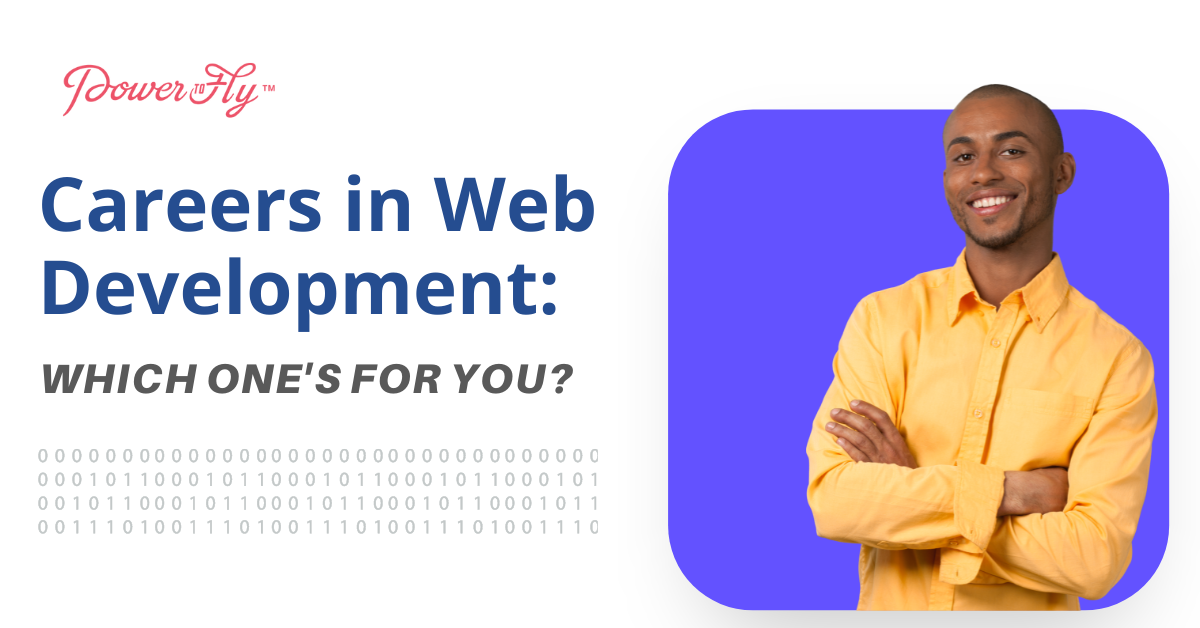 Upskilling and Development
We all have our favorite websites– the ones we frequent, bookmark, and recommend to others. You might even enjoy some website features so much that you've found yourself wondering why they aren't more popular. Or maybe you've experienced times where you were frustrated with a website and wished you could add features or even design your own!
If you've ever found yourself intrigued at the prospect of designing and developing your own websites, then a career as a web developer might be just for you!
As a web developer you would be responsible for coding, designing, optimizing, and maintaining websites. Today, there are over 1.7 billion websites in the world and, in turn, the demand for web developers is on the rise. In order to figure out what kind of web development work best suits you let's start with an introduction to the three main roles in web development that you can choose from.
The Three Types of Web Development Jobs
Front-End Web Development: The Creative Side
Think of front-end development as the décor of a house. The color scheme, furniture, manicured lawns, and overall aesthetic. In terms of a website, front-end development is laser-focused on the appearance of a website and its presentation on different devices. If you're considering a role in front-end development, it's important to learn programming languages such as HTML, CSS, and JavaScript. These three languages go hand-in-hand. HTML allows you to create user interface elements, CSS helps you with stylistic elements, and JavaScript allows you to incorporate online tools and connect your website to back-end functions.
In addition to programming skills, front-end developers need to be detail oriented, creative, willing to keep up with the latest trends in web development, cyber security conscious, and geared toward user-friendly designs. The median salary for a front-end developer can reach well into the $90,000 to $100,000 range.
Back-End Web Development: The Logical Counterpart
While a house can be beautifully decorated, it's incomplete without a solid foundation and efficient infrastructure. Similarly, a well-designed website depends on logical and functional code to power the features of that website. Back-end web development is code-heavy and focused on the specifics of how a website works. If you enjoy the analytical challenge of creating the behind-the-scenes code that powers a website, then back-end development is for you.
Since this role is more code-heavy, it's important that you learn numerous programming languages and understand algorithms and data structures. Some languages that are essential to back-end development are Ruby, Python, SQL, and JavaScript. Back-end developers also ensure that users can successfully retrieve and access data. This requires creating and using APIs (Application Programming Interfaces) which act as messengers that relay data related requests. Additionally, developing the code for the inner workings of a website also requires back-end developers to be conscious of the user interface features designed by front-end developers and to internally mitigate potential security risks. Due to the increased technical aspect of this position, back-end developers normally earn higher salaries than front-end developers. The average median salary for this role is around $118,000 per year.
Full-Stack Web Development: A Little Bit of Everything
A full-stack developer is essentially the Jack (or Jill)-of-all-trades in web development. Full-stack developers need to be knowledgeable about both front-end and back-end roles. This does not necessarily imply that you would need to be an expert in both roles, but you should fully understand the different applications and synergies they each imply. In order to work in this position, you will need to know the programming languages used by front-end and back-end developers. In addition to these languages, full-stack developers also specialize in databases, storage, HTTP, REST, and web architecture.
Full-stack developers are often required to act as liaisons between front-end and back-end developers. Full-stack developers need to be both problem solvers and great communicators. The end goal for a full-stack developer is to ensure that the user's experience is seamless, both on the front-end and on the back-end. In return, you can expect to earn a median salary of $100,000 – $115,000 a year for this role.
Taking the Next Step
Web development is both in-demand and lucrative! All three roles described above contribute to specific aspects of web development and the scope of each one can be customized to the industries and positions you feel best suit you. Regardless of which role you choose, all of them need a foundation in programming.
To gain the programming skills needed in each role, you can enroll in courses or learn independently. Coding bootcamps are a great way to boost your skillset quickly and efficiently.
Click here for some of our highly rated programming bootcamp options! Make sure to check out the discounts available to PowerToFly members.
READ MORE AND DISCUSS
Show less
Loading...