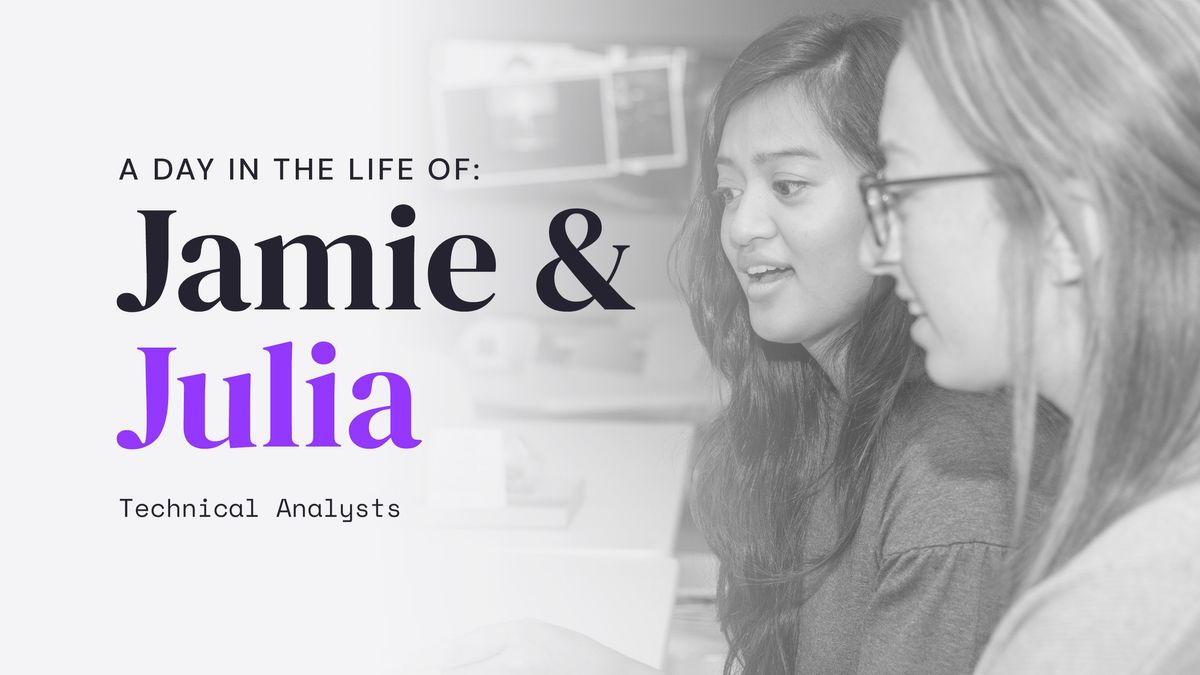 Kin + Carta
Below is an article originally written by PowerToFly Partner Kin + Carta, and published on October 31, 2019. Go to Kin + Carta's page on PowerToFly to see their open positions and learn more.
At Kin + Carta, we place a strong emphasis on supporting one another. It's written in our values of Embrace Servant Leadership and Catch Excellence — our Kin strive to put forth the best work and to expand those around them along the way. For Jamie Auza and Julia Geraghty, Technical Analysts, this isn't just an environment around them; it's a culture they have contributed to, grown within, and learned from.
After Jamie and Julia were put on a team together, they quickly became a developer duo, running to and from meetings together and supporting one of Kin + Carta's clients within the AgTech space.
It's no secret that women are underrepresented within engineering so it is increasingly important that women support other women in this field. As developers, Jamie and Julia have both really valued the opportunity to work side by side with one another and were excited to sit down with us to share their experiences.
What pronouns do you use?
Jamie: she/her/hers
Julia: she/her/hers
How did you get into engineering?
Jamie: When I was in high school I had been scrambling to try and find an AP class to fill up my schedule when someone suggested that I try out Computer Science. I had no idea what it was but went ahead and took it anyway. That's how it all began!
Julia: I've always enjoyed math and when I told a friend at college this, he suggested that I try out Computer Science. It ended up working out pretty well. 🙂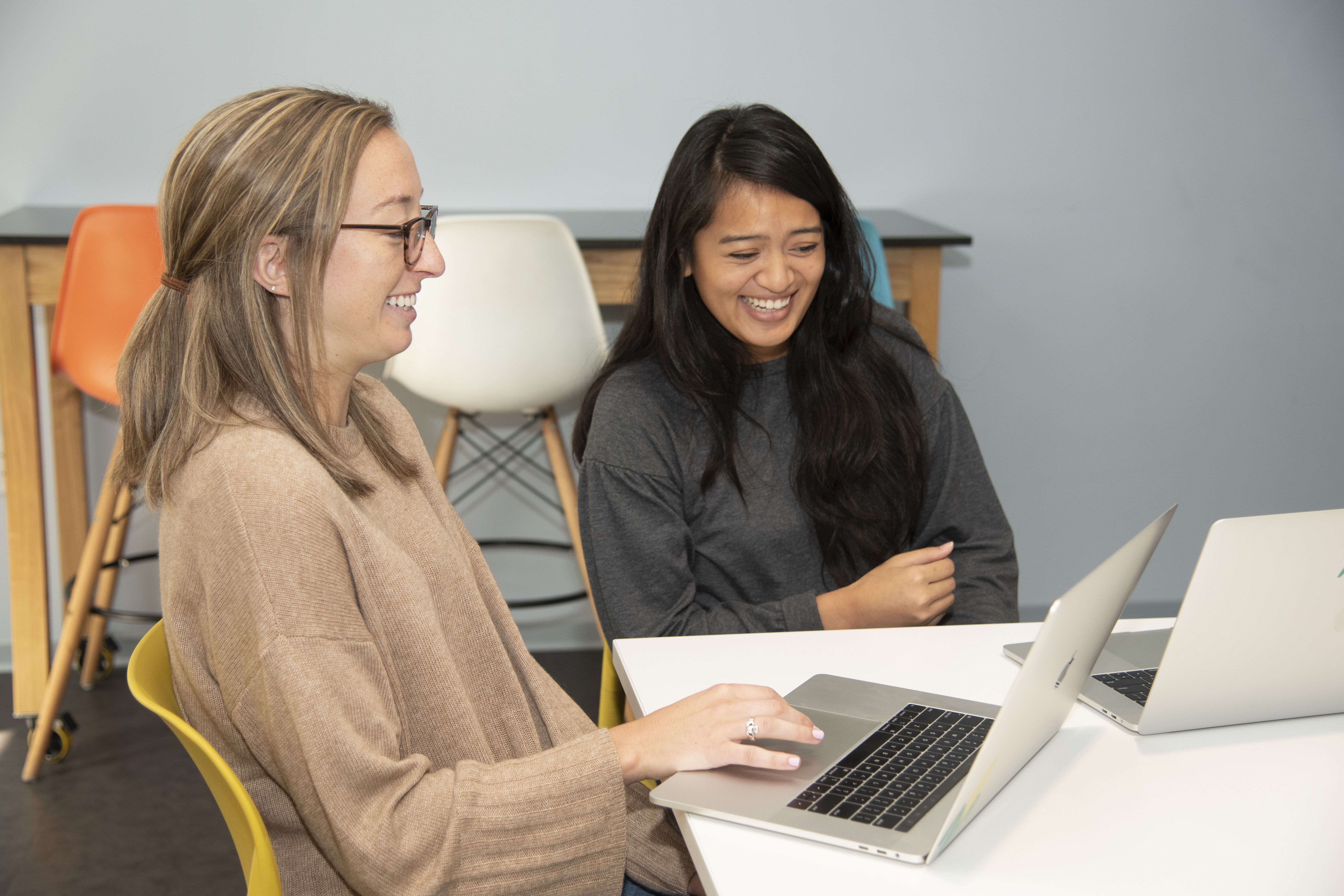 How did you find out about Kin + Carta and why did you join?
Jamie: I came across a posting for an iOS Developer position at Kin + Carta online. I had always wanted to get into consulting so it felt like a no-brainer. When reading the reviews online, I was skeptical that so many of them were positive, but when I had my in-person interview I saw first-hand how great the culture was. Everyone was so kind and genuinely eager to help you succeed. That's when I knew I wanted to work here.
Julia: After learning so much from the people here and making great friends during my internship with Kin + Carta, I couldn't wait to come back full-time after graduation.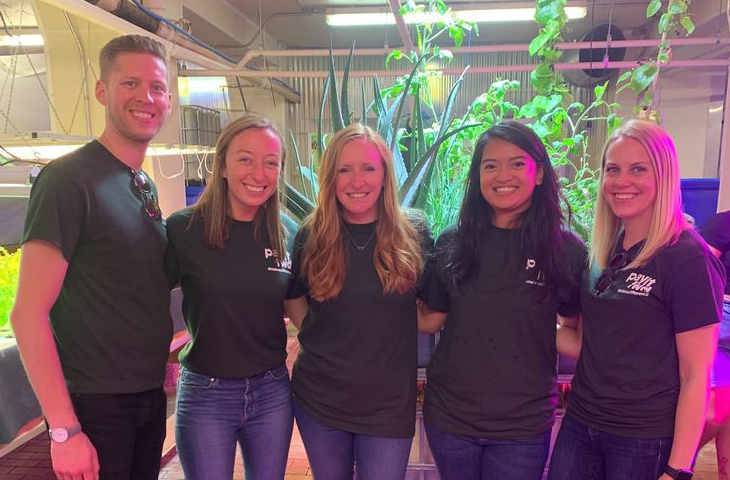 Can you explain what your role entails and how you exactly you two work together? We see you running to meetings together all of the time!
Jamie: Hahaha, we do run to meetings together a lot. It's mostly because we never have any idea what room our meetings are in so we follow the Product Consultant on our team, Taylor, everywhere like little sheep. Other than running around the office, Julia and I help each other on issues that we're coming across and tackle the problem together by talking through the best way to implement a solution. It's been a lot of really great open communication and Julia's helped me with my transition into Kin + Carta. Thanks, Julia!
For the most part in my role, I get to develop all day! Before a sprint starts, the developers and I get to choose the chunks of work that we want to work on and we split it amongst one another. These chunks are called user stories and are essentially detailed assignments. Other than the development work, I get to help groom those user stories for details that might be missing or aspects that are overlooked.
Julia: I am usually developing for most of the day! However, bringing these features to life is definitely a team effort. I feel like I am constantly asking our technical lead, designer, product consultant, and QAs for their input along the way.
Jamie and I get to work together on a lot of this! Whether it's planning out how we're going to split up our work for an upcoming sprint or going through the code together to solve a problem, we have a lot of fun working together. And we consistently get lost on the way to meetings together.
What's the most surprising thing about your job?
Jamie: How fun it is! We're having a pizza party soon and we recently finished a game of post-it ball. Post-it ball is a game that we play at the end of each sprint where we bundle up the post-it notes that have the title of each story we were working on and attempt to throw it through a hoop. We win when we collectively get to a certain number of points. It's a lot harder than it looks!
Julia: How much I've learned about AgTech. For example, just today our entire program learned that corn is grown on every continent except Antarctica!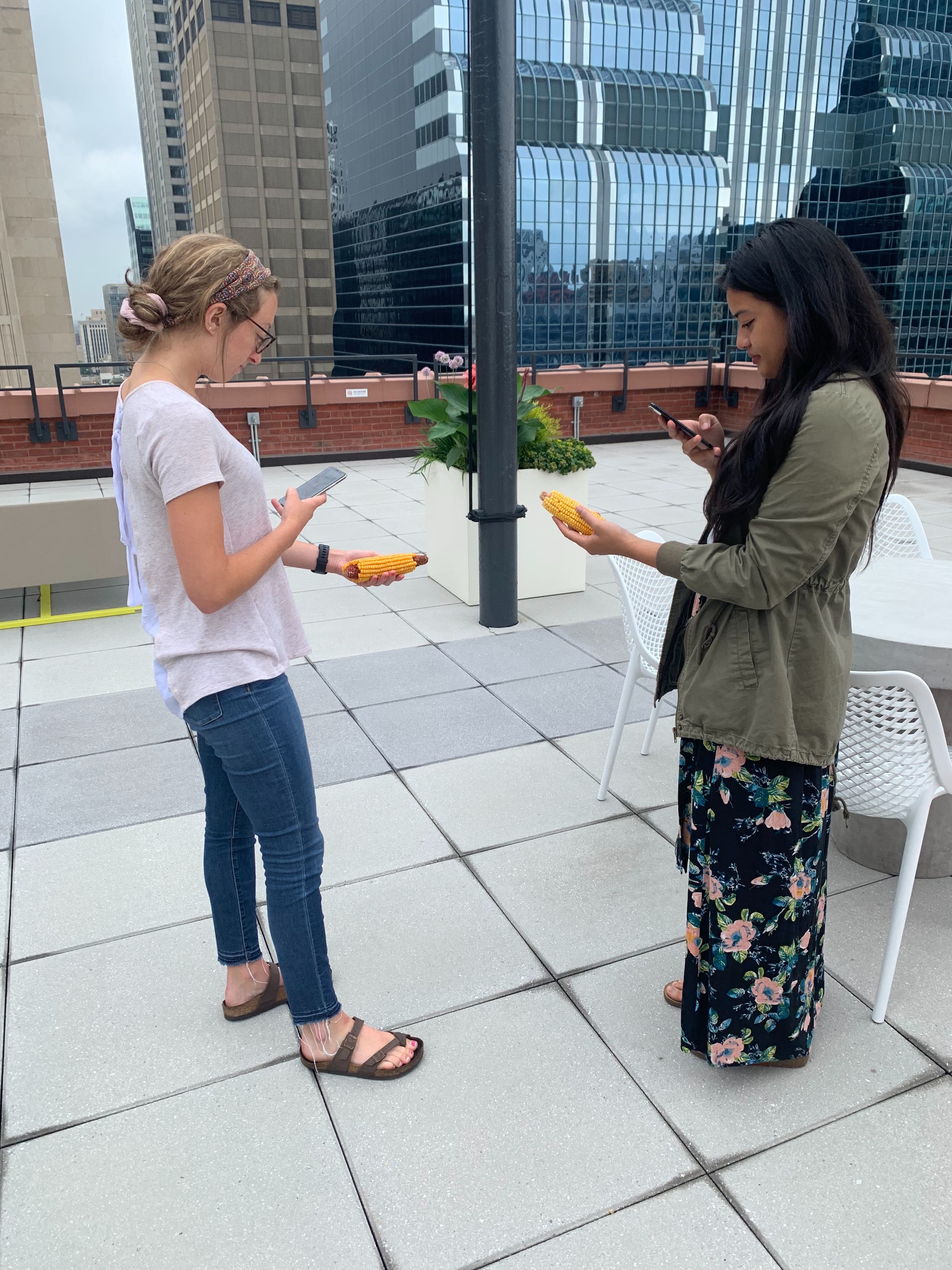 What have you learned from your project team members (or from one another!)?
Jamie: How to be a servant leader. I've really grown to emulate my team's willingness to help and set one another up for success. My team has done that every step of the way for me and I want to give back whenever I can.
Julia: How to catch excellence and have fun along the way. Our entire team has been working hard all summer to ensure we release a quality app, while still finding time to create a team playlist, break out of an escape room together, and constantly discuss our horoscopes.
What are you most proud of during your time at Kin + Carta?
Jamie: My first release! It was exhilarating to see the number of users come in and realize that people are actually using the app that I had a part in.
Julia: I am most proud when I look back and see how much I've grown since starting at Kin + Carta as an intern. It was extremely rewarding to be able to help the interns this summer and answer some of the same questions that I asked 2 years ago.
What advice would you share with a woman beginning a career in technology?
Jamie: Don't be so hard on yourself! This stuff isn't easy even if there may be people who seem naturally gifted in it. The best skill you can learn is to know when to ask for help.
Julia: This is pretty cheesy, but don't give up! Starting something new is never easy, but if you speak up and ask for help when you need it, you'll be able to look back at how much you've learned in no time.
Curious about our culture? Read more stories about what it's like to work at Kin + Carta here.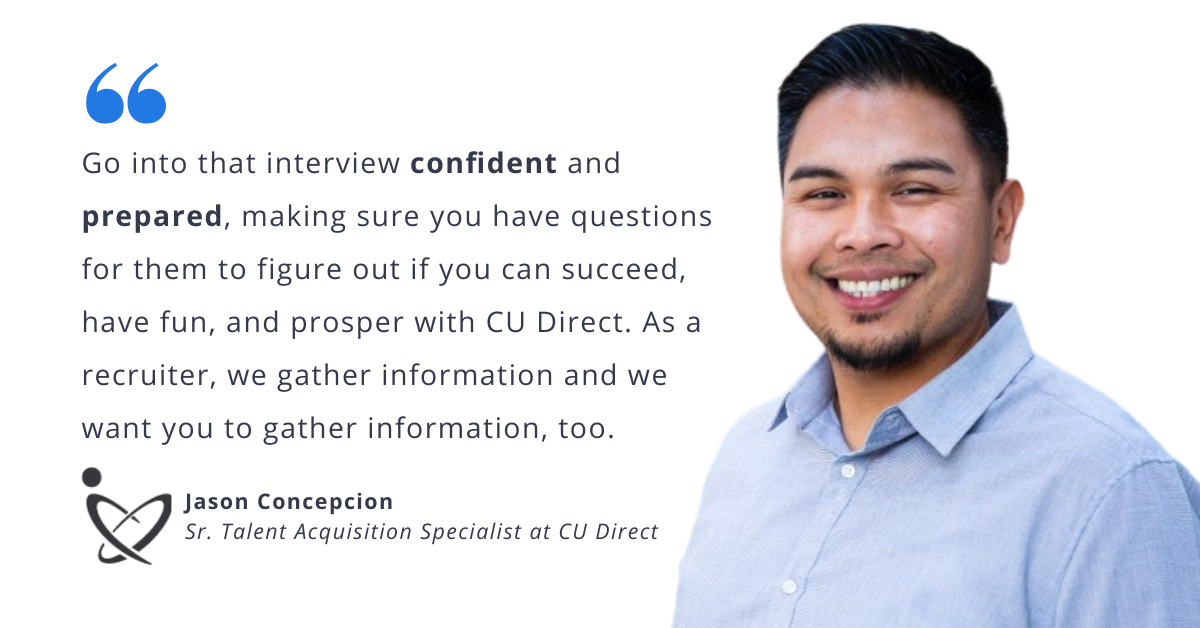 CU Direct
Jason Concepcion is a Sr. Talent Acquisition Specialist at CU Direct, a technology leader that delivers lending solutions to financial institutions, auto dealers, retailers, and medical providers nationwide. As a progressive company that looks for the best diverse talent, CU Direct prides themselves on seeking and taking care of their employees.
We sat down with Jason to learn about CU Direct's hiring process. Keep reading for his top 6 tips to put into practice when interviewing with CU Direct.
Tip # 1 Do Your Research
While it may seem obvious, learning about the company you're interviewing for is crucial. "Before the interview, do some research on CU Direct, our products and services, and even our subsidiary companies," says Jason. Doing the research will show the interviewer that you are highly interested and that "you did your due diligence in getting to know the company." Check out their About page to get to know CU Direct and its various projects.
Tip #2 Ask Questions
It's important to be transparent from the first point of contact with the company, which means asking questions to clarify and gain more information. Jason suggests, "when talking to the recruiter, ask questions. Go into that interview confident and prepared, making sure you have questions for them to figure out if you can succeed, have fun, and prosper with CU Direct. As a recruiter, we gather information and we want you to gather information, too."
Tip #3 Take Your Time
Pace yourself in the interview. Jason explains that "it's okay to pause, regroup, and answer questions. When asked about your experiences, taking your time will allow you to think of the situation, how you solved it, and what was the outcome."
Tip #4 Ask Yourself, 'What Do I Want to Do?'
Take inventory of what you have accomplished or learned in your professional trajectory so far. "We're not just looking for what you've done, but we are also looking for what you can do and what you want to do," says Jason. He believes that "those things are just as important as what you've done in the past. Your drive and determination will show us where you want to go and ideally, that will organically align with the positions we have here at our company."
Tip #5 Understand the Job Description
With your resume in hand, consider what experiences best align with the job description. "Valuable work experience can be found almost anywhere. It can come from your first job or it can come from your most recent job," Jason explains. Whatever small or short experience you have that matches the job description is worth mentioning and explaining, depending on the job you are applying for. Jason explains, "a good understanding of the job description you're going for, and related positions within the company will give you a greater insight as to what we're looking for and what you want to highlight or present in regards to this role."
Tip #6 Don't Be Afraid to Get Personal
One way to stand out in the interview process is to show that you'll be a good values fit, so intentionality throughout, and after, the interview can go a long way. Jason suggests sending a thank you email after the interview. "This will make sure that you stand out in front of thousands of applicants," he says. "Don't make it generic, tailor the message including details mentioned in the interview, this will show the person that you were completely engaged throughout the interview."
CU Direct's personal and careful recruitment process is a reflection of their fun and innovative atmosphere, their value of team members, and commitment to growth. They offer several benefits to their employees, such as a flexible working environment, paid time off, 401k match, college tuition reimbursement, and an exciting company culture. Because of this, they want to make sure people are treated with the same kindness and positivity from the start. As Jason reiterates: "We want to make sure you are prepared and ready for each step of this process, from interviewing, to asking questions, and to possibly onboard in the future," says Jason.
Are you interested to find out more about working at CU Direct? Check out their
openings
here!
READ MORE AND DISCUSS
Show less
Loading...