GET EMAIL UPDATES FROM POWERTOFLY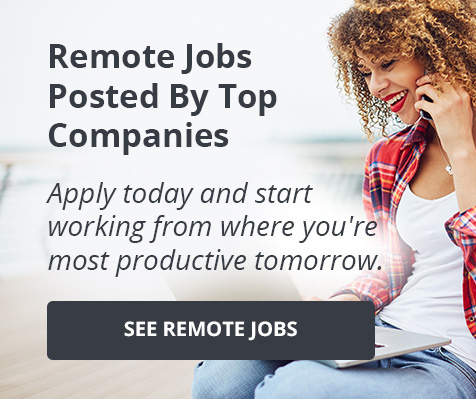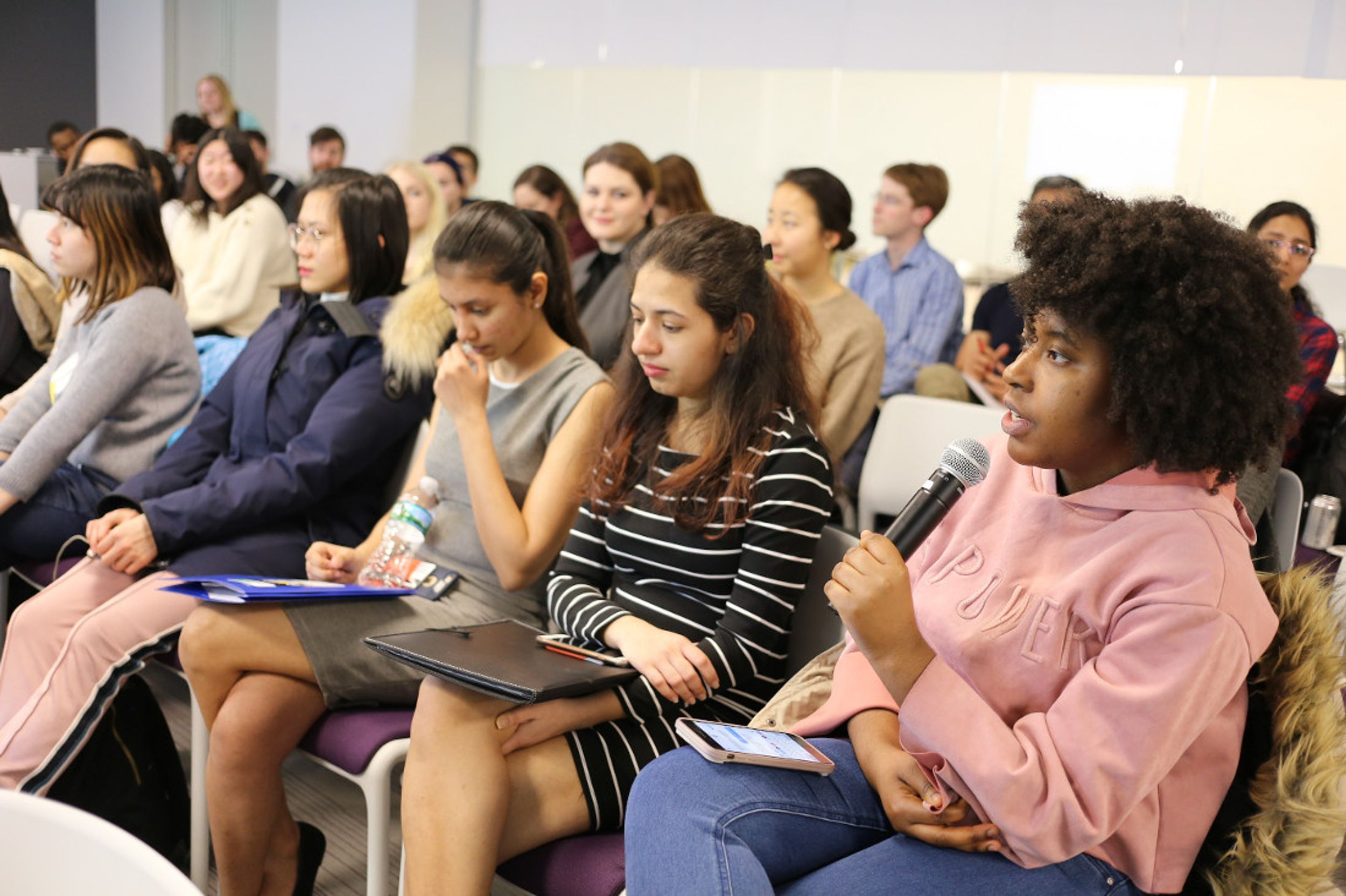 April 30, 2019
Wayfair Inc.
Setting the Stage for the Stories of Women in Software Engineering at Wayfair
Below is an article originally written by Liz McQueeney at PowerToFly Partner Wayfair, and published on April 12, 2019. Go to Wayfair's page on PowerToFly to see their open positions and learn more.
Our Engineering department at Wayfair spans two countries and more than 2,300 people. Discovering the interesting paths some of them have taken into tech can seem daunting given the numbers, so our Talent team chose to start local and host an exciting event for Boston students.
"How She Got There", hosted at Wayfair's Boston headquarters, provided an opportunity for local students to learn from women on a variety of our software engineering teams. Each woman shared her journey, plus career advice, to a group of attendees who came from more than 15 different universities. These students left feeling inspired and educated about making the transition from university to the tech industry as a software engineer.
"I had the opportunity to attend Wayfair's How She Got There event and absolutely loved hearing everyone's stories. Thank you for hosting this incredible and important event!" – Attendee from Boston College
Getting to Know Our Speakers
Our four speakers are currently part of the Wayfair Engineering team, and each have a different career path which diversified the discussion. First up, Rebekah Heacock Jones, a Senior Engineer on our Pricing and Profitability team, discussed how after a few stints as a technical product manager, internet censorship researcher, educational tour guide, and nonprofit co-director, she finally turned to engineering two and a half years ago and regrets nothing.
Next, Katherine Tabinowski, part of the same Pricing and Profitability group, spoke about how after working in the e-commerce and marketing worlds, she found an unexpected passion for coding through fashion blogging, and pivoted into tech to start a new career in engineering.
Tasneem Sirohiwala, Associate Director in our Transportation Engineering team, shared how she was inspired by how architectural drawings transform into real life structures and their similarities with building creative software solutions.
Lastly, Lindsey Bleimes, Director of Engineering for our Catalog Systems Department and most recently at SXSW, shared that with a degree in Computer Science, she started writing logistics software for a Navy contractor. Since then she's taken a few career gambles, including changing industries, taking a step back, and moving from Washington D.C. to Boston. She also moved to Berlin to ramp up our software engineering team in Europe, which is now more than 250 people strong!
Key Takeaways We Learned
During the event, we heard each speaker's personal journey, as well as career advice for women studying computer science and finding work in the technology industry.
Take risks:

Change is scary, but the industry evolves quickly, so change can be a low-risk move. Don't be afraid to take a chance, because no one decision is likely to make or break your career. Remember that agile development is a great framework not only for creating software, but also for life.

Be curious:

Always seek to learn new things and don't accept the status quo – you'll grow by questioning and developing new ideas.

Keep an open mind:

Don't be afraid to take on a new challenge and open yourself up to new opportunities you hadn't planned for.

Build your network:

Attending events, like "How She Got There", is a great way to meet people you can learn from. Always take the opportunity to grab a coffee and chat with people to learn about new perspectives and develop a network for your career growth.

Your mental health is important:

Focus on taking care of yourself in order to perform your best.

Your career path and your journey are unique:

There will be several twists and turns throughout your career that are impossible to predict, but everything happens for a reason and everyone's journey is different. Swim in your own lane!
"How She Got There" was such a successful event, inspiring many women in tech to pursue their own journey. We'll be hosting another event in June, and we've recently been involved in sponsoring events such as TechTogether Boston, Boston's largest all-female and non-binary hackathon. The hackathon aims to bring together and empower femme and non-binary individuals interested in tech. If you're interested in more initiatives and are keen to join the Wayfam, apply here!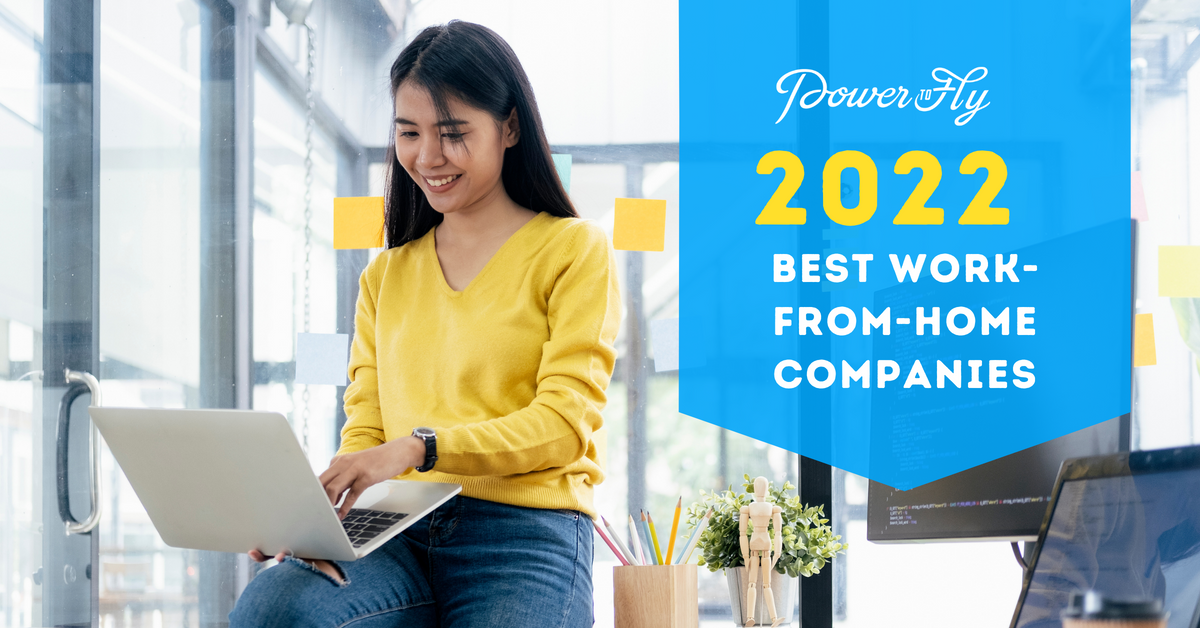 Featured Post
Every year, PowerToFly creates a list of the best work-from-home companies. Now that over half of the U.S. workforce is remote, compiling that list was a bit more challenging.
This year, we prioritized selecting companies that are remote-friendly—meaning they have both remote and in-person roles—but they have made long-term commitments to hiring and supporting employees who choose to work from home; and we think they have the perks, values, and organizational framework to allow all employees to flourish in their careers, regardless of location.
Keep reading to see our top 15 work-from-home companies for 2022, along with a description of what they do, why we like them, and who they're looking for.
PowerToFly's Best Work-From-Home Companies 2022:
Don't see what you're looking for? Check out a fill list of 5,000+ open remote roles here!
READ MORE AND DISCUSS
Show less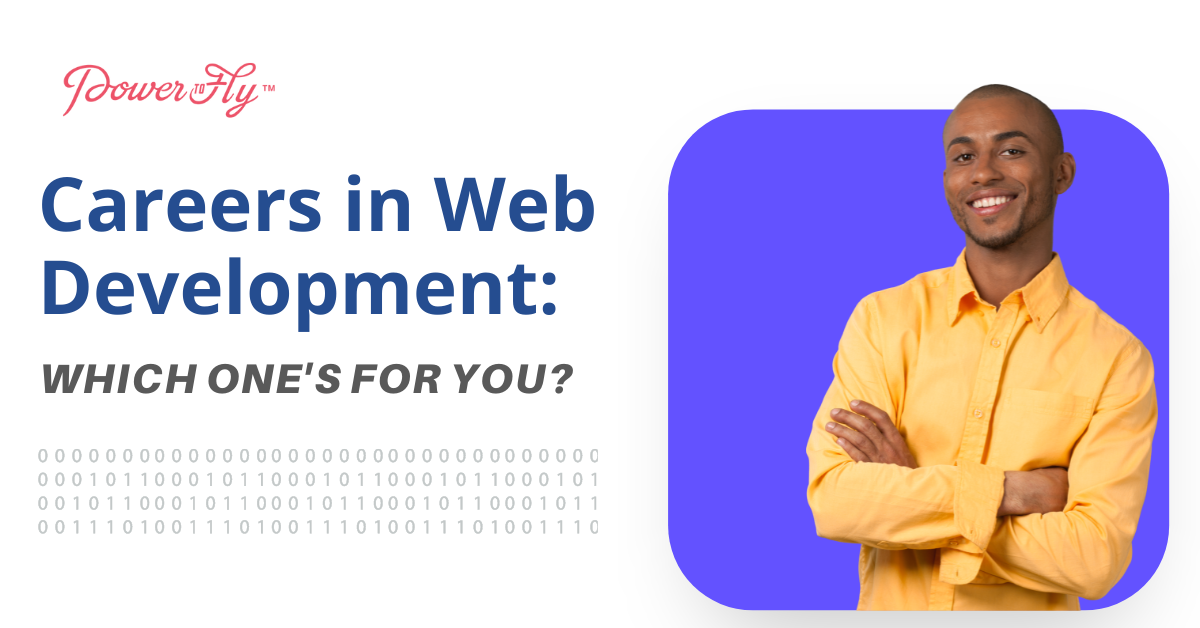 Upskilling and Development
We all have our favorite websites– the ones we frequent, bookmark, and recommend to others. You might even enjoy some website features so much that you've found yourself wondering why they aren't more popular. Or maybe you've experienced times where you were frustrated with a website and wished you could add features or even design your own!
If you've ever found yourself intrigued at the prospect of designing and developing your own websites, then a career as a web developer might be just for you!
As a web developer you would be responsible for coding, designing, optimizing, and maintaining websites. Today, there are over 1.7 billion websites in the world and, in turn, the demand for web developers is on the rise. In order to figure out what kind of web development work best suits you let's start with an introduction to the three main roles in web development that you can choose from.
The Three Types of Web Development Jobs
Front-End Web Development: The Creative Side
Think of front-end development as the décor of a house. The color scheme, furniture, manicured lawns, and overall aesthetic. In terms of a website, front-end development is laser-focused on the appearance of a website and its presentation on different devices. If you're considering a role in front-end development, it's important to learn programming languages such as HTML, CSS, and JavaScript. These three languages go hand-in-hand. HTML allows you to create user interface elements, CSS helps you with stylistic elements, and JavaScript allows you to incorporate online tools and connect your website to back-end functions.
In addition to programming skills, front-end developers need to be detail oriented, creative, willing to keep up with the latest trends in web development, cyber security conscious, and geared toward user-friendly designs. The median salary for a front-end developer can reach well into the $90,000 to $100,000 range.
Back-End Web Development: The Logical Counterpart
While a house can be beautifully decorated, it's incomplete without a solid foundation and efficient infrastructure. Similarly, a well-designed website depends on logical and functional code to power the features of that website. Back-end web development is code-heavy and focused on the specifics of how a website works. If you enjoy the analytical challenge of creating the behind-the-scenes code that powers a website, then back-end development is for you.
Since this role is more code-heavy, it's important that you learn numerous programming languages and understand algorithms and data structures. Some languages that are essential to back-end development are Ruby, Python, SQL, and JavaScript. Back-end developers also ensure that users can successfully retrieve and access data. This requires creating and using APIs (Application Programming Interfaces) which act as messengers that relay data related requests. Additionally, developing the code for the inner workings of a website also requires back-end developers to be conscious of the user interface features designed by front-end developers and to internally mitigate potential security risks. Due to the increased technical aspect of this position, back-end developers normally earn higher salaries than front-end developers. The average median salary for this role is around $118,000 per year.
Full-Stack Web Development: A Little Bit of Everything
A full-stack developer is essentially the Jack (or Jill)-of-all-trades in web development. Full-stack developers need to be knowledgeable about both front-end and back-end roles. This does not necessarily imply that you would need to be an expert in both roles, but you should fully understand the different applications and synergies they each imply. In order to work in this position, you will need to know the programming languages used by front-end and back-end developers. In addition to these languages, full-stack developers also specialize in databases, storage, HTTP, REST, and web architecture.
Full-stack developers are often required to act as liaisons between front-end and back-end developers. Full-stack developers need to be both problem solvers and great communicators. The end goal for a full-stack developer is to ensure that the user's experience is seamless, both on the front-end and on the back-end. In return, you can expect to earn a median salary of $100,000 – $115,000 a year for this role.
Taking the Next Step
Web development is both in-demand and lucrative! All three roles described above contribute to specific aspects of web development and the scope of each one can be customized to the industries and positions you feel best suit you. Regardless of which role you choose, all of them need a foundation in programming.
To gain the programming skills needed in each role, you can enroll in courses or learn independently. Coding bootcamps are a great way to boost your skillset quickly and efficiently.
Click here for some of our highly rated programming bootcamp options! Make sure to check out the discounts available to PowerToFly members.
READ MORE AND DISCUSS
Show less
Loading...