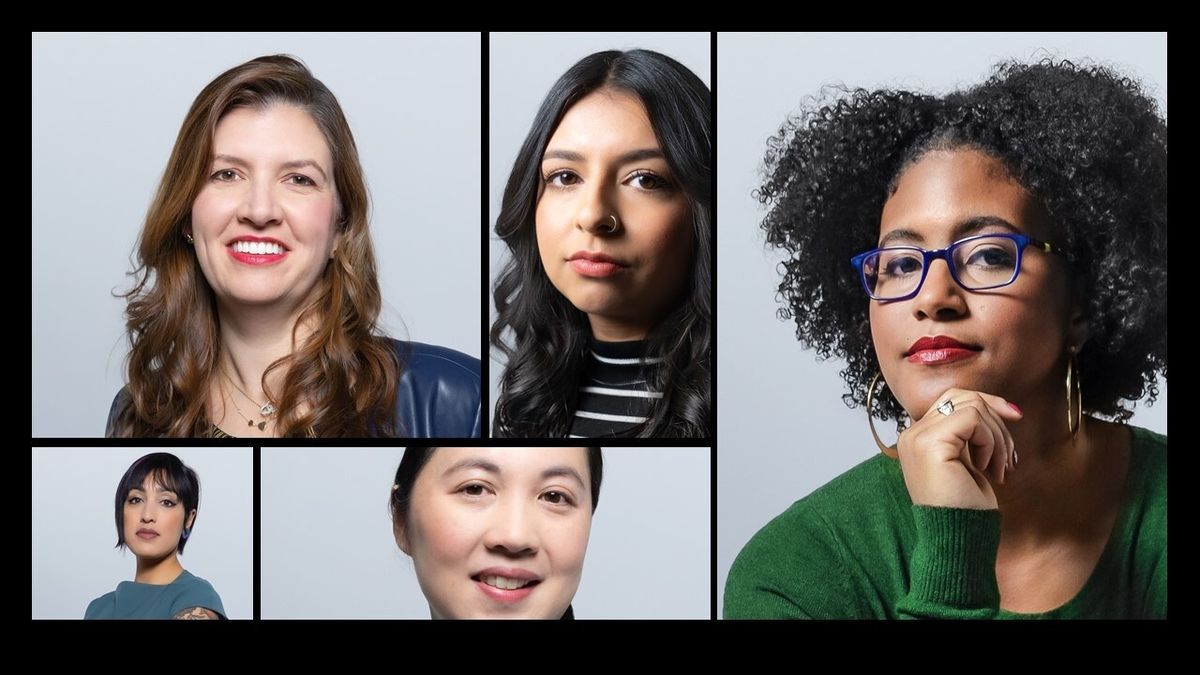 Accenture
Below is an article originally written by PowerToFly Partner Accenture, and published on September 29, 2020. Go to Accenture's page on PowerToFly to see their open positions and learn more.

Accenture is turning the spotlight on our women in tech.
Our new research, in partnership with Girls Who Code, shows that having an inclusive culture is key to retaining and advancing women in tech roles, but many companies do not recognize its importance.
---
Along with taking actionable steps to reset tech culture—expected to double the number of women in tech in the next 10 years—the report reminds us that learning from the voices of our women in tech drives innovation and transformation every day.
Career advice from women in tech
Meet five women at different stages of their technology careers, working in a rapidly growing industry landscape where diverse perspectives are the lifeblood to innovation.
From ethical artificial intelligence and laboratory R&D to platform partnership management, learn how these successful women are driving their career paths forward in new and exciting ways. They share important advice they wish they'd had when starting their journeys.
Jasmin Gogia
Technology Senior Analyst, 3 years in technology
What I do: I specialize in client-facing communication and present demos and stories to clients, engaging them in our team's work. I also help create custom websites and applications for clients, working end to end across platforms to solve unique problems.
Best part of my work: I think outside of the box and create something that was never imagined before.
My advice: Don't be intimidated by the size or the rapid pace of the technology industry—just go for it. Take classes and keep learning; there are hundreds of classes that highlight different parts of the industry. We offer all kinds of unique learning and development opportunities at Accenture.
Remember to believe in yourself. When I started in my career, I was overwhelmed by the many different aspects of technology. The best way to get rid of those fears is to try everything.
Britney Crooks
Blockchain Segment Lead, 11 years in technology
What I do: I lead blockchain partnerships in enterprise technology. My work is all about innovation and problem solving; I get to take all the pieces of information and figure out how they fit together.
Best part of my work: I come to work and every day feels like a blank piece of paper. There's so much room to innovate and create—it's an addictive feeling.
My advice: Trust your instincts. If you think something is right, raise your voice and speak up. At the start of my career, I spent a lot of time second-guessing myself, researching twice before I raised information in a meeting.
Time is important; be known as a thought leader and creator of ideas, not just one who's validating ideas. Believe in yourself—there is so much value you can contribute.
Mary Hamilton
Americas Tech Innovation Lead, 23 years in technology
What I do: I lead our innovation capabilities focused on technology across North America and Latin America. This includes research and development, open innovation and rapid-prototyping capabilities to help identify, shape and scale emerging technology solutions.
Best part of my work: Technology has tremendous potential to be a catalyst for change and hope. Opportunities are growing fast; innovation is being amplified like never before and technology continues to have a significant influence in our lives.
My advice: Have confidence and don't worry too much about what you don't know. Frequently, we get in the trap of thinking, "I can't take that role because I am underqualified," or, "I don't know as much as everybody else." Take a leap into things you are not comfortable with and always be ready to learn—you'll build confidence along the way.
Rumman Chowdhury
Responsible AI Lead, 9 years in technology
What I do: I facilitate the integration of responsible artificial intelligence (AI) into client solutions. I think about the implications of AI and work with people to create solutions, and I see the results of what we've planned and built.
Best part of my work: As a social scientist, I design experiments and interventions that make a difference.
My advice: Pursue what you find interesting. Acquire as many transferrable skills as you can. Learn how to learn—that's most important. Figure out the process of acquiring new information and leverage what you've learned in another field, another industry.
Be brave. If you are stuck in an environment where you don't feel valued, leverage your skills and move somewhere you do.
Teresa Tung
Technology Research & Development Executive, 15 years in technology
What I do: I'm a leader in Accenture Labs, responsible for a global systems and platforms research and development group. Our projects include semantic modeling, edge analytics and robotics.
Best part of my work: Tech is like magic. I'm constantly learning and finding ways to apply technology, then seeing it in action in the world. It's so inspiring to learn all the time.
My advice: Believe in yourself and advocate for yourself. Nobody knows you or values you as much as you do. It took me a long time to figure that out.
Innovation is part of our DNA at Accenture. Read more about the transformational work we do, every day.
Related Articles Around the Web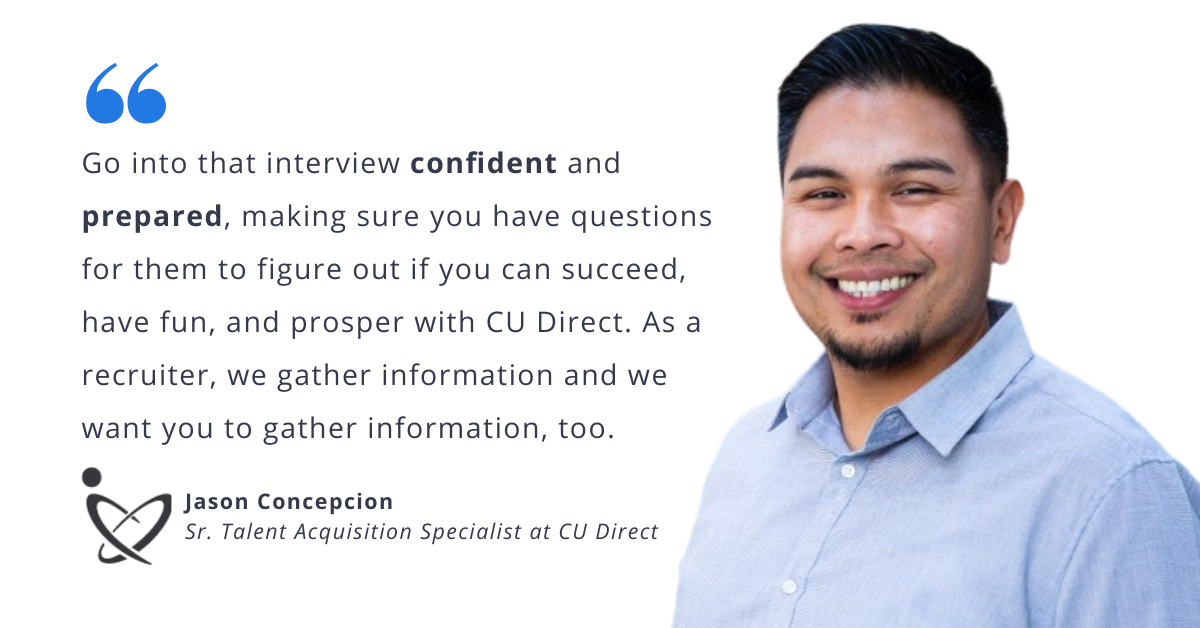 CU Direct
Jason Concepcion is a Sr. Talent Acquisition Specialist at CU Direct, a technology leader that delivers lending solutions to financial institutions, auto dealers, retailers, and medical providers nationwide. As a progressive company that looks for the best diverse talent, CU Direct prides themselves on seeking and taking care of their employees.
We sat down with Jason to learn about CU Direct's hiring process. Keep reading for his top 6 tips to put into practice when interviewing with CU Direct.
Tip # 1 Do Your Research
While it may seem obvious, learning about the company you're interviewing for is crucial. "Before the interview, do some research on CU Direct, our products and services, and even our subsidiary companies," says Jason. Doing the research will show the interviewer that you are highly interested and that "you did your due diligence in getting to know the company." Check out their About page to get to know CU Direct and its various projects.
Tip #2 Ask Questions
It's important to be transparent from the first point of contact with the company, which means asking questions to clarify and gain more information. Jason suggests, "when talking to the recruiter, ask questions. Go into that interview confident and prepared, making sure you have questions for them to figure out if you can succeed, have fun, and prosper with CU Direct. As a recruiter, we gather information and we want you to gather information, too."
Tip #3 Take Your Time
Pace yourself in the interview. Jason explains that "it's okay to pause, regroup, and answer questions. When asked about your experiences, taking your time will allow you to think of the situation, how you solved it, and what was the outcome."
Tip #4 Ask Yourself, 'What Do I Want to Do?'
Take inventory of what you have accomplished or learned in your professional trajectory so far. "We're not just looking for what you've done, but we are also looking for what you can do and what you want to do," says Jason. He believes that "those things are just as important as what you've done in the past. Your drive and determination will show us where you want to go and ideally, that will organically align with the positions we have here at our company."
Tip #5 Understand the Job Description
With your resume in hand, consider what experiences best align with the job description. "Valuable work experience can be found almost anywhere. It can come from your first job or it can come from your most recent job," Jason explains. Whatever small or short experience you have that matches the job description is worth mentioning and explaining, depending on the job you are applying for. Jason explains, "a good understanding of the job description you're going for, and related positions within the company will give you a greater insight as to what we're looking for and what you want to highlight or present in regards to this role."
Tip #6 Don't Be Afraid to Get Personal
One way to stand out in the interview process is to show that you'll be a good values fit, so intentionality throughout, and after, the interview can go a long way. Jason suggests sending a thank you email after the interview. "This will make sure that you stand out in front of thousands of applicants," he says. "Don't make it generic, tailor the message including details mentioned in the interview, this will show the person that you were completely engaged throughout the interview."
CU Direct's personal and careful recruitment process is a reflection of their fun and innovative atmosphere, their value of team members, and commitment to growth. They offer several benefits to their employees, such as a flexible working environment, paid time off, 401k match, college tuition reimbursement, and an exciting company culture. Because of this, they want to make sure people are treated with the same kindness and positivity from the start. As Jason reiterates: "We want to make sure you are prepared and ready for each step of this process, from interviewing, to asking questions, and to possibly onboard in the future," says Jason.
Are you interested to find out more about working at CU Direct? Check out their
openings
here!
READ MORE AND DISCUSS
Show less
Loading...