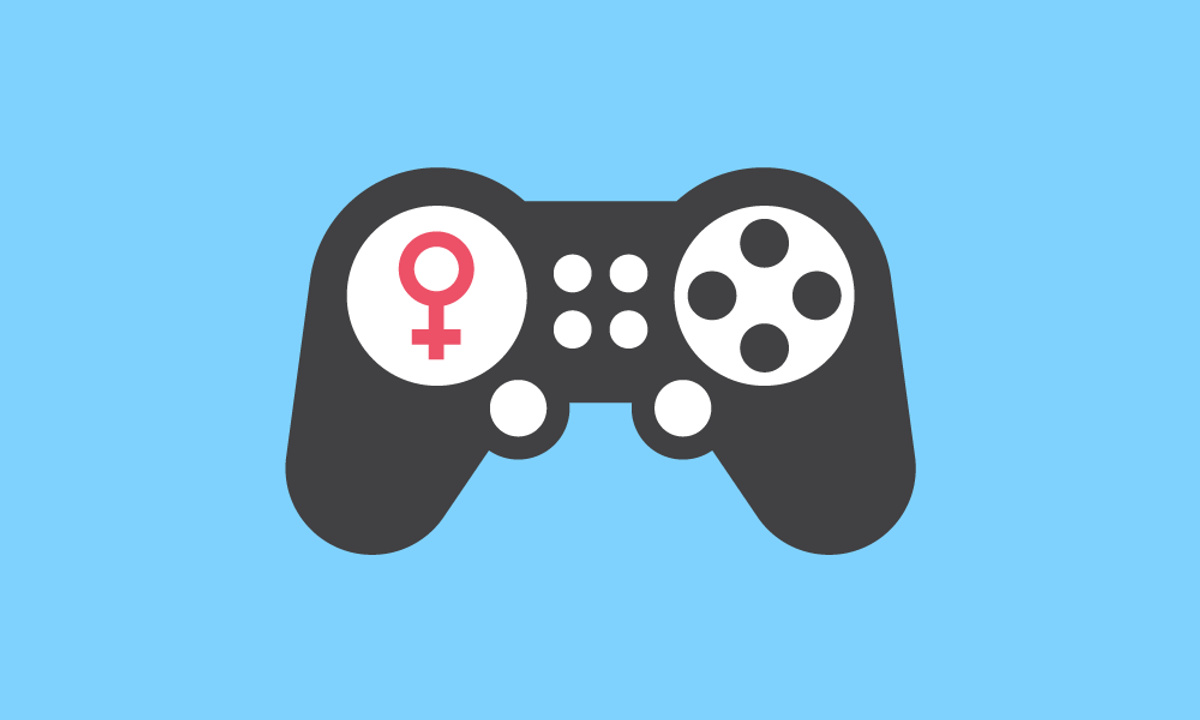 Resources for Women
Whenever I reflect on my experience as one of the relatively few women in the gaming industry, I think of a student I met at a Game Writers' Roundtable the last time I went to the Game Developers Conference (GDC).
---
She was talking about learning to code so that she would become a more well-rounded professional and "not just a writer." I only had one year of game-writing experience, but I was older, already employed in the industry, and significantly chattier than most people there. So, when I got my hands on the mic, I took the chance to reflect briefly on this perception of writers as lesser professionals, and remarked that we should defend ourselves and our craft whenever possible.
Afterwards, the student approached me and thanked me for my words. Maybe she did feel somewhat lesser than, and needed to hear that she wasn't. I kept thinking about this interaction, mainly since I have never heard a programmer saying they weren't a well-rounded professional because they didn't know how to write compelling dialogue. And I felt the asymmetry was unfair.
The perception of programming as superior to game writing and to any other "non-technical" discipline involved in making games is absolutely defined by who does what.
Nowadays, and even with notable women working in the field, programming is seen as something that men do. But this wasn't always the case. Many pioneers of computer science were women and, for decades, the number of women in CS classrooms surpassed the number of men.
So, what happened? Steve Henn at NPR reveals that "The share of women in computer science started falling at roughly the same moment when personal computers started showing up in U.S. homes in significant numbers." It so happens that, in the 80s, the first PC models showed up in the market, and someone decided to sell them as toys for boys, beginning the sexist narrative that got us to where we are today.
And where is that, exactly? Well, I have never worked in a less diverse environment than the one I find myself in as a woman in the gaming industry. And I'm not just talking about gender here.
In the industry, as well as in the games themselves, white, middle-class, straight men are still the default player avatar.
Allow me to illustrate. Just a couple weeks after I started my one of my first jobs in the industry, I was at a meeting with our CEO, and I asked why we couldn't make our game's protagonist a woman. He answered that he didn't have the budget for a new character model, which I reluctantly accepted. Why not a man of color, then? That was surely a cheap change to make to our protagonist model.
He answered like he was doling out a piece of wisdom that I wasn't particularly worthy of: "Do you know who will be playing our game?" He asked, but didn't wait for a reply. "White males 18 to 35. So that's who our protagonist will be."
Not coincidentally, that's who he was, too.
There's a lot of effort being made to diversify the gaming industry; as usual, women of color are doing much of the heavy lifting. Tanya DePass of I Need Diverse Games and Rebecca Palacios of Pixelles are just the first who come to mind. In different ways, both of these amazing organizations lift the voices and experiences of women and other people with marginalized identities, and even get them to GDC through their scholarship programs.
But even if we manage to get more women through the door and into the workplace, there's not much being done to keep us here. I've seen the same pattern repeated in every company I've worked at: the more women the department employs, the lower that department's average salary. At one point, I even started to think the student at GDC was right: if I wanted to be taken seriously--if I wanted to make more money--I should just learn to code. I had simply chosen the wrong career.
I was wrong to think this. As Claire Miller reveals in this amazing New York Times piece, "when women enter fields in greater numbers, pay declines — for the very same jobs that more men were doing before." It's not that we chose the wrong careers, it's that we're playing at a disadvantage. Blaming our lack of financial success on the careers we chose instead of on the society that doesn't value the work of women is simply another flavor of victim blaming that I've chosen not to tolerate anymore.
I'm not actually saying you shouldn't learn to code. By all means, we should all do whatever we feel will empower us the most. But I found that my own empowerment as a woman in the gaming industry comes from doing what I love, doing it well, and doing it proudly.
Related Articles Around the Web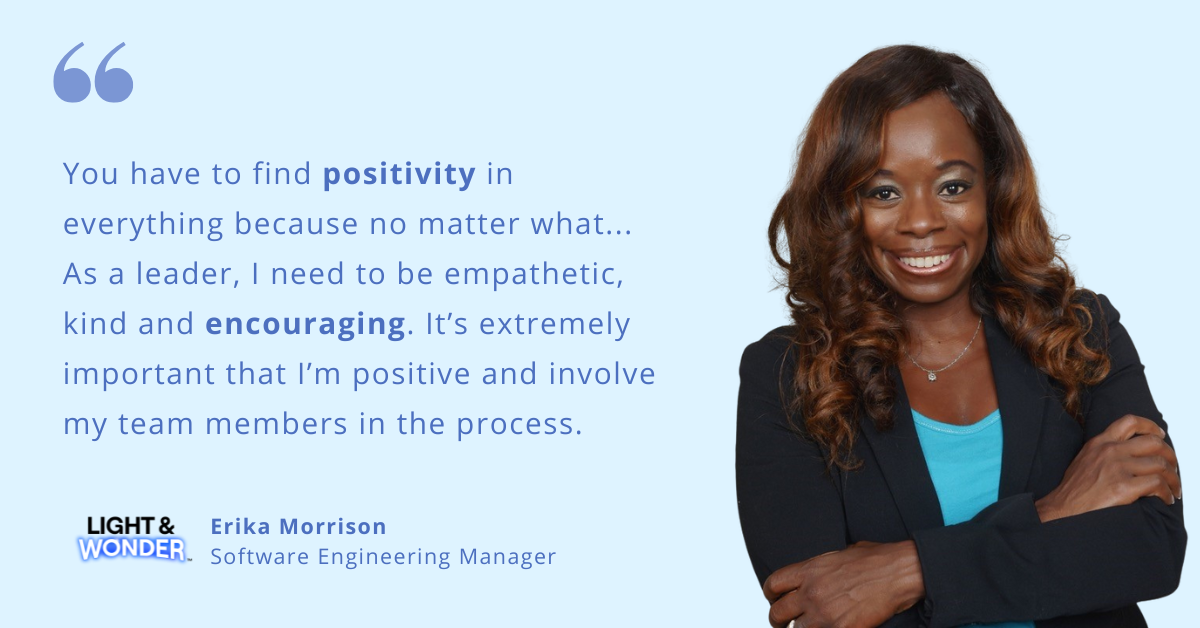 Light & Wonder
Erika Morrison is a naturally passionate and encouraging leader. From leading her family in giving back to their community, to coaching adolescents in track and cheer, to managing her team at Light & Wonder during the pandemic, her experience is rich with lessons to share with up-and-coming leaders.
"I believe in motivation, positivity, inspiring, finding the good in everything, everybody," she says. In addition to 30+ years in the tech field, Erika is a wife, a mother of two, an avid exercise lover, and has even been a small-business owner.
We sat down with Erika to hear about the experiences that have led her to her current role as a Software Engineering Manager at Light & Wonder, as well as three practical ways to lead with purpose.
Seeing Potential in Others
Erika has always been fascinated by the world of technology. Growing up, she loved cassette tapes, DVD players, phones, and whatever other gadgets she could get her hands on. When her dad brought home a PC Junior, it didn't take long before she started programming on it. She designed her own trivia game, using what she learned in her middle school programming classes. "I was typing the questions in and programming the answers. I had a blast writing it and showing it to my family. I remember I wanted to show everyone what I made. That was my first real desire to get into programming."
Erika followed that instinct into college where she majored in Business Administration and minored in Computer Science. The kickstart to her tech career came when she landed a computer operating job while still in school. She comments, "I was originally applying for a secretarial position at this company. But someone looked at my studies and experience and saw potential in me. I didn't think I was ready for that because I was still so young, I was still in school."
Erika went on to work as a programmer analyst and software engineer for multiple major Casino based companies. During this time, she even started and ran a local event-planning business, which fine-tuned her skills in successful customer service.
Then, someone saw potential in Erika again. A former coworker reached out and offered her a leadership position with the company that would become Light & Wonder. Erika took on the role of Software Engineering Manager and says "it's been opportunity after opportunity ever since."
Managing Through the Pandemic
Erika believes that the best way to lead a team is to really get to know its members. "A lot of leading is knowing the people on your team," she explains. "Know what each person needs — What may work for one person may not work for someone else. We have to take a little bit of who they are into consideration when attempting to motivate, to coach, to inspire because we're not all motivated by the same things."
Prior to the pandemic, Erika and her team worked together in the office, which gave her the opportunity to do so. Once the pandemic hit, however, she had to pivot to incorporating virtual meetings to be able to generate that intimacy. She organizes bi-monthly check-ins with her team members where she intentionally asks for their individual preferences on communication and feedback.
"I have one-on-ones with each of my staff every two weeks. We go over the issues that they've had and then any questions or concerns or anything that they want to chat about. Sometimes it's business and sometimes it's personal. But, I feel like taking that extra time out just to have those conversations is extremely important."
She also cohosts weekly remote Friday cocktail hours to cultivate her team's relationships and check in on their mental health. "During the Friday cocktail hours, we would relax, ask some questions, or play some games. And it was nice to have that interaction again and connect with the team. It also allowed me to check in on everyone's mental health and make sure that if there was anything that we could do, we were here."
Inspired to Encourage the Team
Erika is inspired by the example of her past and current mentors and their vision for her professional trajectory. She acknowledges that it was thanks to key people who saw her potential that she has been able to have these experiences. Erika's own personal drive and passion for encouraging and uplifting others have led her to love her leadership position.
As a manager, Erika seeks the highest level of respect and excellence for her customers, while creating an encouraging work environment for her team. "I want to make sure that my team has everything that they need in order to succeed and get their jobs done the way they want to. I want them to have the level of success that they want."
Erika ensures that her team members feel their significant contribution to the company and how they are serving with purpose. "We need to feel like we are part of something significant," she says. "That's my goal as a leader and for my team."
3 Ways to Lead with Purpose:
Drawing from her experiences as a tech leader, business owner, coach, and community volunteer, she gives us three practical ways to lead with purpose in whatever context.
Understand the "why". "It's extremely important to know the why of your company. Once you understand it from the company's perspective, you can communicate it clearly to the team. And once you get that down, you're able to help build a strong path for them to follow so that both "why's" are in alignment. Knowing the why of your individual team members allows you to better manage, assist, and build a relationship with them."
Build consistency. "I think it's very important that we are consistent and don't deviate from the why and the task at hand. Building consistency with others motivates and inspires people to give their best, even when we don't feel like it. When dealing with a change or a huge transition, it's extremely important to stick to the why's, the steps we're taking, and the right attitude."
Remain positive. "You have to find positivity in everything because no matter what, it could always be worse. We can always find the negative things, but there are also always positive things. As a leader, I need to be empathetic, kind, and encouraging no matter what. It's extremely important that I'm positive and involve my team members in the process."
Follow this link for more information about Light & Wonder and their current openings!
READ MORE AND DISCUSS
Show less
Loading...