GET EMAIL UPDATES FROM POWERTOFLY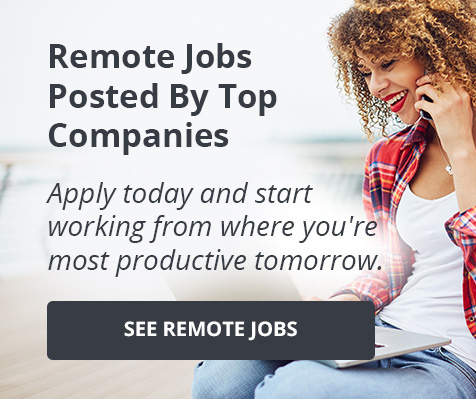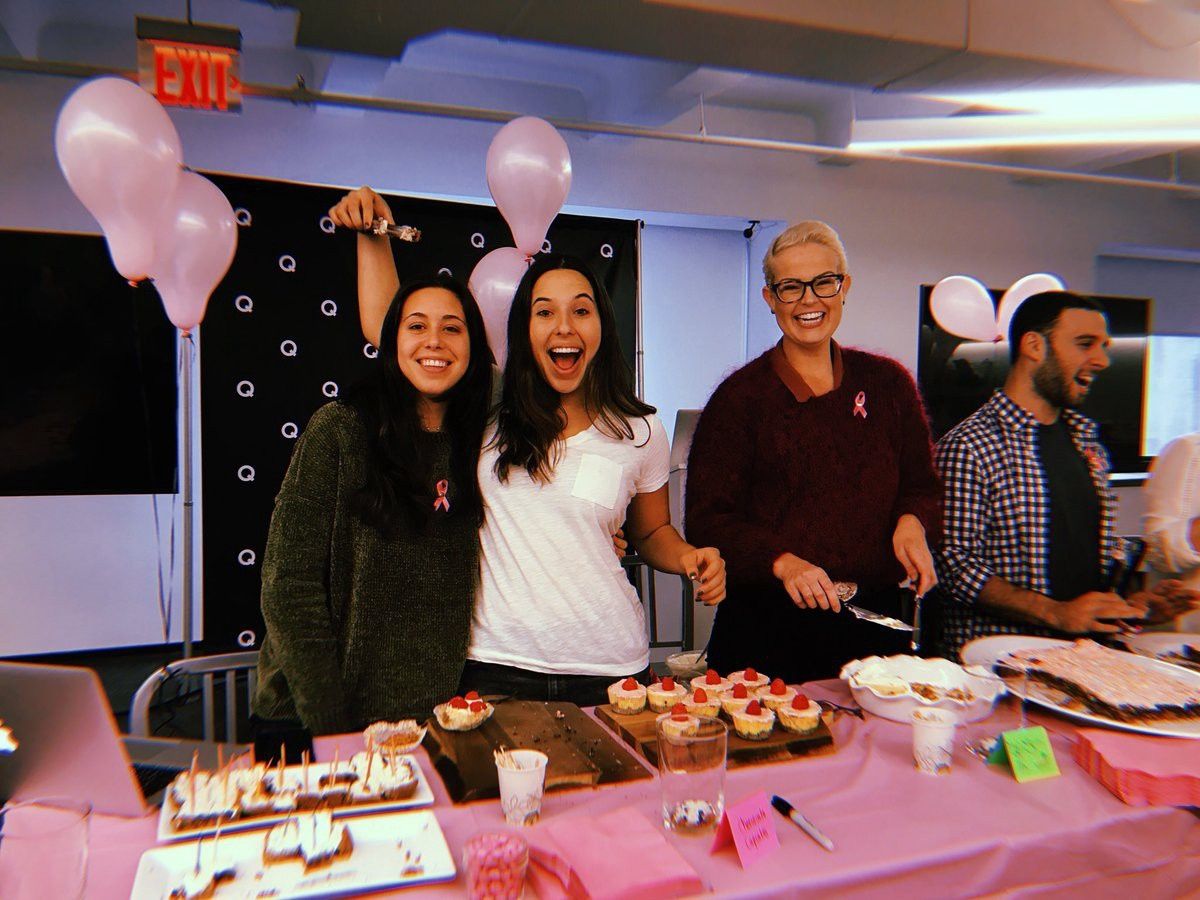 With my co-workers at Managed by Q's 2018 bake-off to raise money for Susan G. Komen
October 26, 2018
Managed By Q Inc
How Managed by Q Saved My Life
Below is an article originally written by Drew McColley at PowerToFly Partner Managed by Q, and published on October 25, 2018. Go to Managed by Q's page on PowerToFly to see their open positions and learn more.
When I started working for Managed by Q in February of 2017, I was quickly swept up in a flurry of activities organized by our People and Culture team. I was thrilled to be part of the company's culture and to get to know my coworkers, so I went to every happy hour and signed up for every extracurricular program. The beginning of my story was not uncommon for a tech startup employee, but Managed by Q's programming would eventually end up having an impact on my life that would go far beyond a fun night out.
I had been with the company about eight months when our People and Culture team organized several events in October for National Breast Cancer Awareness Month, including a bake-off where the proceeds went to Susan G. Komen. I was excited that my pink ribbon sprinkle cookies won the taste test and Q donated to Susan G. Komen in my honor. Following the bake-off, Q invited Lindsay Jean Thomson, breast cancer survivor and Vice contributor, to tell her story. Her harrowing tale made a deep impression on me as she is the same age as me and my many under-30 coworkers. While I felt empathy for Lindsay and felt it was important for me to participate in Q's awareness events, I didn't fully value their weight because I was young and healthy.
However, the information from those events must have subconsciously taken hold. A few weeks later, I did a self-examination and found a golf ball size lump. The radiologist couldn't look me in the face as she went over the mammogram. She kept asking, "how old are you?", shaking her head in disbelief of what she was seeing on her screen. I had stage 3 breast cancer; I was 29 years old.
The following year would consist of me balancing multiple grueling treatments and still going into the office nearly every day. I wore a wig and a smile, and with the exception of my direct team and People and Culture knowing the truth, I was proud I could fight through the work day with very few people knowing that I was sick. This past week, I completed one of the final treatments, and being cancer free is nearly in sight!
I think often about how Q's programming was the motivation that got me to the doctor, and how it ultimately saved my life. The scary part for me to consider is that without Managed by Q's participation in Breast Cancer Awareness Month, it is likely that I wouldn't have found the lump until it was too late.
While the reaction from the radiologist who originally provided the diagnosis might make you think twenty-somethings with cancer are rare, it turns out it's not that uncommon. According to Susan G. Komen, 1 in 8 women will be diagnosed with breast cancer at some point in their lifetime. The Young Survival Coalition states that in the US alone, 70,000 women between ages 15–39 are diagnosed every year. Nearly 40,000 women in the US will die annually from the disease, 1,000 of whom will be under the age of 40. Looking around the office and seeing how many women work here, it's sobering to know that statistically, there will be more women that I work with diagnosed with breast cancer in their lifetime.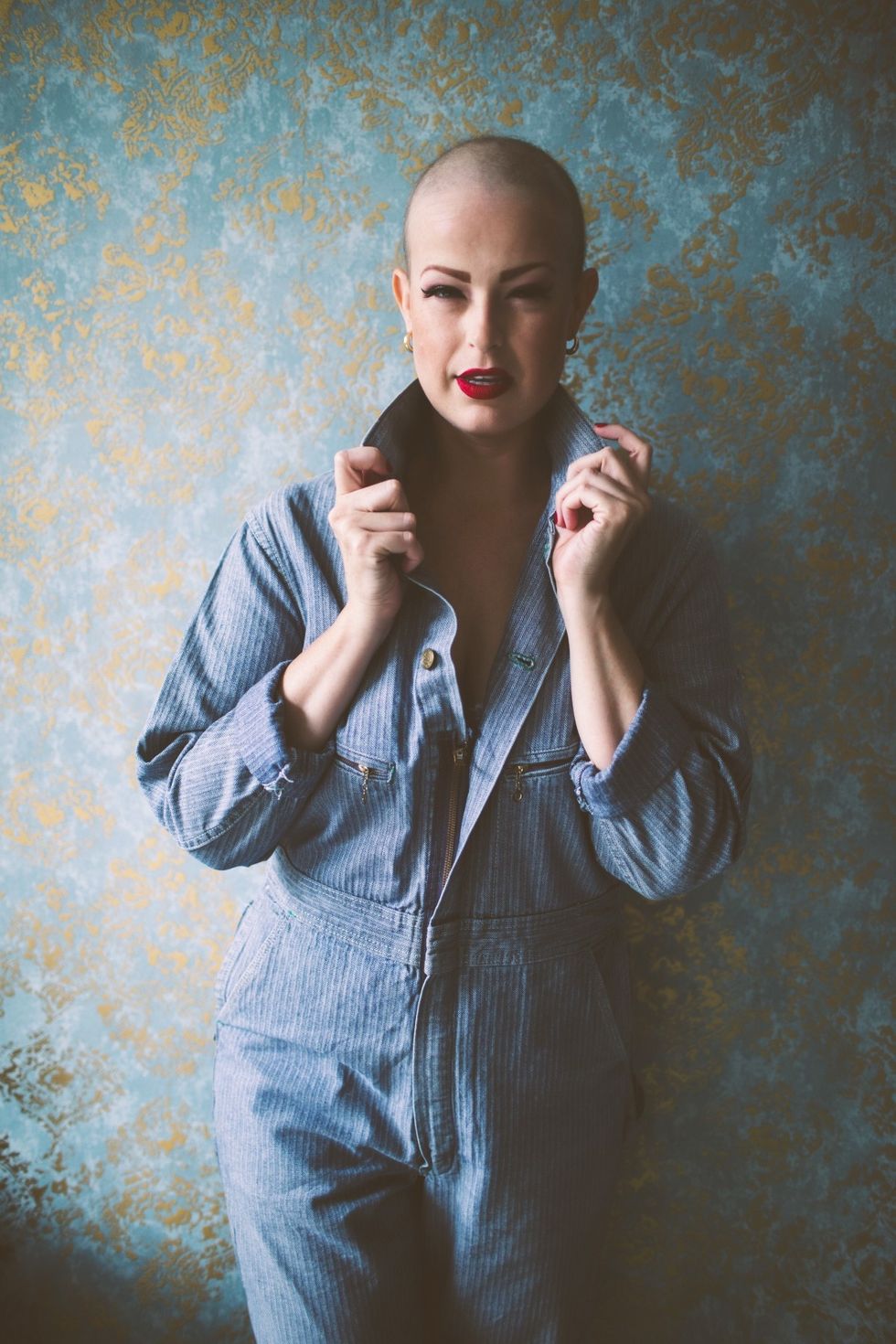 Shortly after I finished chemo, June 2018
The Affordable Care Act requires insurance companies to cover mammograms starting at the age of 40, but most insurance companies don't offer regular screenings for the disease prior to that age because they're not legally required to. Considering that millennials, the eldest of whom are now 37 years old, are soon to make up 75% of the workforce, that means that most women in the workplace are not getting insured coverage for breast cancer screenings. While it is important that individuals know what their own health care plans cover, I do think that companies should step up to the plate as well. In the same way that employer-provided flu shots are now commonplace, so should breast cancer education and screenings.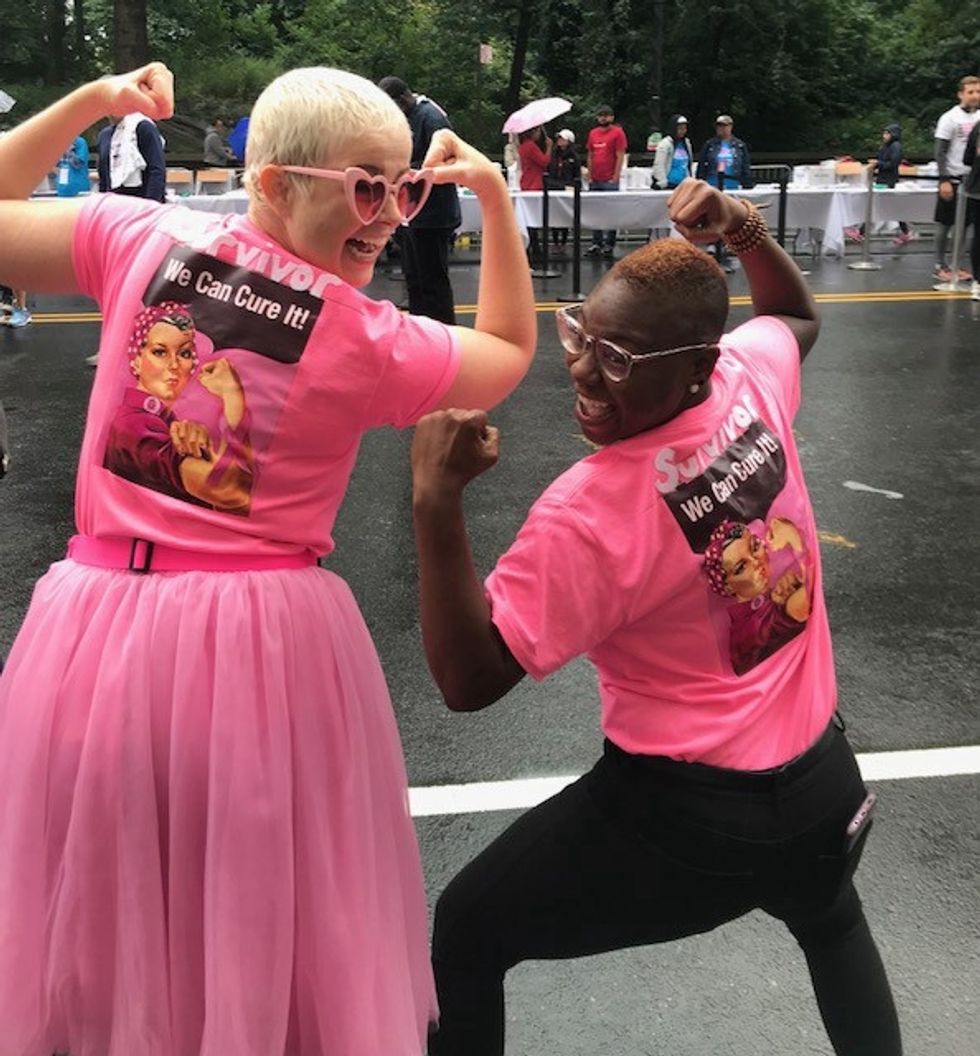 With fellow survivor and Managed by Q alum, Helena, at Susan G. Komen's Race For The Cure September 2018
During this Breast Cancer Awareness Month, there are quite a few impactful activities, beyond wearing pink, that any People and Culture team can do to make sure its team is informed on the subject and, ultimately, stays healthy. These are my top suggestions:
This year, Q continued with the awareness programming, hosting another Susan G. Komen fundraising bake-off where we outdid last year's record. And this week, New York's Susan G. Komen CEO, Linda Tantawi, came to Q to further educate us on early detection.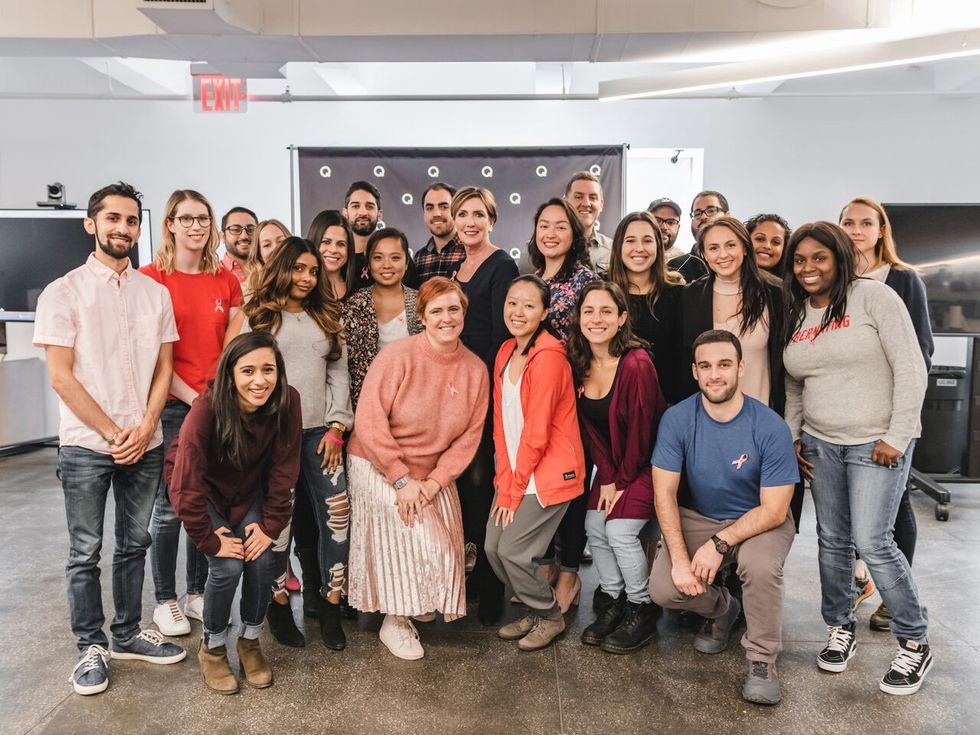 Managed by Q's team with Susan G. Komen NY's CEO, Linda Tantawi
It's been almost a year since my diagnosis. As I have undergone treatment, the team at Managed by Q has been there for me in every way imaginable. I'm grateful that my employer cared for me when I needed them most, and it ultimately has made me an incredibly dedicated employee. I couldn't be more humbled and proud to work for a company that values the health and care of its employees.
During Breast Cancer Awareness Month, and every month, I encourage other companies to take initiative where insurance companies fall short: raise awareness, educate everyone on the facts about breast cancer, and offer screenings. It could ultimately save your co-worker's life.
Unstoppable Domains
💎 Partnerships in remote environments is one of the most important aspects to construct in a company. Watch the video to the end to get good tips on how to do it successfully.
📼Wondering how to create partnerships in remote environments? Play this video to get three top tips that will help you to achieve it. You'll hear from Olga Shvets, HR Business Partner, and Viktoriia Litvinchuk, People Team Operations at Unstoppable Domains, who will explain the essentials of this process.
📼How to build partnerships in remote environments? Tip #1: Communicate Effectively. Communication is the key to enabling your remote team to be successful. Choose the channel that works best. For this, chat with your employees and see what they use to communicate, that's how you find the best solution. Also, make sure your team is on board with your internal tools and they know what, how, and where they need to use them.
📼A requisite for building partnerships in remote environments is Tip #2: Show appreciation. Appreciation is shown through your actions. Let your employees know that you value everything they do for the company. Create a special gratitude channel where everyone can share their appreciation for their colleagues for some contribution. Celebrate some wins, promotions, and everything that is important for the company. If you appreciate the employees, employees do the same for the company.
Create Partnerships In Remote Environments Using Trust - Tip #3: Give Honest Feedback
Use engagement surveys! They are a quick and effective way to receive honest feedback from your team and you can see what's working well and what needs to be improved. Your main priority is to create spaces where managers and employees can share honest, relevant feedback.
📨 Are you interested in joining Unstoppable Domains? They have open positions! To learn more, click here.
Get to Know Olga Shvets
If you are interested in a career at Unstoppable Domains, you can connect with Olga on LinkedIn. Don't forget to mention this video!
More About Unstoppable Domains
Unstoppable Domains is bringing user-controlled identity to 3 billion+ internet users by issuing domain names on the blockchain. These domains allow users to replace cryptocurrency addresses with human-readable names, host decentralized websites, and much more.
By selling these domains direct to consumers for a one-time fee, the company is making a product that will change cryptocurrency and shape the future of the decentralized web by providing users control over their identity and data.
READ MORE AND DISCUSS
Show less
Loading...