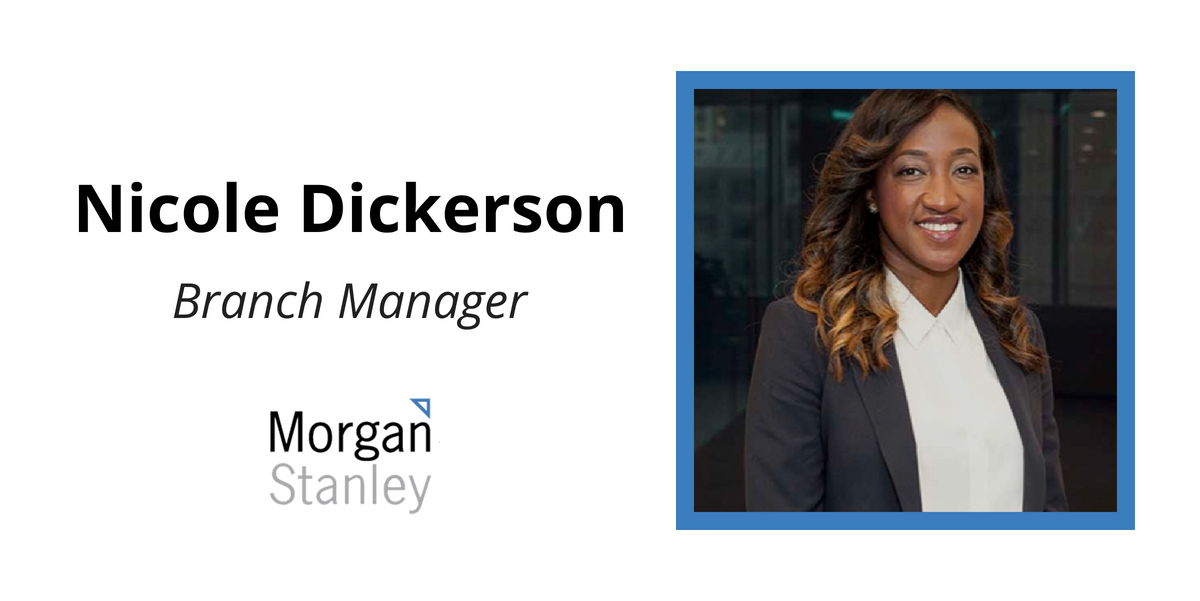 Morgan Stanley Technology
Meet Nicole, A Branch Manager at Morgan Stanley
Below is an article originally written by PowerToFly Partner Morgan Stanley. Go to Morgan Stanley's Page on PowerToFly to see their open positions and learn more.
As a young, black woman Nicole Dickerson knows she doesn't fit the typical image of a branch manager. Through her leadership at Morgan Stanley, Nicole shares how she's breaking stereotypes with her success.
Nicole Dickerson, selected by Morgan Stanley as a MAKERs in 2018, knows that she doesn't fit the typical image of a branch manager, and she's good with that. As a young, black woman heading up a fast-growing branch in one of Morgan Stanley's major markets, she sees herself as the reflection of a shifting corporate culture, both within the firm and throughout the financial services industry.
She is one of 17 outstanding professional women nominated by her peers and selected by Morgan Stanley executives to participate in MAKERS, a national program that identifies and celebrates accomplished professionals from a variety of fields and companies.
"Morgan Stanley is trying to broaden the face of leadership," says Nicole, Branch Manager of the Beverly Hills office. "There's so much predisposition in what we think a leader should look like that it's important to show the world that success can come in a multitude of shades and genders."
Nicole is a case in point. In 2007, she decided to change careers and was considering getting her MBA in finance. She went to a few university open houses to get a feel for their programs and heard a presentation on wealth management that sparked her interest.
At the time, Nicole had two friends working in the industry. One ran a hedge fund, and the other was an advisor with a large wealth management firm. The hedge fund manager told her he made big money by taking big risks. The wealth manager told her that he built his business by working with amazing clients who are now friends. "What I got was 'slow and steady wins the race,'" she says. "And that resonated with me."
So instead of going back to school to pursue her MBA, she took a massive cut in pay and responsibility to become an assistant at a financial services firm. That was in March of 2008, at the depths of the financial crisis. "I took one step backward so that I could take a thousand steps forward," she says.
Leading from the Front
When she became Branch Manager of the Beverly Hills office in 2016, Nicole faced two key challenges. The first was suddenly finding herself responsible for managing her former coworkers. The second was breaking down the silos that many of the branch's top Financial Advisors had built around their businesses.
The key to both was creating a culture of inclusivity and teamwork. "A consistent message of mine is that we are all in this together," she says. "Whatever decision we make, we are all going to have to stand behind it and believe in it."
Under that philosophy, no person or position is more important than any other, and everyone in the office shares responsibility for the branch's success. "With 54 Financial Advisors in this branch, I have realized that true success happens when Financial Advisors view all of their decisions through the lens of a shareholder," she notes.
Nicole has the added complexity of managing Financial Advisors who have been in the business longer than she's been alive. They also had been successfully running their practices on their own and weren't particularly interested in changing how they did things. "People who have been in this business for so long can develop a fixed mindset that their system is the best for themselves and their teams," she says.
With those blinders on, though, even well-entrenched Financial Advisors can miss the opportunities being created in a fast-changing world. So Nicole started chipping away at those silos by rolling up her sleeves to work as hard as they did to meet client needs. "This is one team, one dream," she says. "I'm only going to be as successful as my Financial Advisors are, and because I'm their intermediary within the firm, they are only going to be as successful as I am."
So when a Financial Advisor comes to her with something that requires an assist from corporate, they work together to make it happen. "We approach it with the understanding that we need to own this together," she says. "We craft the message together and then figure out how to get other people in the boat with us."
"It's an easier way to do business, and that's part of the cultural change that I'm trying to create here," she adds.
Built for Growth
The results speak for themselves. The Beverly Hills branch is on track to post strong organic growth this year. "We changed the focus on how to help Financial Advisors be successful," she says. "Our Financial Advisors know that I'm advocating for them and will be shoulder to shoulder with them in terms of closing business and getting things done."
Looking ahead, she wants the rest of the Los Angeles marketplace place to know that the Beverly Hills office of Morgan Stanley is the best place for any Financial Advisor who wants to grow his or her business. She points to the strong support that she and her team have received from management and the deep resources available to help make Financial Advisors successful.
"I want to make sure my Financial Advisors know that when they bring in a prospect they can say, without a doubt, that this is the best firm in Beverly Hills," she says.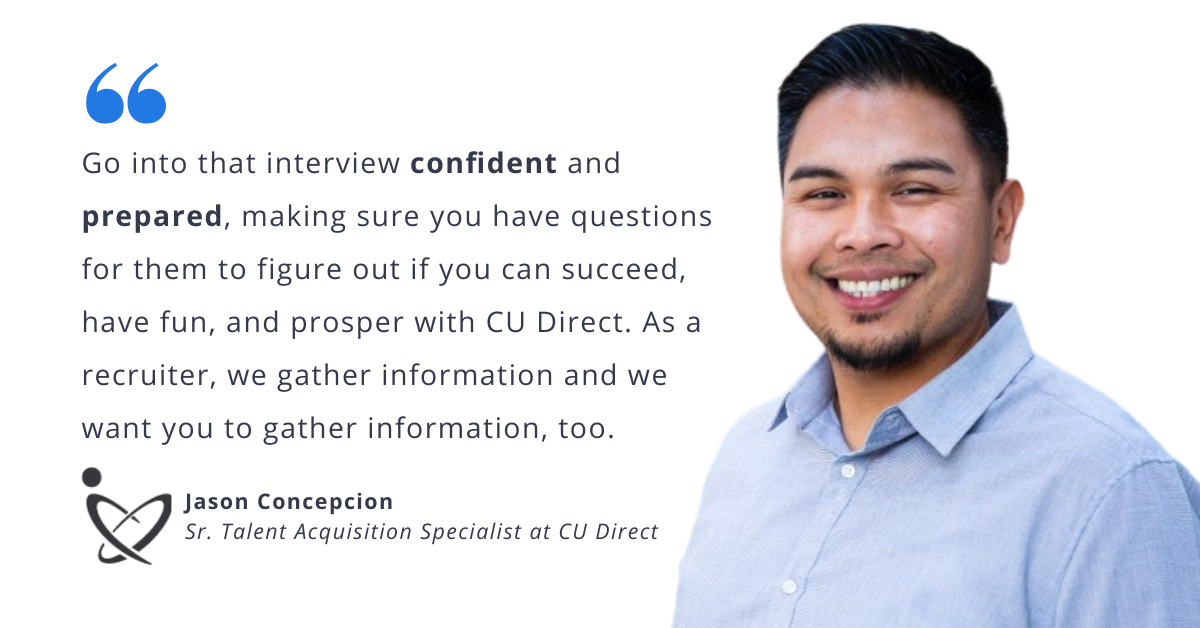 CU Direct
Jason Concepcion is a Sr. Talent Acquisition Specialist at CU Direct, a technology leader that delivers lending solutions to financial institutions, auto dealers, retailers, and medical providers nationwide. As a progressive company that looks for the best diverse talent, CU Direct prides themselves on seeking and taking care of their employees.
We sat down with Jason to learn about CU Direct's hiring process. Keep reading for his top 6 tips to put into practice when interviewing with CU Direct.
Tip # 1 Do Your Research
While it may seem obvious, learning about the company you're interviewing for is crucial. "Before the interview, do some research on CU Direct, our products and services, and even our subsidiary companies," says Jason. Doing the research will show the interviewer that you are highly interested and that "you did your due diligence in getting to know the company." Check out their About page to get to know CU Direct and its various projects.
Tip #2 Ask Questions
It's important to be transparent from the first point of contact with the company, which means asking questions to clarify and gain more information. Jason suggests, "when talking to the recruiter, ask questions. Go into that interview confident and prepared, making sure you have questions for them to figure out if you can succeed, have fun, and prosper with CU Direct. As a recruiter, we gather information and we want you to gather information, too."
Tip #3 Take Your Time
Pace yourself in the interview. Jason explains that "it's okay to pause, regroup, and answer questions. When asked about your experiences, taking your time will allow you to think of the situation, how you solved it, and what was the outcome."
Tip #4 Ask Yourself, 'What Do I Want to Do?'
Take inventory of what you have accomplished or learned in your professional trajectory so far. "We're not just looking for what you've done, but we are also looking for what you can do and what you want to do," says Jason. He believes that "those things are just as important as what you've done in the past. Your drive and determination will show us where you want to go and ideally, that will organically align with the positions we have here at our company."
Tip #5 Understand the Job Description
With your resume in hand, consider what experiences best align with the job description. "Valuable work experience can be found almost anywhere. It can come from your first job or it can come from your most recent job," Jason explains. Whatever small or short experience you have that matches the job description is worth mentioning and explaining, depending on the job you are applying for. Jason explains, "a good understanding of the job description you're going for, and related positions within the company will give you a greater insight as to what we're looking for and what you want to highlight or present in regards to this role."
Tip #6 Don't Be Afraid to Get Personal
One way to stand out in the interview process is to show that you'll be a good values fit, so intentionality throughout, and after, the interview can go a long way. Jason suggests sending a thank you email after the interview. "This will make sure that you stand out in front of thousands of applicants," he says. "Don't make it generic, tailor the message including details mentioned in the interview, this will show the person that you were completely engaged throughout the interview."
CU Direct's personal and careful recruitment process is a reflection of their fun and innovative atmosphere, their value of team members, and commitment to growth. They offer several benefits to their employees, such as a flexible working environment, paid time off, 401k match, college tuition reimbursement, and an exciting company culture. Because of this, they want to make sure people are treated with the same kindness and positivity from the start. As Jason reiterates: "We want to make sure you are prepared and ready for each step of this process, from interviewing, to asking questions, and to possibly onboard in the future," says Jason.
Are you interested to find out more about working at CU Direct? Check out their
openings
here!
READ MORE AND DISCUSS
Show less
Loading...