GET EMAIL UPDATES FROM POWERTOFLY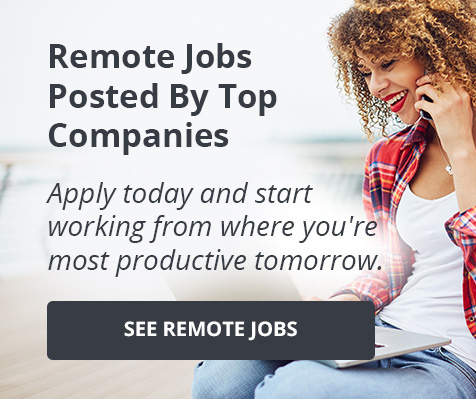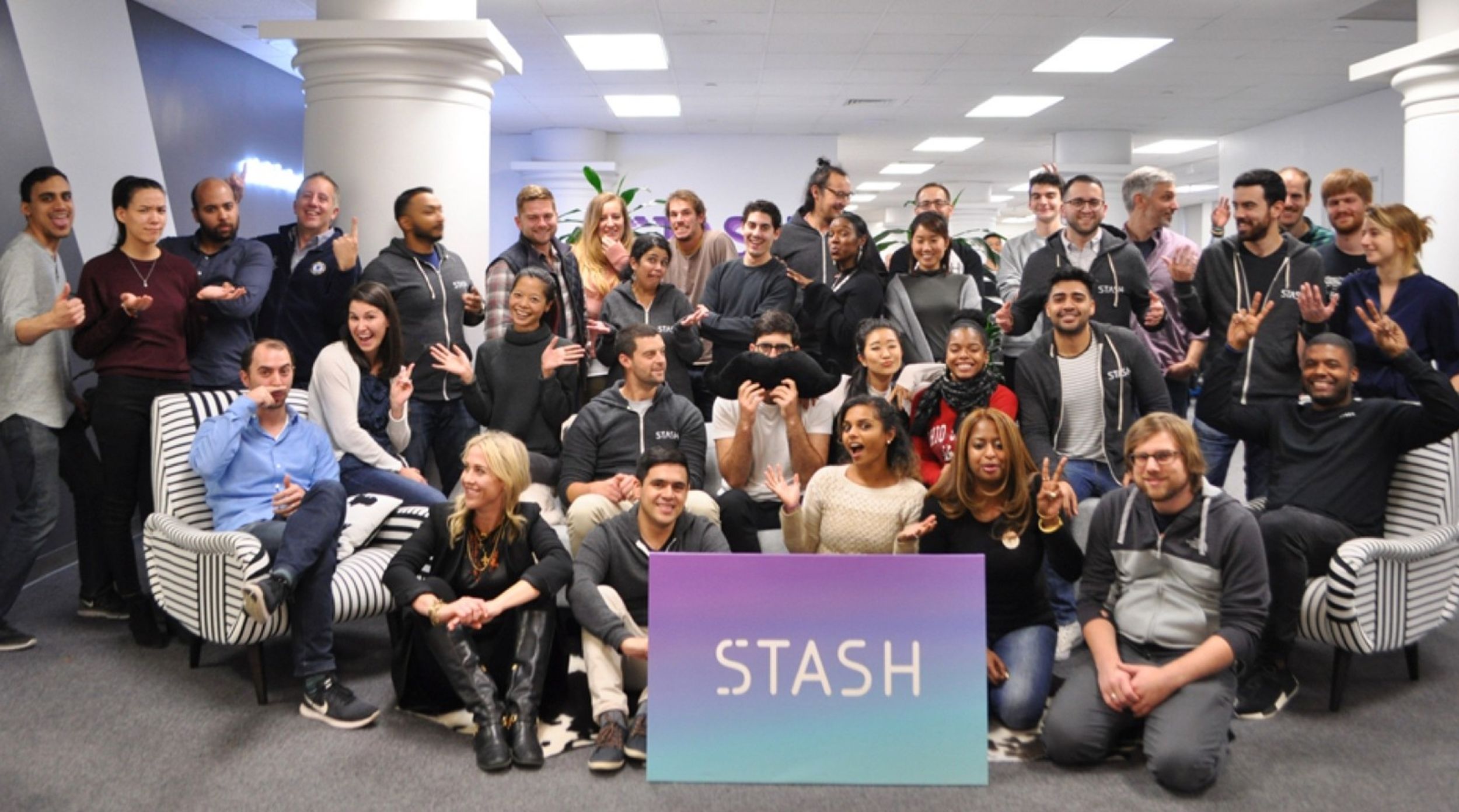 October 17, 2018
Stash
How We Do Product and Marketing Design Critiques at Stash
Below is an article originally written by Brian Beavers and Christina Chang at PowerToFly Partner Stash, and published on July 25, 2018. Go to Stash's page on PowerToFly to see their open positions and learn more.
Stash's employee and customer base have been on a rocket ship with no signs of slowing down. As our design, research, and marketing team have continued to grow at Stash, we realized that we needed a new way of getting eyeballs on our work and getting timely critiques.
Like many product design teams, we use a combination of Sketch + Zeplin for design, feedback, and specs for engineering. But shoehorning feedback into Zeplin seemed like a misuse of the tool to us. We take vacations and sick days. We are often heads down busy with our own tracks of work on our squads. We're in meetings or discussions throughout the building and can miss important threads on Slack or Zeplin. We often lack context behind certain projects, thereby missing the hypothesis and goals behind a particular solution.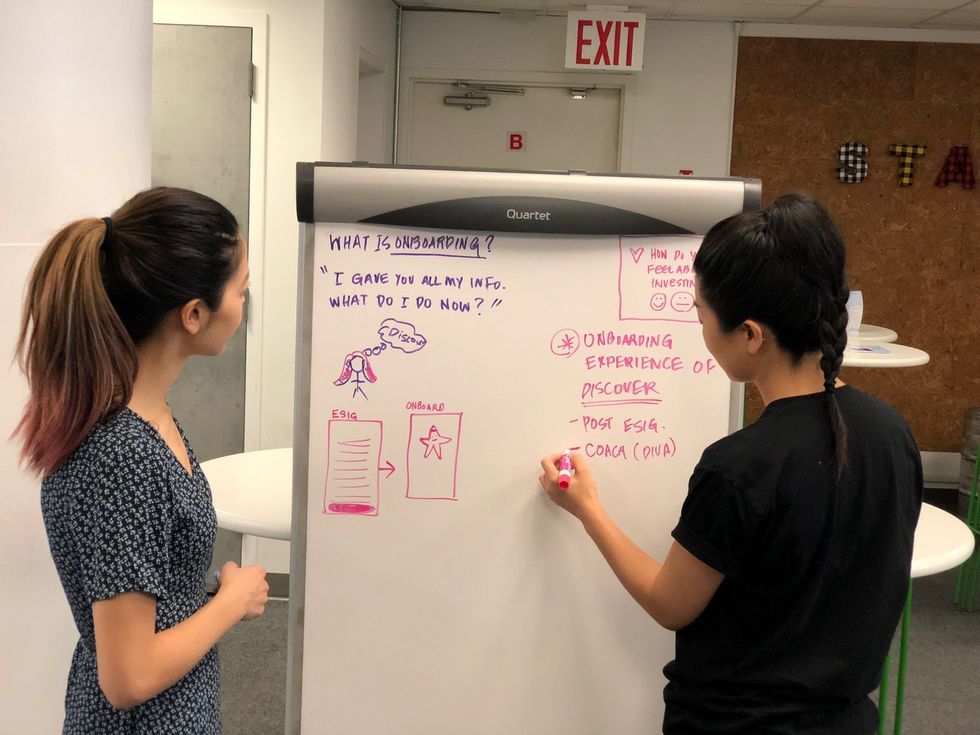 So my first pass at revitalizing how we do design critiques was by setting a standing one hour meeting every Wednesday afternoon (midway through the week to allow for time to prioritize design work and iterate within our squads) with the following mission:
The purpose of this meeting is to have open and timely critique among team members and stakeholders. It is also to foster a more collaborative, human environment where we gather around, look at the work in-progress, and discuss our product solutions with each other in real life. The hope is that this will lighten some of the Zeplin discussions, give everyone a dedicated time to review work, push for more design consistency across squads and leave Zeplin for more engineering-based usage.
And this was the format:
1 hour long, 10–15 minutes each per squad or project (with timer)
Take the first five minutes of critique to walk around the room to look at the work printed
Write notes, questions, or feedback on stickies in relation to the project
To keep the meeting efficient and keep everyone's attention, please take long discussions offline.
No phones or laptops
Stand up and discuss around each other's designs
Attendees: All product managers and product designers from each squad, ux researchers, copywriters, and marketing designers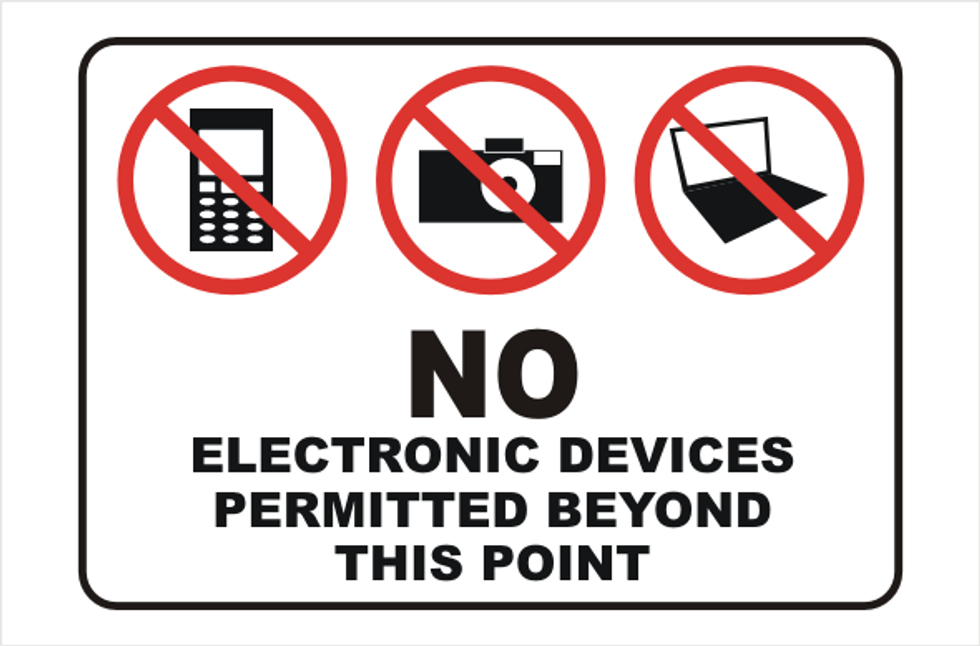 Designer:
Print out your flow or design(s)
Set the stage for the audience. Walk them through the challenge or problem statement, the goals, and the hypothesis.
Tell the audience what type of feedback you're looking for (user flow, interactions, general UI, copy, etc.)
Tell the story. i.e. "The customer will be coming to this page from a button on home. Only customers who have a bank linked will see this."
Tell the audience the goal(s) i.e. "We want to encourage customers to Auto-Stash more than $15/week."
Coordinator + Timekeeper (Another designer or PM):
Focus the audience on the critique, the goals, the hypothesis, and the feedback the designer is looking for.
Please keep everyone's time in mind so that all designers have enough time to present; especially if lengthy or non-relevant discussions come up
Make sure everyone has the opportunity to speak up. Oftentimes you'll find the quiet ones provide the most valuable insights.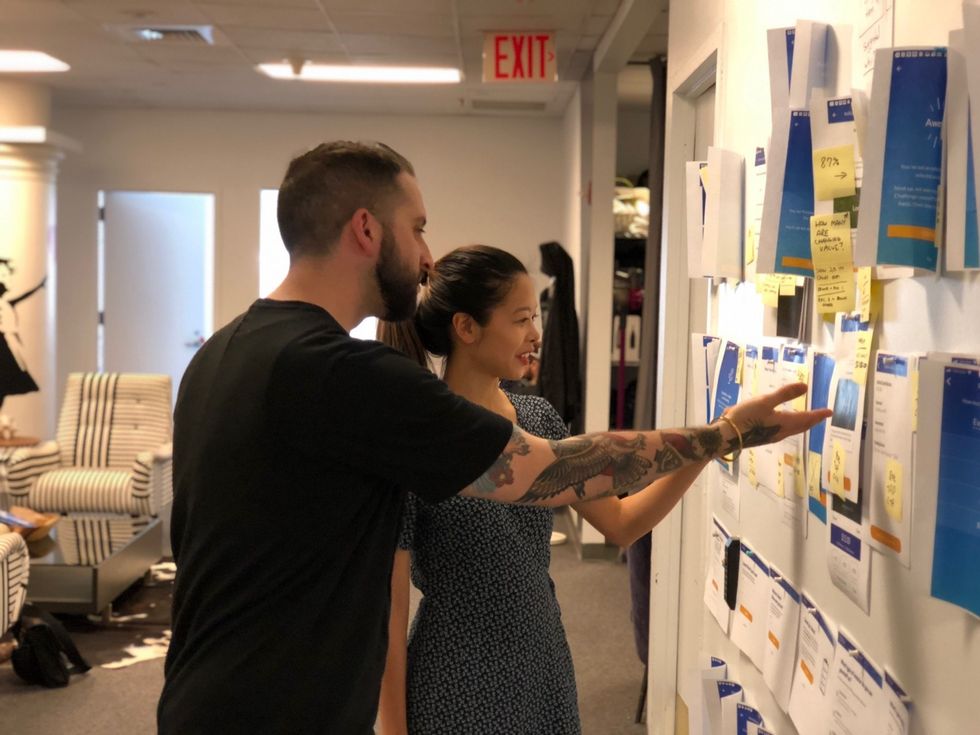 Audience:
Ask clearly defined questions i.e. "What were you trying to achieve with the placement of the icon there next to the headline?"
Be candid and honest. It shouldn't be a compliment sandwich. Feedback should sound like, "Having Stash Cash preselected feels like an efficient way to move the customer through the funnel." or "When you show too many payment options, it gets confusing and overwhelming, especially on mobile".
Tie everything back to the goals and/or hypothesis. It should not be about liking or disliking the design. How is it meeting or missing the business and/or customer goals?
Provide directional suggestions, but avoid problem solving
This product and marketing design critique format worked for awhile. Then we ballooned to 25+ attendees. Having 25+ people stand around an 11x17" print-out of a flow required magnifying glasses. After a few months of print-outs, we pivoted to a structured Google Slides format where the goals, the hypothesis(es), and link to the prototype or Zeplin were presented on a TV.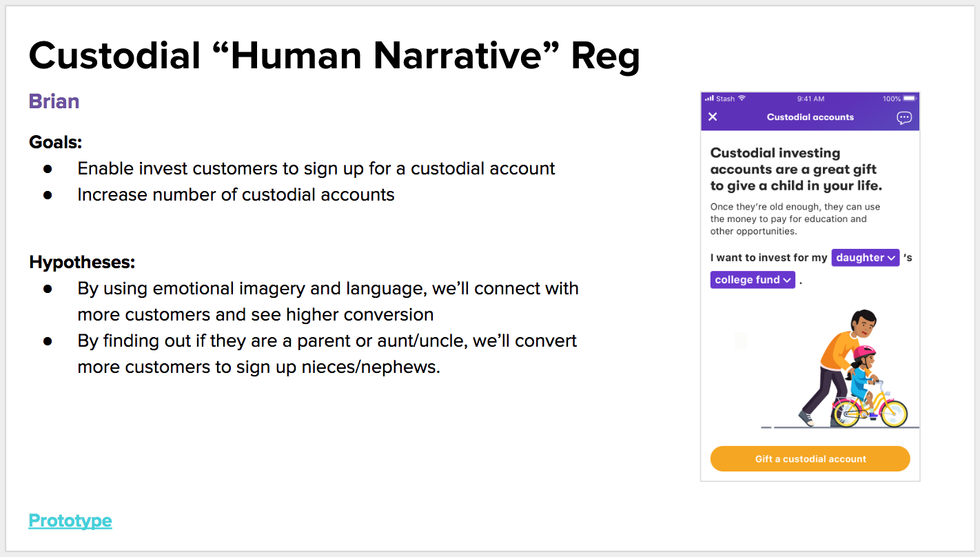 *This image is for illustrative purpose only.
But we started to lose focus. Then attendance started to dwindle as work that was being presented became less relevant for some in the original meeting invite. And then we started to feel like the feedback wasn't quite as timely or as focused as it had been in the earlier iterations with 10–12 people.
So we went back to the drawing board.
Christina Chang (one of our new Product Designers at Stash) had a friend that recommended an intriguing critique format called Tactical Design Critiques. The dramatically different approach convinced us this was worth trying:
Small groups only — for us this meant only involving our small product design team of 6–7
One designer comes prepared with work to get critiqued, throws it up on a projector or large TV. The designer can't say anything to explain their work to the rest of the group.
The rest of the group goes around the table, and one at a time says onepoint of critique or tension. Everyone is discouraged from giving compliments and building compliment sandwiches.
If you don't have a point of critique, you can skip. If you don't understand a person's point of critique, you can ask them to clarify.
Most importantly, you cannot ask the designer any questions and they can't jump in to respond and clarify.
At the end of 25 minutes of critique, the designer can take 5 minutes to summarize and explain how they will take the feedback into their designs.
At first, this format felt like it was potentially limiting since designers are so used to providing context and defending their work. But, we quickly discovered that the designers became silent note-takers scribbling to capture feedback, and thereby less attached to their own work, able to step back and simply listen.
Because it often feels too intense in normal critiques to give so many suggestions, this format created the opportunity for comments on everything from copy to color to user flows to consistency. It's a twist on user testing, except with users that happened to be designers you work with.
We've found it to be a very refreshing way to deep dive into one user flow at a time, and hone in on problem areas without involving egos.
Design critiques, much like design itself, can never truly be "perfected" or "done", in our opinion. Audiences change, timelines change, team dynamics change, team needs or priorities are constantly shifting. As they say, change is the only constant. We're still figuring out what works best for us.
References to design critique formats we used to iterate on ours:
https://medium.com/@suelynyu/a-practical-guide-to-running-effective-design-critiques-c6e8166c9eb0
https://uxdesign.cc/the-why-and-how-of-effective-design-critiques-944313947fe4
https://medium.design/tactical-design-critique-bb74d1a5e350
https://medium.com/@monteiro/13-ways-designers-screw-up-client-presentations-51aaee11e28c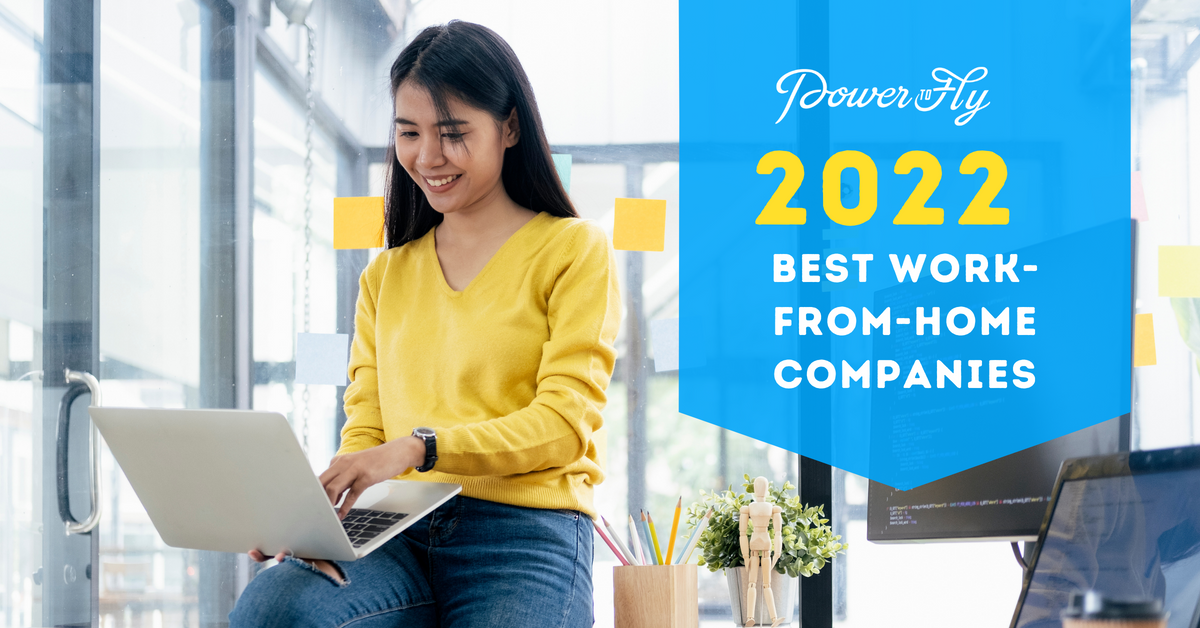 Featured Post
Every year, PowerToFly creates a list of the best work-from-home companies. Now that over half of the U.S. workforce is remote, compiling that list was a bit more challenging.
This year, we prioritized selecting companies that are remote-friendly—meaning they have both remote and in-person roles—but they have made long-term commitments to hiring and supporting employees who choose to work from home; and we think they have the perks, values, and organizational framework to allow all employees to flourish in their careers, regardless of location.
Keep reading to see our top 15 work-from-home companies for 2022, along with a description of what they do, why we like them, and who they're looking for.
PowerToFly's Best Work-From-Home Companies 2022:
Don't see what you're looking for? Check out a fill list of 5,000+ open remote roles here!
READ MORE AND DISCUSS
Show less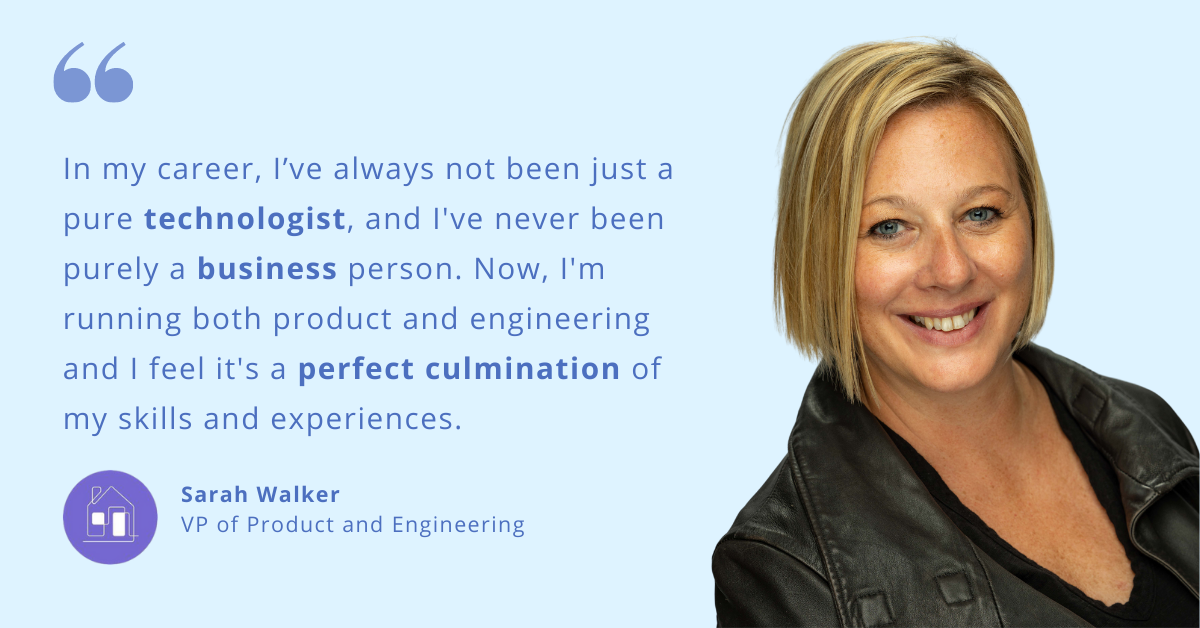 Ribbon
Native New Yorker Sarah Walker loves everything about city life. "I grew up on Long Island and I currently live in Downtown Manhattan," she says. "I'm a New Yorker through and through." But she doesn't mind getting away from the city every once in a while to spend time in nature with her husband and daughter. "We love to boat, we love to ski, we love to hike," Sarah elaborates.
When she's not exploring the bustling city or spending time outdoors, she's leading a team of leaders as the VP of Product and Engineering at real estate technology company Ribbon.
Sarah has grown her career intentionally around social impact. We sat down with her to learn more about her journey from a Programmer to VP, and to hear her advice for other women looking to advance in their tech careers.
A Marriage of Business and Technology
Sarah's initial plan was to pursue a career in finance when she decided to major in business in college. "My first two years really focused on broad, business-oriented classes like marketing, finance, accounting, et cetera," she says. But when she scored a summer internship doing Quality Assurance at her father's employer, something shifted. "I really enjoyed it. I thought, 'I don't love my finance classes, but I really love this.'"
This experience led Sarah to shift her concentration within business to Computer Information Systems. With this new trajectory, she was able to craft a career path where she's gained experience that allowed her to leverage both her business and tech skills. "In my career, I've always not been just a pure technologist, and I've never been purely a business person. Now, I'm running both product and engineering and I feel it's a perfect culmination of my skills and experiences," says Sarah.
Intentional Career Moves
Having graduated at the cusp of the dot-com era, Sarah's been able to see the evolution of the internet and technology industries. "I saw all this activity going online, and it was really exciting," says Sarah. With many businesses aiming to build an online presence, she worked as a programmer for consulting companies and delved in the ad-tech space. "I loved it because of the complexity of the technology and it was really interesting work on an intellectual level," she states. But she wanted to use her skills for something bigger. "Optimizing advertising campaigns doesn't really have the greatest impact on the world."
So, she searched for an industry that would allow her to work toward a cause she aligned with. " I wound up taking my ad tech skills and working at a cybersecurity company focused on ad fraud prevention and detection," she explains. With this new endeavor, she did more than just fight cybercrime, she focused on getting to the root of it. "We worked with the FBI, got servers seized and shut down overnight, and individuals got arrested," reminisces Sarah. "It was this amazing time in my life where I was using technology to stop criminal activity."
Her time in cybersecurity sparked her journey to work for more mission-driven companies. "I like when [my work is] not [just] about increasing the number of customers, but it's focused on solving problems," she says.
This mindset shift led her to the nonprofit world. "I worked at Thorn, a nonprofit that was founded by Ashton Kucher and Demi Moore to identify and build technology that helps rescue children who are victims of child sexual abuse," Sarah explains. "It was really hard work. Probably the most important work I'll ever do in my career."
But the emotional toll and the hardships of the pandemic resulted in burn out. "It was a hard subject and it was just really hard for me to think about enduring for the long run," Sarah admits. So she took some time to contemplate what her next career move would be.
"I thought, 'I can't go back to an ad-tech job or any type of fluff work. I need to do something that has a true mission," Sarah explains. That was when she was approached by Ribbon, which offered her a space to do impactful work within the real estate space. "[At Ribbon,] I could work on a mission of hope versus a mission after something terrible has already happened," she shares.
Fulfilling a Mission at Ribbon
Ribbon is a first-of-its-kind technology company transforming the real estate transaction by delivering certainty, transparency, and joy to the home buying process. "We turn everyday buyers into competitive buyers," Sarah explains. "When you put in an offer on a home backed by Ribbon, you become an all-cash offer to that seller which makes you more competitive."
Adapting to the new space at Ribbon, she quickly learned that homeownership in the United States is a key to intergenerational wealth among other physical and mental health benefits. "What compelled me to go to Ribbon was [the possibility] of helping individuals and families be able to build wealth and to change the rest of their lives," she shares.
Just over a year after joining the company, Sarah accepted a promotion as the Vice President of Product and Engineering and has been developing the team in that role for almost six months. That doesn't mean she doesn't miss some aspects of programming, though. "I love to get into the details, and sometimes, I wish I could spend all day coding," she elaborates. "But I think the reason I've always been drawn to leadership is just the impact I could have."
Now as VP, Sarah is impacting multiple areas from project strategy discussion, people management, and company culture. "I put a heavy emphasis on really making sure my leaders are supported, and helping unblock them from their challenges, giving them coaching, and supporting them as they work through projects," Sarah says.
Advice for women in tech
In the world of tech, everyone's career path looks different, and Sarah reminds us that the possibilities are endless. Whether you're looking to become a highly specialized individual contributor or move toward management, here's her advice for advancing in your career:
1. Build community. "Find your peers. I've gotten the best advice from others, even if they're not in tech," Sarah says. Navigating through challenges is a lot easier when you know someone who is experiencing similar obstacles. Sarah encourages women to tap into their communities when they feel the pressure of being an "only" in certain spaces.
2. Don't let the fear stop your progress. "There's going to be times where you're going to feel like, 'If I take this particular role, I'm going to be an only for a little bit.'" But you must stay strong. "It's worth sticking it out because the rewards are great."
With more women in positions of authority, bigger changes can be made that allow more women to move up the career ladder. "We need more people on the other side of the table," says Sarah. "So, that might mean you have to stick it out, even when faced with adversity."
3. Keep up to date with your technical skills. Technology is constantly changing, so Sarah encourages women to stay on top of it. "Be an expert in an area, but have a good breadth of understanding. If you're a front-end engineer, learn back-end. If you want to accelerate your career, you have to have more under your umbrella."
This is especially important when looking for new professional opportunities. "That's how we assess who we're promoting next; how they have proactively expanded on their skills," Sarah shares.
These skills are also important for those looking to join the team at Ribbon. "On the skill side, we're looking across the board. From designers to engineers, to product managers, we have all those roles open," says Sarah. "We're willing to train on different parts and we're open to helping people expand their skill set. But we do look for at least one area of strength, within the technical dimensions."
But tech isn't everything. She wants passionate and innovative professionals to join her team. "We're looking for mission-driven people," says Sarah. "We want people that are coming here because they're passionate about what we do."
If you're ready to start advancing in your career at a mission-driven company, check out the opening positions at Ribbon by clicking here.
READ MORE AND DISCUSS
Show less
Loading...