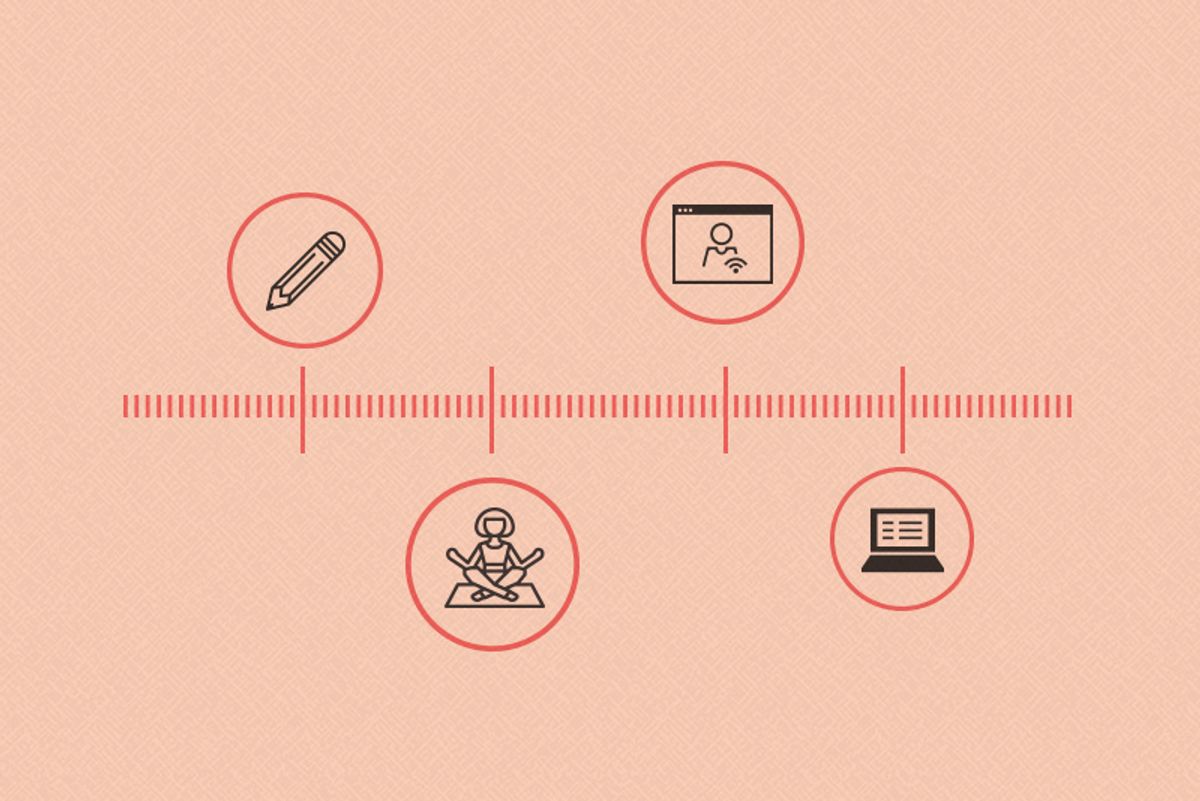 Work-Life Integration
A version of this article previously appeared on Skillcrush, an online education program for creatives, thinkers, and makers that gives total tech newbies the tools to make major career changes.
Haele Wolfe, Skillcrush
I'm a Junior Editor here at Skillcrush—my job is to work with our editorial team to edit this website you're reading at this very moment. When you picture editing, you probably think about someone staring at long blocks of text on a computer and making cuts or even marking up a manuscript with a big red pen. And you're not wrong—a lot of editing does look like that. It can be super low-tech and there are certainly editing jobs that don't require any tech skills. But those are becoming fewer and farther between, and as someone who doesn't come from a tech background, it was clear that my career wasn't moving in any positive direction taking the analog approach. I just knew I wouldn't be able to keep up with the changing media landscape if I were only to rely on my red pen. I never expected this, but if I wanted to keep editing with any type of job security, I'd need to start applying my tech skills—and up skill—to my career as an editor.
When I started at Skillcrush, I had just the basics of HTML under my belt and a solid background in tech skills like video production and sound editing. There was still a learning curve with the amount of skills I needed to gain to be a digital editor, but luckily, picking up things on the fly is kind of my favorite thing, and learning tech skills isn't exactly a huge time investment.
In addition to more job security, moving from media to tech gives me flexibility I couldn't have imagined—especially in the form of remote work. Since I began this position seven months ago, I've logged in everywhere from Ohio, to Chicago, to Dallas, to Martha's Vineyard! A typical day for me is filled with equal parts chatting with coworkers, organizing marketing strategies, adding to my growing tech skills, and of course, a lot of writing! Here's a breakdown of how I spend my time.
7:30 a.m.
On a good day, I like to get up, start the coffee, and prioritize my to-do list before jumping on the computer. I'm currently based in Brooklyn and live with roommates—three human, one feline—who all work outside the home (except aforementioned feline, who is my daily co-worker). Mornings can be quite busy at our place, with people vying for bathroom and kitchen space. I like to avoid the cluster and sip my coffee while plotting out the day or catching up on reading for one of my book clubs. (Right now, I'm very behind in three of the book clubs, but doing okay in one. Making a mental note to carve out some extra reading time this week.) Taking time to assess what I need and want to get done for the day has been critical while adjusting to my position with Skillcrush. I also have a background in the arts, and enjoy having several side projects going in addition to my day job, so its vital that I create at least two—usually three—daily to-do lists to address the separate needs of each facet of my life.
9:00 a.m.
Time to log on! Depending on the day of the week and what projects I'm helping facilitate, I may get on a little earlier to make sure things are running smoothly. Skillcrush was my introduction to many tech tools, but the one that has most dramatically reshaped my thinking is SCRUM.
My day runs on the principles of SCRUM—a project management strategy that began in the software industry and is now widely used to track projects and help keep team members connected. We use a program called JIRA to track our SCRUM progress, which allows us to break projects down into smaller tasks and move them from To Do, to In Progress, to Done. I love this system because—as I mentioned above—I love checklists! SCRUM also bakes in time to check in daily, to have hard and fast deadlines, and to spend time looking back over the last working period (these are called sprints) to see what went well and what needs to change. In fact, I've just finished implementing SCRUM to every facet of my personal, creative, and professional lives and use free online tools to manage my own projects. (Airtable and Trello, I love you.) I've been SCRUM-ing my life for about a month now, and I'm already seeing improved results. So first thing in the morning, I'm likely looking at our JIRA dashboard to see what tasks I need to do today, see if there's anything I need to run by my co-workers, and make a plan for what I hope to move to the Done column by the end of the day.
Oftentimes, the first thing on my agenda is to build posts in our content management system, WordPress. Sometimes I think of WordPress as the coworker with whom I spend the most time. WordPress is a staple for any editor—tech or otherwise—since so many sites run on the platform. Every story that appears on our site has to be formatted and scheduled through WordPress, which requires some HTML know-how. One of my big goals right now is to dive deeper into HTML and to finish learning PHP, the coding language associated with WordPress.
In the last minutes before I start our big meeting bloc, I spend a few minutes every morning checking in on our social media platforms like Twitter, Facebook, and Instagram. This ends up being one the most fulfilling aspects of my day, since the Skillcrush community is so active, funny, and supportive. Getting to celebrate goals with students, check out the work they're posting, and laugh at the latest corgi gif being passed around is a pretty perfect way to start the day.
11:00 a.m.—1:00 p.m.
The Marketing Team works across several time zones, and 11 a.m. is our sweet spot for daily check-ins, planning, weekly reviews, and the hottest gossip about everything from goat yoga to paragliding. We use Google Hangouts to connect with each other, as well as the chat program HipChat to talk throughout the day. Though it was weird only connecting on video at first, I now absolutely love the balance between facetime and digital chatting. Having focused meeting time makes it easier to concentrate on hitting goals, and makes my workday way more efficient—and we use this time for my favorite thing: SCRUM! Every day we have a 15 minute daily check in where we provide updates, resolve blockers, or ask for support, and then we either have a planning session for our next sprint, a presentation of the sprint that's just ended, or a review of how we think the sprint went. There's also one-on-one meetings with my boss or worksessions with other coworkers where we collaborate on projects.
1:00 p.m.—2:00 p.m.
Lunchtime! Stepping away from the computer for a bit helps me to refocus after a block of meetings, so I try to force myself to take this break. It can be tempting to just keep going, but I need the down time so that I can shift into writing or editing—which for me requires more uninterrupted concentration.
Since I have chronic back pain and often have trouble sitting for long periods, I also use my lunch break to do yoga or go to a class at a local studio around the corner from my apartment. I feel super strongly about how the flexibility of remote work helps me to accommodate my physical needs—which change day to day—and have often been difficult to work around at other jobs. Although this daily exercise may seem insignificant, it has radically improved my physical and mental well-being.
3:00 p.m.—5:00 p.m.
The second half of my day is reserved for writing and editing, since it's usually not as meeting-filled as the morning. I start by checking in with the Editorial team about what stories we're working on, what stage my teammates are in, and what we need to plan for in the coming weeks. Then it's knocking out edits, fact checking, telling our writers what changes I need from their articles, marking the stories as done and ready to be built in WordPress the following morning. I also write a fair amount of articles for the site, so that means researching, interviewing experts, and then—of course—the actual writing. My favorite editorial task is interviewing Skillcrushers—both current students and alumni—for articles we run about learning to code, remote life, or their winding career paths. I've picked up so many new tips and tricks just from having to do research for this position, everything from how to timebox my day like a pro, to the smartest ways to gain clients as a freelancer.
6:00 p.m.—10:00 p.m.
After work I like to cook dinner, look at my personal and creative to-do lists, and start knocking some things out before I have to hit the hay. In a perfect world I get to roll into bed around ten, read for a bit, and the turn out the lights. But living in Brooklyn, there always seem to be events, creative meet-ups, dinners, or other fun things to attend, that often keep me out later—what a great problem to have! Depending on what kinds of artistic projects I'm working on that are most pressing, I'll look for events that sound like they'll help me network or will add to my skill set. Often, I'm working on deadline and am stuck drawing or editing right up till bedtime, but the satisfaction of finishing something I love is totally worth the late nights. And, having a packed schedule forces me to be more conscious of my time and more organized at the beginning of every day. So whether I'm logging in from my house or the highway, I know what I need to do and how long it should take me. In another seven months, I'll be moving onto new coding languages, video calling in from even crazier places, and still touting the magic of SCRUM—watch out.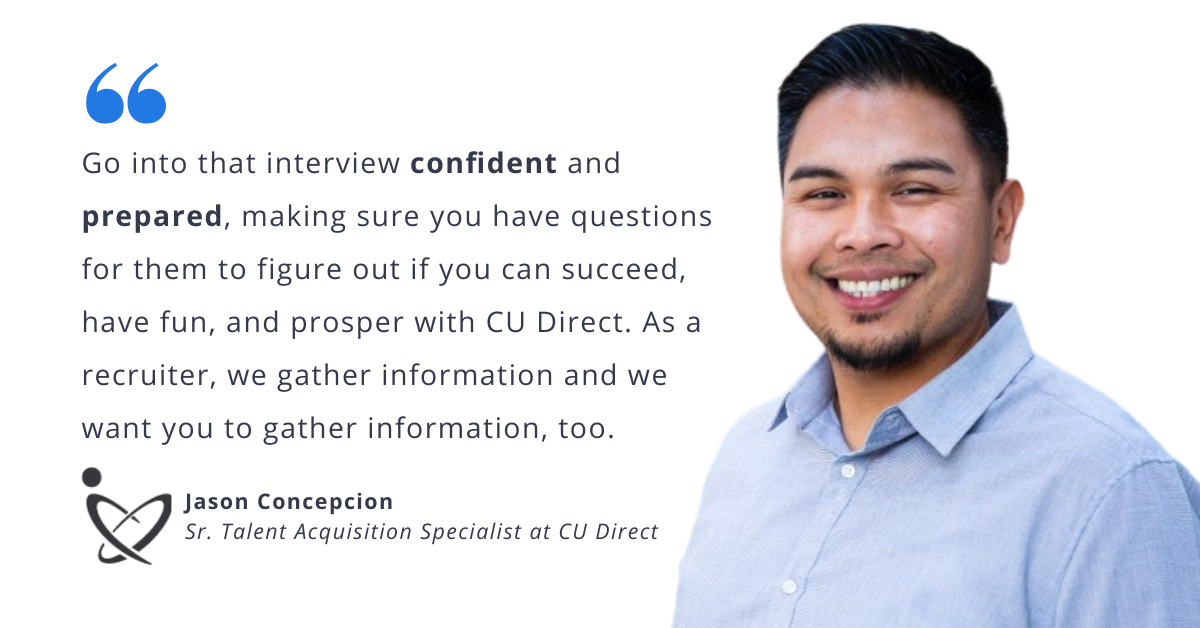 CU Direct
Jason Concepcion is a Sr. Talent Acquisition Specialist at CU Direct, a technology leader that delivers lending solutions to financial institutions, auto dealers, retailers, and medical providers nationwide. As a progressive company that looks for the best diverse talent, CU Direct prides themselves on seeking and taking care of their employees.
We sat down with Jason to learn about CU Direct's hiring process. Keep reading for his top 6 tips to put into practice when interviewing with CU Direct.
Tip # 1 Do Your Research
While it may seem obvious, learning about the company you're interviewing for is crucial. "Before the interview, do some research on CU Direct, our products and services, and even our subsidiary companies," says Jason. Doing the research will show the interviewer that you are highly interested and that "you did your due diligence in getting to know the company." Check out their About page to get to know CU Direct and its various projects.
Tip #2 Ask Questions
It's important to be transparent from the first point of contact with the company, which means asking questions to clarify and gain more information. Jason suggests, "when talking to the recruiter, ask questions. Go into that interview confident and prepared, making sure you have questions for them to figure out if you can succeed, have fun, and prosper with CU Direct. As a recruiter, we gather information and we want you to gather information, too."
Tip #3 Take Your Time
Pace yourself in the interview. Jason explains that "it's okay to pause, regroup, and answer questions. When asked about your experiences, taking your time will allow you to think of the situation, how you solved it, and what was the outcome."
Tip #4 Ask Yourself, 'What Do I Want to Do?'
Take inventory of what you have accomplished or learned in your professional trajectory so far. "We're not just looking for what you've done, but we are also looking for what you can do and what you want to do," says Jason. He believes that "those things are just as important as what you've done in the past. Your drive and determination will show us where you want to go and ideally, that will organically align with the positions we have here at our company."
Tip #5 Understand the Job Description
With your resume in hand, consider what experiences best align with the job description. "Valuable work experience can be found almost anywhere. It can come from your first job or it can come from your most recent job," Jason explains. Whatever small or short experience you have that matches the job description is worth mentioning and explaining, depending on the job you are applying for. Jason explains, "a good understanding of the job description you're going for, and related positions within the company will give you a greater insight as to what we're looking for and what you want to highlight or present in regards to this role."
Tip #6 Don't Be Afraid to Get Personal
One way to stand out in the interview process is to show that you'll be a good values fit, so intentionality throughout, and after, the interview can go a long way. Jason suggests sending a thank you email after the interview. "This will make sure that you stand out in front of thousands of applicants," he says. "Don't make it generic, tailor the message including details mentioned in the interview, this will show the person that you were completely engaged throughout the interview."
CU Direct's personal and careful recruitment process is a reflection of their fun and innovative atmosphere, their value of team members, and commitment to growth. They offer several benefits to their employees, such as a flexible working environment, paid time off, 401k match, college tuition reimbursement, and an exciting company culture. Because of this, they want to make sure people are treated with the same kindness and positivity from the start. As Jason reiterates: "We want to make sure you are prepared and ready for each step of this process, from interviewing, to asking questions, and to possibly onboard in the future," says Jason.
Are you interested to find out more about working at CU Direct? Check out their
openings
here!
READ MORE AND DISCUSS
Show less
Loading...