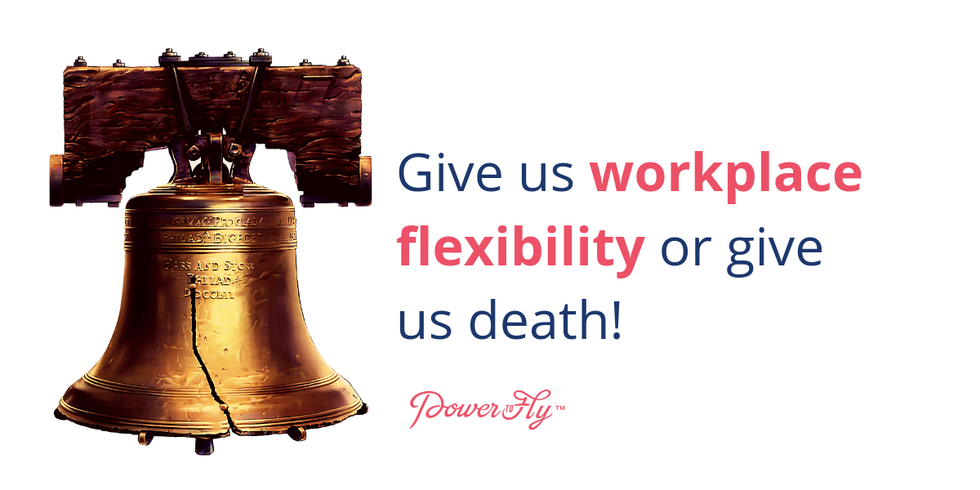 popular
In my experience, one of the worst parts of starting a new job is not being sure at what point you can ask your boss for flexibility. How hard and for how long do you have to work before they'll trust you if you ask to leave an hour early to go to a doctor's appointment, or to shift your hours so they're better aligned with drop off time at your child's daycare?
---
As a young management trainee during my first year out of college, I fielded lots of these questions from my new employees. "Can I switch my hours tomorrow so I can make it to my daughter's soccer game?" "Can I leave 15 minutes early each day so I can pick my kids up on time?"
They were always asked hesitantly, as if merely asking for some leeway might suggest they weren't a good employee. Initially, I didn't know how to answer these questions - surely I couldn't say yes to each request. What if other employees who hadn't asked thought these kinds of arrangements were unfair? So I sat down with my boss to ask what to do, and he gave me some of the best advice I ever got: "We're people first, employees second."
If you don't help your employees feel satisfied in their personal lives, they might show up to work on time, but they won't really show up. Better to have a parent leave 15 minutes early, happy they'll be on time to pick up their child, than keep them until the end of work hours and make them stressed and frustrated each day, worried they won't arrive on time.
And the research backs this up:
A 2005 study conducted by Corporate Voices found that 95% of employees working in an environment where the manager is sensitive to work and personal life (including informal flexibility) felt motivated to exceed expectations, compared to 80% of employees in environments where the manager wasn't sensitive to needs for informal flexibility.
The same study found that at Bristol-Myers Squibb, 71% of employees thought informal flexibility was 'very important.' For women, it mattered even more -- 78% of women said it was 'very important' to their staying with the company, compared to 65% of men.
What I was doing with my employees would be considered informal flexibility - making arrangements on a case-by-case basis, because the company cared about its employees, but had no official policy regarding flexible work schedules. And clearly, this informal flexibility is important and creates positive outcomes for businesses.
However, a lack of policy and/or transparency about the fact that the company values and offers flexibility is often what creates confusion and anxiety when someone begins a new job. Companies that speak openly about flexible work arrangements can see even more benefits: A Cisco study found that 64% of employees would opt for a lower paying job if they could work away from the office. (If you need more data to persuade your company to implement workplace flexibility, check out the business case Deloitte lays out here.)
And if your current company is a lost cause, check out these 8 companies hiring now in the Philly area that are leading the way with workplace flexibility - a new declaration of independence, if you will, that will help revolutionize the American workplace.
Companies Leading the Way with Workplace Flexibility:
Pax8
💎 How to build trust in your team? Watch the video to the end to find out!
📼 How should you work to build trust in your team? Play this video to get three top tips that will help you. You'll hear from Veronica Setzke, Senior Director of People Ops at Pax8, who shares tips and tricks she learned through years of coaching.
📼 How to build trust with peers in your team? Tip #1: Relationships. There's no better way to start forming relationships than having regular one-on-ones. It doesn't have to just be with your supervisor. It can be with your coworkers. It can be with those people that you collaborate regularly with. And it's really important in these one-on-ones that we're spending time listening. Take the time to be present and listen. Also, spend time together not working. Have lunch together. Go for coffee. Take a five-minute walk around the building and just have a conversation. Relations are a key element to trust!
📼 How to build trust? Open yourself in your team Tip #2: Vulnerability. Allow yourself to be vulnerable. Ask for feedback, whether it's feedback about a project, a process, or even maybe a leadership behavior that you're trying to master. This allows those on your team and those around you to see you as willing to be vulnerable. Trust and vulnerability go hand in hand. It doesn't mean that you're weak, but rather that you're open. It allows your team to understand that it's a safe place for them to also be vulnerable.
How To Share To Build Trust In Your Team - Tip #3: Clear Is Kind
Keep the team informed and say as much as you can about what you know. There are times that we hold information that could be shared. We could share that information that impacts others' work and have them have the opportunity to use that to do better. If you've learned something that could help your colleague make a better decision, share that! Try to ensure that your communication with others is clear. When you make the effort to be clear about your intentions, your work, and your roadblocks, it opens others up to do the same.
📨 Are you interested in joining Pax8? They have open positions! To learn more, click here.
Get to Know Veronica Setzke
She works as a People professional because she sincerely believes that people want to be excellent, and it is her role to help move the obstacles to their achieving success. She believes the employees deserve a culture that values their work and will respond to such a culture by creating amazing results. If you are interested in a career at Pax8, you can connect with Veronica on LinkedIn. Don't forget to mention this video!
More About Pax8
The company simplifies the way organizations buy, sell, and manage cloud solutions, empowering its partners to achieve more with cloud technology. At Pax8, they know that they are only as great as their people. They realize that every individual has unique personal and professional aspirations, which is why they strive to offer a complete and competitive Total Rewards offering for their members and family.
READ MORE AND DISCUSS
Show less
Loading...