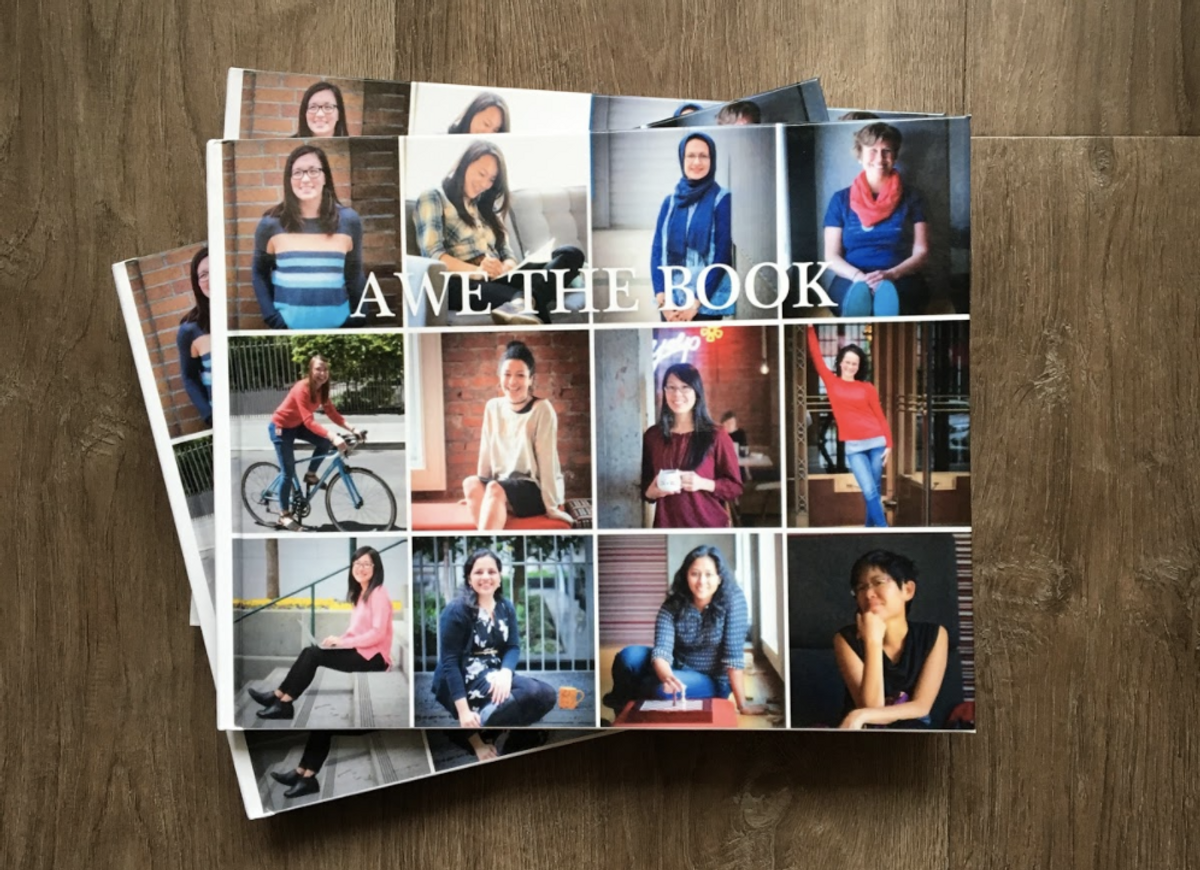 Yelp Inc.
Below is an article originally written by Grace Jiras, University Recruiting Manager at PowerToFly Partner Yelp, and published on February 14, 2018. Go to Yelp's page on PowerToFly to see their open positions and learn more.
As a recruiter, I talk to a lot of people about what it's like to work at Yelp. Most often, I find myself answering questions about the work environment and individual growth opportunities. During my four and a half years at Yelp, I would summarize the people here as very sharp and intelligent, while also humble and open minded. This spirit has fostered an environment that encourages individuals to learn by trying things for themselves (new hires get to push code out their first week!) and empowers them to ask questions.
This collaborative work culture invites tremendous opportunity and gives employees the power to participate in the projects they are most passionate about, whether it's specifically related to work, technology, community or otherwise. This attitude is core to Yelp's values and allows employees from every walk of life and every skill set find opportunity and growth.
In an effort to foster community and build relationships across the organization, Yelp has a number of Employee Resource Groups. One of the groups that I'm actively involved with is Awesome Women in Engineering (AWE). AWE is focused on building a strong community for women in engineering and their allies by facilitating professional career building activities, networking, leadership, and mentorship. Over the years, I've had the privilege of learning more about this groups' experience working in the tech industry as well as their experiences here at Yelp. As I heard more stories, I felt inspired to collect and share them with others outside of Yelp. Thus began the start of our hackathon project: AWE the Book.
As with any hackathon, the idea of creating a book was pitched to a group of engineers and those interested joined to help turn this idea into a final product! Our team came together to craft compelling interview questions ranging from childhood aspirations, what they love about Yelp, and helpful advice they wish they had received earlier in their career. We had over 60 women in Engineering and Product volunteer to participate! Along with the interviews we had (very talented) Yelpers take portraits of each individual. After Hackathon we had even more volunteers, men and women, across the entire engineering organization help transpose, type, and edit the interviews. It was so much fun seeing everyone work together to make the book come together. The finished product was incredible to read - over 120 pages of stories, experiences, and advice shared by women professionals in tech.
Here are some of my favorites!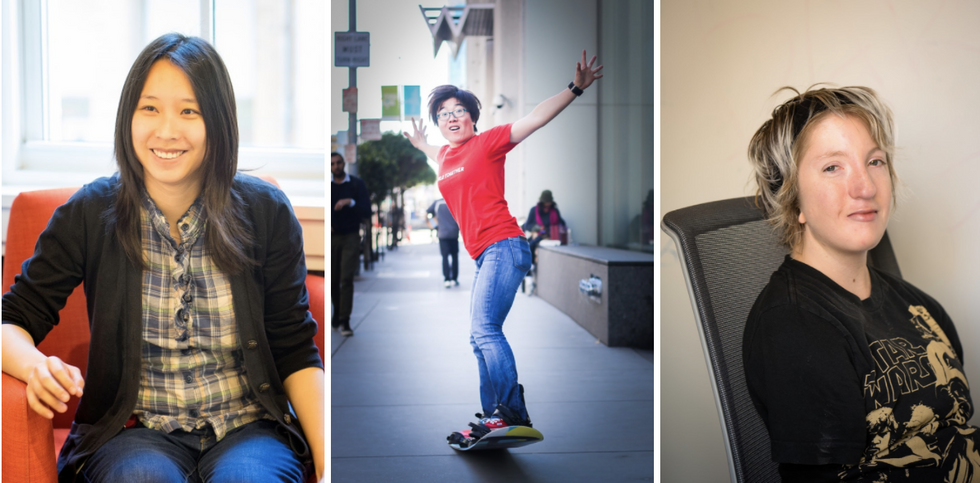 Pictured above from left to right: Yue Wu, Product Manager; Ya-Lin Huang, Software Engineer; Marianne Gosciniak, Software Engineer
How did you get into tech?
I've always been interested in tech, a lot of my favorite products are tech products. I used to be in consulting and data, working on heavy data driven roles. Then I went to business school to try to find a career change outside of consulting. I found a lot of good opportunities in tech. This is an area I'm very passionate about. I had my favorite products as a consumer and Yelp was right on the top. Being able to work on one of my favorite products ever is awesome!
Yue Wu, Product Manager
What did you want to be when you were a kid?
When I was a child, my parents wanted me to become a teacher because they thought it would be a stable job. It's a very regular job from 8-4 and you deal with kids - what possible trouble could kids get into?! At that time, though, I didn't think too much about being a teacher. I played a lot of video games, a lot of Super Mario, so I wanted to be either the character Super Mario, or someone who creates Super Mario.
Ya-Lin Huang, Software Engineer
What is the most exciting thing you have worked on at Yelp?
I really loved my internship project. I added addresses and street suggestions to the location suggest service. When I was presenting during the intern project presentations, a lot of people said they were wondering why we never had this. It was really exciting to help make a feature that a lot of people had been wanting and then later got to use.
Marianne Gosciniak, Software Engineer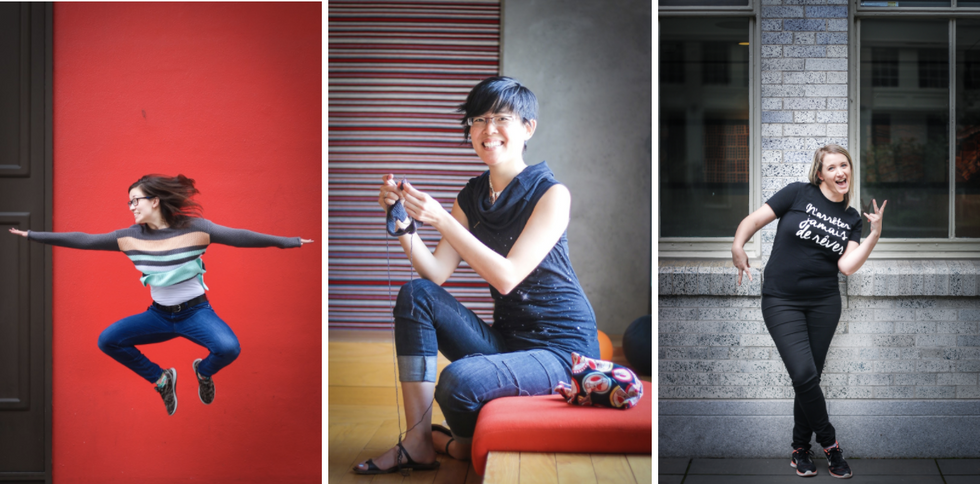 Pictured above from left to right: Alex Phillips, Engineering Manager; Jen Wang, Software Engineer; Ellen Heirbaut, Technical Recruiter
What do you love about Yelp?
When I was looking for a job, I was looking for four things that I really valued in a job. One was mentorship - I would love learning from other people's experiences and I find that I can do that a lot at Yelp. There are so many different people with diverse backgrounds and diverse experiences that I feel like I learn something new every day. Two is problem solving - within Yelp and within Yelp Reservations, it's a fun problem - It's relatable. Thirdly, I think the culture we have at Yelp is really extraordinary. The friendliness, the collaborative nature, the kindness, the relatability, and the welcoming feeling. We're always helping each other learn - that's so wonderful to have. The last thing was opportunities to grow and I think that's something that Yelp has been really focusing on lately. Those are the main reasons why I chose to work at Yelp and why I continue to work at Yelp.
Alex Phillips, Engineering Manager
Have you ever broken Yelp?
Oh, lots of times. I've caused lots of codedeploy rollbacks. I tanked SEO for awhile. I've also recommended changes that ended up breaking Yelp. I won't go into the specifics here, but one of the things I like the most about Yelp is the empathetic environment. It is OK to make mistakes, as long as you take responsibility for them and learn from them and don't keep repeating them. Better yet, teach others how to not make the same mistakes or build tools that safeguard against them. I've broken Yelp many times, but I've learned from all of them and made my peace. None of them give me nightmares now. Well, except, maybe the SEO one.
Jen Wang, Software Engineer
How do you balance a personal life and work life?
I'm a working mom, so I always feel like I should be doing more. I do a lot of events outside of work, like the Expat Women meet-up. It's a lot of time management and balancing priorities. Some days I will have my son and on those days I have to leave right on time. If I'm not on time, they can kick us out of preschool, which is not an option! I feel like Yelp makes it easier for me. My manager is very understanding when I have to leave early, and other days I work longer. The nice thing is I have a very happy, fulfilling life with many different aspects to it.
Ellen Heirbaut, Technical Recruiter
Make sure to ask the see the book in person whenever you come by our HQ in SF!
For more information about roles at Yelp check out our PowerToFly page.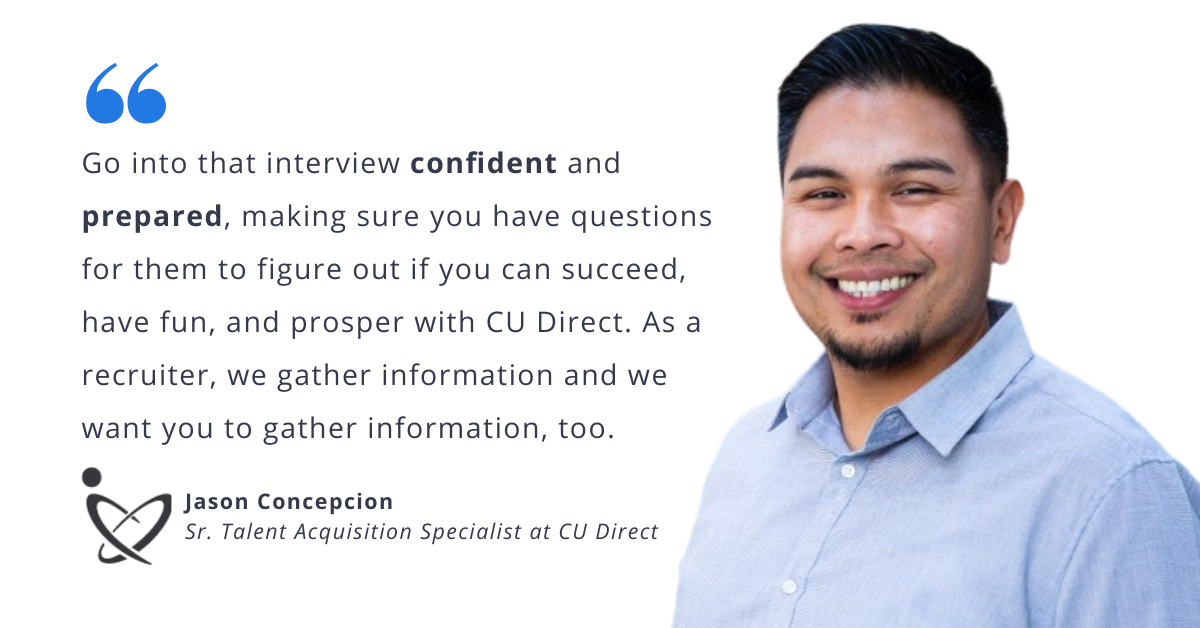 Hispanic/Latino/Latina/Latinx/Latine/Latin
Jason Concepcion is a Sr. Talent Acquisition Specialist at CU Direct, a technology leader that delivers lending solutions to financial institutions, auto dealers, retailers, and medical providers nationwide. As a progressive company that looks for the best diverse talent, CU Direct prides themselves on seeking and taking care of their employees.
We sat down with Jason to learn about CU Direct's hiring process. Keep reading for his top 6 tips to put into practice when interviewing with CU Direct.
Tip # 1 Do Your Research
While it may seem obvious, learning about the company you're interviewing for is crucial. "Before the interview, do some research on CU Direct, our products and services, and even our subsidiary companies," says Jason. Doing the research will show the interviewer that you are highly interested and that "you did your due diligence in getting to know the company." Check out their About page to get to know CU Direct and its various projects.
Tip #2 Ask Questions
It's important to be transparent from the first point of contact with the company, which means asking questions to clarify and gain more information. Jason suggests, "when talking to the recruiter, ask questions. Go into that interview confident and prepared, making sure you have questions for them to figure out if you can succeed, have fun, and prosper with CU Direct. As a recruiter, we gather information and we want you to gather information, too."
Tip #3 Take Your Time
Pace yourself in the interview. Jason explains that "it's okay to pause, regroup, and answer questions. When asked about your experiences, taking your time will allow you to think of the situation, how you solved it, and what was the outcome."
Tip #4 Ask Yourself, 'What Do I Want to Do?'
Take inventory of what you have accomplished or learned in your professional trajectory so far. "We're not just looking for what you've done, but we are also looking for what you can do and what you want to do," says Jason. He believes that "those things are just as important as what you've done in the past. Your drive and determination will show us where you want to go and ideally, that will organically align with the positions we have here at our company."
Tip #5 Understand the Job Description
With your resume in hand, consider what experiences best align with the job description. "Valuable work experience can be found almost anywhere. It can come from your first job or it can come from your most recent job," Jason explains. Whatever small or short experience you have that matches the job description is worth mentioning and explaining, depending on the job you are applying for. Jason explains, "a good understanding of the job description you're going for, and related positions within the company will give you a greater insight as to what we're looking for and what you want to highlight or present in regards to this role."
Tip #6 Don't Be Afraid to Get Personal
One way to stand out in the interview process is to show that you'll be a good values fit, so intentionality throughout, and after, the interview can go a long way. Jason suggests sending a thank you email after the interview. "This will make sure that you stand out in front of thousands of applicants," he says. "Don't make it generic, tailor the message including details mentioned in the interview, this will show the person that you were completely engaged throughout the interview."
CU Direct's personal and careful recruitment process is a reflection of their fun and innovative atmosphere, their value of team members, and commitment to growth. They offer several benefits to their employees, such as a flexible working environment, paid time off, 401k match, college tuition reimbursement, and an exciting company culture. Because of this, they want to make sure people are treated with the same kindness and positivity from the start. As Jason reiterates: "We want to make sure you are prepared and ready for each step of this process, from interviewing, to asking questions, and to possibly onboard in the future," says Jason.
Are you interested to find out more about working at CU Direct? Check out their
openings
here!
READ MORE AND DISCUSS
Show less
Loading...